Grant Used to Start Food Ministry is Bountifully Producing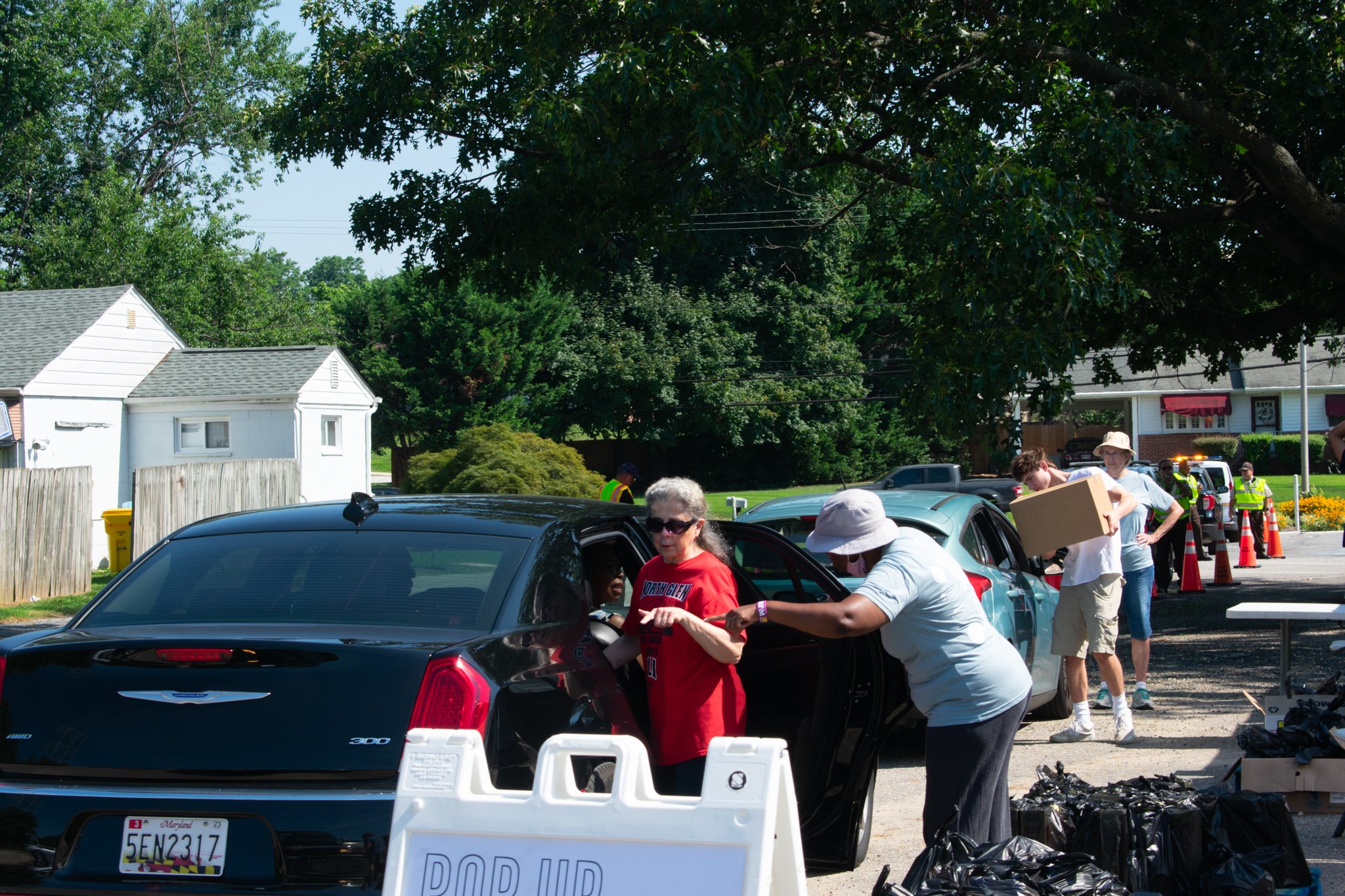 Editor's Note: This article references a BCM/D Strengthening Churches Grant, available to BCM/D churches based on certain criteria. Applications will be accepted from January 15-April 30. Read more and apply here. Watch this video for several grants available for your church.
GLEN BURNIE, Md. — One Saturday a month, North Glen Community Church's (NGCC) parking lot comes alive with hundreds of cars, four lines wide, packing the lot. Police reserve officers direct traffic, and CERT team members handle traffic management support. Cars begin lining up over an hour before the church's mobile food pantry, Harvest Ministries, opens.
Harvest Ministries began in August 2022 with the help of a Baptist Convention of Maryland/Delaware Strengthening Churches Grant to cover the cost of a pallet jack, coolers, and other supplies, and within months, the pantry took on a life of its own. In addition to a growing base of visitors to get food, the pantry has opened wide a multitude of community doors and opportunities for engagement — from individuals at the local and county food pantries, food delivery drivers, police, CERT teams, government officials, and community volunteers, the number of contacts is incredible, said Barry Mager, the church's "Bridge Builders" ministry leader, and founder and coordinator of the mobile pantry.
Community Engagement above and beyond
The sheer volume of cars, each representing between 2-8 people in such a short time, is amazing. Beginning with about 470 individuals served, the number quickly swelled to an average of 620, with a high of 800 in November. North Glen Elementary School, across from the church, helps promote the pantry to their families.
Working with the Anne Arundel Food Bank and the Maryland Food Bank, the Friday before the pantry, Mager and others pick up and take delivery of literally tons of food, sort and act quickly to get cold food to freezers, refrigerators, and coolers. On Saturday, volunteers arrive before 8 a.m. to sort and bag the food. Cars begin lining up by 9 a.m. for the 10 a.m. distribution.
As people have become used to the monthly pantry, it has become part of their schedule, so many have become regulars, providing a chance for volunteers to greet them, catch up, and chat — building relationships. But the relationships don't stop there. CERT team members have relaxed, also chatting with volunteers, helping with cleanup, and even offering resource ideas. In November, one CERT member shared about a couple who plays Santa and Mrs. Santa. The Clause couple came for Christmas and offered their services for free. They even pitched in to load food! Another December volunteer was a baton twirler dressed as an elf, who occasionally lit the baton on fire as she twirled it.
NGCC Pastor Paul Bachman contacted a friend affiliated with Gideons International. Now each week, Gideons are on the lot chatting with passersby and handing out Bibles, and providing information about the Gideon App. A small local youth organization called "Kid Changers" collects and distributes diapers. And the Anne Arundel Young Marines, a group of youth 8-18 and their leaders, stepped forward to lend a hand. They expressed an interest in continuing to help when they are available. Many of these volunteers have no church connections and are not Christ-followers. Working side-by-side with the church provides a chance to build relationships and share as the Holy Spirit leads.
Spiritual Food
Mager emphasizes the mobile pantry is a vehicle itself for sharing the gospel. "Those who come through the line are not only getting physical food, they're getting spiritual food," he said. There is no official registration. Drivers just share the number of families in their homes, and a paper is placed on the windshield for workers to determine the food allocation. In September, Mager added another question — would you like prayer or spiritual counseling?
Mager said he didn't expect much of a response, but he was wrong. They did. In fact, the number of people seeking prayer now averages 30. Bachman and Evangelism Ministry Leader Joseph Johnson meet with those who request prayer or counseling. Bachman said some people are completely broken. The church was able to follow up with one woman who was in desperate need of assistance in various ways.
Church volunteers offer information about upcoming events, and Children's Ministry Leader Kim Gayleard said many who attended a children's Christmas outreach were from the pantry as a result. Several individuals have visited the church as a result of the pantry, and one woman is in the process of becoming a member.
Bachman has a passion for reaching the community for Christ. "The pantry is one way we are showing love to the community. It gives us opportunities for people to know we are here and that we care. I'm especially excited that many have asked for prayer, and we've had an opportunity to pray with them and offer them spiritual counsel."
Church Mobilization
Another huge benefit of the pantry has been the excitement in the church. Several volunteers have commented that this type of ministry was exactly what they were looking for and wanted to be involved in—young and old help. Carol LeDeuce, despite using a walker, works with the intake team, slowly making her way from car to car, asking the number of families represented. Children's Minister Kim Gayleard, an amputee in a wheelchair, checks folks out and keeps track of the numbers. Youth group members also assist with intake, as well as loading cars. Seventeen-year-old Andrew Henn enjoys dressing up to entertain the kids in cars. For several months he was Scooby-Doo. Music Minister Lena Netzer brings her twin ten-year-old daughters Morgan and Mackenzie, who work next to Lena, filling bags. Evangelism Ministry Leader Joseph Johnson brings his mother each month. "I really like that this is a family ministry," Mager said, "Only God knows the impact of this ministry. We generally don't get to see the fruit, so it's very encouraging to get a peek at the blossoms."
Feature photo: Volunteers distribute food at North Glen Community Church's Harvest Ministry Mobile Food Pantry. (Photo by Sharon Mager0