Browse below to read articles, watch videos, and learn more about how your church's Cooperative dollars work to fulfill the Great Commission.
The Cooperative Program is our collective effort to fulfill the Great Commission in Matthew 28:19-20.
The Cooperative Program is Southern Baptists' unified plan of giving through which cooperating churches give a percentage of their undesignated receipts in support of their respective state convention and the Southern Baptist Convention's missions and ministries. Browse below to read articles, watch videos, and learn more about how your church's Cooperative dollars work together to fulfill the Great Commission.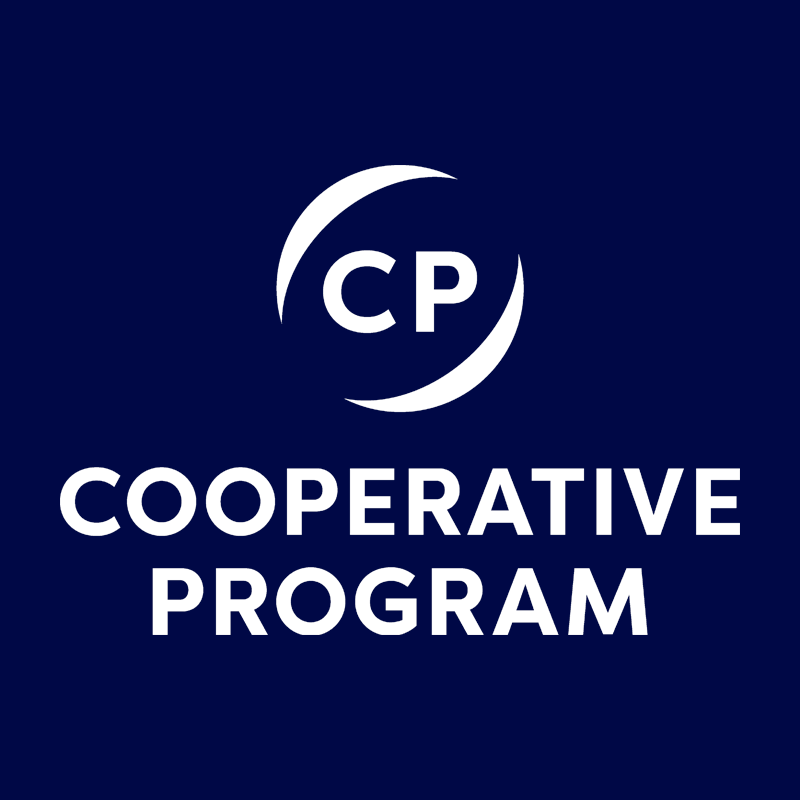 For every $100 given to the Cooperative Program, here is how it is spent:
Stays in Maryland and Delaware to help strengthen and start churches
World Missions Ministries
International Mission Board – $18.65​
North American Mission Board – $8.43
Executive Committee and SBC Operating Budget
Theological Education Ministries
Seminaries – $8.11
Library and Archives – $0.09
Christian Ethics and Religious Liberty Ministries
Ethics and Religious Liberty Commission (ERLC)
Maryland & Delaware Baptists are committed to advancing the Gospel through national and international missions by sending 37% of Cooperative Program receipts to the SBC.
CP Videos
Please use any of the videos about Cooperative Program to show to your congregation.
You may play the video on this page or download the videos for offline use. To download the video, click the "Share" arrow in the top right corner of the video, then select the Vimeo link. Once the link has opened, click "Download" below the video and select video size you would like to download.
Alejandro Molero (Español)
Seeing the Gospel Before Hearing the Gospel
Cooperative Program & Seminaries
Hunger, Together We Are There
A Personal Story of the Financial Fuel of Missions
Andrew Morgan
Pastor, Immanuel Baptist Church
The heartbeat of the Southern Baptist Convention (SBC) is and always has been missions. Southern Baptists have been cooperating to provide both the personnel and resources needed to fulfill Christ's Great Commission (Matt 28:19–20) since their founding in 1845. Today, the SBC's North American Mission Board (NAMB) targets our nation and its neighboring regions with their disciple-making efforts, while the International Mission Board (IMB) heads Southern Baptists' global gospel outreach.
For over one hundred-and-seventy years, Southern Baptists have pioneered worldwide gospel proclamation by effectively stewarding the monies given by SBC churches.  Since 1925, that stewardship has come through the Cooperative Program (CP). About half of every dollar given to CP at the national level is directed to the IMB for use in fulfilling the Great Commission. These monies enable IMB missionaries to direct the bulk of their time and attention to gospel work.
In contrast to societal missions models, SBC cooperation through CP ensures that their missionaries need not concern themselves with fundraising. Between CP and the Lottie Moon Christmas Offering (LMCO), IMB provides for all Southern Baptist missionaries' practical needs, including salary, insurance, housing, and means of transportation. Southern Baptists' generosity has undergirded the many men and women committed to making Christ known the world over, like my parents Quinn and Martha Morgan.
My parents served as Southern Baptist missionaries with the IMB for almost forty years. My father oversaw Baptist publishing work in Zimbabwe, providing among other things, discipleship material, Sunday School literature, hymnals, gospel tracts, and Pastoral development resources. My mother led a local women's prayer ministry, while also coordinating outreach among South Asians.
During their long tenure, CP covered our personal needs, providing us with a home, car, and all they required to raise me and my brothers (one of whom is now serving with the IMB). CP also provided for our ministry needs, making possible the purchase of two new machines for the Baptist Publishing House, both of which increased my father's productivity enabling him and his staff to provide exponentially more gospel resources to fellow missionaries and local church leaders. Similarly, my mother's ministry to South Asians received help from CP funds, resulting in a city-wide outreach event led by a South-Asian evangelist. Because of Southern Baptists' faithful giving to CP, the gospel was printed widely and proclaimed faithfully in Zimbabwe and all of Southern Africa.
Quinn and Martha Morgan, who retired in 2011, are now members of the church I now pastor, Immanuel Baptist Church (IBC) in Salisbury, MD. They continue to serve the Lord through short-term mission trips with their church's IMB partners in South Asia and South East Asia. They also serve Southern Baptists as IMB Alumni Advocates, helping the Baptist churches of the Eastern Baptist Association (EBA) remain connected to the IMB and the global mission task. Thanks to their consistent witness at IBC, God recently called one of our fellow church members to serve Him as an international missionary. And because of Southern Baptists' faithful giving to CP, this young adult is now serving with the IMB's journeyman program (https://www.imb.org/go/options/journeyman/).
Immanuel Baptist Church is grateful to and for Southern Baptists like my parents with whom they share H. Ernest Nichol's conviction that:
We've a story to tell to the nations,
That shall turn their hearts to the right,
A story of truth and mercy,
A story of peace and light,
A story of peace and light.
We've a Savior to show to the nations,
Who the path of sorrow hath trod,
That all of the world's great peoples
May come to the truth of God,
May come to the truth of God!
For the darkness shall turn to dawning,
And the dawning to noon-day bright,
And Christ's great kingdom shall come on earth,
The kingdom of love and light.
May we be faithful to our Great Commission Task, Maryland and Delaware Baptists!
The International Mission Board of the SBC supports over 3500 missionaries in their work of gospel proclamation.  That work is made possible by the giving of local SBC churches to the Cooperative Program and the Lottie Moon Christmas Offering.  Andrew Morgan, pastor of Immanuel Baptist Church is Salisbury, MD, grew up on the mission field with parents who faithfully served for 40+ years as IMB missionaries.  Now, he has the privilege to serve as their pastor in the local BCM/D church he serves.
Enabling Evangelistic Efforts in the Local Church
Chris McCombs
Pastor, Lexington Park Baptist Church
Lexington Park Baptist Church (LPBC) has always made contributing to the Cooperative Program and mission efforts of the Southern Baptist Convention (SBC) a priority. In recent years, a new relationship with Cooperative Program has emerged when LPBC began also receiving funding from Cooperative Program to help accomplish greater evangelism efforts.
I am truly grateful for the BCM/D staff that have always been supportive of church evangelism. Additionally, as a pastor, I have always felt supported in my efforts to evangelize in creative ways with the BCM/D's help. I cannot express how invaluable the BCM/D has been to my ministry and church regarding evangelism.
As the pastor of LPBC, I have led my church to embrace a new core value, "Connecting with Community" out of a desire to build up the image of the church in our community. We want our community to know that we exist, we love them, and we are willing to host events that connect church with community. 
As a church, we do many things independent of the Cooperative Program and our relationship with the BCM/D relationship; however, it is the because of that relationship we are able to do bigger and better things!
Every year, LPBC hosts several community events. In 2022, because of our relationship with the BCM/D, we were able to promote our annual Trunk or Treat in our local newspaper and on Facebook, as well as give every participant the book, "The Case for Christ."  We had over 700 people from the community attend the event and even had a few families later visit our church for worship. Additionally, we were able to host "Release the Peace," an event that brings local law enforcement, church, and community together to promote peace. The BCM/D helped us promote this event in our community and provide gospel booklets to all who attended. These events and others over the years were made possible because of our relationship with the BCM/D.
I wish I could tell you hundreds of people were saved or started coming to church, I will leave that to the Lord. However, I can report that my church went into the fields of harvest because the BCM/D partnered with us for the cause of Christ. The Cooperative Program funds helped us impact our community with the gospel, revealing God's love, hope, and peace. That is priceless!
Chris McCombs serves as the pastor of Lexington Park Baptist Church, located in southern Maryland. LPBC has been a faithful supporter of the Cooperative Program. Through the Cooperative Program, the BCM/D partners with the North American Mission Board to be able to provide evangelism grants to churches according to certain criteria. These grants enable churches to do more than they may have been able to do on their own. For more information about NAMB / CP funded evangelism grants, please contact BCM/D State Evangelism Director, Mark Dooley at MDooley@bcmd.org.
The Impact of the Cooperative Program
Colin Pugh
Pastor, Clinton Baptist Church
In September of 2019, I was installed as the Senior Pastor at Clinton Baptist Church (CBC). Even before I received the position as pastor, God had given me CBC's vision, 'We Grow, We Serve, We Love.'  Through various community outreaches and evangelism, CBC has captured the hearts of the community for Jesus Christ.
Every year, CBC gives to the cooperative program, to give back and to continue to help start and strengthen churches. The cooperative program has been a great help to the revitalization of CBC. Through support from the BCM/D, CBC has benefited by helping to grow new leaders, helping with community evangelism, and ministering to the needs of the Clinton community.
In 2021, CBC was awarded the Strengthening Churches Grant, which helped to fund a particular health fair amid the pandemic. We provided a free community outreach, designed to encourage healthy lifestyles, prevent and manage disease, and connect the community to resources. We were able to give out produce and non-perishable items; provide health screenings and consultations; Covid vaccines and booster shots, flu shots, shingles vaccines; and connect the community with employment services, local pharmacies, physicians, and more.
CBC was also able to host its annual children's outreach event as schools began to reopen during the pandemic. The Strengthening Churches Grant provided CBC with the financial resources to partner with Staples and local council members to provide over two hundred backpacks to families in the community.
These two outreach events allowed us to connect with over three hundred people in the community and several businesses in the area as we shared the Word of God with all ages.
Through outreach and the support of the cooperative program, CBC continues to grow the congregation, serve the community, and love one another. Church members have truly embraced our motto, "We Grow, We Love, We Serve," and they're giving it their all.
Colin Pugh serves as the Pastor of Clinton Baptist Church. Since the time he began serving in September of 2019, the church has grown from a small group of a few people to a church of more than 100 people. The North American Mission Board of the SBC recognized Colin Pugh as the church re-planter of the year. The impact of Clinton Baptist was made possible through partnership with the BCM/D and the cooperative program. 
Doing More Together
Daryl McReady
Pastor, SonRise Church
In 2001, through the Baptist Convention of Maryland and Delaware (BCM/D), God planted a vision for Church Planting in my heart. At the time, I was employed as a Police Officer and serving as a lay leader at Berlin First Baptist Church where my father Berry McCready was pastor. I had previously sensed a calling to serve God fully and had shared that calling with the church and was waiting and watching for God's next instruction. After that meeting, my wife Traci and I committed ourselves to praying for God's leading in regard to planting a church. Following a season of prayer and seeking, we felt certain God was in fact calling us to church planting.
In October 2001, we were invited to join with about a dozen other potential church planters and their wives at a weekend Church Planters Assessment at Skycroft which was being conducted by the BCM/D. After multiple interviews throughout a long two-day assessment, I was approved for a funding period of three years through the BCM/D for this new work that God would establish in the town of Berlin. The BCM/D also covered the expenses for me, Traci, and one of our key leaders to attend a Church Planter's Boot Camp in early spring 2002 in Orlando, Florida.
When we returned to our home church of Berlin First Baptist and shared that we had been approved for funding to plant a church right there in the same town of Berlin, the church agreed to support us and be our sending church! As the pastor, my father then gave a call to the entire church to pray and fast and to seek God's will for each of them in regard to this new work and who was to go. He gave his blessing and released everyone in the church to respond!
Over the next several weeks, thirteen adults felt God's leading to join my wife and me as a plant team for this new church. Over the next ten months, we studied God's Word about the role of the church and its purpose. Then, after an exhaustive search for a location, SonRise Church launched at the Ocean Downs Race Track. The Horse Track location was less than ideal for many reasons; in fact, the room we had to use at the track had an entire wall of betting windows and large six-seat marble-top tables filled the room! Because of the weight of the tables and the fact that there was no place to move the tables to, we decided to just allow people to sit at the tables for worship. After all, we did not plan to stay there any longer than they had to. A few weeks later, we began serving coffee and donuts since everyone was sitting at tables. We conducted four preview services at the track before launching to work out all the issues. On October 6, 2002, SonRise Church launched with 96 people in attendance.
The cafe style worship setting quickly took root in the DNA of our new church and God began to do amazing things through it. By the end of the first year of ministry, SonRise had shared in 75 new professions of faith and had baptized 65 people! The church had grown by this time to a church of about 170 in weekly attendance. It also marked the start of the second year of the funding support by the BCM/D. The second-year funds provided support for the new ministry and covered our facility rental costs. In August, 2003, SonRise moved locations to the Stephen Decatur High School and began meeting in the school cafeteria. By the end of second year, SonRise Church was amazingly self-sustaining and thriving with an average attendance of about 200.
From the very beginning, I, along with the leadership of SonRise, felt a calling from God to be intentional about Kingdom cooperation, expansion, and Church Planting. Because of the great work God was doing at SonRise, we felt we did not need the third year of funding so we requested that our third year of support be used for other church plants starting in the BCM/D.
At the end of their third year, SonRise was still averaging about 200 a week in worship. Because SonRise is committed to Kingdom growth, we sought out help to break through the 200-attendance growth barrier. We brought in a church growth consultant and began to really seek God in what they needed to do to advance the Kingdom. While praying about what God would have us do, the BCM/D once again reached out to SonRise. At the time, the BCM/D was beginning a new program to try and assist churches in breaking through the 200-person attendance growth barrier! We were invited to apply for funding and told to develop a strategy and make a presentation to a panel of people laying out our strategy to get our church over 200.
After a great deal of prayer, our leadership team became convinced that God was calling us to plant a church out of our young church plant! We prepared our strategy and made our presentation to the panel and our number one strategy was to hire a church planter and invite him to recruit people from SonRise to plant a church about fifteen minutes up the road from Berlin. I remember one of the panelists asking me this question at the end of his presentation, "So let me get this straight. Your strategy to grow your church is to send people out of your church to start a new church?" My answer was simple – yes sir.
This strategy had come from several principles found in Scripture. First, it is God who builds His church as Daniel 4:17 says: "The Most High rules over the kingdoms of the world (and His church) and He gives them to anyone He chooses." Secondly, those who are faithful in the little things will be trusted with much (Matthew 25:21). Lastly, those who sow sparingly will also reap sparingly but to those who give generously with a cheerful heart, they will receive all they need and have plenty left over to share with others (2 Corinthians 9). It was these biblical principles that led SonRise to establish a core value of Open Handed Living, which says "God blesses us so that we might bless others." It is the belief that if we handle everything God has entrusted to us with and open hand for the purpose of loving, blessing others, and growing His Kingdom, then we will never be empty handed! It is the belief that God is truly sovereign and able to provide for and grow anything He chooses to!
The panel did choose to give SonRise a $25,000 grant that year which we used to hire our first church planter. The BCM/D also came alongside that planter as well with additional funding and partnered with us to help support that new church plant called "The Gathering Tree." The church planter was hired in December 2005 and in January 2006 SonRise averaged 245 a week in weekly attendance and never dropped below that again (excluding Covid)! We have partnered with the BCM/D and NAMB many times together since then to advance and grow the Kingdom together.
In 2016, SonRise purchased a 22-acre property with four very large buildings with more than 65,000 square foot of ministry space at the intersection of Route 50 and Main Street Berlin. In 2018, after sixteen years of being a portable church, we moved into our own permanent worship space!
In October, 2022, SonRise Church celebrated our 20th Anniversary. The celebration focused on the many incredible things God has done through the life of this one church. Some of the amazing God miracles include 1,112 first time professions of faith and 1,124 baptisms. SonRise has supported and partnered with 32 other new church plants and has invested well over 1.4 million dollars in Kingdom partnerships and church planting. We currently average around 600 in weekly attendance with an additional average live stream participation at around 145 a week online. SonRise currently supports 6 church plants at $500 a month and is constantly seeking more ways to advance our Master's Kingdom. I also serves as the Eastern Baptist Association's Director of Church Planting and the Association is currently supporting 5 new church plants in partnership with the BCM/D and NAMB.  
SonRise is just another example of partnership and Kingdom Cooperation, and that legacy goes on in the DNA of that Church.
Pastor Daryl McCready has led SonRise Church in Berlin, MD, to be a faithful supporter of the Cooperative Program. The Cooperative Program enables churches to do more together than any of them could do alone.
Furthering the Great Commission through the Cooperative Program
David Haun
Elder, Leonardtown Baptist Church
There is no shortage of asking for donations these days. Going into the grocery store, checking out, opening your mailbox when you get home – there is no shortage of causes, services, and organizations asking for your support and donations. Is it reasonable to ask then where that money goes? Does rounding up my grocery bill really make a dent in local hunger? What about the offering plate at church?
Churches across Maryland and Delaware set aside budget lines and take offerings to support the Cooperative Program. Part of this goes for ministry in Maryland and Delaware. The rest is sent to the Southern Baptist Convention (SBC). About half of every dollar sent to the SBC is then given to the International Mission Board for reaching the nations for Christ. This money in combination with gifts through the Lottie Moon Christmas Offering supports missionaries all around the globe.
How do you account for the giving received across our many SBC churches? Is it simply with transparency and good bookkeeping? Or perhaps a reductive formula of dollars per baptism?
The scope and quality of the support of our International Mission Board missionaries is unparalleled. Housing, medical coverage, and supplies are all provided in addition to a modest salary. But beyond those basic elements, the IMB headquarters in Richmond is full of support teams navigating the complexities of supporting over 3,500 missionaries around the world. Missionaries have access to care consultants, educational and logistical support, tax preparation, and many other support services all working together for one purpose: fulfilling the great commission to go and make disciples of all nations.
As an MK (Missionary Kid) in Côte d'Ivoire from 1986-2004, the snapshots of my life were filled with tangible examples of Cooperative Program funds at work. In the late 80s, your offerings took the form of a blue Peugeot station wagon and years later a silver Toyota Corolla where I spent many long hours riding along dusty washboard roads to river baptisms and church plants. The faithful giving of SBC churches became the books, paper, and pen supplies needed for the prison ministry in Bouake, Cote d'Ivoire, and paid for our housing. In the 90s, Cooperative Program funding helped provide for the many healthcare needs of my special needs brother, allowing my parents to stay on the mission field instead of worrying that he would have appropriate care.
Cooperative Program giving is an exercise in faith. We are called to give of our first fruits, not because God needs it, but because it strengthens our trust in God's provision and opens our eyes to his faithfulness.  I think of the young man with his two fish and five loaves of bread in John 6.
What we have may seem little compared to the needs that are out there. What we do may seem insufficient, but every donation, no matter how big or small, in the hands of a sovereign God is multiplied for His purpose. Like the loaves and fishes, it is not the amount that matters. Ten loaves and twenty fish would not have made God's provision any less miraculous. When we trust God with our gifts and work for His Kingdom, he multiplies them. The young man donated what he had but God fed the 5000. What a blessing it must have been to witness it that day.
I believe that there is a better way to account for what the money from the Cooperative Program goes toward on the mission field and its impact. It involves measuring not in dollars, but in the work God does with them. Ultimately, it is not the money that we give but the work that He does that causes multiplication.  
If you looked through a photo album of my early days, you would see many pictures of me sitting on the porch playing. The porch you can see in my baby pictures, paid for by a housing budget, is where I took my first steps and was the early meeting place of a home church. Each week new believers took their first steps in picking up their crosses and following Christ. That church would grow and a young man from it would be raised up as its pastor and eventually become a leader in the Pastors' Union helping lead and raise new leaders in new churches.
A careful eye will notice the Peugeot and Corolla from my youth in the background of many home videos of church baptisms with believers rising out of the water to a choir of voices singing, "I have decided to follow Jesus, no turning back, no turning back!" 
When the civil war in the Ivory Coast broke out in 2002, rebel soldiers released the prisoners from the local penitentiary rather than try to feed them. One man, a graduate of that prison literacy ministry whose heart had been transformed by the gospel returned to his village and started a church.
When my parents left the field in 2004 to work at the IMB headquarters, many of the local churches sought to honor their ministry with receptions or similar events. Many kind words and remembrances were said, but one stood out to me above all. One believer was recounting his journey to faith and recalled that what really convinced him was that this missionary man who came and preached and worked with pastors, brought with him his child with disabilities to church every Sunday.  It was a culture where children with disabilities can often be a source of shame and are often kept out of sight at home. But if this missionary believed enough to bring his son to church every week, this must be a message worth hearing. No sermon, Jesus film, or baptism had as much impact on this man as my younger brother singing and clapping in the pew with his family. 
There was never a question for my parents of whether or not my younger brother was a full member of our family and would participate in everything we did. But there was a question at one point of whether we could stay on the mission field because of his many health needs. Thanks to the Cooperative Program, that wasn't an issue, and the heavenly host is larger for it.
Today's missionaries and churches still need transportation, supplies, healthcare, and housing. The generous giving of SBC churches ensures that those whom God has called to missions can be at work in the harvest fields. Our giving to the Cooperative Program not only sustains the work of God's laborers but it connects us all together as we faithfully bring our loaves and fishes and are able to see the miracles Christ will do with them. The truth is that we can never know the full account of our giving until we reach eternity, but when we do, how great a reward it will be to see the multitudes from all the nations who were touched by the fruits of faithful generosity.
David Haun is an elder at Leonardtown Baptist Church. He teaches and coaches at one of the local southern Maryland high schools, and he faithfully serves his church family in many ways.
The Power of the Cooperative Program
Richard Pope
Pastor, Canvas Church
In a day when we can access everything through a device in our hand, many things vie for our attention, pulling at our heartstrings and encouraging us to invest our time, our energy, and our resources. There are millions of good causes. Things like animal shelters, neighborhood restoration, and youth sports programming are all good things. Besides those few examples, are a nearly infinite number of other things that you could include. While giving to these causes is good, and worthy of our attention, as Southern Baptists we have an opportunity to give to something greater – the Gospel.
Yes, the above causes matter, but no cause is greater than the cause of the mission of Christ. Giving to the cooperative program allows us to fund the Gospel work on a scale larger than we could ever imagine in North America and beyond. The church I pastor, Canvas Church in Salisbury, Maryland, is one of many ministries that has been blessed by the generosity of Southern Baptists all over the country.
In 2018, I felt the call to plant a church in Salisbury, Maryland. God gave my wife (girlfriend at the time) and me a burden for two of the major people groups of Salisbury – the down and out and the young professionals. We started meeting monthly with a group of six.  Soon, that became 12 and then 20 and then 30. And then it died. By July of 2019, we had seen seven people come to Christ, and four were baptized. While the Lord moved in that early iteration of what eventually became Canvas – we lacked the funding, training, and networking that would be necessary to actually start a church in a sustainable way.
Enter Keith Myer. Keith was the Associational Missionary of the Eastern Baptist Association. We started meeting and he encouraged us to get connected with the North American Mission Board, as well as the Baptist Convention of Maryland/Delaware.
In September of 2019, I met a representative of Send Network, but because Payton (my wife) and I were engaged, and because I was so young, it was decided that it would be best to pump the brakes and wait until after our upcoming wedding for me to go to the Church Planters Assessment. I thought this would be the end of the relationship, but representatives from both the BCM/D and Send Network continued to encourage us, invite us to events and trainings, and prep us for the rigors of eventually planting a church.
March of 2020 came, and Payton and I were married. A week later COVID-19 brought the world to a screeching halt. At that moment, I thought our church planting journey was over, until Jamie Caldwell, a Church Planting Catalyst with the Send Network, reached out, met with me, and invited Payton and I to attend a virtual assessment in November of 2020. We were given the green light to plant and went through Send Network training, where we were taught through a cohort and one on one coaching. This all culminated in Canvas Church launching on Easter Sunday, April 4th, 2021.
Since launching a little over two years ago, we have seen over one hundred and sixty people put their faith in Jesus. We have been able to train three other elders to come alongside me in the duties of pastoring the church. We have been able to train four deacons, to serve the church. We currently have two more pastoral interns we are training, and three future deacons. We have been able to put over 12,000 hours of service into our community which has led to our launch team of 10 from December of 2020 growing into a church with 76 Members and an average Sunday attendance of around 150.
All those metrics are exciting, but what I think has far more value are the stories of individual life change that we have seen because of the kindness of God and generosity of Southern Baptists through the cooperative program. These stories include that of people like Rob, who put his faith in Christ in our church, was baptized in our church, and has since led friends to follow Jesus and is now studying to be a pastor and eventually a church planter. Another story would be that of Alex Cisar, a student getting her Doctorate in Physical Therapy at the University of Maryland Eastern Shore. She was baptized in our church and fell in love with the Bible in our church. Now she is actively inviting friends to come to hear about Jesus and working to grow stronger in her faith. These stories are just the tip of an iceberg of fruit that we have seen in the last two years.
Not only has the support of the NAMB, powered by the cooperative program, helped us to see fruit in Salisbury, but also we have been able to see a generational effect as we begin to work to plant other churches! Currently, we are training Andrew Cooper who we will be sending out with a team of 20+ in the fall of 2023 to plant Garden Church in Cambridge, Maryland. Andrew has also passed the church planter assessment and is a funded and trained planter with Send Network. We are currently training two other men who are aiming to plant in Millsboro, Delaware in 2024 and Laurel, Delaware in 2025. Because of the generous support of Southern Baptists, we have been able to see a riptide of multiplication through what started as six people around a table in my crammed apartment. This would not have been possible without the churches in Texas or Iowa or Florida or New York or Maryland who faithfully support the Cooperative Program.
I think my favorite thing about the Cooperative Program is that it allows our church (and yours) to reach places we could never actually go. I have had the honor of serving as an assessor for the New York City assessment where I have been able to interview potential church planters with callings to a place very different than mine. While you and I may not have a call to reach New York (or Africa for that matter), others do, and when we give to the Cooperative Program, we are able to fund the mission and missionaries called to unique places. Our giving allows us to reach places we could never reach on our own and helps us fulfill the calling Christ left His people with – to go and make disciples of all nations! (Matt 28:19)
Richard Pope is a Church planter and serves as pastor of Canvas Church in Salisbury, Maryland.  From a group of 6 people around a table to launch Sunday on Easter Sunday of 2021, to a current church averaging 150 people per week, the Canvas story is a testimony to the power of the Cooperative Program at work.
The Cooperative Program Enables Affordable Education at SBC Seminaries
Ron Blankenship
DOM, Montgomery Baptist Association
I attended The Southern Baptist Theological Seminary in Louisville, KY from Fall 1979 to Spring 1987. During that period, I earned three degrees: Master of Divinity (1982), Master of Arts in Christian Education (1984), and Doctor of Ministry (1987). I owe a great deal to my seminary professors and the experiences I had during my seminary days. The preparation was invaluable to lay the theological, biblical, and practical ministry foundation for what is now forty-three years of ministry. I served twenty years as a senior pastor in three states and the past twenty-three years as director of missions at Montgomery Baptist Association in Maryland (near DC). I have also served ten times as an interim pastor and have served numerous denominational offices. Seminary taught me how to think biblically and apply this to real-life needs in the local church and denomination.
The cooperative program of the Southern Baptist Convention is a compilation of thousands of churches giving to cooperative missions to support missionaries, seminary education, and other cooperative efforts. Many students would either not be able to afford a seminary education, or would have a great deal of debt, if they had to attend classical, for-profit seminaries.  I am grateful that the cooperative program covered most of the cost of my seminary education.
It was during seminary that I met my wonderful wife Evelyn, who also earned a Master of Divinity in Christian Education. Her training supported our ministry together in churches and associations over the years. I never would have met Evelyn and had our three awesome children (Nathan, Melanie, and Angela) had God not led us both to seminary.
The cooperative program has benefited my ministry over the years as I have worked with church planters and other pastors and directors of missions whose lives have been impacted by the cooperative program. The cooperative program helps fund the work of the six Southern Baptist Seminaries in the United States. Thousands of pastors, church staff, teachers, counselors, missionaries and other roles in ministry have been birthed from the seminary educational experience. God is using the SBC seminaries to spread the gospel in a variety of ministries. Southern Baptist seminaries are among the largest and most effective schools to train future ministers to spread the gospel of Jesus Christ.
Seminary helped develop my calling in ministry as well as my worldview for Christian ministry. In addition to serving as a senior pastor and director of missions, I also have been privileged to serve as a professor of biblical and ministry studies at Washington University of Virginia since 2008 as well as for Ivy Christian College for several years. I even served a year as a hospice chaplain and a church planting catalyst.
I have met many friends and professors who have been a part of my life ever since. We have enriched each other over the years in more ways than I can mention. We are all products of local churches and the cooperative program. I thank God for Southern Baptist seminaries and the cooperative program. They are both proof that we can do more together.
Dr. Ron Blankenship serves as Director of Missions for Montgomery Baptist Association in MD & Adjunct Professor at Washington University of Virginia. There are six Southern Baptist Convention (SBC) seminaries:
Southern Baptist Theological Seminary in Lousiville, KY
Southeastern Baptist Theological Seminary in Wake Forest, NC
Southwestern Baptist Theological Seminary in Fort Worth, TX
New Orleans Baptist Theological Seminary in New Orleans, LA
Midwestern Baptist Theological Seminary in Kansas City, MO
Gateway Baptist Theological Seminary in Ontario, CA
With over six thousand full-time enrolled students, these six SBC seminaries train men and women for Christian ministry.  Affordable education at an SBC seminary is made possible by SBC churches contributing to the cooperative program.  This cooperative partnership enables the seminaries to train pastors, missionaries, church staff, and those who go on to serve as denominational servants. 
Seminary Extension: An Overlooked Component of Cooperative Program Funding
Tim Bonner
Associate Pastor, FBC Rockville
Every pastor and layperson may not be able to obtain a seminary degree, but all members of local Southern Baptist churches in Maryland and Delaware can take advantage of and benefit from Seminary Extension. This Cooperative Program-funded ministry began in 1951, but it is new to the Montgomery Baptist Association (MBA), which gained certification as a Seminary Extension Center in 2021. It currently has one site at First Baptist Church Rockville, MD. The MBA operates the only Extension Center in the Baptist Convention of Maryland/Delaware (BCM/D). The Center serves students throughout the BCM/D, not just those associated with the MBA.
Seminary Extension's website describes its mission as a place that can "provide theological education and ministry training of excellent quality to church leaders and members where they live." It meets a need by allowing pastors, church staff, and laypeople who either cannot obtain a seminary degree or simply want additional training to take courses toward a diploma or certificate. The catalog lists more than fifty courses. They are college-level classes ideally suited for persons who have completed high school or their GED. Courses can be taken either via independent study or in a classroom setting with a certified instructor.
Certificates require taking eight classes and are offered in Bivocational Ministry Studies, Lay Ministry Training, and Women's Ministry. Diplomas involve greater commitment, with a sixteen-course requirement. There are four concentrations available to students: Biblical Studies, Educational Ministries, Ministries/Pastoral Education, and Theological Foundation.
The MBA Seminary Extension Center has offered three classes since beginning this new ministry. So far, students have included a retiree who wants to increase his biblical knowledge, two teachers in Christian schools interested in interpreting Scripture more accurately, and two laypersons who sought a greater understanding of what it means to be a disciple of Jesus Christ. Future course offerings will depend on the needs and interests of students.
Dr. Randal Williams, the Southern Baptist Convention's Seminary Extension Director, describes both the purpose of Seminary Extension and the niche in theological education it is trying to fill: "In 2 Timothy 2:15, Paul reminded Timothy and, by implication, believers of all ages that we are to study God's word so that it may be rightly applied to our lives. Study and application of this kind mean that believers must do more than simply read God's word. They must drink deeply from it for life, refreshment, and service. Commitment to the in-depth study of God's word is strengthened when men and women are encouraged and guided by gifted mentors. If the Church today is going to effectively refute the world's answers to life's deepest questions, then the Church had better know what God says."
"With these truths in mind, Seminary Extension provides an opportunity for biblically accurate theological education and ministry training to every interested believer. We do not seek to replace a seminary education but instead focus on those who cannot attend a seminary. Our courses are biblical and they reflect the values and theology of the Southern Baptist Convention, as they are stated in the 2000 Baptist Faith and Message."
Seminary Extension cannot continue its ministry without the support of the Cooperative Program (CP). Each dollar that a church contributes to the CP allows Seminary Extension to provide quality, low-cost training to members of local congregations, so those persons can give back through serving more effectively in ministry to the church that helped make their training available and affordable. Seminary Extension is currently an under-utilized ministry. The goal is to offer more courses and add more sites so that its instructional opportunities will be both ongoing and accessible to members of BCM/D churches.
The Cooperative Program supports many things, even things of which we are unaware.  One of those often unaware areas is Seminary Extension.  The BCM/D has access to a seminary extension program through the Montgomery Baptist Association, all made possible by the Cooperative Program giving of the churches. Tim Bonner, Associate Pastor of FBC Rockville and the MBA Seminary Extension Director, leads this effort. For more information, contact Tim at tim@firstbaptistrockville.org or his office number 301-825-9231.
Cooperative Program
52 Sunday Prayer Guides
What is the Cooperative Program?
The Cooperative Program is Southern Baptists' unified plan of giving through which cooperating Southern Baptist churches give a percentage of their undesignated receipts in support of their respective state convention and the Southern Baptist Convention missions and ministries.
Benefits of the Cooperative Program
It presents a unified and comprehensive budget, throwing a funding blanket over statewide, national and international missions and ministries.
It provides long term sustainability for our entities. When a church makes their missions giving as a percentage of their church's budget, it provides consistency and stability.
It adheres to our long term Baptist principle that "we can do more together than alone."
The Cooperative Program mitigates competition between entities thereby allowing a balanced Acts 1:8 strategy.
It levels the playing field, and makes a place at the table for small and ethnic churches. Every church can stand hand in hand, shoulder to shoulder, on level ground, as partners in the gospel (large churches, small churches, new churches, growing churches, graying churches, and ethnic churches).
What Does the Cooperative Program Support?
LOCALLY, your gifts to the Cooperative Program assist in the strengthening and starting of churches throughout Maryland, Delaware and beyond. More pointedly, your gifts help churches like yours reach their communities with the life-changing Gospel of Jesus Christ.
Cooperative Program giving from BCM/D churches support church revitalization, pastoral support, children's ministry, ministers' counseling, Disaster Relief, unreached people groups, church security, church planting, and church planter development. God has placed the BCM/D in one of the most diverse and strategic areas in America, and we seek to help churches succeed in their God-given tasks.
Nationally and Internationally, the Cooperative Program supports missionaries through the International Mission Board and the North American Mission Board; future pastors, missionaries and church leaders who now attend our six Southern Baptist seminaries; as well as the efforts of the Ethics & Religious Liberty Commission, who seeks to preserve our religious liberties and to be a voice on the critical issues of our day.
In short, the Cooperative Program is our collective effort to fulfill the Great Commission in Matthew 28:19-20.
How Does the Cooperative Program Work?
It begins with you!
You give yourself first to God (II Cor. 8:5). Next, out of gratitude and obedience to God for what He has done for you, you commit to give back to Him, through your church, a portion of what He provides. This is commonly called a tithe and represents ten percent of your income (Lev. 27:30, Mal. 3:10)
Your Church decides the next step. Every year your church prayerfully decides how much of its undesignated gifts will be committed to reaching people in Maryland, Delaware, and around the world through The Cooperative Program. This amount is then sent to the Baptist Convention of Maryland/Delaware.
Messengers at the Baptist Convention of Maryland/Delaware Annual Meetings from your church and other churches across our two-state convention decide what percentage of Cooperative Program gifts contributed by local congregations stay in the BCM/D to support local missions and ministries. The percentage to be forwarded to the SBC for North American and international missions and ministries is also determined at this time.
Messengers at the Southern Baptist Convention Annual Meeting from across the country decide how the gifts received from the states will be distributed among SBC entities. These gifts are used by SBC entities to send and support missionaries, train pastors, and other ministry leaders; provide relief for retired ministers and widows; and address social, moral, and ethical concerns relating to our faith and families.
The bottom line – people around the world hear the gospel and receive Christ!
How do I Give?
The best way to start is by giving generously to your local church. Beyond that, the Finance Office of the Baptist Convention of Maryland/Delaware is happy to help you participate in the Cooperative Program. We'd love to hear from you! Feel free to call 800-466-5290. You can also give online. Cooperative Program Brochure
Click the button below to download a brochure you can print and distribute to your church.