There's so much going on throughout our BCM/D churches. Did you know that although most of our affiliated churches are in Maryland and Delaware, we also have a few elsewhere, including Virginia, Pennsylvania, and West Virginia? We're a diverse, multicultural group of autonomous churches – traditional, contemporary, church plants, and established churches filled with individuals from a multitude of backgrounds and cultures and we want to share your news, photos, events, unique ministries, and more. And we'll also share what the BCM/D offers and how we can equip and encourage you. Feel free to share your news for consideration at info@bcmd.org.
Leadership Summit Focuses on Disability Ministry
Faith Baptist Church, Knoxville, will host a Leadership Summit featuring BCM/D Executive Director Tom Stolle from 9 am – 1 pm on March 25.
Stolle will share an update regarding the BCM/D and various initiatives but will spend most of the time focusing on ways churches can implement disability ministries in churches. There will also be a time for Q&A.
The day will also include a session about multi-sensory teaching for preschool and children's teachers and leaders and a session for youth and adult leaders on building strong leadership. All pastors, ministry leaders, teachers, and those interested in leadership are invited to attend.
The event is free for all attendees, and a barbecue meal will be served following the summit. Register online.
Anniversary Celebration
Canton Baptist Church celebrated Pastor Steve Wolverton's 18th anniversary with the church on March 5, as well as his and his wife Vickie's 37th wedding anniversary. The service was also a celebration due to two people making professions of faith and requests for baptisms.
Pantry recipients turn into volunteers.
North Glen Community Church has a food pantry on the second Saturday of each month. On March 11, several volunteers were unavailable, and the lines were four deep, with about 125 cars lined up. Workers were overwhelmed but working steadily. One woman asked to use the restroom and saw the volunteers frantically trying to get food from freezers to coolers and asked if she could help. Two more cars pulled off to the side to help! Even CERT volunteers who help with traffic control pitched in to help.
The pantry has resulted in several visitors and two regular attendees, one a candidate for a new member class.
Pantry Leader Barry Mager said, "God provides." Mager said it was also a good opportunity to get to know the new volunteers.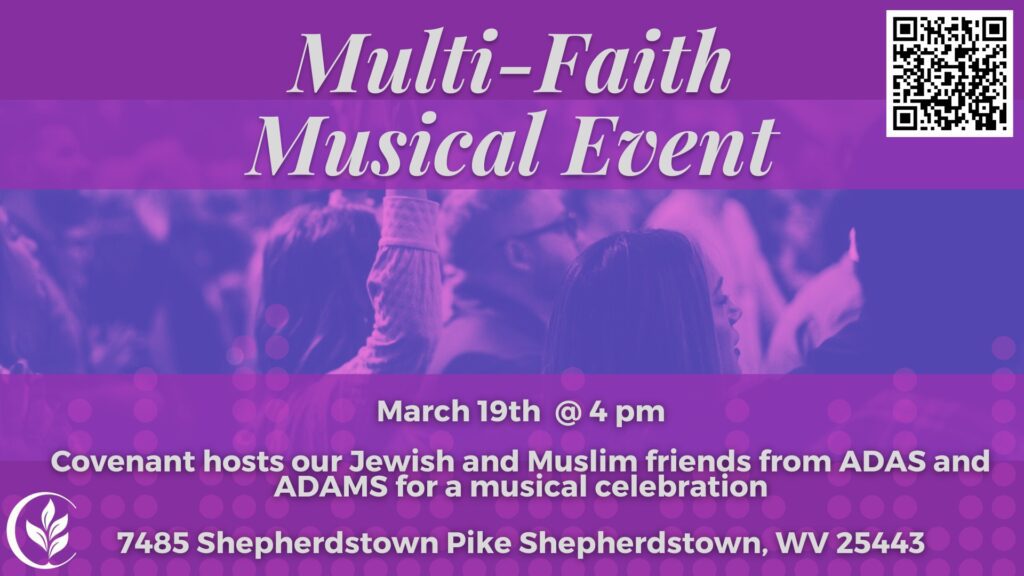 Multi-Faith Music Event
Covenant Baptist Church in Shepherdstown, West Virginia, is hosting a Multi-Faith Musical Event at 4 p.m. on March 19. It is not a worship service; rather, it's an opportunity to spend time with people, share music and food, get to know them, understand each other's culture a bit more, and build relationships. The event will include Jewish and Muslim friends from Adas Isreal, the All Dulles Area Muslim Society, and The One America Movement.
The event will feature a bluegrass jam, special performances from each community, a sing-along for everyone, and dinner afterward. No musical experience is  required,
Lifeway Simulcast
Faith Family Church in Sykesville, Sycamore Hill Church, and Hughesville Baptist Church are among those participating in a Lifeway women's simulcast on April 29. Guests include Jennifer Rothschild; Kristi McClelland; Jada Edwards; Elizabeth Woodsen, and Jen Wilkin. Visit Lifeway for more information, and contact the churches for more information regarding the church's additional offerings. Some churches offer lunches, dinners, food truck availability, etc.
Men's Conference
Save the date for The Potomac Baptist Association's annual men's conference from 8 a.m. – 3 p.m. on May 6 at Dunkirk Baptist Church. The theme will be Five Areas of Pursuit. There will be worship, breakout sessions, and food. Register online.
Easter/Resurrection Day Happenings
Connecting Church, Abingdon, will have an Easter Egg hunt from 10 am-noon on March 25 at Abingdon Elementary School. Along with egg hunts, there will be games, crafts, and snacks.
Severna Park Baptist Church will have an Easter Journey & Egg Hunt on April 1. It's a family experience of Jesus' life and last days, as well as an egg hunt and crafts. The youth will sell hot dogs, hamburgers, and snacks.
The Church at Severn Run will have an Easter Egg Hunt Outreach on April 2 from 3-4 p.m. In addition to an egg hunt, there will be food trucks, inflatables, face painting, and cornhole.
Saints Church in Severna Park will have an Easter Breakfast & Egg Hunt starting at 9 a.m. on April 8 with free books and other giveaways and a visit by the Easter Bunny. The church is using the hunt to engage its community and invite folks back for Easter Sunday services.
We know there are a lot of other Holy Week events happening. Send us your Eastern news and events, and photos! Email info@bcmd.org.
Adverse Effects of Smoking
The health and wellness ministry at
Colonial Baptist Church
, Randallstown, will sponsor two workshops on the adverse effects of smoking, vaping, and secondhand smoke, especially among youth and young adults. The first seminar will be
on zoom
beginning at 1:30 p.m. on April 15th. The second will be a hybrid presentation at 6:30 p.m. on April 26.
The keynote speaker is Dr. Panagis Galiatsatos. To register and for much more information and a pre-test to discern how much you know about the dangers of smoking, visit
colonialbaptistch.org/smokingcessation.
The African American Fellowship of the BCM/D and.the Prince George's Baptist Association will host the annual "Awareness Conference" from 8:30 am – 2:30 pm on March 24 at the BCM/D offices at 10255 OldColumbia Rd. in Columbia.
This year's conference will address the issues of bridging the generation gap and advancing church ministry through technology. Speakers will be Dr. Bobby Manning, the senior pastor of First Baptist Church of District Heights; Dennis Karp, the mid-Atlantic regional director of Chosen People Ministries; Dumisani Washington, the founder, and CEO of the Institute for Black Solidarity with Israel (IBSI) and Graham Smith, the national account director for Right Now Media. For more information and to register, visit bcmd.org/events.
The feature photo (by Sharon Mager) shows Disaster Relief veteran volunteers and newbies raining at Faith Glen Burnie Church. Another training is scheduled for April 22 at First Baptist Church of Upper Marlboro. Visit us online for more information and to register.