BCM/D 2023 Annual Meeting: "In Jesus' Name"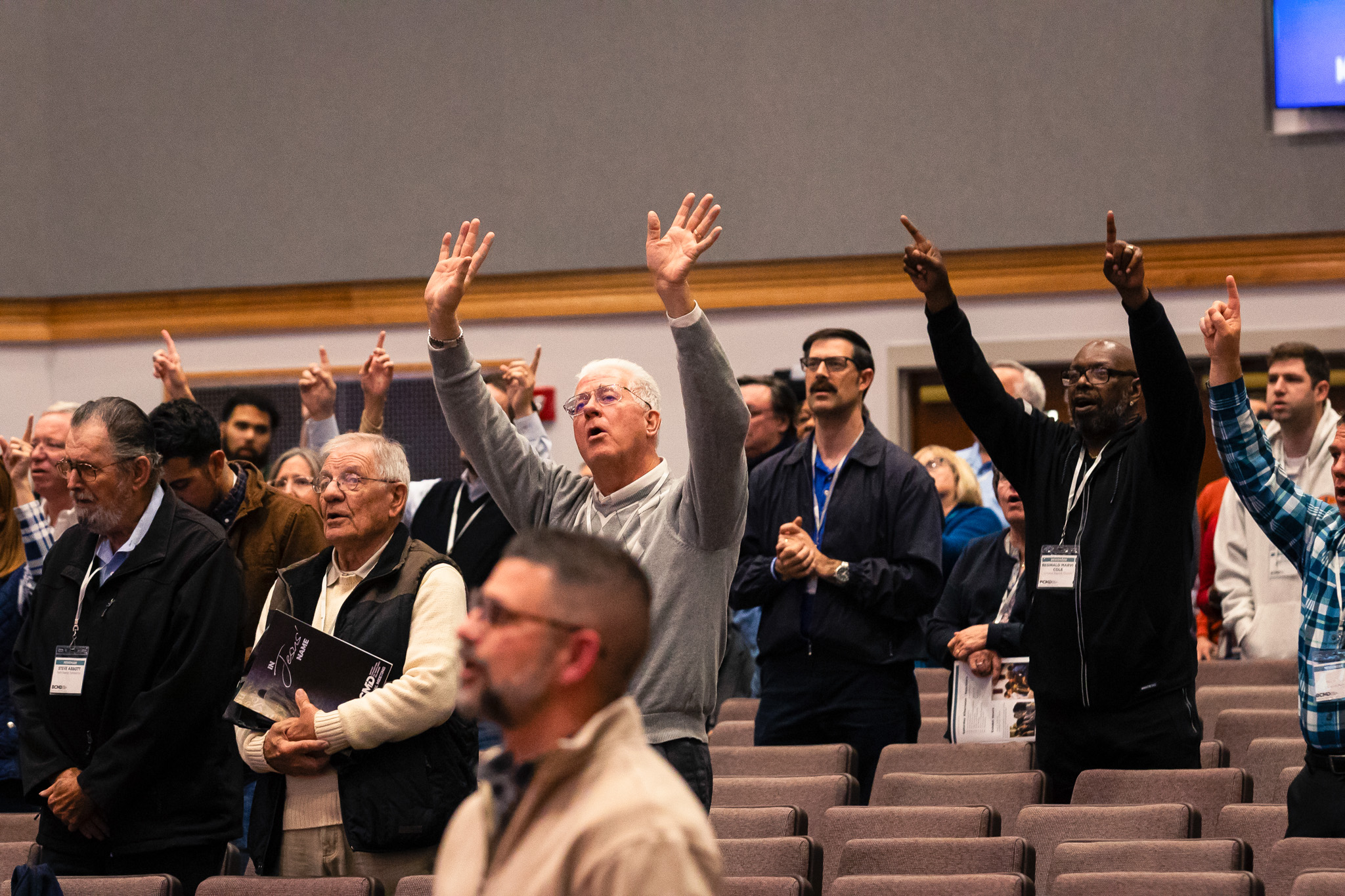 BCM/D's Annual Meeting ushered in a new direction for Maryland/Delaware Baptists, led by Executive Director Tom Stolle, who was called to the position in March 2023.
The 187th meeting brought 226 Messengers and guests to Kettering Baptist Church's Legacy Center in Upper Marlboro, Maryland, just 20 miles north of Washington, D.C., on November 10-11. The theme was "In Jesus' Name," emphasizing prayer and partnership.
Partnering With Jesus to Reach the Lost
Outgoing BCM/D President Glenn Swanson, who also serves as the pastor of Bayside Baptist Church, Chesapeake Beach, Maryland, thanked Maryland/Delaware churches and his family for their support over the past two years.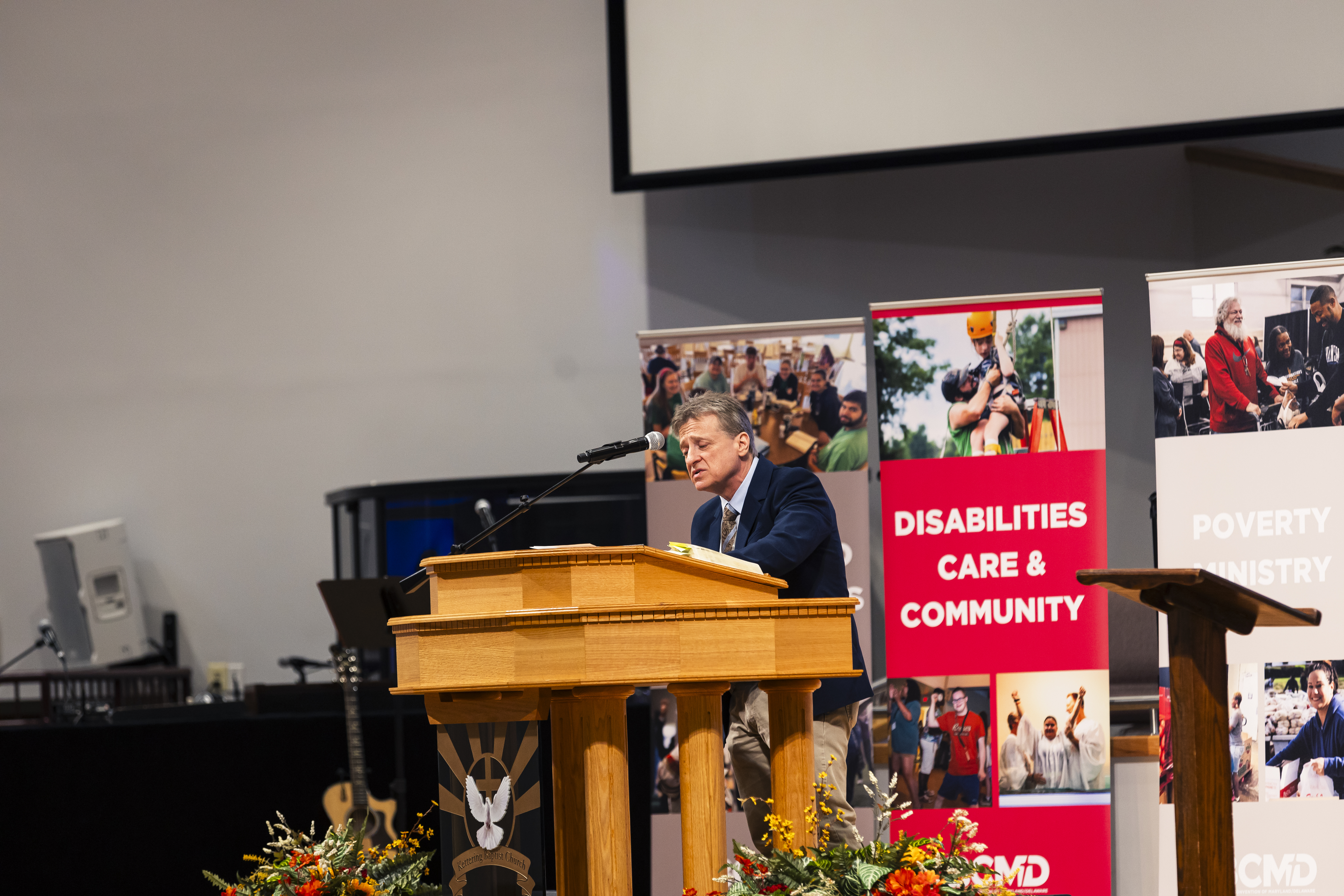 Addressing attendees, Swanson said the church's priority should match Jesus' number one priority referred to in Luke 19:10, "'For the son of man came to seek and save the lost.'"
He shared about a lost child near the church and how the entire community — hundreds of people, along with police and rescue workers were frantically searching for the little boy and used Bayside Church as a command post. Swanson shared how fraught people were until the child was thankfully found, and the atmosphere immediately changed. "The quiet sorrow turned into an exuberant celebration," he said.
Swanson compared the situation of the lost child who was found to lost souls who turn to Jesus, referring to Luke 15:10, "Just so, I tell you, there is joy before the angels of God over one sinner who repents."
Swanson encouraged pastors and church leaders to "keep pressing forward."
We need each other
In his address to messengers and guests, Stolle said, "I have served for more than 19 years at the Baptist Convention of Maryland/Delaware in a variety of roles. One thing I know is we need each other!"
Stolle emphasized partnerships. Referring to 1 Corinthians 12:12-22, Stolle said God gifts individuals differently, and since churches are collectives of individuals, churches also possess different gifts. "We must recognize that we cannot do this work alone!  God has gifted us the way He has chosen," he said. "We must be unified. We must relate to one another as partners."
"When I was asked by the General Mission Board to accept the position of executive director, and my wife and I prayed and agreed to do it, I told myself, 'I will not stand before God and waste this position and not do what I believe the Bible says that I should do and that we should do collectively.' That is why I've introduced to our staff what I call our pillars."
The pillars are members to missionaries, disability care and community, poverty ministry, BCM/D Ready, and gospel-centered mental health.
Members to Missionaries — "We can partner in our efforts to equip everyone — every man, woman, and child to be missionaries where they live, work, and play."
Disability Care and Community— "The level of lostness in this community is staggering. If you added up all the individuals with disabilities on Earth, you would have the third largest country on the planet. Per 

Joni & Friends

, 1.3 billion people on our planet live with a disability. Yet, we don't see many of these precious people in our churches." 
Poverty Ministry — "We can make a difference in the lives of those living in poverty.  Approximately 40 million people in the U.S. were living in poverty from 2021-22, and the child poverty rate in America has more than doubled. If God has blessed us with resources, shouldn't we help?" 
BCM/D READY — "We can bring relief to individuals affected by disasters, not just natural disasters but social disasters. We focus on hurricanes and tornados, but where are we when cities are torn apart? This is such an opportunity to share Jesus, and when people are experiencing the unexpected collapse of the world around them, we can come in with the love of Jesus, as hands and feet of Jesus when they are most receptive" 
Gospel-Centered Mental Health — "We can share the love of Jesus with those struggling with mental health. We can bring them to our church families. We can connect them with resources to receive the care they need." 
"How do we accomplish what God wants us to accomplish when the needs are so great? By taking one step at a time," Stolle said.
"I believe our actions need to center around three things — prayer, service, and giving. No matter what gifts God has given us, we can all partner in prayer; we can all serve; and we can all give." Read more of Stolle's address here.
Special Highlights
Swanson and Stolle were both visibly moved by a presentation from Bayside Church's 12nine Abilities Ministry, designed for adults with disabilities and led by Sherri Swanson, Glenn's wife. Glenn and Sherri's daughter Ana is part of the ministry.
The 12nine group quoted Leviticus 26:12, "…I will be your God and you will be my people." They sang the song "Way Maker," written by Sinach, using hand motions, with a few using tambourines.
Stolle was moved to tears. God used Stolle's candid sharing about his family's ongoing struggles dealing with their youngest son, Jimmy, as a catalyst to launch the convention's strong disability initiative. Stolle said seeing the young adults singing praise on the platform felt like the fulfillment of his vision from God.
In addition to the presentation, individuals with disabilities from Bayside Church's 12nine Abilities Ministry and The Gathering Place Church in Bowie, greeted convention attendees, opening doors, smiling, and directing people to the registration area.
Other highlights included a prayer breakfast sponsored by the Mid-Maryland Baptist Association before Saturday"s session, prayer by associational directors of missions (DOMs) and an impromptu altar call during a worship session.
At least 70 people attended a 7 a.m. prayer breakfast sponsored by the MMBA in Kettering Church's cafeteria. The breakfast included time of fellowship, worship and prayer. Even after the breakfast ended, some were praying together in groups. Many indicated the prayer time was powerful and ushered in a moe of the Holy Spirit throughout the Annual Meeting. Read more about this event here.
DOM's from areas East to Western Maryland lined up across the stage, and each led a time of prayer over the five pillars, unity, and the collaborative ministry. Stolle heavily emphasizes strong partnerships with the local Baptist associations. Many associational leaders expressed thankfulness for the strong relationship that has grown between associations and the convention.
Later, as attendees sang, "Holy Spirit, You are Welcome Here," led by Keasha Wormley and a team from Freedom Church Baltimore, Jamie Caldwell, BCM/D's church planting missionary and emcee for the meeting, led an altar call. Many came forward to pray while others worshipped and prayed in their seats or knelt on the floor.
Business
During the business session, messengers elected officers, approved the 2024 budget, unanimously approved the second reading of a constitutional amendment and a clause, and passed two resolutions.
The following officers were elected: President: Fred Caudle, pastor of The Church @ St. Charles, and the Potomac Baptist Association director of missions; Vice-President: Ron Blankenship, Montgomery Baptist Association director of missions as first vice president; Anthony Minter, pastor of First Rock Baptist Church, Washington D.C. as second vice president; Stephanie Greer, a member of The Garden Church in Baltimore as recording secretary; Michael Fillis, pastor of Fenwick Island Baptist Church, Delaware as the assistant recording secretary.
Additionally, messengers approved a $7.12 million budget ($2.5 million allocated for BCM/D's Skycroft Conference Center) to support the convention leadership's vision and continue giving 37% of Cooperative Program receipts to SBC entities.
On a required second vote, messengers unanimously approved a constitutional change requiring churches to take steps to protect children and vulnerable adults and as a requirement for affiliation. They also passed a disaffiliation clause for churches when they are found to be in open and unrepentant behaviors contrary to the Baptist Faith &Message 2000. Read the specific changes here.
Messengers passed two resolutions, including one expressing appreciation to Kettering Baptist Church for hosting the meeting and another affirming churches upholding biblical values in an ungodly society.
Mini-Messages
Guest speakers were Jay Jones, the pastor of Freedom Windsor Mill; Jimmy Painter, pastor of Cresthill Church; and Victor Kirk, pastor of Sharon Bible Fellowship, Lanham, Maryland. Each shared a "mini" message during the meeting.
Jones' theme centered on "In God We Trust," sharing Psalm 20:7, "Some trust in chariots and some in horses, but we trust in the name of the Lord our God." Trusting in God is not normal — it is not something we naturally do, and it's not always easy, Jones said. "I really think this is arguably one of the biggest ways that you and I can have the assurance of our salvation. If we can identify in our daily lives of trusting God, we should know that it is supernatural. We should know that's not from us."
Jimmy Painter focused on the love of God, from the stable to the cross, quoting John 3:16."In a passionate message, Painter said, "Yes, God gave his son in his birth, and yes, God gave His son in his life, but God ultimately gave His son in His death."
Victor Kirk was the final speaker before the meetings and focused on the prayer closet. Kirk shared, "A secret prayer will not be fruitless. It's going to be a blessing in your life. When we get into that closet by ourselves, the fresh air, the fresh anointing of God from heaven, joins us, and the atmosphere in the closet changes. Something happens like Clark Kent the Superman. You go in one way; you come out another way. You go in sad, but you come out glad. You go in hurt, but you come out healed. Why? Because there's something about the closet — the secret place — that occurs when we go in by ourselves.'
Glen Swanson closed the meeting, asking officers and other convention leaders to join him on the platform as Kettering Baptist Church Pastor Bucas Sterling III prayed.
The 2024 BCM/D Annual Meeting will be on November 10-11 at Ocean City, Maryland.
Feature photo: Worship during the 2023 BCM/D Annual Meeting at Kettering Baptist Church. (by Dominic Henry)