Over 70 People Attend MMBA's Prayer Breakfast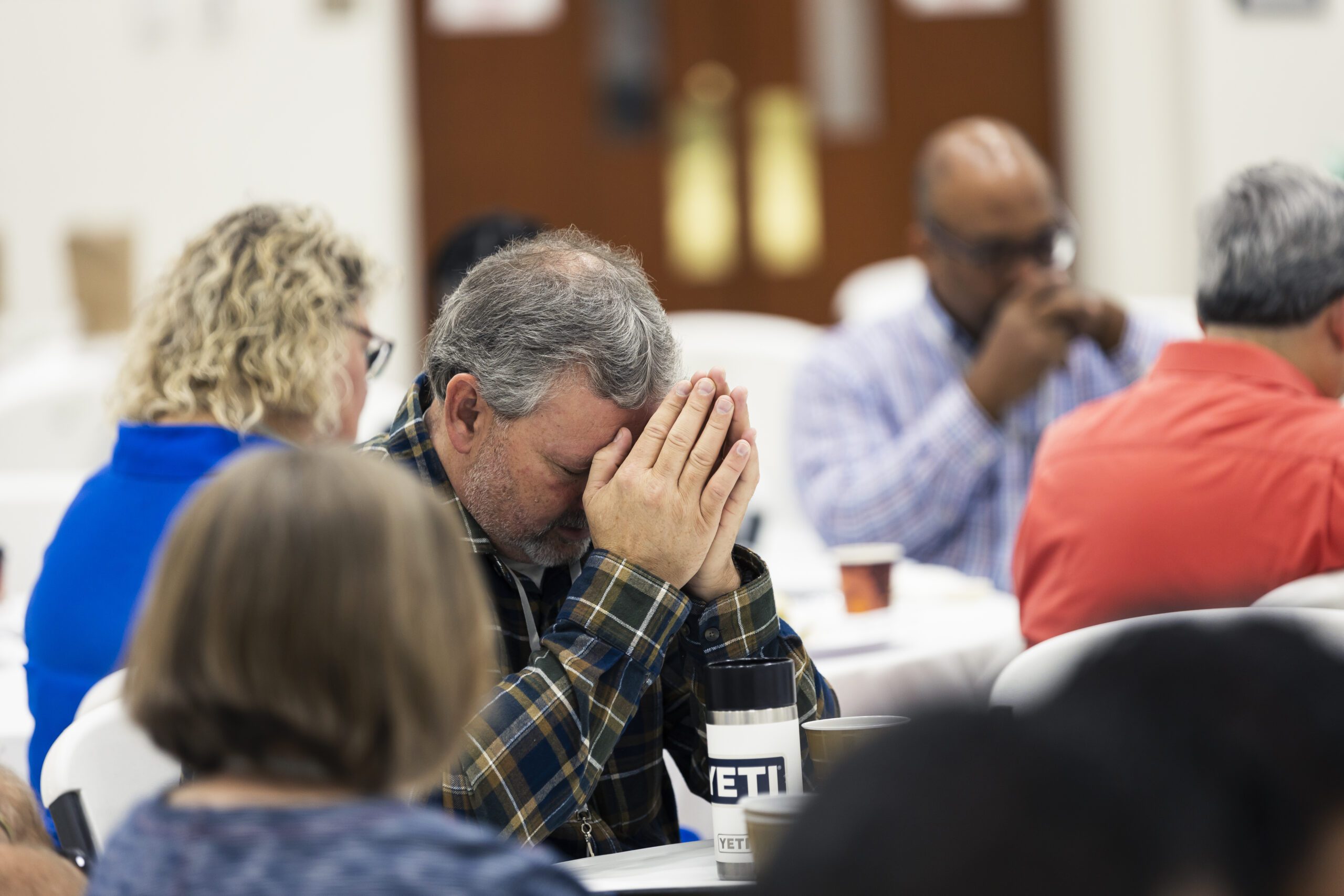 UPPER MARLBORO, Md. — The Mid-Maryland Baptist Association (MMBA) sponsored a prayer breakfast before the Saturday session of the Baptist Convention of Maryland/Delaware BCM/D Annual Meeting on November 10-11 at Kettering Baptist Church, Upper Marlboro. At least 70 people attended the 7 a.m. meeting in the church cafeteria — one-third of those who attended the general sessions.
MMBA Director of Misisons John Mackall said, "We were really pleased with the attendance. We had the opportunity to sit down and talk to pastors and laypeople we hadn't met before — brothers and sisters doing the same work we are doing, lifting each other up. It was a great time of encouragement.
"This has been a project that T.J. (Pastor Travis Johnson), pastor of Tri-County Baptist Church, Damascus, Md., has had on his heart for several years," Mackall said Johnson planned one several years ago for the MMBA, but due to Covid they had to cancel it. "God bless TJ! He didn't give up." Mackall said with the Annual Meeting focus on prayer, this was a perfect time for the breakfast.
"It was a beautiful time," Johnson said. "The response was better than what I expected or hoped. I couldn't have been more pleased with the prayer breakfast and how God put various pieces together." He referred to speakers and prayer leaders, including BCM/D Executive Director Tom Stolle, representing the convention; BCM/D Prayer Coordinator Adron Dozat, representing the culture of prayer; Mackall, representing  pastors, and Skycroft Conference Center Guest Services Manager Taylor Tuel, praying for children and youth
Omar Williams, a worship leader from Kettering Baptist Church, led music for the breakfast. Many stood, raising hands, singing, worshipping, and praying. "That was powerful. Omar is a talented musician using his gifts for God," Johnson said.
Johnson said God pulled all the pieces together – including the extensive breakfast catered by Marlboro Grill, Upper Marlboro, Kettering Church staff and volunteers who took extra time to help set up and clean afterward.
Additionally, Johnson said he was especially appreciative of Stolle and the convention, willing to allow the extra time for prayer.
Johnson said, "Our churches and convention will be strengthened as that passion for prayer grows. I hope that one day there will be more people in the prayer meeting than in the business meeting."
Stolle said, "Human beings can't control or manipulate a real move of God's spirit being present, but I believe that because we really committed to prayer, and there were so many people at that prayer meeting, that it set the stage for the spirit of God to freely move." He said the presence of God was evident during the Annual Meeting as folks rushed to the front during an impromptu altar call during worship; the way people were worshipping freely, and the passion in the speakers.
Stolle was also surprised at the number of people in the early morning, especially since it was the first since 2015.
He commended the Mid-Maryland Baptist Association. "It was great that a local association wanted to partner with us this way."
Feature Photo: Pastor Jim Jeffries, LaVale Baptist Church, prays at the MMBA prayer breakfast. (Photo by Dominic Henry)