Two New Collegiate Ministries Kick Off This Semester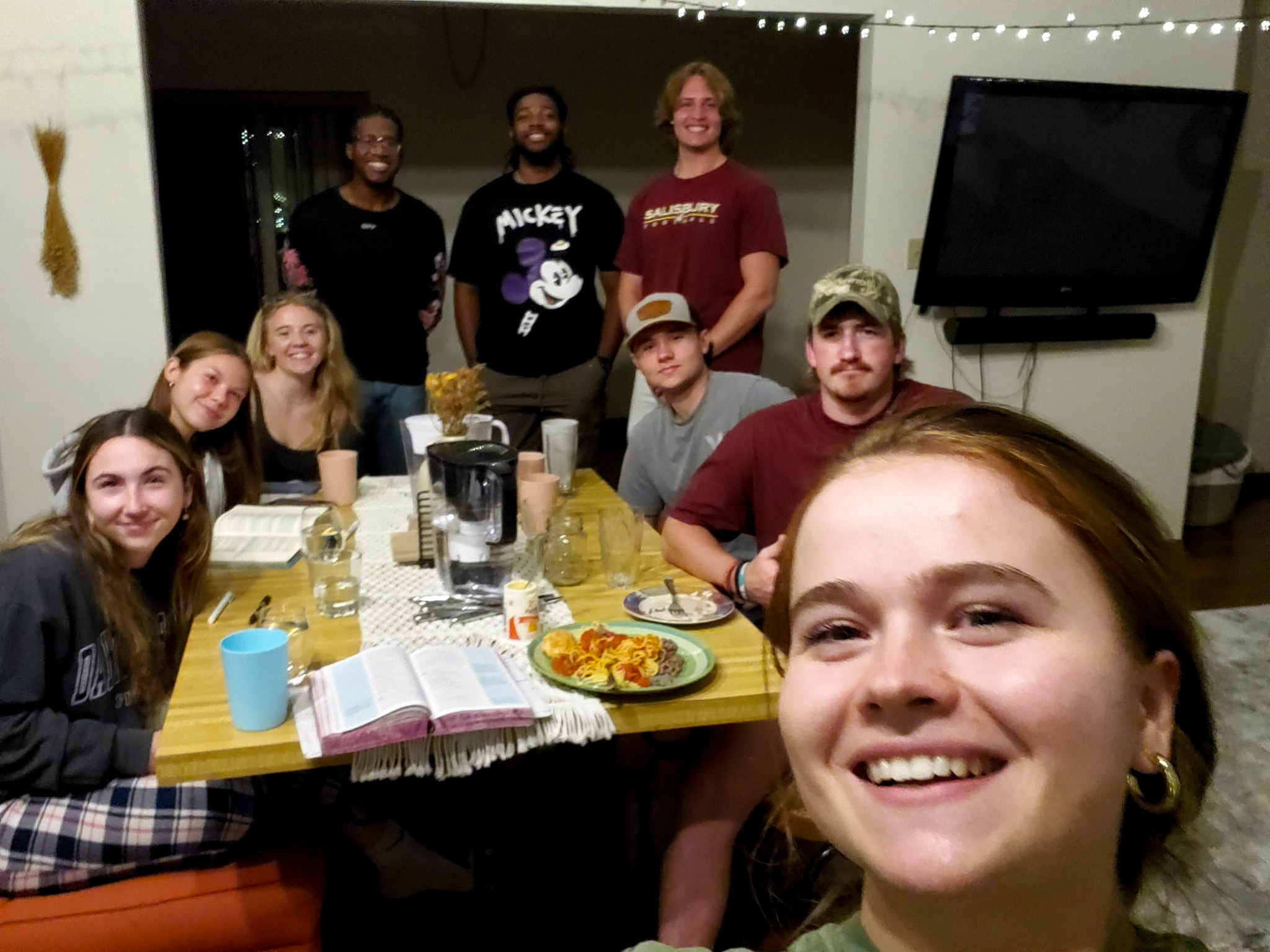 School is back in session, and Baptist Collegiate Ministries (BCM) across college campuses have hit the ground running. As students resume their busy schedule of classes, clubs, and other responsibilities, God is using BCM to create opportunities for outreach, discipleship and overall spiritual development.
Many students come to college having never heard the name of Jesus, while others may have received his grace and are longing to join a supportive community of believers. No matter the circumstance, God has a way of meeting people exactly where they are and using His followers to reach the lost.
This semester, the Lord appointed two young women to plant BCMs at Montgomery College, Germantown Campus, and at Salisbury University to reach new students and advance the Great Commission.
Montgomery Community College- Germantown BCM
Adriana Alonzo is laying the foundation for a BCM at Montgomery College in the ethnically diverse city of Germantown, Maryland. Alonzo previously served as the BCM ministry intern at the University of Maryland (UMD) for two semesters after graduating from the school's College of Agriculture and Natural Resources.
While she was on staff, she spent time discipling students, sharing the gospel, leading worship, and teaching Bible studies. However, this past spring, Alonzo felt God calling her to leave her alma mater to serve somewhere else.
Alonzo recalled a pivotal conversation with mentor and UMD BCM Director Jessica Senasack, "There's a community college 15 minutes from your house where nothing is going on," said Senasack. This was the push she needed to step out in faith and follow the calling God had placed on her life.
"I just kind of feel Him drawing me more and more to ministry, maybe like full-time," said Alonzo. "I'm not entirely sure what that means yet," she said.
Over the summer and the past few weeks, Alonzo has successfully connected with a handful of dedicated students who are interested in learning more about the Word of God and growing in community with one another. She recently hosted a cultural dinner and game night for her new students, who speak different languages and encompass a variety of ethnic backgrounds.
This semester, she is also leading the students through the Gospel of Mark to help the group dive deeper into the foundational truths about Jesus. "We all need to be reminded of the gospel," Alonzo said. "Let's just sit in the fact that Jesus did it all…that's the premise of Mark, like it just shows that Jesus was a servant who came and got the job done for us. Let's just sit in that for a little bit."
The college recently hosted its Club Fair, giving students an opportunity to check out the groups available on campus. Alonzo is still praying for more students in order to grow BCM and make it an official student club. MC requires groups to have at least four student officers but BCM has only three signed up.
Right now, one student has expressed interest in joining and serving as an officer, but Alonzo is waiting for confirmation. In the meantime, she is praying for the Lord to bring more people into her path and to calm her doubts about the job God has set her apart to do.
"I can say so far that they are really excited and really love Jesus and are like willing to be in this with me," said Alonzo. "I remind myself the excitement and joy I feel are so much greater than the fear."
Salisbury BCM
Over on the eastern shore, Julie Fillebrown is building a BCM at her alma mater, Salisbury University. Fillebrown, who served as a student leader with Young Life in college, felt led to return to her school as a BCM director and ambassador for the Lord.
"The goal of this BCM that I'm starting is to develop students into leaders that will go out into the community not only on campus but further," said Fillebrown.
In order to develop these student leaders, Fillebrown is taking advantage of her convenient location near campus. She is striving for a relational approach to ministry through personal invitations, casual dinners, fun events and in-depth Bible studies to build meaningful friendships and draw people closer to Christ.
This semester, she is leading students through the Book of John in order to lay a strong foundation for the gospel and help new believers understand the doctrine of Jesus's divinity.
"I definitely like providing pathways to get really engaged with the community and learn how to engage the community with the gospel," she said. "Anytime we get to fellowship together, that would be an opportunity to just build them up."
During the first week, 20 students showed up for BCM's welcome cookout and Fillebrown has met with several students for one-on-one meetings. However, Fillebrown is continuing to pray for more people in order to become an official organization on campus. Salisbury requires groups to have at least ten members to be recognized as a student organization on campus.
In the meantime, Fillebrown plans to keep pursuing students and using her time to, as she puts it, "chase after Jesus" in any way she can. "They know that I love them and I care about them. Just seeing the fruit of time that I've spent with Jesus, it's pouring out into the conversations that I'm having with these students," said Fillebrown.
Anyone interested in supporting Julie's ministry can visit https://missionaries.namb.net/full/julie-fillebrown.
Prayer List:
Pray for God to provide more students with receptive hearts
Pray for wisdom and guidance for Adriana and Julie
Pray against the spirit of fear and anxiety
Pray for non-believers to come to faith and current believers to grow in their relationship with Jesus
Pray that both BCMs gain enough students and officers to become official clubs
Pray for Julie to adjust to living on her own
For information about Baptist Collegiate Ministry and how you can partner, contact State Collegiate Coordinator Jessica Senasack. 
Madison Wells-James is a freelance journalist and photographer.
Feature photo: Julie Fillebrown (in the foreground) is building a BCM at her alma mater, Salisbury University. (Photo submitted)