Tom Stolle Addresses GMB as Executive Director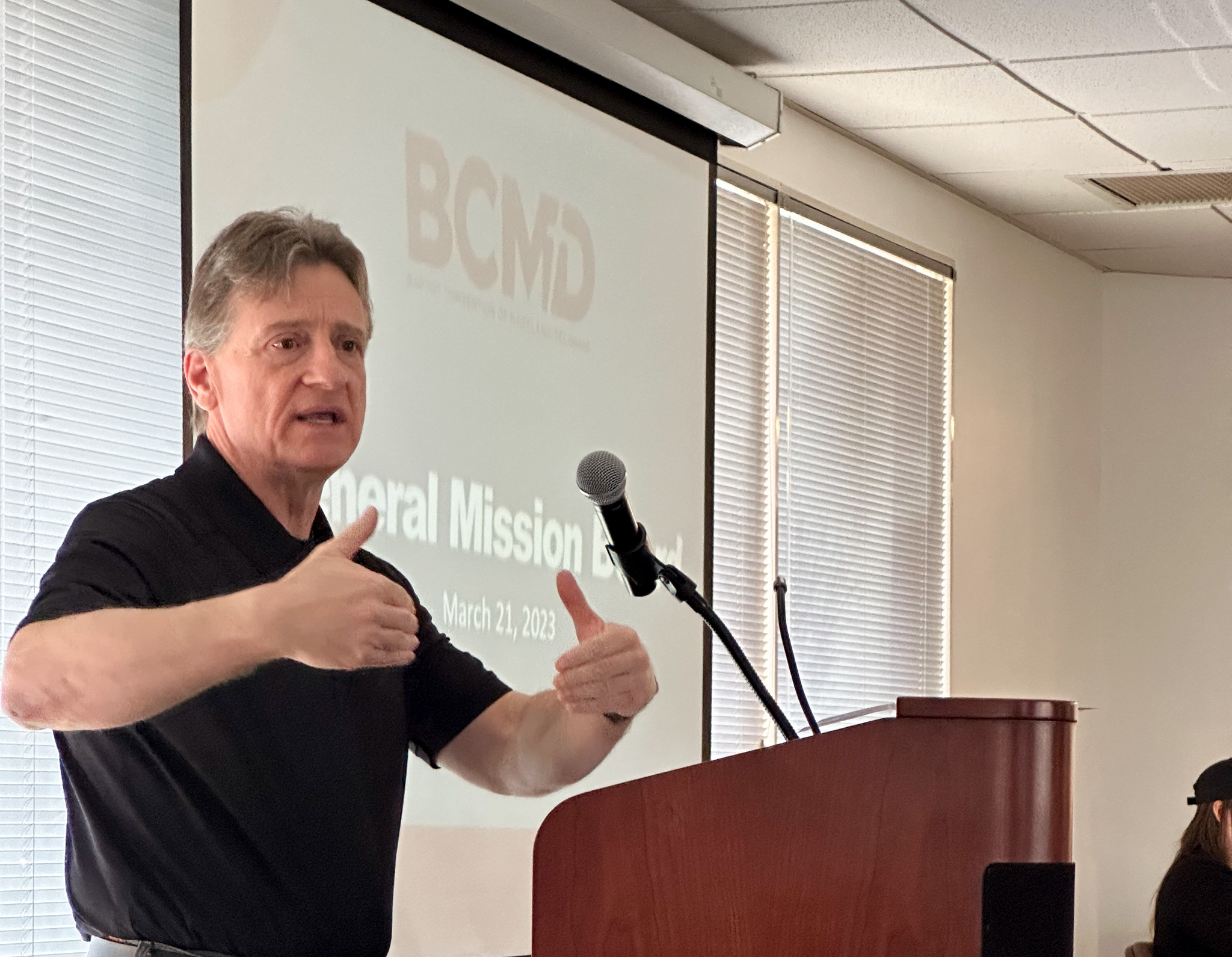 COLUMBIA, MD. — A sense of peace and expectation permeated the Baptist Convention of Maryland/Delaware (BCM/D) General Mission Board (GMB) meeting on March 21. The meeting, held in Columbia, was a significant "first" as Tom Stolle addressed the GMB members for the first time as executive director.
Stolle emphasized the mission stays the same — starting and strengthening churches to fulfill the Great Commission. He discussed a bright future at Skycroft; updated information on church services and church planting; emphasized the continuing partnership with directors of missions, particularly with BCM/D Ready. Members also voted to affirm BCM/D affiliation for Revival Korean Bible Church in Pasadena.
Several speakers said, "Greater things are yet to come!"
Obedience & Prayer
GMB President Byron Day welcomed guests. He read the Lord's Great Commission in Matthew 28:16-2, to share the gospel everywhere we can and around the world; the Commandment in John 13:34 to "love one another as I have loved you;" and the call in Ephesians 4:1-6, referring to "walk in a manner worthy of the calling to which you have been called…"
Day said loving God and loving people is why we fulfill the Great Commission. Speaking to the Ephesians reference, Day said, "We can't just talk it; we have to walk it. People are looking to see if we are practicing what we claim — how we ought to live before God. In this time in the church, there is so much division in gender, race, and in politics. That is the enemy's strategy — to divide us. It always has been."
Day shared the recording of "Goodness of God," sung by CeCe Winans as GMB members softly sang in a time of worship.
BCM/D President Glenn Swanson emphasized that the BCM/D's primary strategy is prayer. It's like on board an airplane when you are buckling your seatbelt, and the stewardess is giving instructions on the flotation device and oxygen in case you need it. "We kind of treat prayer like that. We know it's there. We know it's helpful, but we don't use it until we need it."
Sharing from Colossians 1:1-13, Swanson read, "We always thank God, the Father of our Lord Jesus Christ, when we pray for you since we heard of your faith in Christ Jesus and of the love that you have for all the saints…." 
"Wouldn't it be nice to get a letter like this?" Swanson asked with a smile.
Swanson referenced verses 9-13, "For this reason, since the day we heard about you, we have not stopped praying for you. We continually ask God to fill you with the knowledge of his will through all the wisdom and understanding that the Spirit gives so that you may live a life worthy of the Lord and please him in every way…"
Focusing on being filled with the knowledge of God's will to please God, Swanson said, "Isn't that what we're striving for?" He encouraged GMB members to encourage their congregations to pray and to filter everything they do through the question, "Will it please God?" He said, "when we filter everything through that question, we will bear fruit."
Prior to leading members to the prayer room for a time of group prayer, Swanson shared about new prayer resources in the building, including a rack with a prayer-walking book, flyers about why prayer is a primary strategy, and a covenant to pray for pastors, among many more. Swanson also emphasized that the Annie Armstrong Easter season is a wonderful time to pray for missionaries throughout North America.
Financial Report
Stolle, sharing the BCM/D financial report, said Cooperative Program receipts for the two months ended February 28, 2023, total $540,685.981.
North American Mission Board (NAMB) receipts totaled $102,000.00 for the first two months of 2023. Management expects to fully utilize available evangelism dollars.
All major expense areas except for finance/facility operations are running within budget. Management expects finance/facility operations to be within budget at year-end
Currently, the bottom line shows a deficit of $(64.998.70), which is not unusual for this time of year. Management believes breakeven for the year is possible, but as always, affiliated churches giving through the Cooperative Program are the primary factor in achieving desired results.
Regarding State Missions Offering, $90,559.93 that was received in 2022 funds the 2023 grant program to mobilize churches for mission. One hundred percent of received funds will be issued back to churches to accomplish this mobilization. Currently, $75,600 in grants have been issued, leaving a remaining balance available of $14,959.93.
Regarding Skycroft Conference Center, receipts totaled $734,724.02 for the two months that ended February 28, 2023. The recognition of prior year deposits for current year bookings as income resulted in the majority of this revenue, although Skycroft experienced a strong February.
With a giant smile, Stolle said, "It's March 21, and summer camps are fully sold-out — can we give God applause? I've been here two decades, and I haven't seen a ministry within this construct that has resulted in more salvations and commitments than camp at Skycroft." Stolle urged GMB members to continue to pray for Skycroft.
Continuing, Stolle said Skycroft expenses totaled $253,098.09, and all major expense areas are running within budget.
He said, "We are encouraged by strong camp registrations. We invite our churches to book a stay at Skycroft. The strength of this operation depends largely on the willingness of our affiliated churches to use the facility."
Skycroft Director Emily Reedy reported re-hiring a part-time administrative assistant (who they had to lay off during Covid), Sarah Wheeler, who will be a tremendous asset to both her and Guest Services Manager Taylor Tuel. Additionally, she shared about facility updates, including rehabbing an old farmhouse that will be used for staff housing. Additionally, she shared the about installation of security cameras in all parking lots and building entrances by the beginning of summer. Kamp Kaylor will be getting an update to house summer missionaries, though Reedy said there is a lot of work to be done.
Reedy said she hopes to begin a routine volunteer program. "We love all of our volunteers, whether it's one day or on a regular basis. It will be getting something off the ground for folks to commit on a regular basis to do such jobs as helping sweep the gym, working in the kitchen — and other various chores that would tremendously help the support staff. Contact Reedy at ereedy@bcmd.org if you or your church can help.
Closing the financial report, Stolle said the BCM/D is in a good ready cash position, with bills paid in full and on time.
Baptist Foundation
Stolle reported on the Baptist Foundation of Maryland/Delaware on behalf of Foundation President Stacy Boyles. Thirteen churches have outstanding loans from the Church Loan fund. For the three months ended December 31, 2022, the Foundation recognized secured church loan fund net income totaling $25,126.15. Ninety percent of the annual net income generated by these funds will be distributed by the Foundation to the Baptist Convention of MD/DE to start and strengthen churches.
Five churches have outstanding loans from the Arthur Nanney church loan fund. The Arthur Nanney fund was established in 2006. This fund is used for small emergency loans to churches.
As of December 31, 2022, the market value of the investment portfolio was $8,863,100.08. In 2022, the market experienced a reduction in values. The one-year performance reflected a return of (17.0)%, and the three-year return totaled 1.7%. There is good news in that the quarter ended December 31, 2022 generated a return of 6.1%.
The Baptist Foundation of Maryland/Delaware is positioned to manage endowment funds for churches and associations while saving them money on administration. Additionally, the foundation provides education to churches highlighting both a Christian's responsibility to be a faithful steward as well as various options available to financially give to the Lord's work both in life and after death. Visit the Baptist Foundation website to learn more.
Executive Director Report
Stolle referred to Timothy 1:2 and shared about relationships. Stolle told GMB members so much rises and falls on personal relationships and that people make decisions and judgments about people by the way they're treated. "I've been really concentrating on these verses. You're supposed to treat older people respectfully, and younger men like your own brothers, and older women like your mother. My mom and dad are both with Jesus now, but that's a powerful statement. I dearly love my mom and dad. And it's interesting that the Bible says to treat younger women with all purity as you would your own sisters, and it goes an extra mile — with all purity. There's so much in our society that is not pure." Stolle encouraged all to be in a right relationship with others and to guard their hearts. "Don't play fast and loose with purity."
"I am extremely humbled to be asked to serve as this convention's executive director. When I came to the job in 2004, I never even thought about that. I was just trying to figure out where I was called. I sent my resume to this place called the Baptist Convention of Maryland/Delaware, which I didn't know much about. They weren't advertising the job. I just felt in my prayer time that I should send a resume to this place. A guy named John Faris contacted me. He said, 'We've been praying for years for my successor.' I stood before David Lee (a former executive director); John Faris (the former chief financial officer); Bob Simpson (a former communications manager);  and Mel Pride (a former consultant)." Stolle said God confirmed his calling through his wife, Shelley, who said she had seen her "burning bush" and that this was the right move. At the same time, Tom and Shelley's youngest son, Jimmy, was diagnosed with autism. Tom was concerned that leaving a lucrative secular career as a CPA may not cover Jimmy's needs, but Shelley told him, "If this is God's call, He already knows what Jimmy needs, so don't worry about that. Just take the job." Tom said he has found, "What keeps you going in hard days of ministry is that you know you're called." Lee had asked Tom how long he was going to stay. Tom said, "I told the truth. I'll stay until God tells me to go." Speaking of today, Tom told GMB members, "When God says it's time to enter a different stage of life, great. But in my own timing, I'm planning on staying here until I'm 65 or older." Looking ahead, Tom said the BCM/D vision and purpose are the same as it has been, adding that he and former executive director Michael Crawford worked side by side in prayerfully planning the trajectory of the convention. Tom said, "The BCM/D still exists to start and strengthen churches so that together we can fulfill the great commission. The question is, how can we best continue to build on our organization to do that?"
Tom shared about organizational changes due to his promotion. Communications Director Megan Jones will now also serve as human resources manager. Longtime employee Margot Painter will increase her accounting responsibilities; Demetra Bennett will handle all administrative areas of church services and other duties. Dan Hyun will lead church services. Mark Dooley, associate executive director, will focus much of his attention on promoting the Cooperative Program. Regarding communications, Jones, shared that she is in the process of overseeing a brand refresh with new colors and various small changes across the BCM/D platforms and hopes to have it completed within the next month. "We continue to be excited to be a resource to our pastors," she said. Tom highlighted the many areas of emphasis moving forward.
"Churches are made up of men, women, and children and there will be a dedicated ministry to all three," Tom said. "We have established strong support for children's ministry through the work of BCM/D Children's Ministry Consultant Kris Buckman." He referred to the BCM/D Women's Conference earlier in March with over 400 attendees and commended Pastors' Wives Consultant Somer Phoebus for her work in organizing it. "I've been here over 18 years, and I've never seen anything like this conference. This event was larger than most of our annual meetings." He referenced an upcoming men's conference on April 28 at South Shore Church featuring national speaker Ed Stetzer, along with local speakers. Additionally, he referred to a strong collegiate ministry under the cooperative leadership of Nathan Walters and Jessica Senesac.
He said, "We will continue to emphasize pastor connections, and we will partner with our directors of missions (DOM) in this effort. True partnerships go beyond financial. It's based on a relationship built on trust, and trust is earned. I want to partner with our DOMs on this connection effort." Churches voluntarily choose to affiliate with both the state convention and local association. That's their choice. Stolle said ultimately, these churches don't belong to the state convention or the association. They belong to God. "We can both love and serve them, and we can do it together."
"We must bring Church Services and Church Planting into closer alignment." Tom said, "We value our partnership with the North American Mission Board, but we also want planters to know and embrace the value of the BCM/D. To do that, Tom said planters and existing churches must experience the same level of love and service. BCM/D must be, from the beginning, part of the church planting process and to know that we are here in Maryland/Delaware to serve and support them. This is critical to success.
Tom emphasized, "We will prioritize ministry to the world's largest lost people group — individuals affected by disabilities. My dream is for Maryland/Delaware to be the catalyst to start the largest outreach to people with disabilities the world has ever seen. This means intentionally sharing the gospel with people with disabilities. I won't see it in my lifetime, but we can plant seeds for the future, and ultimately, years later, there will be a forest."
"We will continue to prioritize equipping and resourcing affiliated churches to protect children and vulnerable adults from sexual abuse. Maryland/Delaware is a recognized national leader. God has given us this platform, and with that leadership platform comes responsibility." Tom commended Kris Buckman, who not only serves and helps drive the leadership of the BCM/D sexual abuse prevention task force but also serves at the national level.
Tom said the convention will seek to partner with churches to bring the gospel through love and service to the poor. He quoted Proverbs 19:17 (NIV) "Whoever is kind to the poor lends to the LORD, and he will reward them for what they have done."
He emphasized the BCM/D Ready initiative and working with DOMs so that each association has equipment and trained individuals/teams that are ready to serve when disasters arrive. Tom said, "This cannot function effectively with a single convention point person. "We must have local associations equipped and ready. I plan on having conversations with our DOMs about what that looks like in their respective associations."
"We will prioritize gospel-centered mental health. Many of our pastors are under incredible stress due to a variety of factors. We will continue to partner with CenterPointe Counseling and other entities to help provide the assistance our pastors need."
Byron Day closed the meeting with prayer, thanking Him for His faithfulness and for the servants who serve the churches in the convention. He closed by praying, "that we may be fervent and strong in serving you in ministering and sharing the good news of the gospel of Jesus Christ."