Register now for BCM/D Special Needs Conference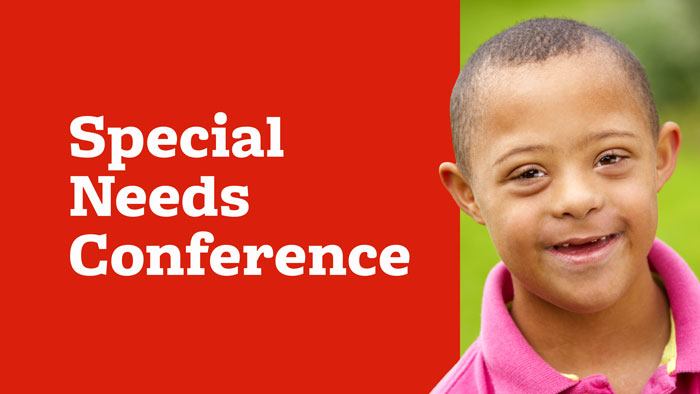 RANDALLSTOWN, Md. — Are you seeking to start or strengthen your church's special needs ministry? The Baptist Convention of Maryland/Delaware's (BCM/D) annual "Special Needs Conference" is a great resource to help get your church where it needs to be. It's also an opportunity to meet other special needs families, share ideas, network, and gain practical tips for your church to successfully reach the largest unreached people group in the world — those affected by special needs.
Colonial Baptist Church in Randallstown, Maryland, will host the conference. Guests may come as early at 8:30 a.m. to browse the resource tables and register. The event will kick off with a time of prayer and worship at 9 a.m. This year's keynote speakers are Dr. Lamar Hardwick, Sandra Peoples, and Amberle Brown. A number of other speakers will share their years of experience and expertise in breakout sessions which will be jam-packed with helpful information and tools to equip you for a greater ministry in this area.
The conference will also include details about special needs partnerships within the BCM/D, and Colonial Baptist Church's special needs partnership in the Dominican Republic. It will conclude with prayer shortly after 2 p.m.
The complete list of speakers includes:
Lamar Hardwick: Hardwick is a pastor who was diagnosed with Autism Spectrum Disorder in 2014, at 36 years old. He is the author of the best-selling book, "I am Strong: The Life and Journey of an Autistic Pastor." Using honesty and warmth, Hardwick will share his story, his real-life challenges, and how God has upheld him and his family. Hardwick will also challenge churches to start and strengthen their special needs ministries.
Sandra Peoples: Peoples is a leading voice in the special needs community based out of Houston, Texas. She formerly served as the executive editor and social media manager for Key Ministry and Not Alone, and her writing has been featured by "FamilyLife Today," "DaySpring, Parenting Teens" (LifeWay), and "Crosswalk."  Peoples and her husband Lee, have two sons — David and James. James has level 3 autism. Lee is a pastor, and Sandra serves as their church's special needs ministry director. Sandra also has a sister with Down syndrome, which gives her a life-long perspective on being a special needs caretaker. She is also the author of three books: "Speechless: Finding God's Grace in My Son's Autism," "Held: Learning to Live in God's Grip,"and "Unexpected Blessings: The Joys and Possibilities of Life in a Special-Needs Family."
Amberle Brown: From the age of seven, Brown felt called to be a missionary to an unreached people group. At the age of 21, however, a rare disease left her legally blind, and her hopes seemingly dashed. In a beautiful story of redemption, God called her to be a missionary to the largest unreached people group in the world – people with disabilities. In 2017, Brown co-founded The Banquet Network, an organization which works with churches to help them to reach and include people with disabilities. She also works with World Relief, an organization committed to empowering the Church to serve the most vulnerable around the world.
Bergina Brickhouse Isbell, M.D.: Isbell is America's Spiritual and Mental Health Doctor and she believes there is a cure for cancer of the soul. The author of "Victory Over Depression With and Without Medicines," and "Come to the Table: A Special Needs Devotional," she has been recognized as an influencer who combines the sacred with the scientific. She has been described as a combination of Dr. Oz meets Dr. Caroline Leaf.
Katie Matthews: Matthews is the parent of a child with special needs, the cohort coordinator for The Banquet Network, and the director of a special needs children's ministry called "Bethany Blessings" in Columbia, Maryland. She is passionate about bringing the gospel to families of individuals with special needs and seeks to train other church members on how to minister to these families. As a mom and a previous public school special educator, she knows first-hand what a blessing it can be to work with those who have disabilities, particularly children and young adults.
Jim McCaffrey: McCaffrey and his family came to Gunpowder Baptist Church in Freeland, Maryland, in February 2017 after serving churches in New Jersey and Maryland. He and his wife have five beautiful daughters who keep them on the go. McCaffrey will share about his experience as a pastor with autism and a ministry leader in this area.
Hunter Brown: Brown serves as the Director of Operations for The Banquet Network. He is passionate about helping churches work together to reach people with disabilities with the gospel. In addition to his work with The Banquet Network, Hunter works at Goucher College as the men's and women's golf coach and is a part-time student in a Master of Arts in Theology program at St. Mary's Ecumenical Institute in Baltimore.
Tom Stolle: Stolle serves as the Baptist Convention of Maryland/Delaware's associate executive director. Tom and his wife, Shelley, have been married for over 25 years and have three sons, JT, Jake, and Jimmy, a child with autism. This journey has sparked a passion within Tom to assist our churches in the area of effective special needs ministry. A licensed CPA in the state of Maryland, Tom directs, supervises, and coordinates the finance, accounting, and budgeting operations of the BCM/D.
"The conference grows every year," Stolle said, and he's thrilled. "Individuals affected by disabilities are truly divinely designed with God's purpose in mind. As Jesus said in Matthew 9:37, the harvest is plentiful but the workers are few. Let's be workers that go out into the harvest and bring these special people into God's house and love on them and let them know that they're valued, reminding them that they have a purpose because they are created in the likeness and image of God."
The cost is $25 and includes lunch and materials. Register online.