My BCM/D Family Sept. 8, 2023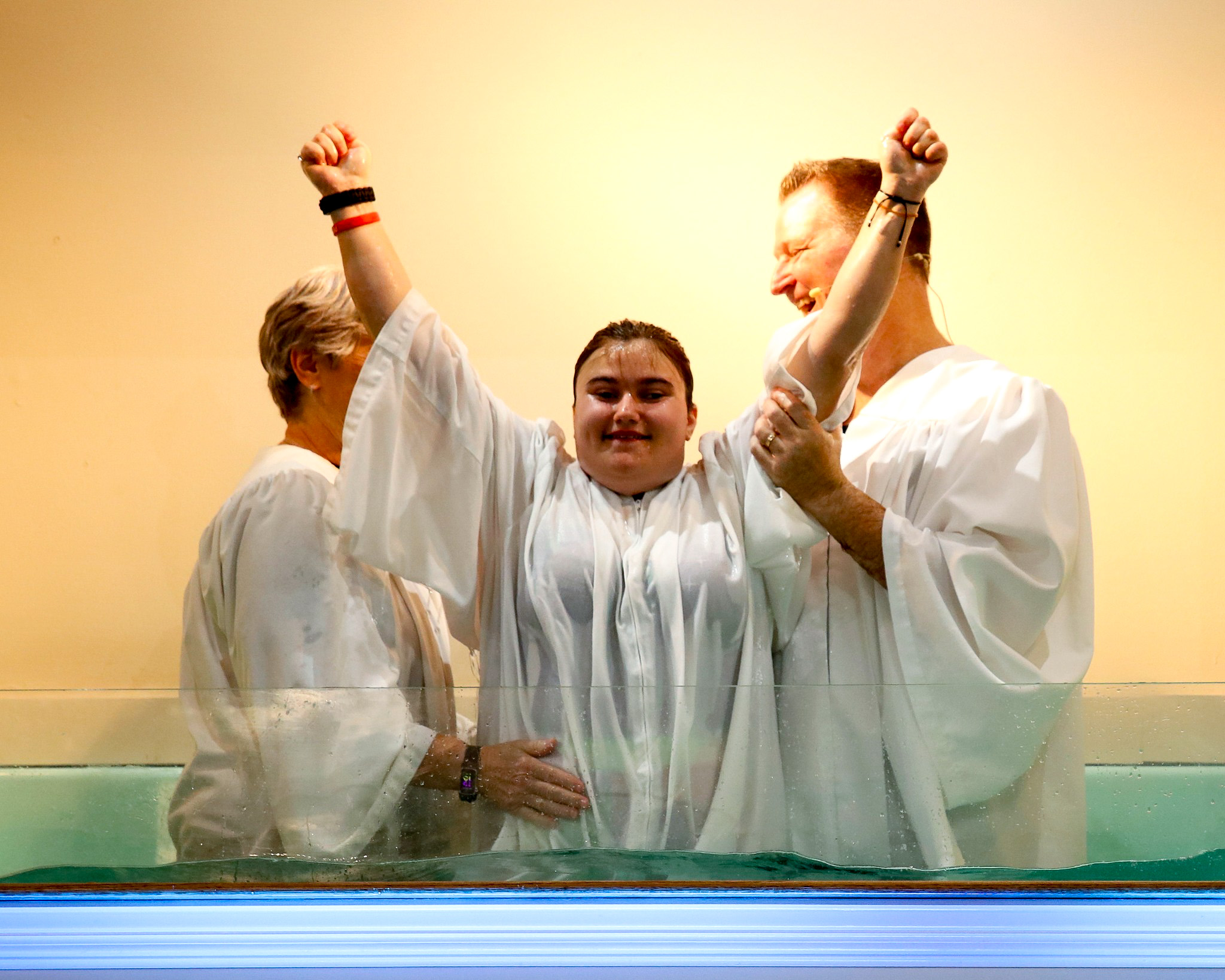 Izzy Gets Baptized
Chris McCombs, the pastor of Lexington Park Church shakes his head in wonder at the way God moved at the recent Everyone Belongs Camp for individuals with disabilities at Skycroft Conference Center. McCombs said his wife Shonette had the idea of going to the camp and ministering to the parents and guardians. The church took a team, and for an hour at Skycroft's Hebrews Coffee Shop, they shared music and caring. They bought coffee and other drinks and snacks for those who attended. Chris said all were appreciative. "There were parents crying. They said they are never treated like that. Their life is so consumed with taking care of their children."
While at the camp, Chris was introduced to a young seasoned camper named "Izzy," who made a confession of faith and wanted to be baptized. It "just so happened," that Izzy's mother, Terry, knows a member of Lexington Park Church, Diane Kochell. Diane, whose son Brian was also attending camp, told Terry – I know where Izzy can be baptized. My pastor is here. Let me introduce you.
Chris says "Izzy is high functioning. She told me Jesus died for her sins. She articulated what sin is, and that she wanted to be baptized because she is following Jesus," he said. Chris said it was such a blessing — here was a young adult who lived in his community who wasn't plugged into a church, and wanted to be baptized – and there he was.
Katie Matthews, the director of The Banquet Network, who co-sponsored the camp with the Baptist Convention of Maryland/Delaware, Cresthill Church, Bowie, and The Gathering Place Church, Bowie, attended the baptism, as did several of Izzy's friends and family.
The baptism happened on August 27. Chris said, "I looked at Izzy and saw childlike faith. She may never grasp substitutionary atonement but she knows Jesus loves her, and that she needs Jesus. It was a really good experience for the church."
Chris said there are some individuals who have disabilities and have been part of the church's programs. But Chris said the church wants to do more.
"This may never happen again, but it happened this year," Chris said.
Octogenarian still ministers with VBS
Summer Vacation Bible School is a memory for many churches but the memories linger.  Bayside Baptist Church, Chesapeake Beach, has a special volunteer who helps each year. Matilda Swanson, Pastor Glenn Swanson's mother, is in her 80s but she continues to help. Matilda has been serving in VBS for 65 years in Upper Marlboro, West Virginia, and Florida. and now with her son, Glenn.
"Everywhere she's been she's had a hand in Vacation Bible School," Glenn said. Matilda used to teach at trainings at Ridgecrest Conference Center, and she helped former Children's & Youth Missionary June Holland. Glenn said he is proud of and thankful for his mom.
Back to Church Weekend
Colonial Baptist Church's "Back to Church Weekend" starts with a Community Festival on Saturday, September 16, 2023, and culminates with a church service on Sunday, September 17.
The Festival is from 11 am to 3 pm on Saturday on the church grounds with activities for all ages. Ministry leaders will highlight their activities; local businesses and food and ice cream vendors will be on-site, and there will be board games, soccer, and other outdoor games. Visit the church website for more information or to register.
Montgomery Baptist Association (MBA) Happenings
The MBA has lots of late summer/fall happenings! They just finished their annual outreach at the Montgomery County Fair, where various churches take turns manning the MBA booth, meeting people, giving away goodies, and providing Bibles and Christian literature.
The association is now gearing up for their annual revival held from 7:30-9 pm on two nights, Sept. 17 and 20 at Olney Baptist Church. This popular event draws MBA churches together to hear various speakers. Additionally, association churches provide the music.
Another big event for the MBA is their annual "Body Building" event from 6-9 p.m. on October 23 at First Baptist Church of Rockville. This is open to everyone in Maryland/Delaware and has a variety of training sessions including topics on leadership, small groups and ministries; digital ministry and security; evangelism; immigration law; steps to church revitalization and cultivating a discipleship culture. Attendees choose two of the session offerings. The event is free and includes dinner. Registration is required.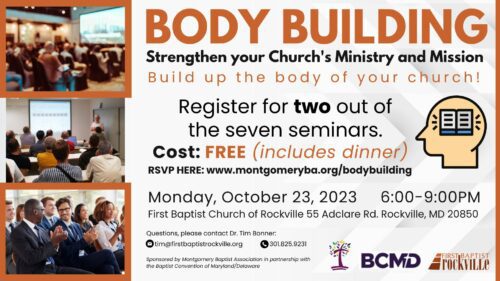 End of Summer Cookout
Church of the Harbor, Edgemere, is having an end-of-summer cookout on their front lawn following their 10:30 worship gathering. They'll have hamburgers and hotdogs with the fixings and games and activities for children.
Anniversary & Crafting
CrossLife Church,
Elkridge, will celebrate their 20th anniversary on October 20 with a catered dinner and entertainment.
The church will have a unique outreach tomorrow – a Crafter's Fellowship open to crafters of all ages and abilities. The event is to encourage one another to use talents and abilities to glorify God.
Step Up Men's Conference
First Baptist Church of Upper Marlboro
will host Step Up, a men's event, from  6-9:30 pm on Sept. 23. The event is being planned by several Maryland/Delaware churches across associations. The evening will include worship, challenge, and prayer. The keynote speaker will be FBCUM Lead Pastor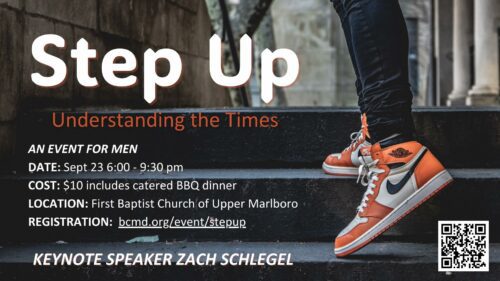 Zach Schlegel, with testimonies by Richard Pope, the pastor of Canvas Church, Salisbury, and Chris McCombs, the pastor of Lexington Park Baptist Church. The cost is $10 and includes a meal.
Register
by Sept. 17.
ESL
First Baptist Church of Laurel
will kick off their English as a Second Language (ESL) classes on Sept. 20. Registration begins on Sept. 13. The church uses ESL as a tool for outreach to teach the English language to the community of Laurel and beyond and share God's word with students. Materials needed include a notebook, and a pen or pencil. The textbook is sold at the church for $30. For more details visit the church
website.
Feature photo courtesy of Lexington Park Baptist Church.
Send your news and photos to info@bcmd.org.