My BCM/D Family News 5, 2023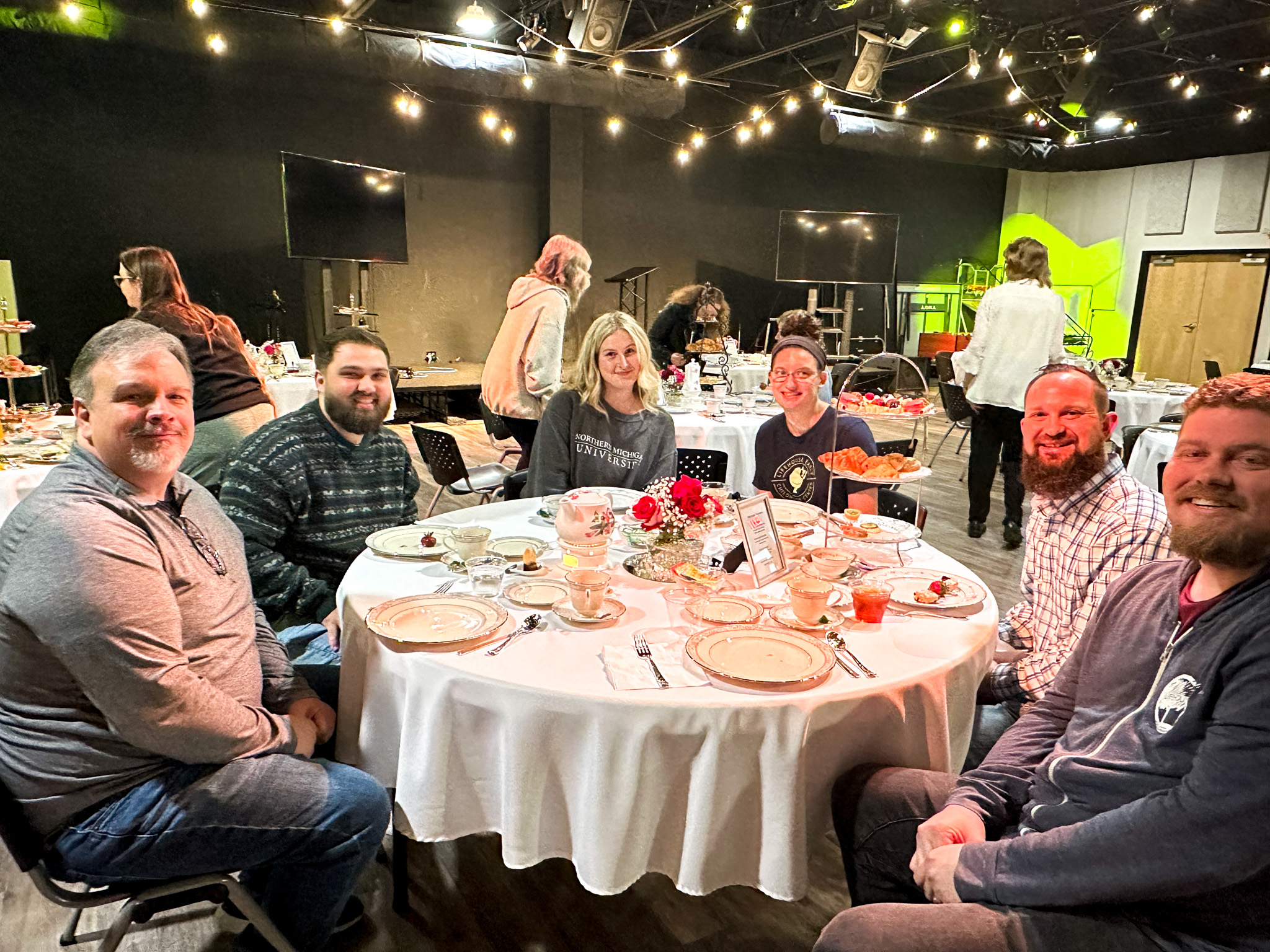 There's so much going on throughout our BCM/D churches. Did you know that although most of our affiliated churches are in Maryland and Delaware, we also have a few elsewhere, including Virginia, Pennsylvania, and West Virginia? We're a diverse, multicultural group of autonomous churches – traditional, contemporary, church plants, and established churches filled with individuals from a multitude of backgrounds and cultures and we want to share your news, photos, events, unique ministries, and more. And we'll also share what the BCM/D offers and how we can equip and encourage you. Feel free to share your news for consideration at info@bcmd.org.
Tea Time
LifeHouse Church, MOT, Townsend, Delaware, staff members were treated to a fancy tea party for lunch on May 4. The church's SALT group (Seasoned Adults Living Triumphantly) provided the tea as an appreciation surprise.
Surprised leaders enjoyed a beautifully decorated dining area set with teapots and tier stands filled with quiches, tuna, tiny egg salad, and cucumber sandwiches, along with macaroons, chocolate-covered cherries, and scones. Plus, they had clotted cream to go with fresh scones and an assortment of teas.
Several women and a few men graciously filled teapots with hot water and served extra goodies.
Suitcase Drive
Citizen's Church, Annapolis, has a suitcase drive going through May 7 to support children in the Maryland Foster care system during placement changes. They're seeking lightly used or new suitcases, duffel bags or luggage.
Got Questions?
Joel Rainey, the pastor of Covenant Church in Shepherdstown, West Virginia, will have an "Ask Anything Summer." Rainey will be soliciting questions from the congregation to be answered during his sermon series in July.
In a Facebook video, Rainey said the questions allow him and other staff to know what is on the minds of the congregation. "It's a way to listen to the church family by hearing the questions." He referenced Paul's letter in 1 Corinthians, where he was answering questions being asked by new believers because he wanted them to grow.
Rainey said he did a similar series about five years ago, but questions change and morph from generation to generation. The subjects may be roughly the same, but circumstances and culture change and require different responses.
For example, the covenant with Moses didn't change, he said, but the context did. In the book of Deuteronomy, the Israelites were no longer living in the wilderness. They were living in a different age, surrounded by different people, in different circumstances.
Rainey will answer the top most asked questions in July, ending with a special Q&A answering questions from children on the final week. Those can be challenging, he said, because children ask difficult questions, and the answers have to be shared with them on their level.
ParentCom
Oak Ridge Church, Salisbury, will have "ParentCon 2023" from 9:30 am – 3:30 pm on May 6. The event is designed to equip parents to be "the parent you want to be," knowing there are no perfect parents. Topics include Biblical principles on discipline, guiding your child's spiritual development, and perspective.
In addition to the teaching time, there will be breakout sessions for parents with children in the same phases.
The conference is free and allows parents to network and enjoy fellowship, and learn about helpful resources. Register online.
Mother-Daughter Paint & Lunch
Only Baptist Church will have a mother-daughter paint & lunch on May 6. Pastor Brian Tubbs said it's the first time they've offered it, and 30 people have registered.
Men's Breakfast
First Baptist Church of Kent Island will have a men's breakfast at 9 am on May 6. Men will enjoy eating and fellowshipping together, followed by a short devotional.
Community Fair
SoWeBo Community Church, Baltimore, will have a booth at the SoWeBo Art Festival from noon to 8 pm on May 28. The event, which kicks off the summer festival season in Baltimore, is at 1100 Hollins Street in Baltimore.
Feature Photo shows staff enjoying a luxurious tea for a special appreciation treat.