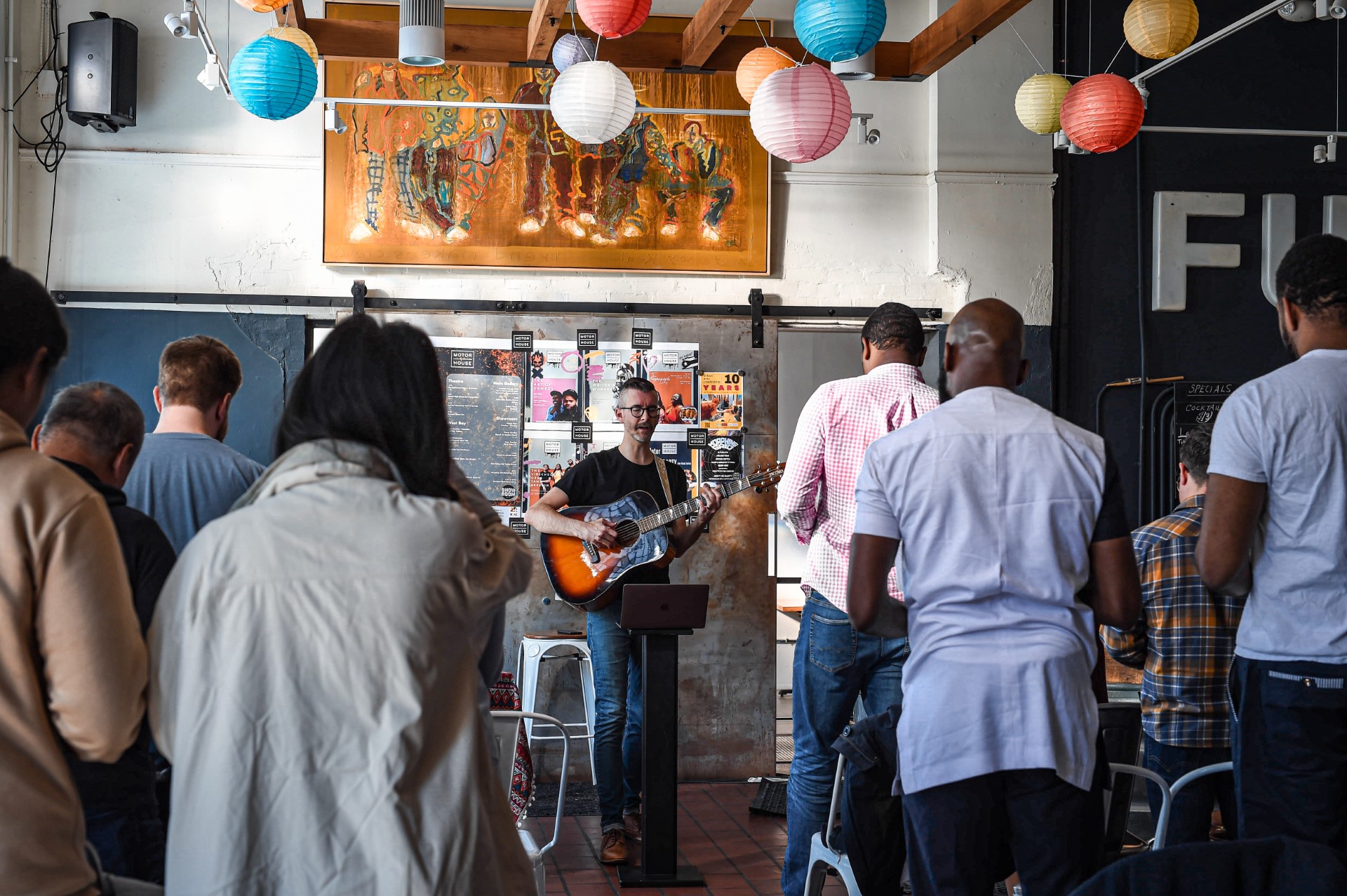 We are so thankful to God for all He is doing throughout BCM/D churches! Below is just a sample of the various ministries, outreaches, and events in Maryland/Delaware. 
The Church in Station North in the Baltimore Arts District meets at an event space at 120 W. North Avenue. Lead Pastor Andy Greenfield says when the venue is not used as a church, it's used for comedy shows, sip and paint nights, and other such events.
Greenfield said the church has grown in favor with those who own the site, and those they've met in the area. "It's so cool because we're so well received."
Discipleship is a key feature for us, Greenfield said. In fact, their men's group is growing, drawing men from different walks of life, who are discovering there's more to life than what they are experiencing. They're looking for healing and community.
Partnerships
Clinton Baptist Church is collaborating with a new fitness center being built near the church. "It's a partnership to bring health and exercise
into the Clinton Community," says CBC Senior Pastor Colin Pugh, adding that the Clinton area has a very high percentage of heart disease and diabetes. As part of the partnership, Clinton members will get significant discounts on both sign-up and membership dues.
The church will also focus on the spiritual element of caring for the physical body, the temple of God. CBC will offer some free fitness classes at their building, including fitness boot camps, followed by a barbecue. One Life Fitness coaches will lead the classes. It's a win-win deal. CBC will have more people to minister to, and One Life Fitness will gain more gym memberships.
Pugh said his goal through the summer is to meet with business owners like the fitness center and help make their businesses better and advance the kingdom.
Clinton is also adopting Clinton Grove Elementary, a Title One school with many needs. The church is providing all of the snacks as well as volunteers for the school's field day on June 9. They will continue to provide the school with resources to help them be successful.
Missions
Calvary Baptist Church Bel Air (CBC) has a mission team led by CBC members Don and Pat Roush serving in Maine. Primarily seniors, the group is working with the Farmington Conference Center to open their Christian camps that will begin in July. This is an annual trip to the area that the members anticipate, enjoying the fellowship and serving.
CBB Associate Pastor Keith Hartlaub said the church is sending a team of nine to Liverpool, England, in August to work with an International Mission Board Missionary moving to Liverpool. The Calvary team will help the family with their transition and help them get to know the area, prayer walk with them, and assist in whatever is needed. The missionary family will be working with a local church planting network.
Hartlaub said the Liverpool trip is a vision trip, and he hopes it will develop into an ongoing mission ministry.
The church is very active in missions. They recently worked with SEND Relief in Puerto Rico, helping with roofing. Hartlaub hopes the church will be able to go to Israel next year.
Church Homecoming
If you have been a part of Georgia Avenue Baptist Church, Silver Spring, mark your calendar. GABC will have a church homecoming celebration on September 24, its 67th anniversary. More information will be available later.
Church Planting Happenings
Harvest Church, Rehoboth, a new plant in Rehoboth, gifted 150 backpacks to families registered as homeless or near homeless in the Cape Henlopen School district.
As the backpacks were filled, the church – including the youngest of their children, prayed for the students who would receive the backpacks to come to know God and love him.
Compass Church Salisbury, had their first Thursday night prayer meeting in Princess Anne. They discussed the attributes of God and prayed for the church and community. They will continue to meet weekly on Thursdays at a local McDonald's at 6 pm.
Marriage Conference
Redemption City Church, Baltimore (RCC)  is accepting registration for a one-day marriage conference called "Two Become One" from 9 am-1 pm on July 8 at the RCC campus. The conference is designed to help couples dive deeper into their relationship dynamics, discovering strengths and areas for growth based on individualized assessments. There will be time to dialogue with other couples and have fun.
Register online. The cost is $50 and includes food, childcare, and assessment. The deadline to register is July 2.
Food Pantry
Glen Burnie Baptist Church ministers to those in need in their community through a food pantry. It's open from 4-5 pm on the first and third Tuesdays of each month. The pantry is by appointment only, providing privacy and opportunities for personalized engagement.
Out-of-School Celebration
Rush Baptist Church, Friendsville, will have an out-of-school celebration from 6-8 p.m. on June 16 with games, food, crafts, a movie, and prizes. The church recently celebrated Mother's Day with a covered dish dinner and a puppet show.
Father's Day Car Show
Dunkirk Baptist Church is known in the area and by car clubs for their annual free Father's Day Car Show. This year's show will be from 8 am – 2:30 on June 18. The church provides food, music, door prizes, and activities for kids. All cars and bikes are welcome. Over 95 awards are presented at the event, It's a huge outreach that gives the church opportunities to meet and engage their community.
Revival
Goodwill Baptist Church in Pocomoke City will host author and evangelist Joel Hitchcock as the guest speaker for GBC's revival services at 11 am and 7 pm on June 11.
Feature photo: Andy Greenfield leads worship in The Church at Station North Church. (courtesy of The Church in Station North)
We Want your News and Photos! Did you know that although most of our affiliated churches are in Maryland and Delaware, we also have a few elsewhere, including Virginia, Pennsylvania, and West Virginia? We're a diverse, multicultural group of autonomous churches – traditional, contemporary, church plants, and established churches filled with individuals from a multitude of backgrounds and cultures and we want to share your news, photos, events, unique ministries, and more. And we'll also share what the BCM/D offers and how we can equip and encourage you. Feel free to share your news for consideration at info@bcmd.org.