Michael Crawford Named BCM/D Executive Director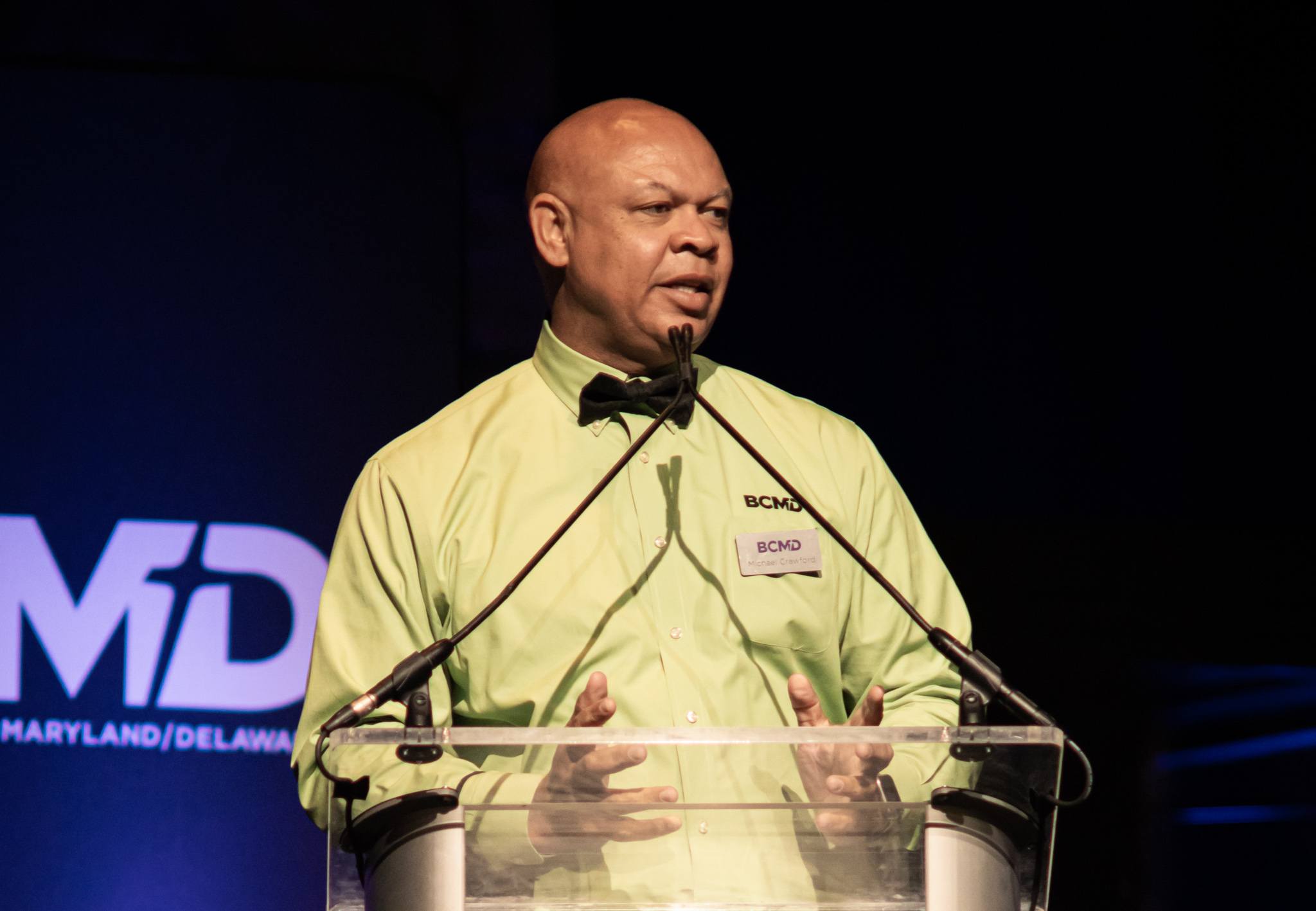 COLUMBIA, Md. – The General Mission Board (GMB) of the Baptist Convention of Maryland/Delaware (BCM/D) unanimously named Michael Crawford as executive director on March 17, 2022.
Crawford, who has served with the BCM/D for eight years, succeeds Dr. Kevin Smith, who, feeling a call to pastoral ministry, resigned in 2021. BCM/D State Director of Evangelism Mark Dooley became the interim executive director following Smith's resignation, working with an interim leadership team that included Crawford and Associate Executive Director Tom Stolle.
Previously, Crawford served as SEND Network Director for Maryland/Delaware and planted and served at Freedom Church in Baltimore. He co-founded The Banquet Network, a non-profit interdenominational entity designed to assess and equip churches with resources to start and strengthen special needs ministries. He also founded The Subversive Institute, an organization designed to serve the marginalized in Baltimore. Additionally, Crawford is the author of "100 Meditations: An Everyday Book for Everyday People" and "Don't Plant, be Planted: Observations About Starting a Church."
Stolle said, "Crawford is a phenomenal leader. He is uniquely gifted in the areas of vision and strategy, combined with a pastor's heart. He not only knows Scripture – he lives it out. He is a man of great passion. He cares deeply about the pastors, local associations, and the churches affiliated with the BCM/D. His love, care, and concern for the convention staff are obvious. He's the right leader at the right time. I truly believe God has called him to serve in this capacity."
Tim Simpson, pastor of congregational care at Greenridge Baptist Church in Boyds and chair of the executive director search committee, shared, "I am very grateful for everyone who prayed for the committee for the past six months. The Lord was gracious and gave us a strong sense of His leadership and teamwork." After interviewing a group of candidates in January and February, Simpson said the search team was in agreement. "We were united that Crawford was the man uniquely gifted to lead our two-state convention," he explained. "Crawford is a passionate follower of Jesus Christ, loves the mission of the local church, and cares deeply for our pastors, church planters, directors of missions, and our BCM/D staff members. He is a rare mix of visionary leadership and collaborative strategy-building wrapped in a shepherd's heart." Other committee members were Co-Chair Van-Kim Lin, Village Church in Hampden; Lynn Davis, High Tide Church in Dagsboro, Delaware; Tammy Lashey, wife of Mark Lashey, pastor of  LifeHouse Church, Townsend, Delaware; Harold Phillips, senior pastor of Pleasant View Baptist Church, Port Deposit; Wanda Minter, wife of Pastor Anthony Minter of First Rock Baptist Church, Fred Caudle, senior pastor of The Church @ St. Charles in Waldorf; Frank Duncan, senior pastor of Paramount Baptist Church in Hagerstown, Dr. Greg Kame, senior pastor of Glen Burnie Baptist Church; and Tim Byer, senior pastor of Faith Baptist Church in Glen Burnie.
Collaboration and strategy
Crawford emphasizes collaboration and strategy. "I don't have all the answers, and I don't have all the gifts," he told staff members during a Q&A time before the GMB vote. "This has to be a collaborative team effort. I hope to bring a sense of a renewed culture of oneness and unity and purpose and calling and a kind of solidification."
Looking ahead and smiling, Crawford said, "The possibilities are what excite me the most. The people in this room with amazing gift sets and experience excite me. It excites me to think about all the pastors all over the region that have a heart for Jesus who are laboring. It excites me to think about what we could do if we had a clear, articulated vision married with strategy and then resourced — what could actually happen! Those things excite me."
Crawford added that he's also excited about the future of Skycroft Conference Center (Skycroft). He emphasized the need for increased Skycroft promotion. Thinking ahead, Crawford envisions a new multi-purpose room and possibly using Skycroft for an Annual Meeting site. "It's a phenomenal place. I think it should be the premiere ministry conference center in the Northeast," he added.
Asked about some of the concerns in the Southern Baptist Convention, such as "wokeism" and hyper-Calvinism, Crawford responded, "They are just distractions. That's not a hard question for me." Crawford emphasized the need to strategize to fulfill BCM/D's mission of starting and strengthening churches.
Spiritual journey
Michael was born in California in 1968, the youngest of eight children. His mother accepted a new job when he was nine years old, and the family moved from the San Fernando Valley to the affluent Malibu Hills. Following his 1986 graduation from Crossroads High School in Santa Monica, he briefly attended the University of California, Los Angeles, before God reached into his heart and changed his life forever. During a difficult period of his life, while dealing with severe mental health challenges, Crawford remembered his brother's testimony and read the "red letters" in a Bible and he gave his life to Jesus. He transferred to The Master's College in Santa Clarita, where he earned a Bachelor of Arts in political science, with an emphasis in philosophy in 1991. In 1997, he earned a Master of Divinity from The Master's Seminary in Los Angeles.
Personal life
Crawford is an avid athlete. He has completed seven triathlons, including three sprints, two Olympics, one Eagle, and one Iron Man.
He and his wife, Dani, have been married for 28 years. They have five young adult children: Claudia, Tabitha, Nehemiah, Keturah, and Ezra; and their beloved Rottweiler, Bumi.
Regarding her role as Michael's wife and ministry partner, Dani, who has a career as a massage therapist, said, "I welcome being used in any way. I do love people. I'm excited."
Michael emphasized that he and Dani are intentional about spending time together. He stressed the importance of observing a sabbath and rhythms of rest.
Sharon Mager is a BCM/D communications specialist and BaptistLIFE correspondent.
Feature photo: Mike Crawford addresses messengers at the 2021 BCM/D Annual Meeting (photo by Dominic Henry).