Maryland/Delaware Roundup, July 15, 2021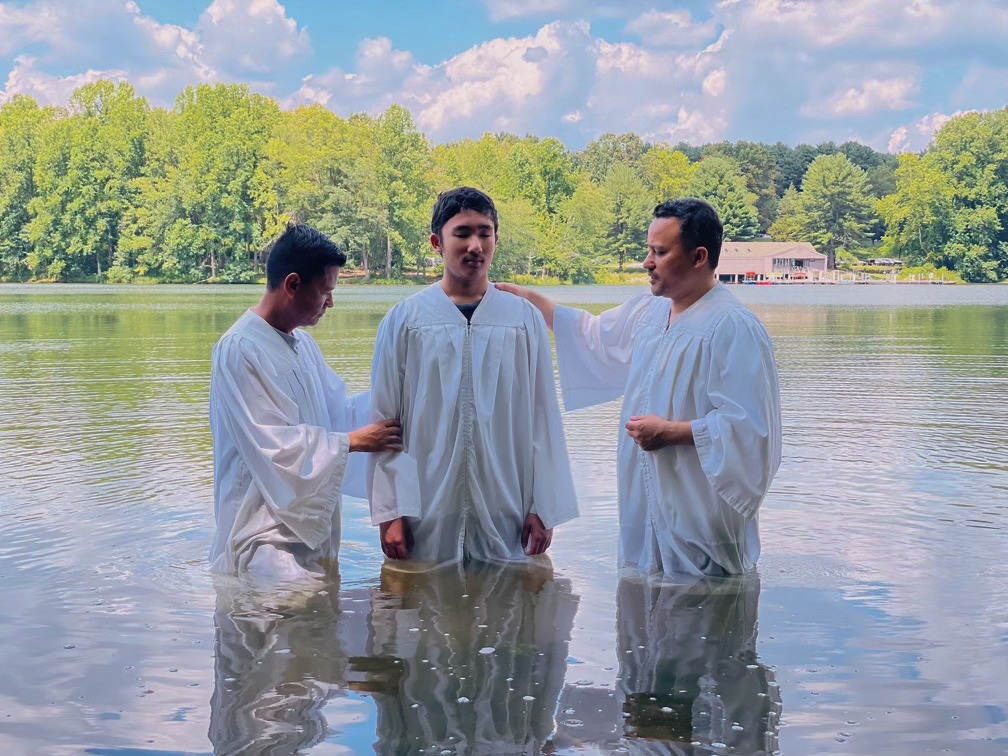 "Let the whole earth sing to the Lord. Proclaim His salvation from day to day. Declare His glory among the nations, His wondrous works among all peoples." 1 Chronicles 16:23-24
Nepali and Bhutanese churches baptizing, teaching, and discipling
Nepal Baptist Church of Baltimore (NBCB) and Bhutan Baptist Church of Baltimore (BBCB) had a joint baptism service on July 4 at a park in Gaithersburg. Members enjoyed an outdoor worship service, followed by four baptisms and a celebratory picnic.
The two churches began worshipping together online during the COVID-19 pandemic restrictions. Now they can continue to participate on Sundays through an online service at 10:30 a.m. or attending in-person at a 2 p.m. service at Parkville Baptist Church. Along with church members and friends, believers from Nepal and India also participate in the online services.
Raju Budhathoki, the pastor of BBCB, said there was much fear at the height of the COVID-19 pandemic, and many members had the virus. Budhathoki said for him, personally, it was a difficult season. He is a bi-vocational pastor working additionally as a mail carrier. Postal service did not stop during the shutdowns.
Church and prayer meetings continued through Zoom. The mothers in the Bhutan church had regular in-person prayer meetings several days a week and transitioned to Zoom. On Saturdays, the mothers have an online fellowship. Budhathoki said, "Because of that, the members are very strong in Christ now."
Dr. Manoj Shrestha is the senior pastor of NBCB and serves as an adjunct professor, teaching multiple religion classes at Towson State University. Shrestha began Bible teaching for both churches online, and Nepali believers around the world began participating. As a result of the interest, he formed "International Nepali Speaking Leadership Training" 16 months ago and now oversees a team of professors from Nepal, India, and Siliguri who alternate teaching six days a week. Through various platforms, over 1,000 ministers from 20 countries participate. In addition to prayer and worship, students learn leadership skills, Old and New Testament Bible Survey, church history, systematic theology, pastoral counseling, Christian ethics, Biblical finance, spiritual warfare, Bible study method, and other pastoral topics. "We also organized a Bible Quiz Contest where 141 Nepali speaking Churches from nine different countries took part. The Quiz ran for four months from March to June."
"More than 80% of the pastors in Nepal have no theological training," Shrestha explained. He is enthusiastic about the study program and thankful for the God-given opportunity. In addition to a Ph.D. from Princeton Theological Seminary, Shrestha received his Master of Divinity from Asia Center for Theological Studies and Mission, South Korea. He served as the principal of Nepal Ebenezer Bible College in Kathmandu.
One of the four baptismal candidates was Joel, the 16-year-old son of Shrestha, and his wife, Kalpana (shown in cover photo).
COVID-19 vaccine clinics
Maryland City Baptist Church (MCBC) partnered with the Anne Arundel County Health Department to host two Covid vaccine clinics earlier this year.
Representatives from Parkway Village, a mobile home community next to the church, were concerned that many in their community were not able to get to vaccination sites. Community leaders contacted the county seeking a vaccination clinic. When the county contacted the church, Senior Pastor Mitch Young was on board.
"The county had been trying to find opportunities to have the clinics. They didn't have a building big enough, had to do it outside, and asked if we could facilitate that. We said 'sure,' " Young said. Church volunteers helped the county representatives with logistics and greeting people.
The church has been trying to connect with the community and this was one more opportunity God provided, Young said.
Young asked, "Please pray for MCBC as we seek the Lord's will and how to reach the changing community with the Gospel."
Elvaton Baptist re-engaging and reaching community
Elvaton Baptist Church's Senior Pastor Chris Rice said the church is re-engaging members following COVID-19 restrictions. "We're trying to get people back in the swing of things," Rice said.
Elvaton Baptist School, a ministry of the church, provides their biggest outreach, Rice shared. While the kids are out during the summer, the church is offering various fun activities for children and for adults.
Children's activities are on Wednesdays. "We have various things for them. We had a big water fight night one week, and another week we moved chairs inside and set up a nerf gun dart war," Rice laughed. He said the adult leaders are having as much fun as the students.
On Friday nights, the church has "Tabletop Game Nights" where they play cards and board games. "It's really great. Members can bring their friends who won't come to a worship service. We're playing games, sitting around a fellowship hall. It gives people a chance to see Christians having fun."
"It's a great opportunity to get to know people and relax," Rice said.
Rice also hopes to start a young adults group in the near future.
An abundance of resources at "Collective Connection 2021"
First Baptist Church of Capitol Heights, partnering with RESA (Rise, Elevate, Soar, Aspire) Incorporated, will host "Collective Connection 2021" on July 17. The event will feature various resources, including free blood pressure and hearing screenings, STD mobile testing, domestic violence resources, information from fitness experts, fingerprinting for children, community advocates for family and youth, and much more.
According to RESA's website, the non-profit exists to "impact the lives of women and girls of all ages that are disadvantaged by societal or economic circumstances. The initiative enables women and girls to enhance their quality of life."
Baptist Convention of Maryland/Delaware (BCM/D) upcoming events
Mark your calendars for the following upcoming events:
For more information about these opportunities and more upcoming happenings, visit our BCM/D Events page.
Quotable quotes
"It has been a wonderful experience to compete in the Olympic Games and to bring home a gold medal. But since I have been a young lad, I have had my eyes on a different prize. You see, each one of us is in a greater race than any I have run in Paris, and this race ends when God gives out the medals."― Eric Liddell
History bites
Barnesville Baptist Church was founded on September 24, 1871, by Rev. Joseph Hawkins Jones, one of 22 charter members to sign the church covenant. In 1916, they installed their church bell, and they first used electric lights in 1930 (adapted from historical information submitted to BaptistLIFE).
Under the leadership of Eldridge Burwell Hatcher, who served as the leader of the Maryland Baptist Union Association (now BCM/D) from 1900 to 1917, a Woman's Training School was established. The school  worked through the City Missions Committee in an effort to evangelize Baltimore "at the least possible cost." The school opened in March 1905 and Belle Randolph, a city missionary, was named the head. The school offered new students free tuition and twenty dollars of expense money (adapted from BCM/D History Highlights).
Cover photo: Pastors Raju Budhathoki and Manoj Shrestha baptize Joel Shrestha (photo submitted).