Maryland/Delaware Roundup, Aug. 12, 2021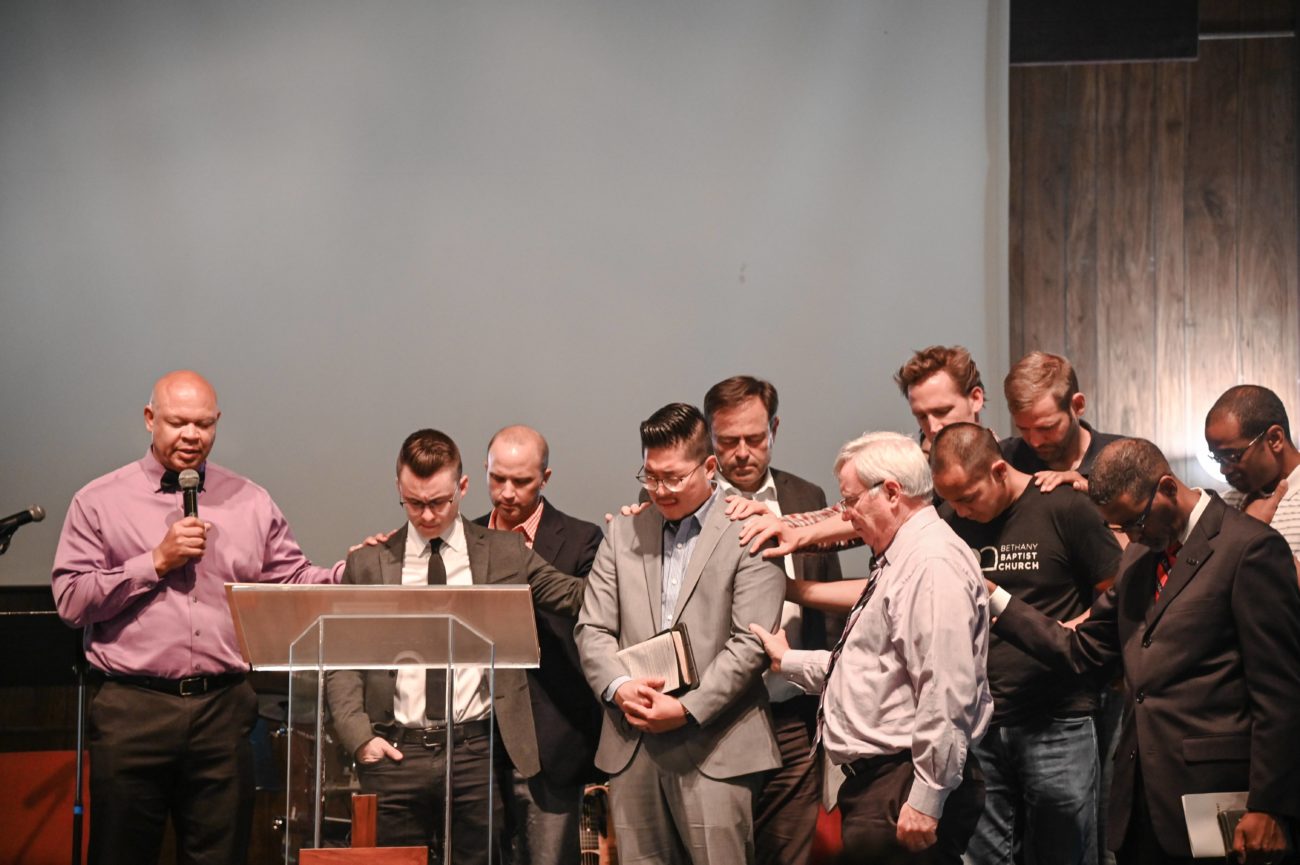 "But have nothing to do with pointless and silly myths. Rather, train yourself in godliness. For the training of the body has limited benefit, but godliness is beneficial in every way, since it holds promise for the present life and also for the life to come." 1 Timothy 4:7-8
Church plant installs pastor
On Aug. 1, New Covenant Baptist Church (NCBC) in Rockville installed James Choi as pastor. Mark Dever, the senior pastor of Capitol Hill Baptist Church in Washington, D.C., NCBC's sending church, was the guest preacher. Other Baptist Convention of Maryland/Delaware (BCM/D) leaders, including Executive Director Dr. Kevin Smith, SEND Network Director for Maryland/Delaware Michael Crawford, and State Director of Evangelism Mark Dooley participated with other pastors and leaders.
Choi planted NCBC in 2020. In the BaptistLIFE article, "Church Planting in a Pandemic," he wrote, "The first six months have taught me that church planting in a pandemic is like boxing in a blindfold. Nothing could have prepared me for 2020's unprecedented challenges as we prepared to plant this church: canceled interest meetings, canceled prayer and praise nights, canceled support-raising meetings, canceled commissioning service, income source termination on the horizon, three young children in quarantine (help!), and core team members' new job searches at a standstill."
He quoted 1 Corinthians 15:57: "But thanks be to God, who gives us the victory through our Lord Jesus Christ."
Abundant Grace Baptist Church seeks new building
Dr. Samson Omotosho, the pastor of Abundant Grace Baptist Church in Randallstown, shared that following COVID-19 shut-downs, the church is growing. "Far more people than we expected are returning to sanctuary-based worship Sunday after Sunday. Many more are attending Wednesday Bible Study and prayer meetings than used to attend in the sanctuary, even pre-COVID-19. All thanks and glory be to God!" he said.
Regarding outreach, Omotosho said, "We use the Thanksgiving season to evangelize to our neighbors, with gift packs of turkeys and tracts in hand. We also take gifts of snacks and tracts to our neighboring fire department from time to time to thank them for the great and risky work they do." Additionally, Omotosho said the church cares for neighbors who are ill or having difficulties.
The church has outgrown its worship space and parking lot, and they are seeking other property. Call 443-858-3189 for more information.
Food ministry
Fire & Light Community Church in Reisterstown started a new food giveaway ministry in the spring. Senior Pastor Mark Swan said the church distributed at least one bag of groceries to over 60 families at that time. Local grocery stores donate gift cards to help offset some of the cost. "Every family has received Gospel tracts and invitations to our Sunday worship services," Swan said. "Our prospect list has grown by 37 names and addresses since May."
Swan seeks prayer for the ministry, asking God that some people who received the food will be moved to visit the church.
Second Baptist Church welcomes new pastor
On Aug. 8, Second Baptist Church in Cumberland welcomed their new pastor Austin Lauderdale, his wife Taylor, and their two children, Audrey and Titus. During the service, Lauderdale affirmed the church's covenant.
Kenny Heath, the Western Baptist Association's director of missions, who was as serving interim pastor of the church, welcomed Lauderdale and encouraged the congregation. He led members in praying for their new pastor, his family, and for Second Baptist Church. He then officially presented Lauderdale, saying to the new pastor, "This is your church." Turning to members, he said, "This is your pastor."
A future BaptistLIFE Online post will feature Lauderdale and his family.
Back-to-school festival
Clinton Baptist Church (CBC) will have a Back-to-School Festival from 11 a.m. to 4 p.m. on Aug. 22. Families will enjoy pony rides, refreshments, a moon bounce for the kids, and free school supplies.
Masks are required.
The festival is part of the church's ongoing outreach to their community to share the love of Jesus. Colin Pugh II, senior pastor of CBC, along with his church leadership and much prayer, is leading the church through a revitalization and seeing God do some amazing things. Read more here.
Call to prayer
Georgia Avenue Baptist Church (GABC) recently had a call to prayer via phone. Diane Butler, who served as moderator, led the call. GABC is currently seeking a pastor, so the theme of the meeting was seeking God amid a transition period.
Special guests included BCM/D Church Services Consultant Dr. David Hall, Montgomery Baptist Association Director of Missions Dr. Ron Blankenship, the Rev. Gayle Clifton, and the Rev. Steve McCarty. There was a time of sharing interspersed with prayer and music. Clifton shared about the model of a church based on Acts 10. Hall referenced Revelation 2:1-5 and Revelation 3:20. His topic was "Making Sure the Honeymoon Isn't Over," referring to the church of Ephesus who "lost their first love." He spoke of repentance. McCarty encouraged peace and unity in the church.
Others prayed for Interim Pastor Ron Blankenship, for the leadership, and sought God's sustaining hand on the church.
Church Member Helen Corrothers, sharing her impression of the event, reflected that she had been encouraging others, telling them that God was preparing the right man to be their new pastor. During the prayer service, the Holy Spirit brought to her mind that God was also preparing GABC for a new pastor — through prayer and repentance.
Corrothers is the founder of the church's prayer workshops and the co-founder of the prayer ministry, with Prayer Ministry Coordinator Marie Lamontes. Corrothers and Lamontes worked with Diane Butler to prepare the call to prayer.
Jessup Baptist Church reports increase through Zoom
At an Arundel Baptist Association meeting, Bill Jones, the pastor of Jessup Baptist Church (JBC), said, "It is such a privilege to watch what God is doing. At JBC, there are so many things going on.
"Our attendance is up, but the thing I'm noticing is that participation is really on the rise. God has provided us this opportunity through Zoom. Some may not like the platform, and I'd agree that it isn't as good as in-person interaction. But this has really helped our senior members keep up with our Bible studies since they have trouble driving at night. This is also very beneficial for our young families. They can join in the Bible study and immediately afterward have their kids in bed."
The church returned from a missions trip to Costa Rica this week.
First Baptist Church of Rockville welcomes associate pastor
First Baptist Church of Rockville (FBCR) members welcomed Tim Bonner as associate pastor earlier this month. Bonner will serve in the areas of discipleship, missions, seniors, and seminary extension.
Churches share VBS resources
First Baptist Church of Beltsville lent a hand to Watersedge Baptist Church (WBC) in Dundalk this summer, passing on their Destination Dig VBS material. This allowed WBC to host their first VBS, running through Aug. 11, in at least three years. Over 20 have been attending each day.
Ken Ledwell, who accepted the call to WBC in 2020, said the church emphasizes outreach, including witnessing in the park, having block parties, and flea markets. "We're doing anything we can to interact with the community," he shared.
Ledwell said they're looking forward to their "Trunk or Treat." Last year they planned for 100 people, and they were astonished when they had over 200 participants. "We'll be ready this year!" he said.
Quotable quotes
"Focusing on what we ought to do for God creates only frustration and exhaustion; focusing on what Jesus has done for us produces abundant fruit. Resting in what Jesus has done for us releases the revolutionary power of the Gospel." J. D. Greear.
History bites
"Worship by Baptists in Maryland first occurred, as far as the historical records show, in the home of Henry Sater. He invited Baptist preachers traveling through Maryland to hold services in his house, services that were open to any who would come." W. Loyd Allen, "You Are a Great People."
Cover photo: Pastors pray over James Choi as he becomes the pastor of NCBC (photo by Myrrh Balasoto).