Carson-Newman University honors Dr. William Viel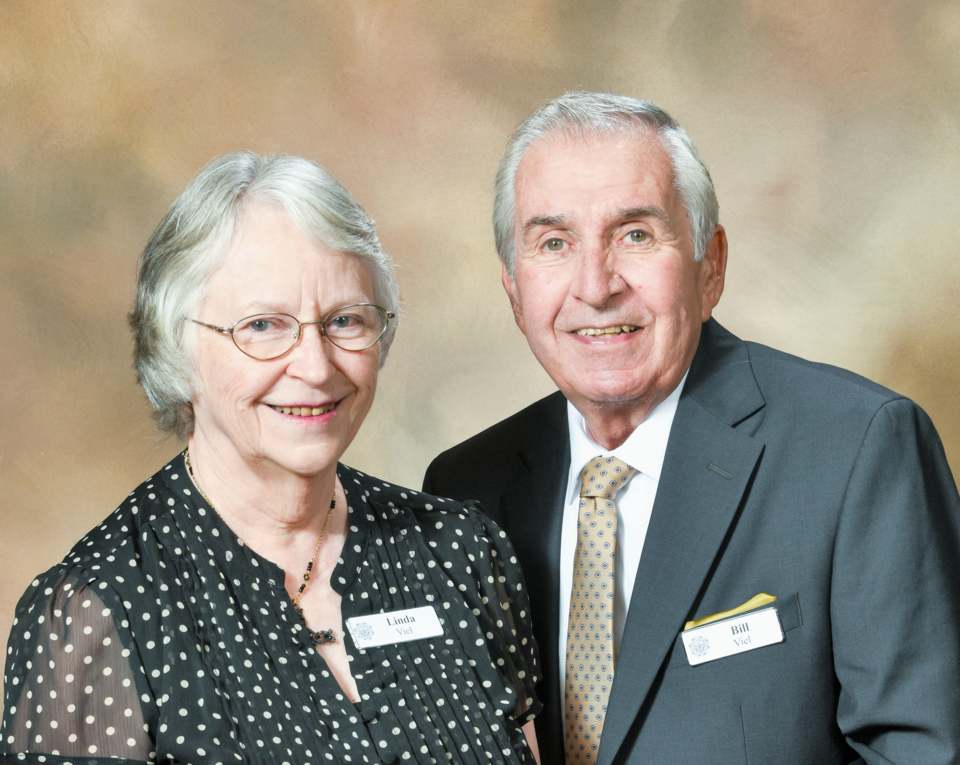 By Sharon Mager
Carson-Newman University honored Dr. William (Bill) Viel and his wife, Linda, earlier this fall when the university named their campus ministries building in honor of the couple, both alumni of the college.
The Viels have spent 60 years of their lives dedicated to sharing the Gospel, and God has opened doors beyond their wildest dreams — traveling throughout the United States and internationally, through the Soviet Union, Kiev, Puerto Rico, St. Thomas, and beyond. They have had an influence so vast that they'll only know the impact when they reach heaven.
Bill said he looks back fondly on the years in Maryland/Delaware. The couple spent 40 years pastoring in churches, serving as missionaries, working with disaster relief, serving at Skycroft, with the Baltimore port ministry, and much more. "Maryland Delaware was where we learned to be available, to be open to change and to service and to see outside of ourselves," Linda said.
There are so many ways the Viels served that these listed are but a few. They were missionaries with the Home Mission Board (now the North American Mission Board) and Bill became the vice-president of the board of directors for the Home Mission Board. He also served as chairman of the Southern Baptist Chaplain's Commission. One of Bill's most noted accomplishments in Maryland/Delaware was starting and serving as executive director of the Inner Harbor Ministry (IHM), with over a dozen ministries under the IHM umbrella. It was through IHM and the innovative ministries that the Viels used that they received an invitation to speak at a world missions conference in North Carolina. There, they met a Slavic missionary who invited them to teach puppet ministry in the Soviet Union. Later, they began teaching as visiting professors in a Christian university in Kiev, Ukraine.
Linda laughed as she shared how she and Bill were in New York awaiting a flight on their way to the Soviet Union. Their suitcases were packed full with material and puppets.
Linda said, "The adult puppet is 22 inches high —it's big, and we had puppets sticking out of bags and suitcases. This lady came running up to us, excitedly asking about the puppets and she said we would be the first-ever to take muppet/ventriloquist-type puppets to the Soviet Union." Linda, wondering how the woman knew that to be true, discovered she was Velma Wayne Dawson, the creator of the original Howdy Doody marionette.
Interestingly, Bill and Linda found that people in the Soviet Union were more interested in them than the puppets. Linda said she discovered she and Bill were the first Westerners in the country following the Soviet Union's 1990 vote to no longer interfere with religious activities. "The decision passed on Oct. 1, 1990 and we arrived on Oct. 7," Linda said.  Underground churches rented out cultural centers and had rallies, which were packed out. At one place, they even asked anyone who brought children to sit them on their laps so they could get more people in.
Linda said the trip was also eye-opening regarding the needs of the Soviets. People asked about the puppets' shoes because they didn't have baby shoes. They were also intrigued by coat hangers. No one had multiple pieces of clothing, and just hung their clothes on a hook. One woman asked for the scissors which Linda was using to cut the fabric, because her son had gotten a job with a tailor and needed scissors.
Soviets were also asking for sonogram machines — it was right after Chernobyl and there were many birth defects.
Linda has four pages of notes chronicling the couple's ministries and all of the adventures. Their artifacts, which they collected through the decades, are on display at Carson-Newman.
Linda and Bill are not bragging about what they've accomplished; rather, they want to share with others. They know it's all God's work. "It's a good example of how to just be faithful, wherever you are, to the opportunities God puts in front of you," Linda said, with Bill agreeing.
The couple now live in Rocky Mount, North Carolina.They praise God for His faithfulness. Even though Bill has suffered multiple strokes, God still gives the couple strength. And they persevere.