Burnis Barrett: Legacy of Love and Laughter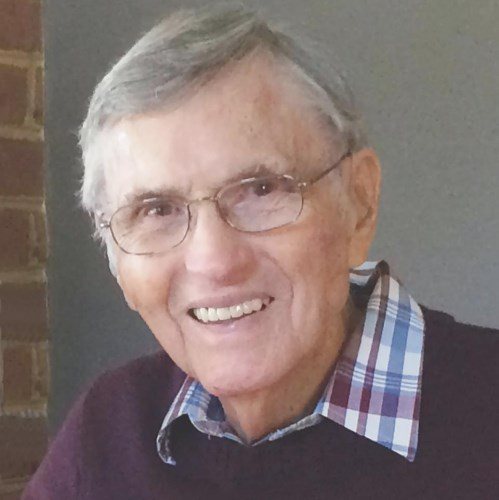 The Rev. Burnis David Barrett passed away at his home in Frederick on Feb. 27, 2022, from the natural effects of end-stage renal disease. He and Clotene "Clo," his wife of 66 years, started First Baptist Church of Crofton (FBCC) in 1968. Under Burnis' leadership, the church grew from 13 to over 200 members. In 1974, God called Burnis and Clo to First Baptist Church of Frederick (FBCF), where he served until his retirement in 1994 and was pastor emeritus. Additionally, Burnis served as a past Baptist Convention of Maryland/Delaware (BCM/D) president. Upon retiring, he continued to serve in interim pastoral positions throughout Maryland.
Burnis was born in 1931 in Purvis, Mississippi, to Burton David and Agnes Dearman Barrett and was the middle of seven children. After losing both parents at a young age, he and four of his siblings transitioned to their new homes in 1939 — the Masonic Home for Children (boys in Columbus, Mississippi, and girls in Meridian, Mississippi). He lived there until he graduated from high school. His children and grandchildren have been treated to many tales, mostly humorous, about his life growing up on a farm in the Masonic Home.
Following high school, Burnis attended Clarke Memorial College as a ministerial student. It was here that he met Clotene Hughes Barrett. They married in 1953. He then transferred to Mississippi College, where he obtained a Bachelor of Arts in Bible and English in 1955 and went on to New Orleans Baptist Theological Seminary, where he obtained a bachelor's degree in divinity in 1960. While attending school throughout these years, Burnis also pastored three churches, and the couple's three daughters were born.
Washington Baptist Church, near Natchez, Mississippi, was Burnis' first full-time pastorate, and he led from 1960-1966, before beginning his ministry in Maryland. Following his retirement, he continued to serve in interim pastoral ministries in churches throughout Maryland, and he and Clo enjoyed many years of travel, spending time with family and friends, and continued involvement in their church and community.
"Just as the title of his memoir suggests, our dad truly left us 'A Legacy of Love and Laughter.' He allowed his family to choose the name, which, left up to him, may have been titled, 'Burnis Barrett's Memoirs.' Every single family member, without exception, has been deeply influenced by his unconditional love, his fun-loving nature, and his generous spirit," shared his family in a collective letter to the BCM/D.
"It is no wonder to us that God would call such a man to His ministry, or that such a man could blossom and mature from God's call on his life. Burnis was 17 years old at a week-long summer camp in Mississippi when he heard the 'still, small voice' issuing him a summons to serve in some position of ministry. During that week, he read Paul's encouraging words to young Timothy in 2 Timothy 1:3-14, which affirmed his decision. This was just the beginning of a lifelong commitment, and a multitude of courageous decisions he and his wife and partner in ministry, Clo, made through the years that led him to Maryland. In 1988, while serving at FBCF, and during a heightened time of controversy in the Southern Baptist Convention between 'fundamentalists and moderates,' Burnis was asked to allow his name to be presented for election as BCM/D president. After much prayer and discussion he replied 'that while I hesitate to "run" for the position, I felt I could not "run" from the challenge. What I learned later was that there seemed to be a need for a moderate voice to effect a spirit of reconciliation within the state convention. Apparently, there were those who felt mine might be the voice for that time (probably my southern accent).' He was elected for, and served a two-year term, and did, indeed contribute to a more harmonious spirit in the local convention during that time.
"Our family, and all of the many people who have been personally touched by our dad's life, will attest to the belief that his primary witness for Christ was through building relationships; by loving and genuinely caring for people, treating them with kindness and respect, following Jesus' example. One of his grandchildren affectionately says that they can't go wrong if before any difficult decision they ask themselves 'what would Pop B do?'" his family shard.
Burnis' lifelong study and love of the Bible and his appreciation and enjoyment of hymns offered much wisdom and guidance for his life and ministry. One of his favorite verses was "I have been crucified with Christ and I no longer live, but Christ lives in me. The life I live in the body, I live by faith in the Son of God, who loved me and gave Himself for me" (Galatians 2:20, NIV). A beautiful hymn, as he noted in his book, that expresses his spiritual sentiment was "My Faith Has Found a Resting Place." "Higher Ground" was another favorite hymn.
Burnis, in his book, said, "Faith, as a legacy, is not really transferrable, it is a way of life and an expression of belief, and is caught rather than taught. I can only recommend and offer my faith, believing it to be sufficient for life now and for the life to come. Faith is complete reliance on God by trusting His purpose, power, wisdom, and mercy … '"
Burnis left a true legacy of love and laughter to all who knew him. He had a gift for connecting with people in a non-judgmental and unconditional manner. His affirming nature, humility of spirit, injections of humor, and genuine concern for others left deeply etched footprints in many places, most poignantly in the lives of his children, grandchildren, and great-grandchildren, who affectionately called him "Pop B." The life he lived reflected his deep faith and his belief that you do not go to witness; you witness as you go. Burnis was a beloved husband, father, grandfather, and pastor; a man who dearly loved his family, laughed heartily, lived fully, and loved deeply.
He was predeceased by his beloved Clo in 2019. He is survived by his daughters Robin (Edward) Thompson, Jan (Duane) Musgrove, and Cheryl (Mark) Jones; grandchildren Lindsay Nelson, Aaron (Caroline) Thompson, Adam (Shana) Thompson, Chris Nelson, Brett (Sarah) Thompson, and Emily and Sarah Jones; great-grandchildren Chloe Tonon, and Camden, Thea, and Mae Thompson; sister Sandra (Hugh) Currie; sisters-in-law Charlotte Barrett and Peggy Hughes; and many nieces and nephews. In addition to Clo and his parents, he was preceded in death by brothers George Pace and Ray Barrett; sisters Marion Johnson, Vondell Cook, and Ivanell Keesee; and several beloved Hughes family in-laws.
A celebration of life service will be held on Saturday, Apr. 23 at 11 a.m. at FBCF, 7040 Bowers Road, Frederick, MD 21702. In lieu of flowers, donations in Burnis' honor may be made to First Baptist Church of Frederick, 7040 Bowers Road, Frederick, 21702; Frederick Health Hospice, 1 Frederick Health Way, Frederick, MD 21701; or Homewood Foundation, 7407 Willow Road, Frederick, MD 21701.
Adapted from a March 4 obituary in The Frederick News-Post, and a letter from the Barrett family.
Cover photo: Burnis Barrett (photo submitted).