BCM/D Churches Make Virtual NTS Special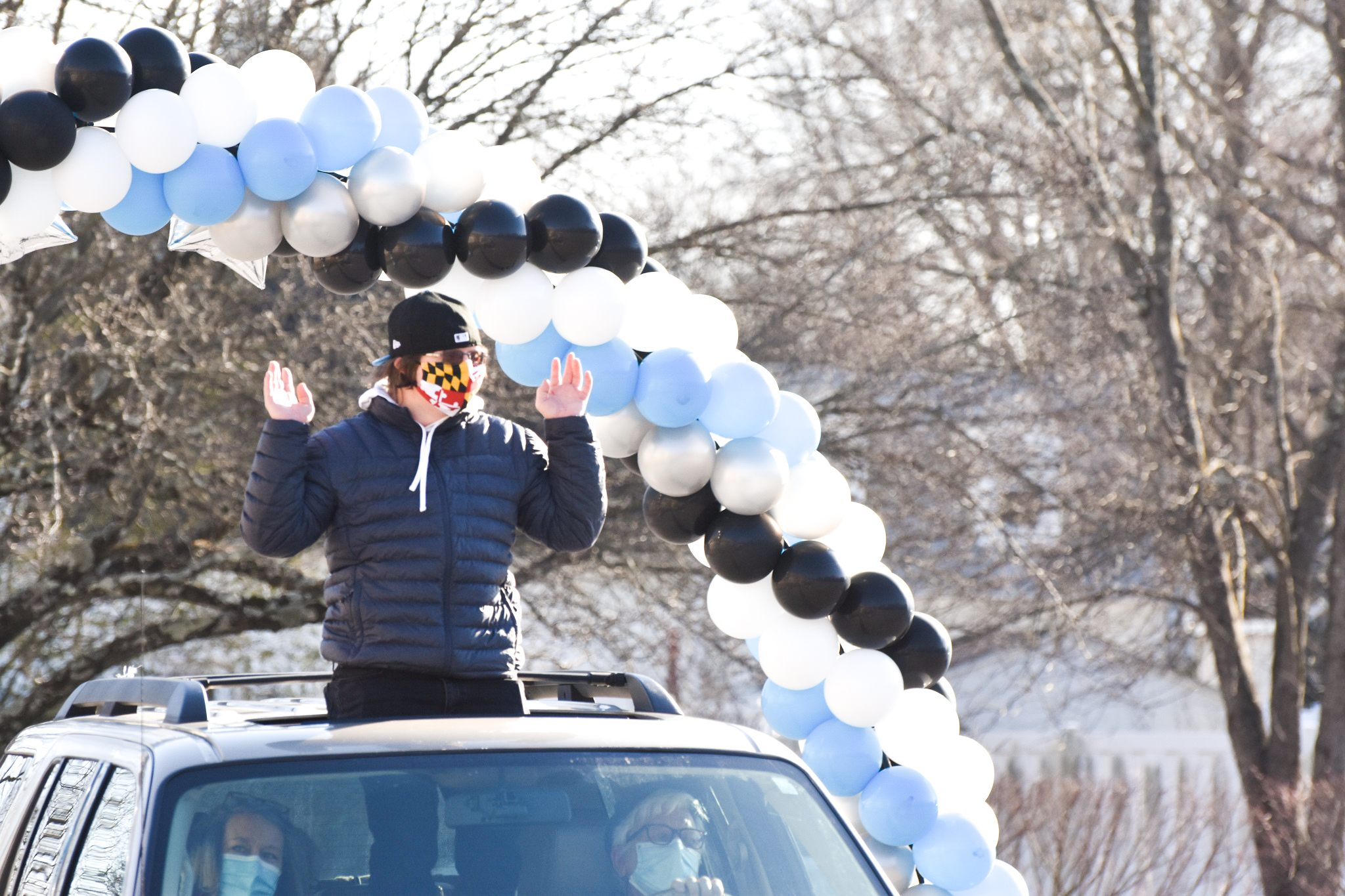 By Sharon Mager
Each year in February, churches around the world literally roll out the red carpet for individuals with special needs, in partnership with the Tim Tebow Foundation's Night to Shine (NTS) prom. Guests ages 14 and up receive a "paparazzi" type of welcome — smiling, cheering volunteers who wave signs, clap, and take photos. Stylists and makeup artists do makeovers for the ladies, while the guys get their shoes polished to a bright shine. Guests enjoy limo rides, karaoke, games, a catered meal, and dancing. They anticipate the gala event, counting down the days, as do their caregivers, who experience a time of pampered rest.
Due to COVID-19, NTS organizers transitioned the special event online — a virtual NTS, complete with music, dancing, crowns, and tiaras. Tebow and his team presented the entire festive event in style, as expected, and participating Maryland/Delaware churches went all out to show love to their special needs families.
"Shine Thru"
The prequel to the virtual NTS was a "Shine Thru," which allowed families to stop by the churches to pick up boxes or bags that held the coveted crowns and tiaras, NTS backpacks, and various other surprise goodies. Churches did their best to make the brief visits special. Families drove through church parking lots decked out with festive streamers, balloons, and lighting. Volunteers greeted families with signs, cheers, and waves while NTS dance music played. Each church even rolled out a red carpet, though no one was allowed out of their cars. Some guests gregariously stood up through the sunroofs of their cars and waved. Others shyly peeked out the windows.
Both Emmanuel Baptist Church (EBC) in Huntingtown, Maryland, and First Baptist Church of Waldorf (FBCW) shone through snow and slush.
Guests who drove through the FBCW property were amazed at the cheering crowd and the professionally-arranged lights. They received bags that had everything families needed to make their home special for the virtual NTS, including battery-operated light sticks, streamers, and balloons, along with other gifts, in addition to the crowning supplies.
FBCW's Senior Pastor Randy Stacks said one woman from the community noticed the lights and stopped by, thinking it was a different event. While talking with her, the team discovered the woman has a relative with special needs. She was so excited to hear about NTS that she registered on the spot and received a gift bag.
EBC also created a winter wonderland of lights for their guests.
"It wasn't the same as in person, but we did our best to make it special," said Christine Robertson, EBC's NTS coordinator.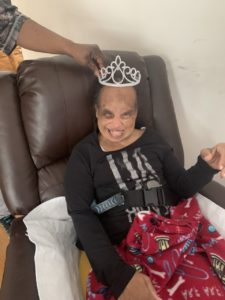 EBC volunteers directed guests to various stations. High school cheerleaders decorated vehicles. A local Chick-Fil-A donated dinner boxes. The final station was a "castle," where EBC Senior Pastor Rick Hancock and his wife, Lisa, dressed as king and queen, presented the crowns and tiaras. Everyone received bags with gifts –  NTS masks, glow sticks, personalized cookies for each guest, snowflake cookies, individual bags of Calvert Kettle Corn, tumblers, and other items. Caregivers also received gifts — Night to Shine tumblers for the men and chocolate pretzels and bracelets for the women, provided by a local jewelry store.
"The parents were so blessed by it all. They were disappointed that we couldn't have it in person, but they were just so grateful to just have something," Robertson shared.
Robertson said EBC has been hosting NTS for four years, and she has had the opportunity to get to know families and guests. "They find me on Facebook and friend request me. Some of the girls have been messaging me for weeks asking, 'Do I dress up?
Should I do my hair and makeup?' I tell them, 'You can do whatever you want.' Some dressed beautifully and they were so excited!"
Deanna Lechowicz, who led the NTS team at Faith Baptist Church (FBC) in Glen Burnie said, "Guests were so excited to get their gift bags." Lechowicz said her team wanted to make sure there were samples of the in-person NTS in each bag. In addition to the crowns and tiaras, each guest received face masks, wrist corsages or boutonnieres, sunglasses, glow sticks, and coupons for free ice cream.
"We included cake pops, because we always have cake, and a prize, because when they come here, they play games and get prizes. We also gave the baggies of candy because we always have a candy bar," Lechowicz explained.  Church members also wrote letters of encouragement for each guest.
Lechowicz said she was amazed when she realized they were getting registrations from around the state and the country — Texas, Missouri, Nebraska, and Florida — because the churches in their areas weren't participating.  Lechowicz mailed the gift packages with the crowns and tiaras to those out of the area.
"One father said to me, 'This made Joey so very happy. He wants to wear his tux, buy pizza for everyone, and do this every day,'" she remembered.
Margot Painter, the NTS coordinator for Cresthill Church in Bowie, said that she had a record number of over 180 registrations this year, from all over the country. She also mailed the boxes to out-of-state families and others who couldn't stop by the Shine Thru.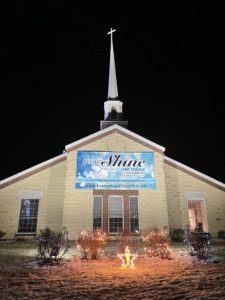 Besides cheering and sign-waving, volunteers at Cresthill offered guests a photo using a picture frame prop.
Virtual NTS
On Feb. 12, registered families and guests eagerly signed in to the virtual NTS program where  Tim Tebow and his wife, Demi-Leigh, in formal attire, enthusiastically welcomed guests.
The show featured a unique, simulated "walk down the red carpet," with a waving, cheering crowd on each side, leading to the opening of a door through which the guest "entered." Tim told guests, "We hope you loved the red carpet." Explaining that red carpets are for very important persons or VIPs, Tim looked at the camera and said, "You are our VIP."
Special celebrity guests included country and music artists, star athletes, and celebrities with disabilities or special needs who shared encouraging words to the watching guests.
Sharing from Hawaii, shark attack victim and professional surfer Bethany Hamilton told viewers, "You are all beautifully and wonderfully made. God loves you."
Baseball star Alex Rodriguez shared, "God loves each one of you. You are all an incredible inspiration to me and others around the world. Remember, your life has great purpose."
Since dancing is a much-anticipated part of the NTS proms, energetic music played throughout the show, with karaoke-style lyrics for those who wanted to sing along.
Tim quoted John 3:16 and told guests, "Because He loves us, we get to love one another."
The finale was the crowning of guests as kings and queens.
Cover photo –  A guest at Cresthill Church's Shine Thru basks in the cheers and waves as he rides through the parking lot (photo by Sharon Mager).