Awareness Conference Focuses on Generation Gap and Israel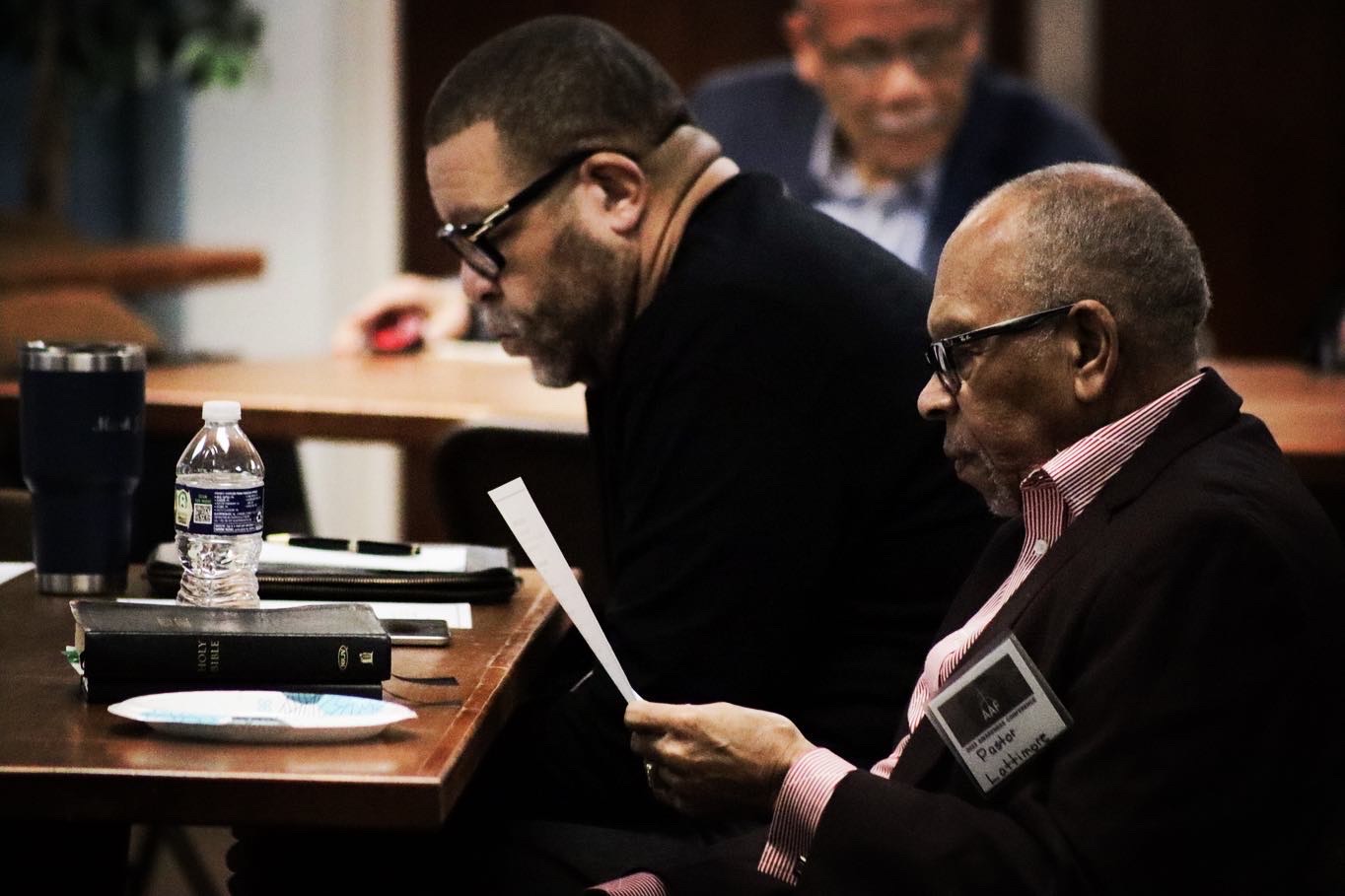 COLUMBIA, Md. — The African American Fellowship of the Baptist Convention of Maryland/Delaware (AAF), in partnership with the Prince George's Baptist Association, had their annual Awareness Conference on March 24 at the BCM/D office in Columbia.
Each year the AAF presents the conference as an opportunity for church leaders to gather and discuss current topics from a Biblical perspective. This year's conference focused on bridging generations in the church and the church's relationship with Israel.
Byron Day, AAF treasurer, shared about the sufficiency of grace. "Grace didn't stop at the cross. It flows to the empty tomb and continues to flow to us and gives us new life. It's intended to give us a victorious lifestyle."
Day said, "God's grace is sufficient in distress, despair, loneliness, career, and marital difficulties; when we fall in the darkness…it's sufficient to take me all the way to glory!"
"Gentegration"
Dr. Bobby Manning, the senior Pastor of The Heights Church in District Heights, shared about what he calls "Gentegration: Connecting Leaders Across Generations," also the title of his newest book.
Manning said he is approached by congregations struggling to reach millennials. "One thing I learned quickly is that in order to teach you about the quirks of my generation, I have to first start with the quirks of yours. Because If we all understand that we got to where we are honestly, then we'll have grace for one another. I'll understand you and give you the grace to be you. You'll understand me and give me the grace to be me. And we can connect across our values. At the end of the day, all of this works into a set of core values that each living generation holds to, and if we understand each other's values, then we can understand there's a connection and cross-section of all of our values and when we find that connection we can be effective at the multi-generational ministry.
"A healthy church is a multi-generational church," Manning said. "Any church that is mono-generational is unhealthy. A church with all older people will struggle with energy and legacy. You can have all the hopes and dreams in the world, but who is going to do all this work? And then, who will we pass it to? If everybody in your church is 55 plus, you have about a 25-year shelf life today.
"A church with only younger people will struggle with stability and currency because it's our older generations that bankroll ministry. One generation is not better than another. We're all different, and we each bring benefits to the table. Our churches need all of our benefits and all of our strengths, and we can, if we work together, overcome all our weaknesses.
Israel 
Dennis Karp, the director of the Mid-Atlantic regional Chosen People Ministries and leader of the Son of David Congregation in Maryland, shared about the history and prophetic future of Israel.
Dumisani Washington, an author and the founder and CEO of the Institute for Black Solidarity with Israel (IBSI), shared about the historic connection between Africa and Israel and African Americans and Jewish people today. Washington said he already had a passion for Israel and for Africa, but while in Israel, that passion deepened. "Those things married each other when I was there," he said.
Dumisani referred to the Queen of Sheba's visit to Solomon. The queen, at the time, he said, was powerful, if not the most powerful monarch of that day. She traveled 1500 miles to Jerusalem 3000 years ago before Isaiah even wrote that the nations will rise.
Attendees were engaged throughout the conference, and many were chatting during lunch about the ideas presented.
BCM/D Church Services Consultant and AAF Vice President Victor Kirk said, "The content and presenters were all very good."
Regarding Dr. Manning's presentation, Kirk said, "The thing that stuck out for me was when he said the best thing to do to grow your church is to get a gen x-er, someone who grew up in a church under your values, who you've taught, who can communicate with the other young people."
Kirk, who has visited Israel several times, called the presentations on Israel "fascinating."
AAF Leaders also presented an update regarding the George Liele institute, which will launch in the fall to encourage young people to grow in knowledge and to emphasize missions.