The Gates and Northeast Churches Continue Legacy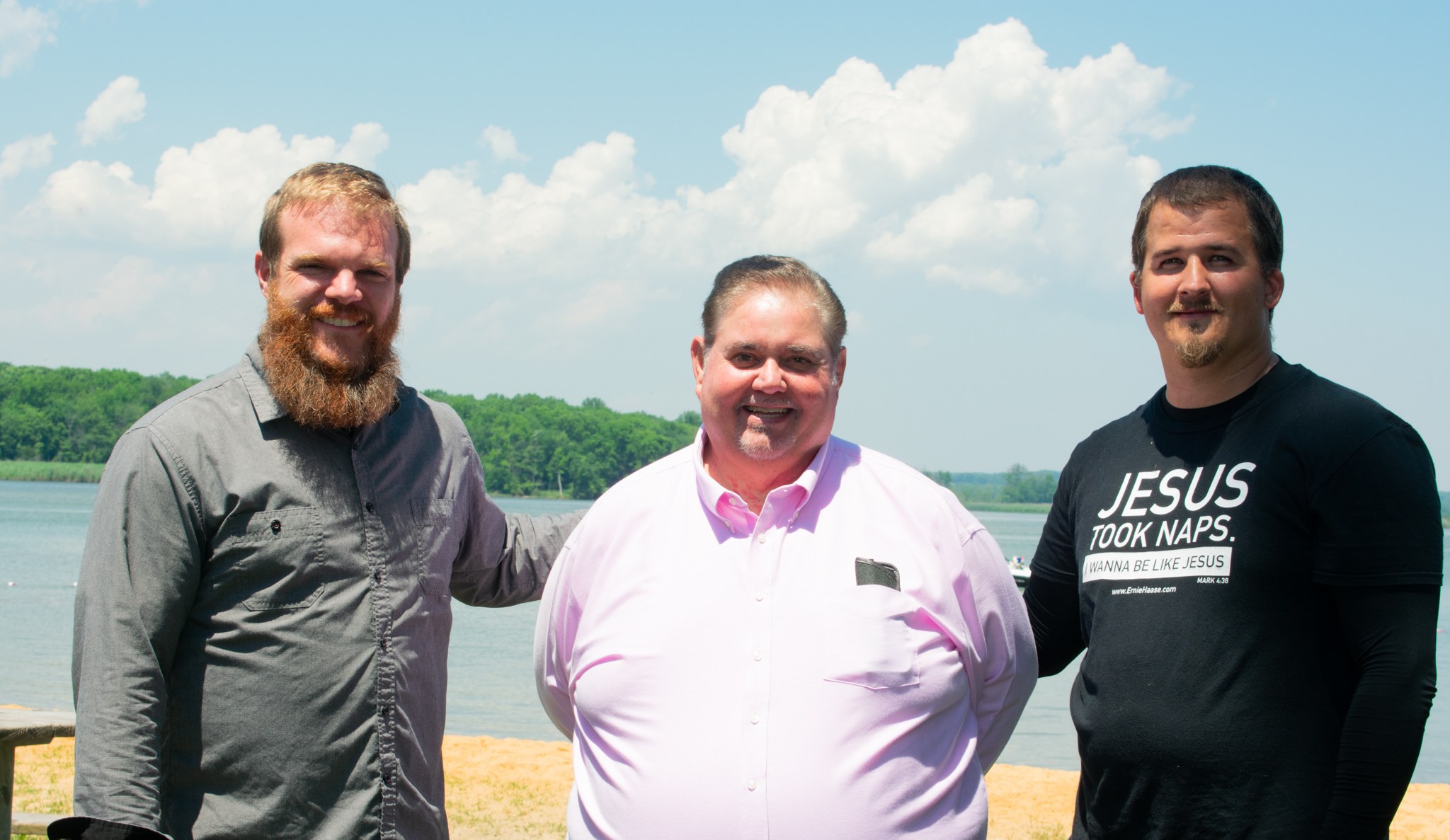 By Sharon Mager
BALTIMORE, Md. — Northeast Baptist Church (NBC) and The Gates Church (TGC) merged in a God-honoring, peaceful, and joyous celebration. There was no crisis or panicked business meeting. God blessed friendships between NBC Senior Pastor William "Bill" Higgins and Associate Pastor Douglas Black and TGC Pastor Austin O'Donald.
The two churches, now known as TGC, celebrated the merge on June 6, with dinner and a baptismal service at the beachside Harewood Park Community Center in Chase, Maryland. The Baltimore Baptist Association provided a catered meal. Following the fellowship, members gathered outside the small building for a baptismal service in Bird River.
Standing on the shoulders of saints
The leadership and other members are collectively standing on the work of saints dating back to 1797, the year John Adams became president. That was the year that Second Church (SC) constituted in Fells Point. SC later merged with Fourth Baptist and became Second and Fourth Baptist Church. That church later changed its name to East Baltimore Church and is now Captivate Church.
Higgins' parents and grandparents were members of East Baltimore Church and were instrumental in starting NBC in 1968.
Asked how long he served Northeast, Higgins laughed easily and said, "I never left. I grew up in the church." While serving at East Baltimore Church, Higgins' grandparents and parents volunteered to do "discovery work" close to Armistead Gardens. They started a Sunday School in the Clairmont Community – a government-subsidized housing complex. "That's where I attended Sunday School," Higgins said. When unable to continue in the Clairmont, the small group of believers then rented the historic Joseph Sterett House (known as Fox Mansion). Later, they purchased the land where the current building is situated — a secluded wooded lot in the corner on Horners Lane in Armistead Gardens.
Under the leadership of Jack Miller, Higgins, at the age of seven, committed his life to Christ and was baptized several weeks later at Middle River Baptist Church (the church was still meeting at the Fox Mansion at that time). He later felt the call to ministry and then Pastor Richard Willy took the young man under his wing and allowed him to preach while teaching, critiquing and encouraging him.  Higgins became the associate pastor in 1985 and then the senior pastor in 2001.
NBC highlights
Reflecting on the past two decades, Higgins said, "There have been a lot of ups and downs." And a lot of joy. Asked about highlights, he shared, "All my highlights are the people I've seen transformed. We've never been huge. Through the years, we've never averaged no more than 70-80 people and never had a budget higher than $50,000." But God sustained and blessed. "Vacation Bible School (VBS) has been our biggest outreach. Once we had as many as 140 kids and one year we had 19 people make professions of faith!"
The church flourished during the North American Mission Board Strategic Focus City Embrace Baltimore Campaign from 2005-2009. Mission teams from across the country came to Baltimore to support local churches, including NBC. An Embrace Baltimore-supported block party at the church drew about 500 people. Teams also helped with construction projects and even purchased needed costly supplies.
Higgins is bi-vocational. During Embrace Baltimore, he and his wife Brenda, who both have full-time government jobs in addition to serving the church, were working. They got up at 4:30 a.m. and working 8-10 hours daily, then often headed to church and sometimes stayed until 9-10 p.m.
"I was in my 50's at the time," Bill said, and that was over ten years ago. He's still working for the state, and it's harder now, he admitted with a grin. Energy is waning a bit. "Couple that with some tough years, and then COVID-19, and we were struggling," he said.
"I think it's fantastic!"
Bill and O'Donald and Doug Black met through Baltimore Baptist Association events. Bill; Brenda; Austin, and his wife, Meryl; Black, and his wife, Alycia; shared several meals, and they began to bond. Knowing TGC met at a movie theater in Eastpoint, Bill offered the building for Austin's use when needed.
When TGC had to meet outdoors due to COVID-19 restrictions, Austin took Bill up on the offer during inclement weather. Later, Bill said O'Donald approached him about regularly meeting at the church. "He said, 'Hey Bill, what do you think if we started meeting on Sunday evenings?' I said, 'I think it's fantastic!'"
TGC helped NBC with financial support and manpower. "We were having a workday, and I think NBC had five people. Austin showed up with over a dozen," Bill said. NBC members were amazed. "We really got a lot accomplished, and that excited us. Eventually, we began talking about partnership. What would it look like?"
God calls Austin and Meryl to Baltimore
Austin was raised in a Christian family, made a profession of faith when he was six, was baptized at 13, and God called him to ministry as a teen. After graduating from Anderson University in South Carolina, where he met Meryl, he served as an associate pastor/youth minister at First Baptist Church in Norris, South Carolina, for eight years. During this time, he completed his Master of Divinity at The Southern Baptist Theological Seminary. He shared, "When I finished seminary, I pretty much knew I wanted to get to an urban environment and church plant, and God called us to Baltimore."
Austin and Meryl headed north in 2015 to plant a church through the SEND Network. Austin interned with Gallery Church in Baltimore for a year before starting TGC, meeting at Flagship Cinema in Eastpoint.
The church was thankful and enjoyed meeting on Sunday evenings at NBC in the evenings, but Austin wasn't sure what the future held. "After a few months, I was trying to figure out 'what's next'? Another place? I knew it was kind of challenging for two similar churches engaging the same neighborhood. But they (NBC) were encouraging me to reach people in Armistead. We began doing things together and formed relationships," Austin shared. That made the merger very easy.
"We correlated on a lot of stuff," he added. "We were working in a similar neighborhood, we had a lot in common, and we also had some complementing gaps. I didn't have a music leader, and they have a worship team. TGC also has several retired people who can give many service hours each week, and they had established national partners to help with ministry."
Both churches are pleased. Bill is pastor emeritus. Austin is the lead pastor and Doug continues as the associate.
Moving forward
Austin said there are no significant changes. The combined church will continue with Sunday morning worship, Bible study, and summer outreaches. They have added community cookouts in strategic areas giving members opportunities to invite friends in their neighborhoods. A local store donates food, and the church uses it for the cookouts, distributes it to the community, and encourages members to take it home and invite friends. Austin said the sharing of food provides opportunities to connect, help reveal spiritual hunger, and hopefully form new fellowship and Bible study small groups. The church is also doing a door-hanging campaign to connect with more people.
National partners are continuing to assist TGC. This month, Mt. Carmel Baptist Church and Elljean Baptist Church, both from South Carolina, helped the church with repairs and led VBS. The church needs assistance with many projects, including replacing floors and addressing amoisture problem.
Looking to the future, Austin said, "Ultimately, we want to see more churches planted and growing in ministry."
Bill and Brenda are overwhelmingly pleased with how God has provided TGC to continue the ministry to the community. They're thankful to have, and still, be part of that legacy.
Cover photo: TGC Pastor Austin O'Donald, Pastor Emeritus William "Bill" Higgins, and Associate Pastor Doug Black (photo by Sharon Mager).