Skycroft Anniversary: Remembering Music Camp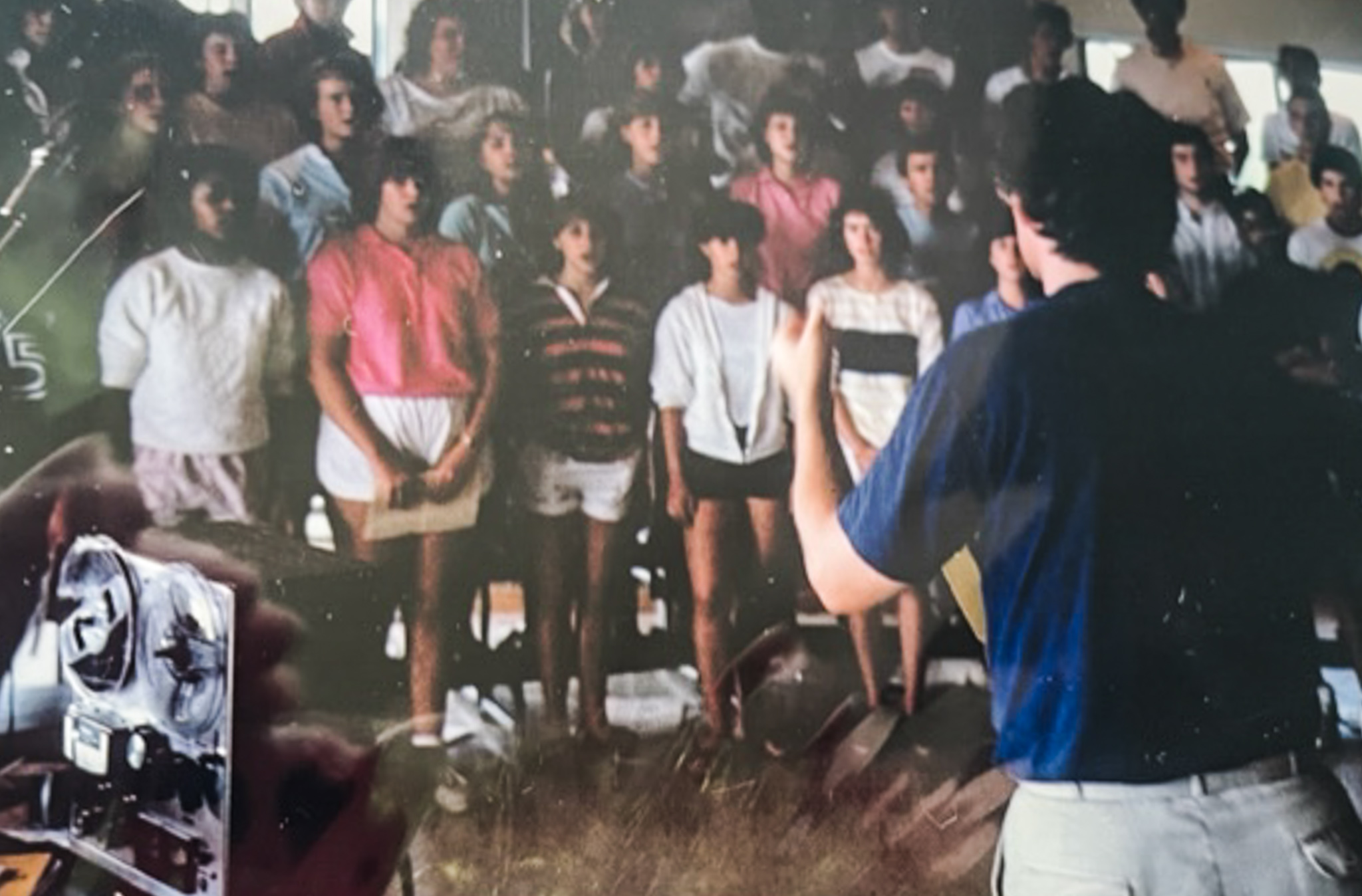 The below article, written by Carla Hairston, appeared in our special Skycroft Conference Center 50th Anniversary edition of BaptistLIFE magazine. 
If I close my eyes, I can still hear camp director James Allcock's booming voice singing, "This is my Father's world, and to my list'ning ears, all nature sings and 'round me rings the music of the spheres…" (Maltbie D. Babcock, 1901). 
Skycroft Baptist Music Camp was the pinnacle event of every summer for me from middle through high school. It was a place to meet new people and deepen friendships, learn new skills and bond with others around a common love for music. The camp ran from Sunday afternoon through Friday, when parents and friends would return to enjoy seeing the campers play instruments as an orchestra, ring handbells as ensembles and, finally, join together as a camp choir. For campers, it was the culmination of what we learned during the week and we were eager to share.
We awakened early each morning to have a devotional time outside as a group. "Morning Watch" would start with a song at around 7:30 and then we would hear Mr. Allcock share a story that always ended with the application of scripture and a prayer. From our perspectives as campers, it was about fifteen minutes of standing in the morning mist that prepared us for the day ahead. From God's perspective, it was a time of training us to start every day by communing with Him through reading His Word, prayer and singing. The daily schedule continued with breakfast, music classes, afternoon recreation activities, rehearsals and an evening worship service. Sprinkled in were special events like the camp talent show, an outdoor sunset worship time after a short hike to a beautiful clearing called "Meditation Overlook" above the town of Middletown and campfires with funny sing-along songs led by Mr. Allcock. We ended each evening by winding down in the camp lodges with small group time before going to bed for the night. 
When I think about James Allcock, my mind floods with significant memories. I remember a breakfast of cornflakes with strawberries and ice cream, a Music Camp tradition. Because of James Allcock's influence, we had guest composers and songwriters who would lead us each year. I was treated to a peace I found only in music that honors God. I still treasure my copy of the 1975 hymnal, which bears his signature as a contributor.
My connection to the Allcock family runs deep. I sang with their daughters, Jana and Melody, throughout high school and college as members of the former Temple Baptist Church (now Freedom Church Windsor Mill). Jana was one of my bridesmaids and we're still very close. It was my honor to sing at James and Mary DeLaine's (James' wife) memorial service in June. (Mary died on April 8, 2022. James predeceased her, dying on February 18, 2022)
Mary DeLaine's musical legacy lives on in me. I credit her as my most influential teacher and example of how to plan for leading worship; specifically, it's done in partnership with the pastor or the person delivering the message and is based on the scripture being taught. 
Music Camp had an incredible impact on my spiritual life as a child. I made a decision for Christ there at 14 years old. For me, it was the place where I felt most encouraged and safe enough to publicly make that declaration and commitment to ongoing faith in Jesus. Of course, my salvation-at-music-camp-story isn't unique. Music influences atmospheres and the atmosphere of camp was one of reverence and fun. There was never a question that God was there, and I know that many more young people through the years responded as I did. Music Camp was also the setting of the stage for who I am now serving on the ministerial staff at Cresthill Church. I thank God for choosing the Allcocks to be influencers in the lives of so many, especially mine. James was instrumental in finding that piece of prime real estate so many years ago, now a land of promise, spiritual prosperity and legacy. I can still hear him saying with a warm smile, "It's not wonderful; it's TWO-derful!" Yes, Mary DeLaine and James, Music Camp, your influence and your love on behalf of our God is a superlative of wonderful. Well done.
Carla Hairston serves on the ministerial staff of Cresthill Baptist Church in Bowie.
[