Service Project Brings Community Volunteers to Church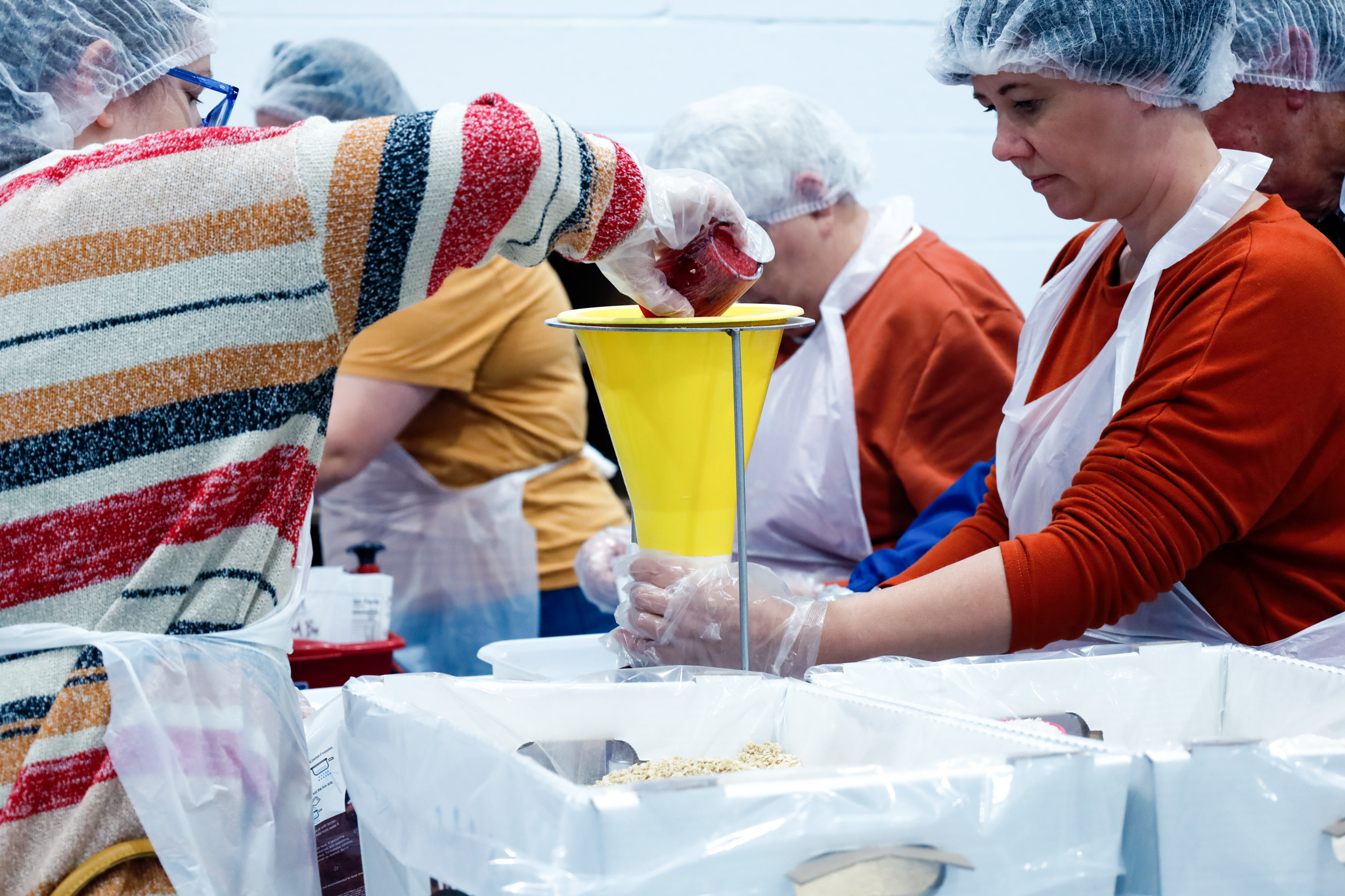 FAITH Glen Burnie has created a Thanksgiving Eve tradition and it's simple yet profound — they offer an opportunity to provide food for people in crisis around the world. Each year, working with The Outreach Program (TOP), the church turns their gym into a volunteer-staffed processing center. Grandparents, parents, children, and singles all work together to pack food that is shipped internationally.
This year, in two hours, two-hundred people, in shifts, packed 40,000 meals consisting of beans, rice, soy flour, and vegetables for Ukrainian and Polish families affected by the Russian/Ukraine war. In years past, they supported people from various countries, including Puerto Rico, after a major hurricane and Haiti following an earthquake.
The church not only packs the food but raises funds and pays for it. This year they gave $14,000 to cover the cost of the meals. In the past eight years, with the exception of 2020 due to Covid, the church has packed 330,000 meals.
FAITH Lead Pastor Tim Byer is excited about the Thanksgiving project and says, "It's one of my favorites of the year!" Byer said that for years, the church had Thanksgiving morning services, but attendance waned, so they changed to Thanksgiving Eve, and as time went on, it was getting a bit stale. After prayerfully brainstorming for new ways to engage people and observe the holiday, they decided on the service project. "We thought, 'let's worship with our hands and feet.''
What started with mainly church members grew into a larger community event. People outside of the church were very excited about the opportunity to serve. "In October, we have people waiting for us to open registration, and it's filled within a few hours," Byer said.
"This has become a good tradition. A lot of community people have come in and said this is something they would like to do each year for Thanksgiving. It connects families and brings people who would never show up on Sunday but want to be part of something different," he said.
From Fellowship Hall to Processing Center
The Outreach Project makes the activity overall a turnkey project. This year, the packing from start to finish took place in one day. A tractor-trailer arrived early with pallets containing all of the needed supplies, food, boxes, bags, tape — everything.
There were two volunteer sessions. For each, FAITH members set up ten stations for ten people. With Bing Crosby, Perry Como, and other Christmas crooners singing carols in the background, volunteers in assembly-line fashion moved the food from table to table.
"Some families literally will have a whole table with parents, kids, cousins, aunts and uncles, and grandparents. It's what they do every Thanksgiving. The beauty of it is that everyone can participate. It's not pigeonholed to one particular demographic. As long as a kid can pick up a measuring cup and dump it into a funnel, he can be part of it. If grandma can sit and weigh a bag, that's great."
There is a prayer and a blessing over the food. "We pray we are not just filling bellies but souls as well. That's something even a non-believer can get behind. It's more than a meal."
The church works with Bobby Polito, The Outreach Program regional manager for Virginia, Pennsylvania, and DC. TOP partners with Convoy of Hope to transport the food to missionaries on the ground in the designated area to distribute the food.
Polito, like Byer, is always pleased to see the families. "We have found that it's really hard for families to serve together — it might be easy for a small group, youth or women's groups and work employees to find a service opportunity, but we rarely find anywhere where entire families from grandmom down to five-years-old can have opportunities to serve." Thanksgiving is an especially good time to pull family members together, he said. Families want to be together at Thanksgiving, and they want to serve."
Polito is also enthusiastic about the community's participation at FBC. "The attractiveness to the community highlights and brings attention to the church and what it does the other 364 days a year."
The awareness is important, said Byer. While they're not flooded on Sunday morning with visitors who were volunteers from the food packing project, Byer said they know FAITH is there, that the church cares, and when those people are in need, he hopes they will turn to the Lord and to the church.