SBC President Addresses Maryland/Delaware Pastors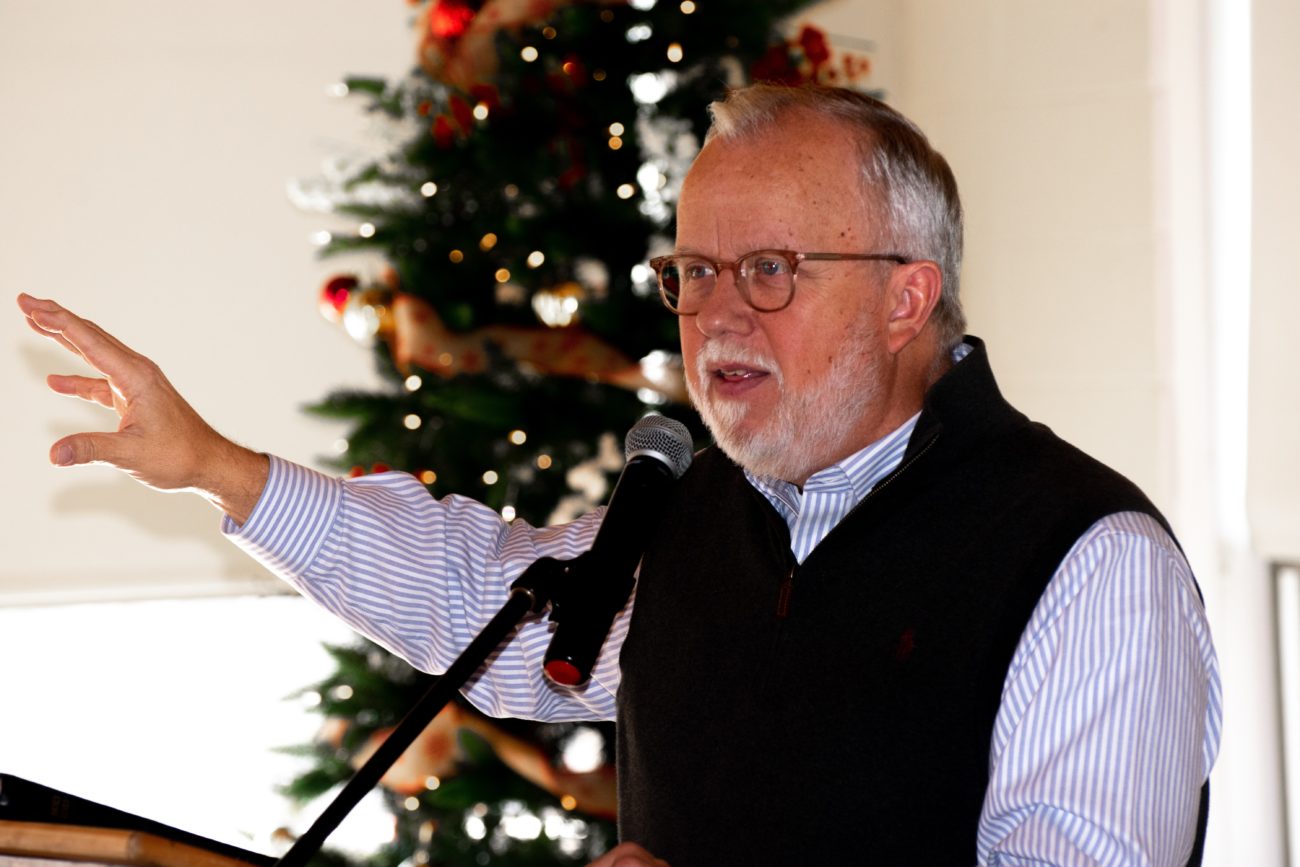 MIDDLETOWN, Md. — Southern Baptist Convention (SBC) President Dr. Ed Litton and his wife, Kathy, enjoyed breakfast at Skycroft Conference Center with Maryland/Delaware church leaders on Dec. 4. Litton shared a devotion based on Philippians 1.
As president of the SBC, Litton said he has the privilege of setting the theme for the annual SBC convention and that the theme for the 2022 meeting is a call — "Jesus at the center of it all."
He shared from Philippians 1:12-21. His chosen passage begins with Paul's statement of "that what has happened to me has actually advanced the gospel…" and ends with the beloved verse, "For me, to live is Christ and to die is gain."
"Jesus was at the center of Paul's life to be able to say the things he says," Litton said. "Paul writes the book of Philippians chained to imperial guards and yet he writes a book about joy," Litton said, adding. "Joy is not the main thing; joy is the product of the main thing."
"Everybody suffers; it's part of the human condition," Litton said. He candidly shared that his first wife was killed in an accident fourteen years ago. Twenty years ago, Kathy's husband was killed in an accident. "God brought us together. Our lives are an amazing testimony to the grace and mercy of God. We're so thankful for His plan for our lives, but we're both living a life we never anticipated." He also shared about one of his son's long-term struggles with opioid addiction. The young man died from an overdose and was resuscitated by a passing paramedic. "He's in a better place now," Litton said, but admitted that during those years, "My spiritual life was in the pits!"
"We all suffer!" he emphasized again.
Drawing from the passage in Philippians, Litton said there are three powerful, surprising things that happen, even when we are suffering — problems become platforms, opposition becomes an opportunity, and death is defeated.
The Apostle Paul wrote what happened to him resulted in the advance of the gospel and believers becoming bolder.  "This makes no sense in the flesh, but in the Spirit, that's exactly what happens," Litton said. "Could it be that your suffering, could it be your struggle, could it be your pain is for Christ?" he asked. What would it take for you to become bolder? What painful thing in your life … a diagnosis, a mountain you can't move … is a platform God wants to use for His glory?"
"Be faithful. Keep being faithful," he encouraged. "There ought to be something supernatural about the SBC. There ought to be something supernatural about our churches which are really the headquarters of the SBC. That something ought to be that the Spirit of God is moving through the church for His work and spreading the gospel.
"Here's my message – put Jesus in the center of it all. As a convention of churches, we desperately need to put Jesus in the center. We got sidetracked. We're fighting battles and windmills and declaring things and attacking people … this is not only destructive but defies the gospel itself."
"What are you living for?" he asked. To be known? For your integrity? The books you write? Fame, health, physical substance?
"What I long for in the Southern Baptist Convention, and in my own life, is that Jesus be at the center of it all," he emphasized. "All of us need to be called back to that revival."
Sharon Mager is a Baptist Convention of Maryland/Delaware communications specialist and BaptistLIFE correspondent. 
Cover photo: Dr. Ed Litton addresses pastors at Skycroft Conference Center (photo by Sharon Mager).