New Life at Clinton Baptist Church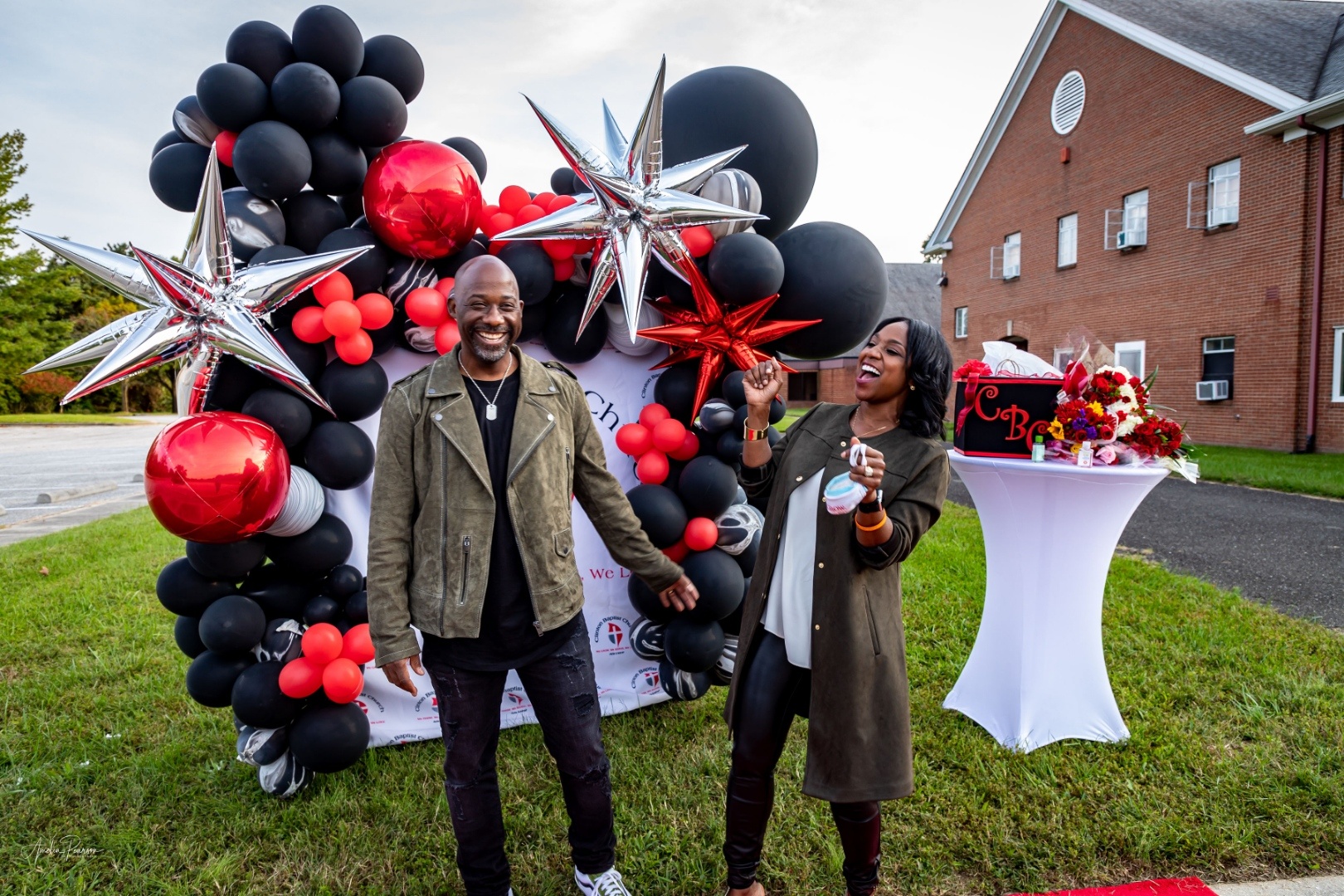 by Sharon Mager
Clinton Baptist Church's (CBC) 900-person worship center sat empty. The 50 classrooms in the church building — a lovely structure situated on 12 acres (including a baseball field!) in Prince George's County — echoed with the somber tones of a church in decline and, like many other American churches, headed for death. The faithful few members — nine, to be exact — were unable to even meet in their worship center due to a broken boiler. Their previous pastor had cared for the flock, but he dealt with a long illness that hindered his capacity. As a result, the church dwindled down to just a few.
It was painfully clear to the members of CBC that they were in trouble, but it was even more evident to them that God wasn't done using their church to build up believers and reach the lost in their community.
After much fervent prayer, the church called Colin Pugh II to be the senior pastor. God has used him and his wife, Jeanette, to breathe new life into the congregation.
God was orchestrating every detail 
Colin, a warm and energetic leader, knew from the very beginning that God was orchestrating every detail in CBC's growth and development.
"God knew everything," Colin says. "I was an engineer for 11 years and worked on boilers." Pugh knew how to resolve the problem and who to call to make the worship center usable again. That repair alone boosted morale and that was just the start of the miraculous touches which God provided.
Colin knows God was preparing him and his wife for the ministry at Clinton. They had been ministering at Kettering Baptist Church (KBC) for almost two decades.
"My wife and I gave our lives to Christ at the same time 19 years ago," he says. "We heard Pastor (Bucas) Sterling say, 'You've tried everything else, try God!'" They were in a difficult period in their lives and they had tried everything, Colin remembers. They made the decision to follow Sterling's lead and chose to "try God."
"We gave our lives to Him together, and from that time on, we were committed to faithfully serving God in ministry at Kettering," Colin expresses.
The couple dove headfirst into all areas of KBC's ministries. Jeanette helped with the youth, chaired the anniversary ministry, and taught in AWANA.
Colin began taking Bible classes, became a deacon, received his license to preach, and eventually received ordination to Gospel ministry. His primary emphasis at KBC was youth ministry, moving through the roles of helper, leader, and youth minister to become the pastor of youth ministry. He continued in the role at Kettering, helping to train the next leader, while beginning his ministry at CBC, before officially transitioning out in January 2020.
"I learned and grew so much in that time," says Colin. "Even before I got the position as pastor, God had given me CBC's vision, 'We Grow, We Serve, We Love,' and He gave me three months of sermons with titles and texts."
When Colin took the position at CBC, Pastor Sterling led KBC in supporting him both prayerfully and financially.
Displaying New Life
Colin began by looking at membership and called each person who was no longer active and encouraged them to return.
Many responded. "That nine went up really fast," he says. He then began updating the outside — with simple maintenance at first. They had a landscaper keep the grass cut and trimmed, and they mulched the flower beds.
Also, they rewired the marquis, so it lit up. Colin admits the work is hard. He and Daniel Reeves spend Mondays painting, laying carpet, and doing any other needed renovations needed. Reeves served Clinton Baptist in an interim capacity prior to Colin's arrival. Now, he and Alan Tucker serve as associate pastors.
The small group of members were used to entering the church by the back door. Now, Colin asks that they park in the front to show the community something is happening at CBC.
"We wanted people to see new life!" he says enthusiastically.
It wasn't long before they began offering free tutoring by working out a deal with a young teacher. Fifty children participated.
Including one parent per child, that means at least 100 people coming and going at the church twice a week between 6 and 8 p.m. — once again, showing life.
The church began a transportation ministry for locals, and contacted a local retirement home to offer rides. They handed out information at a retirement home and had several responses from seniors interested in catching a ride to church.
Members cleaned and restocked the food pantry, adding fresh ingredients, including eggs and chicken wings from a local commissary. They gave out food by appointment from 8 a.m. to 12:30 p.m. on Tuesdays and Thursdays.
God continued pouring blessings on the church, even from outside sources. A woman from the community called in because she'd heard of the ministry and set up regular donations. Several vendors happily renegotiated contracts. A local trash company lowered their bill by over $80 a month. The representative is a Christian and told Colin, "I want to see this church live and grow!"
"I have story after story," Colin says.
The church had expanded to over one hundred in Sunday attendance in six months.
COVID-19 challenges and blessings
The church was back to life and growing quickly! But then — COVID-19 struck. The church had to transition online — Facebook Live, YouTube, and Instagram became the new ways to meet.
Much to the church's surprise, God allowed for even more growth and ministry opportunities. Hundreds of people watch the services online every week. Colin has a separate phone line he uses for responses to the broadcasts and people have responded, giving their lives to Jesus or joining the church.
In addition to live services, the church hosted a wide assortment of classes and seminars, and even a comedy show in the fall.
"God is doing amazing things, and it's good for people to know God's hand is here," Colin states. He encourages his church to "'keep praying, to keep moving, and watch God work.'"
Grab 'n' go ministries
Recently, Colin and Jeanette accepted the Nelson Mandela Award for Excellence in Senior Nourishment on behalf of CBC. The church worked together to serve over 7,000 local seniors with "grab-and-go" meal bags filled with nutritious food.
Before that, the church handed out over 150 bags of school supplies to needy children. The bags were based around virtual learning and designed to help the children make the transition to learning at home as easy and enjoyable as possible.
A future full of hope 
Though CBC is still meeting virtually for worship, drawing over 300 viewers, they haven't stopped community outreach. It is joyous, continuous, and maybe even contagious.
In late January they had an outdoor ice skating party for youth. Early in February, they partnered with the GW Rodham Institute and distributed 10,000 bottles of hand sanitizer and 4-ply masks.
On Valentine's Day, they gave balloons and homemade cookies to residents at Clinton Healthcare Center and Future Care Rehabilitation Center. They also continue to give away food.
Clinton Baptist Church members have truly embraced their motto, "We Grow, We Love, We Serve," and they're giving it their all.
They just keep going, and they don't plan to stop until Jesus returns.
Shelley Mahoney contributed to this story.
Cover photo courtesy of PW Photography, used with permission.