Maryland/Delaware Roundup, February 27, 2020
"The Lord your God is among you, a warrior who saves. He will rejoice over you with gladness. He will be quiet in his love. He will delight in you with singing."  Zephaniah 3:17
Middle River Baptist Church to celebrate 75th anniversary 
Middle River Baptist Church (MRBC) in Maryland, will have their 75th anniversary and homecoming celebration from April 24 to 26. The theme will be "Celebrating the memories of yesterday, the joys of today, and the hope of tomorrow." A variety of activities are planned and many former pastors will be attending.
On Friday night, April 24, Debi Wynn, an education and special events officer with the Glenn L. Martin Maryland Aviation Museum, will share about the Glenn L. Martin Company. The organization brought thousands of workers and their families from nearby states to take up residence in the Middle River area, especially during wartime. The area grew quickly as developers scrambled to provide housing. Many of the workers were Christians who wanted a church in the area. They began meeting together in a farmhouse on Martin Boulevard and that was the beginning of what is now MRBC.
There will be an ice cream fellowship following the presentation.
The church will have a music celebration on Saturday, under the direction of Doris Burch, who is leading the music committee in preparation for the big event. All former MRBC choir participants are invited to join in a mass choir celebration. Former church music leaders will direct the music. In addition to the choir, current church musicians and musicians from years past will share.
Alan Ray, a former pastor, will lead the Sunday morning Bible study at 9 a.m., and Paul Willey, the son of former pastor Jim Willey, now deceased, will preach during the morning worship service.
At 2 p.m. on Sunday, the church will continue the celebration with dinner at Lighthouse Gardens in Bowleys Quarters. Three former pastors will share, including David Hall, Don Satterwhite, and Glenn Leatherman, who recently left the church to care for his ailing father and now pastors First Baptist Church of Liberty, Texas.
MRBC members have also updated their history books and recently made a pictorial directory of current members.
The church will also give away unique keepsakes. On Friday, guests will receive  bookmarks honoring their 11 pastors, including Roy Gresham, a former Baptist Convention of Maryland/Delaware executive director/treasurer and a vice-president of the Southern Baptist Convention. On Saturday, guests will receive commemorative wood blocks. Mildred "Milly" McDaniel, chairwoman of the anniversary and homecoming committee, was especially excited about the blocks. "One of the trees on the land next to the parsonage recently died. We had it cut down and to our knowledge, it was there 75 years ago. Some of the men decided to make blocks of wood, with "Middle River Baptist Church, 75 Years" printed on each one," she said. At the dinner, the church will have a drawing for a handmade red, white, and blue afghan.
The events of the weekend are free, except for the dinner, which costs $25. Childcare will be provided on Saturday for children through five-years-old.
For more information, contact the church office, 410-686-8810. For tickets for the dinner send $25 to Middle River Baptist Church, 610 Middle River Road, Middle River, Maryland 21220
Men's retreat
The Potomac Baptist Association will have their annual men's retreat on March 20 and 21 at Camp Wabanna in Edgewater, Maryland. Chaplain (COL) Jay S. Johns III of the United States Army will be the keynote speaker. The theme will be "The Difference One Man Can Make."
The cost is $95 and includes lodging and meals. Register online by March 12.
Missions Conference 
New Song Bible Fellowship Church in Lanham, Maryland, will have their annual Missions Conference from March 27 to 29. The theme,"Believe," is based on Acts 16:30, which says, "They said, 'Believe in the Lord Jesus, and you will be saved—you and your household.'"
The conference will start with a light supper at 6 p.m. on March 27, followed by a "pre-conference" film festival. On March 28, missionaries from around the world will share at exhibit booths. A continental breakfast and lunch will be available. Sunday, March 29 will be a "Commissioning Sunday." At the 10 a.m. worship service, Senior Pastor Bernard Fuller will challenge members to pray, give and go, to be and support missionaries to reach the world with the Gospel.
Dream Conference in Lusby, Maryland
Southern Calvert Baptist Church in Lusby, Maryland, will host the Dream Conference on March 5 and 6. The conference is designed for church leaders and volunteers who dream of a healthy and growing church.
The dream for the conference began with Brian Moss, lead pastor of Oak Ridge Baptist Church in Salisbury, Maryland. Moss, in a previous BaptistLIFE article, shared how he'd gone to conferences which sparked a dream for his church in his heart early in his pastorate. But he didn't know where to begin.
"So, over the years, we began to learn the tools and the methods and the systems to help in beginning to bring a dream to a reality," Moss said, explaining the DREAM Church Conference. He also shared what Oak Ridge has learned: "We believe that we can teach others everything we've learned. And if we can do it, you can do it."
The cost is $80. Register online.
Black History Month movie night 
As part of Black History Month, Sharon Bible Fellowship Church in Lanham, Maryland, will have a movie night from 5 to 8 p.m. on February 29, featuring "Men of Honor." The movie shares the story of Carl Brashear, who, determined to be the first African American Navy Diver.
History Highlights
Redland Baptist Church in Rockville, Maryland, began in 1966 as 21 people met in a member's home. Now, hundreds of people gather each week on their 13-acre campus. (From Redland Baptist Church's website)
Noah Davis (1804-1866) was born a slave in March 1804 in Madison County, Virginia. His family belonged to Robert Patten, a wealthy merchant, who lived in Fredericksburg, Virginia. Davis enjoyed an unusually good life in comparison to other young slaves in Virginia. He grew up in a united family with strong Christian beliefs.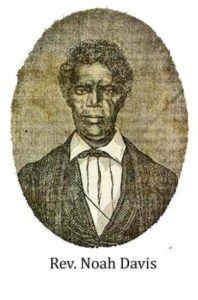 Early educational experiences began during the formative years of Davis' life. Noah's father, John Davis, made it a regular Sunday practice to spend his time in the instruction of his children and the neighboring servants in New Testament studies.
After John's death in 1826, the family moved to Fredericksburg, and Davis was turned over to Thomas Wright to learn the trade of boot and shoe-making. During the years of apprenticeship, Davis started to frequent the Baptist church in Fredericksburg. In 1831, he was converted and joined the church.
In order to advance the Gospel, Noah Davis gained permission from his master to purchase his freedom. The price of freedom was fixed at $500.00. He was given a permit to travel to such places as Philadelphia, New York, and Boston to raise funds for the purchase of his freedom. (read the rest of the story here).
(Noah Davis' story is taken from the Baptist Convention of Maryland/Delaware's history highlights.)
Cover photo provided by Middle River Baptist Church