Maryland/Delaware Roundup, August 26, 2021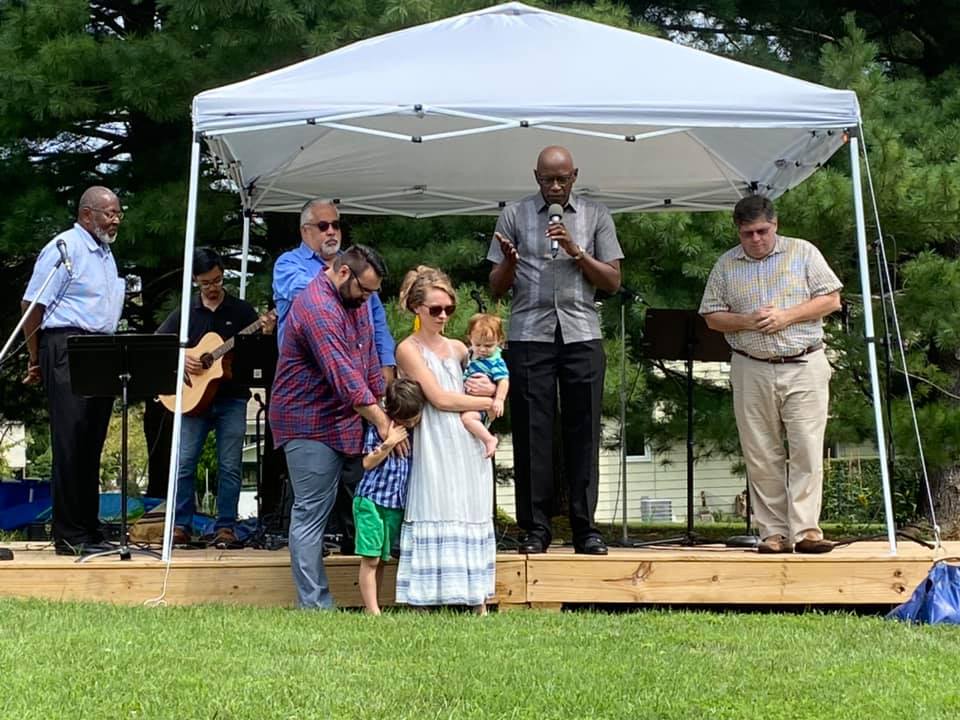 "Peace I leave with you. My peace I give to you. I do not give to you as the world gives. Don't let your heart be troubled or fearful." John 14:27
Olney Baptist Church Says Farewell to Engle Family
Olney Baptist Church said goodbye to the Engle family on August 22. Kyle served as the church's children and youth pastor youth and his wife Kristin was the church's outreach and marketing director. Both have ministered at the church since 2016. The family is moving to Florida to work with a missions ministry. During their time in Maryland Kyle also served several times as a breakout leader for  BCM/D children and youth events.
The church had a farewell picnic lunch for the family.
Reaching International Students in Ocean City
Ocean City Baptist Church (OCBC) is having its biggest soccer season to date. Over 650 students are participating. Sean Davis, OCBC senior pastor said sports are a big deal for families. Davis said sports and music are universal languages and you can reach people through them.
The church ministered to fewer international students over the summer due to COVID-19. They gave away 100 bikes at the beginning of the summer and with the help of the Eastern Baptist Association churches served weekly meals to an average of 60 students at the beginning of the summer. That number dropped to about 30 by summer's end.
Davis said with the lack of employees in Ocean City shops due to COVID-19, students were working two or three jobs. Though there were fewer students, Davis said there were many opportunities to connect with them. Davis recently baptized one Romanian student.
Unite Music Festival
The annual Unite Music Festival kicks off at 5 p.m. on August 28 at the Tri-State Ministry Building, 232 Hyndman Rd, Hyndman, Pennsylvania. Music artists include Southern Gospel groups "Generations," and "The Old Paths Quartet," and contemporary artists Jordon St. Cyr and Anne Wilson. General admission tickets for the festival are $16 and free for students of all ages.
Jim Jeffries, who pastors both LaVale Baptist Church, in Cumberland, and Zion Community Church in Wellersburg, Pennsylvania, is a founder and core leader of the Unite Music festival. Jeffries and a diverse group of local pastors and lay leaders meet together regularly for fellowship, prayer, and encouragement and they organize the event each year.
On August 29, Zion Community Church will host "The Old Paths Quartet" at 8:30 a.m. Later that morning at 10:45, Jordan St. Cyr will lead worship at LaVale Baptist Church.
Block Parties and School Supply Giveaways
The Garden Church has 300 stuffed backpacks to give away at their annual "Back to School Bash" on August 28. In addition to the supplies, the church will offer free hair cuts, nail painting, food, games, and more.
In a recent newsletter, Joel Kurz, the pastor of The Garden Church, wrote "The Bash has historically been a great outreach tool for The Garden. It connects us with families and parents in powerful ways. It also creates a great atmosphere for the community to end their summer."
On August 22 New Creation Bible Church, participating in Send Relief's Nationwide Backpack Event, provided over 100 supply-filled backpacks for families with children from kindergarten through twelfth grade.
Freedom Church, Baltimore, will have a block party from 6-8 p.m. on August 27 with food, games, roller skating, and laser tag. The church will also give away bookbags and school supplies to the first 200 students.
Epiphany Church Outdoor Movie Night
Epiphany Church, Baltimore, and Yorkwood Elementary School are partnering to host an outdoor movie night at the school. The church invites families to bring blankets and chairs and enjoy the movie, "The Croods: A New Age." Church members will provide snacks and beverages. Doors open at 7:30 and the movie starts at 8.
Sycamore Hill Baptist Church Women's Retreat
Sycamore Hill Baptist Church in Delaware will have their first women's retreat on October 8-10. Women will travel to Tel Hai Camp and Retreat Center for a time of prayer and meditation, Bible study, and having fun. Melody Knox, BCM/D women's ministry consultant will be the guest speaker. The theme is "Freedom in Truth."
CPR Training for Churches
North Valley Church in Myersville will have CPR training for churches from 8:30 a.m. to 5:30 p.m. on September 11. Topics include scene safety, automated external defibrillator training, choking rescue, trauma intervention, and more. The cost is $45.  For more detailed information or to register click here.
Quotable Quotes
"I would rather stand alone in the light of truth than in the crowd filled with errors." Adrian Rogers
"Confident and courageous leaders have no problems pointing out their own weaknesses and ignorance." Thom Rainer
History Bites
Ann Baker Graves, a member of First Baptist Church of Baltimore and an author, was the founder of Woman's Mission to Woman, a Maryland female missionary society before the National Woman's Missionary Union was organized.
Grave's son, Rosewell Graves, baptized by Richard Fuller at Seventh Avenue Baptist Church, sailed to China as a missionary. Rosewell shared with his mother that women in China were not allowed to attend public worship services and that customs prevented ministers from visiting the women in their homes. "His plan for women to reach women (in China) aligned well with his mother's twin interests of educating women and utilizing their potential for spiritual influence. In 1867 she gathered a handful of female Baltimore Baptists into a prayer and support group for the Canton Bible women." Though for years little progress was made, Graves kept writing letters and educating herself about foreign missions. 
She was encouraged when her pastor's wife, Corinthia Virginia Read Williams, was enthusiastic about Anne's desire to see women come together to pray and support missions and the two women became friends and worked together. In 1869, Ann invited a New York woman named Brittan, who had six years of missionary experience in Calcutta, to share her story with an interdenominational women's group. Buoyed by Brittan, in February 1870, women from various churches, including Baptist, Methodist, and Friends, organized the Baltimore Auxiliary of the Women's Union Missionary Society. The organization grew and contributed six hundred dollars to missions their first year.
Baptist women, however, felt the denomination needed a society of women focusing on Baptist work alone. Williams started a Baptist Society for women, targeting representatives from local Baltimore Baptist churches who had a passion for missions and would invite others. The organization became "Woman's Missions to Woman" in 1871. Williams served as president, Ann as corresponding secretary, and Mary Armstrong, the mother of Annie Armstrong as vice president. (Adapted from "You Are a Great People" by W. Loyd Allen and "Baptist History and Heritage" by W. Loyd Allen.) 
Cover Photo: Charles Bailey, one of Olney's elders, prays for the Engle family (shown in front -Kyle and Kristen, with their children Sawyer and Jace). Brian Tubbs is pictured to the right of Bailey and the praise team to the left. (Facebook photo used with permission)