Godly Tradition Continues at Camp Wo-Me-To Boys Camp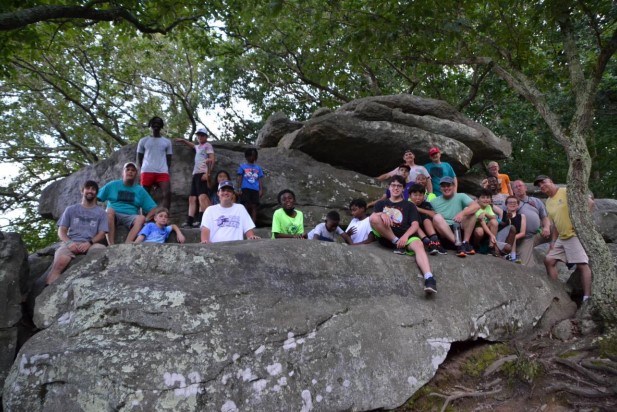 JARRETTSVILLE, Md. — Though temperatures averaged in the mid-high '80s and humidity reached 100%, the 80 boys at the annual Boys Camp, August 4-6, at Camp Wo-Me-To, joked and laughed together as they wiped the sweat from their brows while working on service projects. The heat didn't seem to get to them. They were having fun.
These young boys, many second or third generation campers, had no real understanding that they were carrying on a Godly 92-year heritage
According to "You Are a Great People," by W. Loyd Allen, the boy's camp tradition dates back to the first known Women's Missionary Union (WMU) Royal Ambassador's Boys Camp at Braddock Heights in 1928. That camp later moved to WMU-owned Camp Wo-Me-To. (Later the camp was moved to Kamp Kaylor at Skycroft Conference Center in Middletown and returned to Camp Wo-Me-To when Kaylor stopped operations.)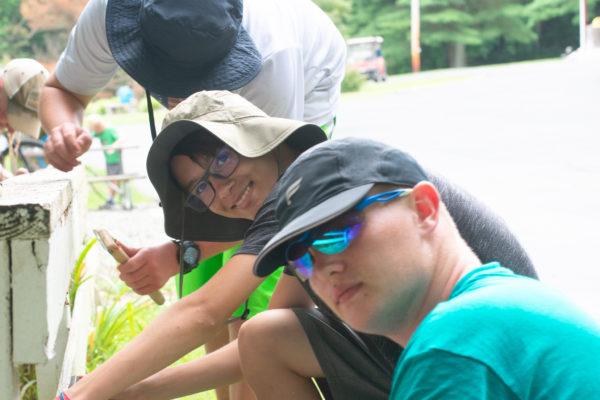 Now generations of boys gather each year for this special time in the late summertime.
Fun, Service, and Spiritual Growth
This year, as always, boys observed the traditional camp exercises —   raising the flag, and saying the pledges and cleaning their cabins. Campers made bird houses and had fun with archery, canoeing, and games as well as swimming, fishing, waterslides and hiking. They also did projects around the camp —  scraping and painting fences, cleaning, and weeding. The emphasis, however, throughout the three days was spiritual, with the theme, "Nothing is impossible for God." (Luke 1:37 CEV). Seven boys made professions of faith during vespers on the last night.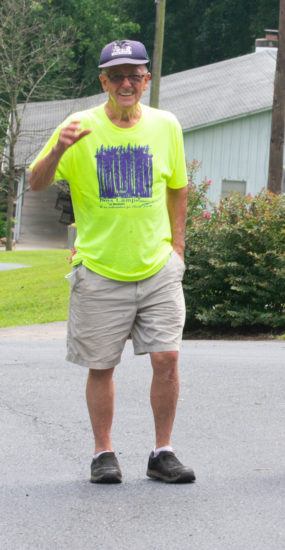 Bill Sanders, a member of Bethel Baptist Church in Ellicott City was the Bible teacher. Tim Arnett, a member of Riva Trace Baptist Church in Annapolis, served as the camp director and led vespers.
Sanders said, "My son (John) began going in 2002 and was an RA (Royal Ambassador), became a CIT (counselor in training), and is now turning 28. He goes with me to camp now and we are both counselors. It's that good of a camp."
Arnett has served the camp for 33 years. His love for Boys Camp is easily apparent. Obviously exhausted and hot, he perks up quickly to share about the boys and the camp. He emphasizes the contribution of the volunteers and pointed out that those serving in key roles have been part of the camp for decades.
Arnett said, "These boys have incredible role models. I have over 30 adult men leading activities."
Some of those men return year after year. One family, the Grafton's from Oak Grove Baptist Church in Bel Air, had four generations at camp this year including Great-grandfather, Jack; Grandfather, Norm; Dad, Webster; and son, Thomas. Norm Grafton owns a farm and brings fresh corn to the camp. The campers (including adults) raved about the corn. "The kids usually ask for seconds and this time they were coming up for thirds," Arnett chuckled.
Jack and Norm Grafton also remember the time the camps were at Kamp Kaylor. Jack, whose first time at boy's camp was in 1953, showed off his old Kaylor camp hat. Pointing to a splotch of red paint. That's from painting picnic tables at Kaylor, he said.
Kids who have outgrown the camp often return as CITs. They do errands, help the younger boys, and assist as needed.
Arnett cited the friendships forged at camp. "They have an awesome time becoming friends. Even first-year boys realize this is their camp and it's a part of them."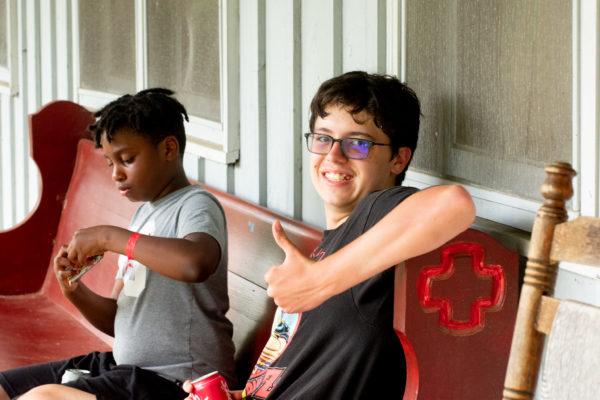 Asked about the highlights, most boys after a few moments answered the expected "food!" A memorable event, not a highlight,  was having to spend eight hours in cabins due to a severe storm that temporarily knocked out the power. The boys worked hard the next day to clean up debris.
Asked about the Bible studies, the campers said the leaders made the sessions interesting. Tenth Grader Michael Jones said the lessons were easy to understand and interactive.
Sanders used hands-on activities to catch and hold the boys' attention. One night he used metal puzzles. "They're the kind you have to turn a certain way to pull them apart. you can't do it unless you know how." Sanders used the puzzle to talk about God's infinite knowledge. He also used a chemical "trick," showing water to demonstrate our sinless perfection in the beginning, a drop of food coloring to depict sin invading our lives, water drops symbolizing works that won't change the sinful life, then bleach in a bottle labeled "Jesus' sacrifice"  that causes the water to return to it's original "perfect" state. "What's impossible for us is not impossible for God," Sanders said.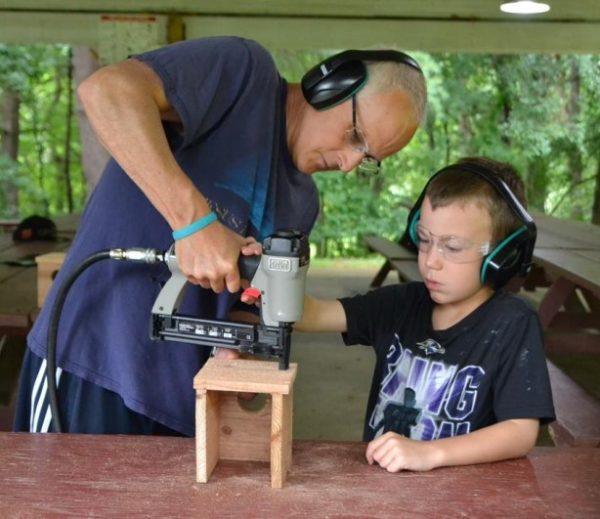 On the last day, Sanders said he shared salvation scripture, and emphasized, "we can't do this on our own."
Jack Grafton shared about the final night. "My son Norman stared a fire in fireplace and the fire glowed the whole time. There were no lights while the preaching was going on. It must have been a highlight for Norman to see it. Others not involved sat in the back praying. Seven came forward. That was just wonderful. We thought it was just grand"
Parents arrived for the camp's closing finale. The boys sang three songs, and Arnett shows a slide show from the week.
The 2003 camp is scheduled for August 3-6.
Boys Camp – favorite member in 1953 summer, I was at a business meeting in oak grove, gentleman lewis wilmoth introduced to church that a boys camp at wometo an they were going to go and I wanted to go.
I was in cabin 3, we were go ing along fine with our counselor in cabin and then next day had a phone call called for counselor to come to office. problem. home, old enough to drive and he had to leave and so they called me and said we need someone to help out in cabin, I had other plans my plans were to win a trophy like my girlfriend had won before for best camper at girls camp. accepted being a counselor that knocked tht out.. we always had fun. It was a great time. The only thing that same year the only thing that bothered me, you were allowed to pick a camper out of your cabin. I had an idea who i thought it would be, helping people out. his name was Paul, he got his medal and then another cabin came it was thee turn, fellow convinced rv. deck, kept calling names out and      everyone in cabin    got one.
I went back whenever I could. graduated in 57. camp wo me to brother bill born in 42. Bill came hoe and said guess what they had us to do? You know tht hill all growed up in the forest, those days scrub brush – boys were suppose to run down to that hill and had a counselor make sure they ra down field, crossed to creek and then get on road, run down, and turn in like you did turn in lane Bill started gaining and passed him and won.
Thought about years track stars in flat land when it comes to hill and valley. – those guys don't have a prayer. Bill and I had a high hill where dad' s barn was built. The hill is still there we would slide up and down that hill. when it stopped we'd kick snow in tracks so it cold freeze so you could go at night under stars and moon and sled.slid fast, had toknow what you were doing creek. that's how bill got his gsto – walking back up.
I supposed we would meet in the church on Saturdays, to see other boys come forward, been when I got older. We were only three four days, it's wonderful.
My son Norman stared a fire in fireplace fire glowed whole time, no lights on. Preacing gong on. Must have been a highlight to see it. Others sat praying. That was wonderful.We thought it was just grand.