GMB Welcomes New Members, Prepares Next Steps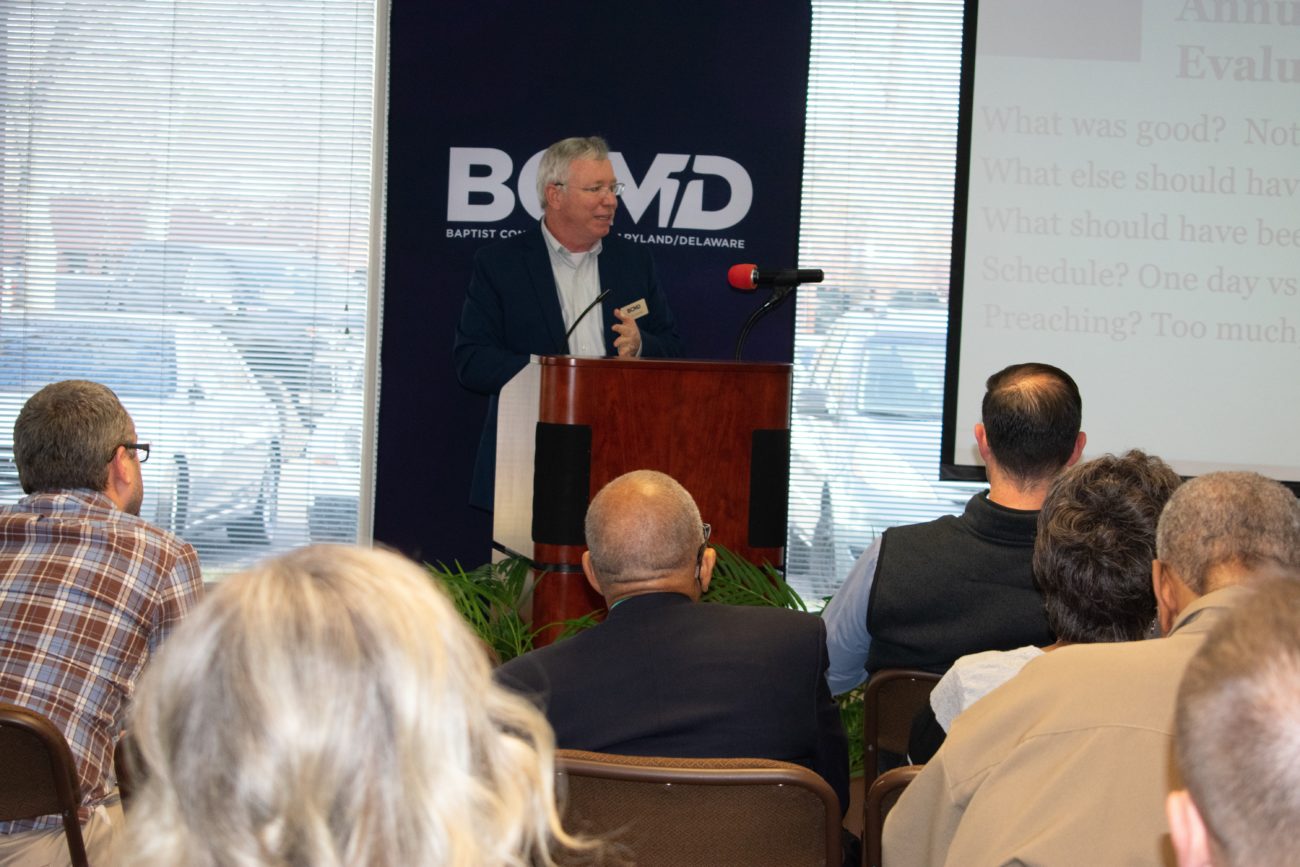 COLUMBIA, Md. — The Baptist Convention of Maryland/Delaware's (BCM/D) General Mission Board (GMB) met on Dec. 7 at the Baptist Center, the last meeting of the year and the first for many newly-elected board members.
GMB members eagerly listened to reports about current and upcoming initiatives and events. They also participated in evaluating the BCM/D's November 2021 Annual Meeting.
Financial report
Associate Executive Director Tom Stolle reported that Cooperative Program (CP) receipts for the eleven months ended Nov. 30, 2021, totaled $3,004,864.01, which is $40,997.97 or 1.4% ahead of last year's year-to-date November results. Stolle said the receipts trail the year-to-date budget by ($340,969.32) or (10.2)%. "We are tracking slightly above the 2020 pandemic level of receipts," Stolle said.
North American Mission Board (NAMB) receipts totaling $709,250 are running slightly behind at 76.7% of budgeted annual income recognized.
All major expense areas are running below the year-to-date budget. Stolle commended the staff for "holding the line" on expenses. He said this is expected as the staff was informed that there are 75% spending limits on most non-salary budget line items. "We have held that COVID-19 protocol in place while navigating the economics associated with the pandemic," Stolle explained.
He reported a bottom line of ($173,678.03). He said breakeven at year's end is possible, but December CP receipts will have to approximate last year's giving levels. Staff will continue to hold the line on reduced expenditures. Stolle explained that the BCM/D benefitted financially from eliminating the 2020 Annual Meeting (due to COVID-19). In 2021, the cost of a one-day meeting held at a church, rather than a hotel or a conference center, resulted in significant savings compared to past annual meetings.
Stolle said that the State Missions Offering has declined in receipts over the last couple of years. The $103,041.90 received in 2020 funds the 2021 initiatives, which are Special Needs, Disaster Relief, and Kenya Missions. $74,481.01 has been expended year-to-date. Received funds that remain unspent at year-end will be utilized in future years according to their designation.
Stolle, providing the financial report for Skycroft Conference Center (Skycroft), emphasized that Skycroft is not a separate entity; they are a part of BCM/D.
Skycroft receipts totaling $1,337,800.36 are running approximately $611,699.64 behind the year-to-date budget. Stolle noted that $384,000 of receipts are a result of the Payroll Protection Program (PPP) loan, fully forgiven by the Small Business Administration and transitioned to grants. He also noted that non-PPP receipts are only at 50% of the total year budgeted levels. The impact of the pandemic on attendance has been significant.
Skycroft expenses totaling $1,164,499.71 are running far behind budget as well. While fewer guests equate to lower receipts, it also results in lower costs.
Reporting on the bottom line for the eleven months ended Nov. 30, 2021, the net Skycroft income is $173,300.65. The good news is that due to the forgiven PPP loan and staff doing a great job minimizing expenses, the conference center will end the year with a profit. Stolle noted that, through the pandemic, staff was retained, and continuity has been preserved. Because of these commitments, the conference center is in a better position to build on the successes of 2021.
Stolle emphasized that 2022 will be more challenging. "No federal financial subsidy is coming. How quickly guests respond to coming back for camps, retreats, and conferences will be key to how quickly Skycroft can regain its financial stability," he said.
Stolle encouraged GMB members to pray for Skycroft.
Post-Annual Meeting evaluation
Board members were quick to respond to Interim Executive Director Mark Dooley's request for input regarding the 2021 BCM/D Annual Meeting.
Several shared they missed the fellowship that the usual two-day meetings allow. Alternatively, two said that messengers in their churches preferred the one-day format because no overnight stay was required. Another member suggested allowing more time to discuss business. Others requested the receipt of submitted resolutions earlier so that they could study them ahead of the meeting. Multiple board members appreciated the stories shared at the meeting, saying they made lasting impressions upon the pastors and lay leaders who attended.
Dooley was thrilled to hear the response to the testimonies shared. "We three (Michael Crawford, Stolle, and Dooley) felt this meeting should be ("BCM/D-Centric"), focused on churches and pastors and celebrating what God has done throughout Maryland/Delaware," he said.
Additionally, Dooley commended the BCM/D staff, who worked hard to organize the Annual Meeting. He noted the extensive work provided by Iris White, who coordinated much of the event; Rosalie Chesley, who served as stage manager; Margot Painter, who oversaw registration; Demetra Bennett, who coordinated the lunches; and Adron Dozat, who oversaw set-up and logistics.
Baptist Foundation report 
Stolle, reporting for the Baptist Foundation, reported that 14 churches currently have outstanding loans for the fiscal year ended Sept. 30, 2021. The income earned from the church loan fund is distributed annually to the BCM/D to start and strengthen churches.
Three churches have outstanding loans from the Arthur Nanney church loan fund. The Arthur Nanney fund was established in 2006. This fund is used for small, emergency loans to churches.
As of Sept. 30, 2021, the market value of the investment portfolio was $11,346,335.19. Year-to-date portfolio performance reflected a return of 7.7%. The one-year performance reflected a return of 19.1%, and the three-year return totaled 11.0%.
The Baptist Foundation of MD/DE is positioned to manage endowment funds for churches and associations while saving them money on administration. Additionally, the foundation provides education to churches highlighting both a Christian's responsibility to be a faithful steward as well as various options available to financially give to the Lord's work both in life and after death.
Visit the Baptist Foundation website to learn more.
Church Planting
Michael Crawford, SEND Network Director for Maryland/Delaware, commended his church planting team: Margot Painter, church planting coordinator; Dan Hyun, SEND City missionary; and Church Planting Catalysts Jamie Caldwell and Alejandro Molero. "Our job is to help churches discover church planters and develop and deploy those church planters," Crawford said.
Crawford emphasized "residencies" — basically, he explained, a system that churches use to identify the gifts God has given them and then develop and deploy those gifts not only without but within the church. Crawford said that having people developed to meet the internal needs of the church often leads to a passion for some type of mission in their community, state, or the world.
He referred to NAMB as "our most strategic partner in church planting." Crawford explained that NAMB provides money and training, including his salary and that of the church planting catalysts.
"There are a lot of great men, women, and families on the field. Four to six people are going to the next church-planting assessment in the spring," he shared.
"What excites me the most, though, is seeing actual churches that have been planted, plant churches." He pointed to Freedom Church, Baltimore, which planted Freedom Church, Windsor Mill, which recently planted Love Light City Church in Baltimore and installed a pastor early in December.
Communications
Chesley, who serves as the assistant to the executive director and as managing editor of BaptistLIFE, reported on BCM/D communication staff and outlets.
"Our team's mission is to share the story of our churches to increase our collective usefulness for the kingdom. We want to partner with you and help you to share what God is doing in your churches and in the BCM/D to glorify God and encourage each other," she told board members.
Chesley noted the various resources available, including the quarterly BaptistLIFE magazine, a weekly blog, and social media.
She told board members that articles personally speak to her heart and often provide encouragement when she feels discouraged. "Some stories I read give me chills because of the way God works," she said.
Church Services 
Dr. Randy Millwood, reporting for the Church Services Team, shared about some of the 2022 Church Services events, including Caring Well seminars to help churches address sexual abuse (Feb. 26, Apr. 30, and Jun. 4); a Pricilla Shirer women's event in Baltimore (Sept. 24); African American Fellowship Regional Breakfasts (Feb. 10 and Sept. 8); a worship conference (Mar. 8);  Teaching Roundtables (May 19-21); an evangelism conference featuring Johnny Hunt (Oct. 7-8), and a "Pastors Reset" event led by Blackaby Ministries International (March 15-16).
Millwood also highlighted the expansion of Kris Buckman's role — communications and children's ministry — to include youth ministry. Millwood said that attendance at a recent youth summit shows "hunger and desire to improve our youth ministries." Additionally, he reported that Maryland/Delaware Disaster Relief (DR) volunteers have been serving every month of 2021 and are currently helping with flood relief in New Castle, Delaware. Regarding collegiate ministry, Millwood said Jessica Senasack, director of Baptist Student Ministry at the University of Maryland, College Park, reported that she and her staff are back on campus after being away for over a year due to COVID-19. Also, 75% of those Senesack is working with are new to campus ministry.
Interim Executive Director's report
Dooley gave an overview of Vision 2025 Cooperative Efforts, encompassing goals for church planting, revitalization, baptisms, Cooperative Program giving, mission engagements, and participation in Caring Well initiatives. He emphasized the need for BCM/D, churches, and associations to cooperatively work together to achieve the goals.
Regarding church planting, Dooley encouraged churches to plant or support plants and encouraged associations and the BCM/D to collaborate in these missions and help them push against a spirit of competition. At the convention level, Dooley encouraged developing pipelines, mentoring, internships, and residencies, and promoting the Annie Armstrong Easter Offering.
He encouraged churches to participate in the Caring Well Initiative, protecting the vulnerable from sexual abuse and loving those abused. "This is a goal that matters," Dooley said. The goal is to obtain and maintain 100% church participation in caring well practices. He encouraged associations and the convention to partner to remove financial barriers in obtaining background checks, ongoing counseling availability, and training opportunities.
Addressing an approaching 50% decline in BCM/D baptisms since 2010, Dooley encouraged churches to emphasize baptisms. "One thing I would have done differently as a pastor is I would have done more intentional evangelism training," Dooley said. He urged associations to consider joint baptism celebrations and for the convention to provide evangelism resources. The BCM/D will host an evangelism conference in 2022. Dooley also stressed the importance of reporting baptisms on the Annual Church Profile (ACP) to ensure accurate baptism statistics.
Regarding CP giving, the goals encourage churches to transition to giving to both the CP and the local association on a percentage basis and work to incrementally increase the giving each year. Dooley urged associations to encourage ACP reporting. He said the convention would strive to capture and share church stories, which will strengthen and help others to become more confident that their funds are a worthwhile kingdom investment.
On revitalization, Dooley said, "We want to see 100 churches engaging in revitalization efforts." He encouraged churches to take advantage of health assessments, and for associations and the convention to offer and support revitalization events and efforts and help churches discover their replant, merger, and revitalization options. "Imagine a convention composed of strong and healthy churches. Prayerfully, and with just a little bit of effort that can move past imagination to reality, and we can see our churches move toward a position of health," he encouraged.
The goals also encourage one million missional engagements between 2022-2025. What is a missional engagement? Referring to Acts 1:8, Dooley said, "This is being the hands and feet of Jesus in the world." These engagements could be a mission trip to Africa, leading a Vacation Bible School out west, or working with DR. "There are a lot of ways to be missionally engaged," he said.
Executive Director Search Committee report
Tim Simpson, chairman of the executive director search committee, told members that the committee is a diverse and good cross-section of gifted leaders from across the two-state convention. He assured the board the committee is working diligently, "not rushing or dragging our feet."
"We are aware our region is incredibly, tragically lost. The population is growing, and the people from the nations are here. The heart of the committee is that we want this brother to have a burden for lostness in this region. And we want him to be somebody who 'walks the walk' and 'talks the talk' — someone who understands how to do evangelism and does it on a regular basis and motivates the rest of us to do it on a regular basis. We want a Spirit-filled leader who knows us, and loves us, and can come to lead us with vision and collaboration," Simpson said.
"We need someone to cast vision for all of us for a minimum of a decade. But we also need someone who is collaborative and understands how local churches and associations, a state convention, and the SBC ecosystem work. We need someone who is a team player who understands how to talk to a pastor in Western Maryland and how to talk to a pastor in downtown Baltimore. Our mission is urgent, and the kingdom potential for our state conventions is huge," Simpson explained.
"We are depending on the Holy Spirit, and we are counting on your prayers," he urged.
Sharon Mager is a BCM/D communications specialist and BaptistLIFE correspondent. 
Cover photo: Mark Dooley addresses the GMB (photo by Sharon Mager).