Emmanuel Church baptizes 54 in one year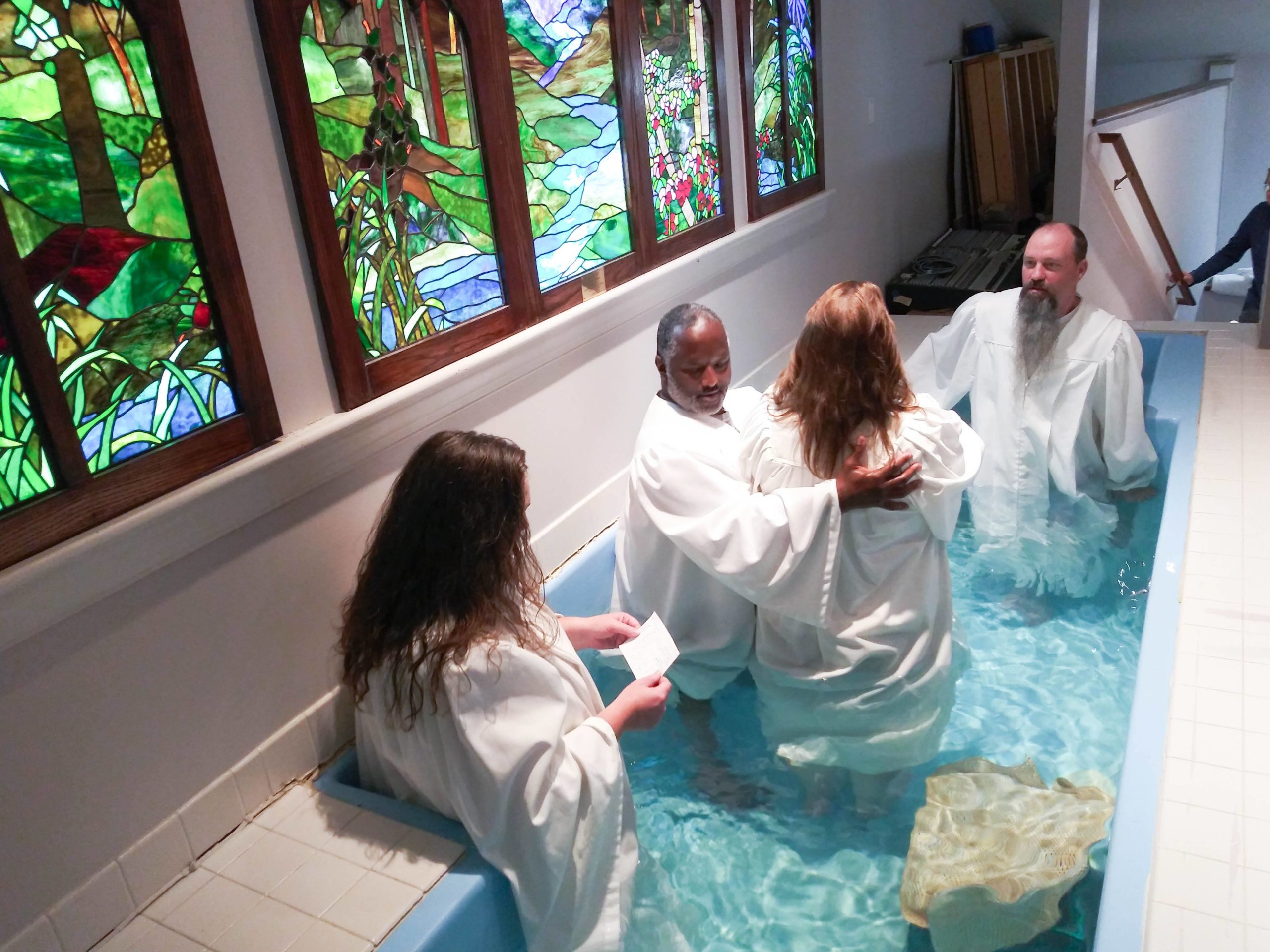 By Shelley Mahoney and Sharon Mager
HUNTINGTOWN, Md. — Rick Hancock, pastor of Emmanuel Baptist Church in Huntingtown, Maryland, has spent a lot of time in the water lately.
He hasn't been visiting the pool or enjoying beach vacations, however. Rather, he has stepped into the waters of baptism 54 times in the last year with new converts or unbaptized members at his church. The congregation at Emmanuel Baptist Church has joyfully watched and applauded as believers have dipped into the baptismal every single month since October 2016.
"It has been incredible," Hancock confessed. "Just yesterday we baptized a mother, father, and two children. We really do believe the Holy Spirit is working freely in this church."
Hancock went on to say that they have seen children, youth, and adults come to faith in Jesus Christ in the last several years. Many new believers come out of the Celebrate Recovery program that Emmanuel runs. He also said that they have worked hard to connect with those in the community who are unchurched, and even with people who are intimidated or scared of the church.
"About half of our Sunday morning attendees are church members; the other half are not," said Hancock. "A lot of people are exploring God and exploring their faith to see if this works. Every week we have a clear Gospel presentation. If we don't do that, we are missing an opportunity."
The church does not have an altar call on Sunday mornings, but Hancock always leads the congregation in a prayer for salvation and asks those who prayed to check the box on the provided Connection Cards so the church can follow up.
"So often in churches—and I've been guilty of this—we lead people to Christ and pray with them for salvation, but once they make that profession, we don't communicate with them and hope they find their place," Hancock pointed out.
Hancock believes it's absolutely crucial to point new Christians towards their next step in their faith. The church has a Membership 101 class which emphasizes the need for salvation followed by baptism. Sixty-nine members went through the new members class last year; many of these new members were unchurched, de-churched, or from other denominations. It's good to see that diversity, Hancock said.
Once a person agrees to baptism, they get a tour through the baptismal area, stand in the dry baptismal pool, and receive an explanation about what to expect. Whenever children younger than 13 are baptized, the children's ministry leaders stand along the wall and applaud for them. All of this explanation and celebration is encouraging for those being baptized, and the process ensures that everyone who is baptized understands the symbolism and meaning of what they are doing.
Hancock said the credit for starting the effective process at the church goes to their previous senior pastor, Vic Simpson, who passed away in 2018, The church is still reaping benefits from Simpson's work.
"It's incredible to be a part of a church like this," Hancock said. Lost people are coming to Christ. "God is doing stuff here, and it's so much fun to be a part of it."
Cover photo Jaiden and Jenn Chang with Senior Pastor Rick Hancock (photo submitted). 
Shelley Mahoney is a freelance writer and adjunct professor at Anne Arundel Community College