Dr. Randy Millwood Retires After Serving BCM/D For Over 18 Years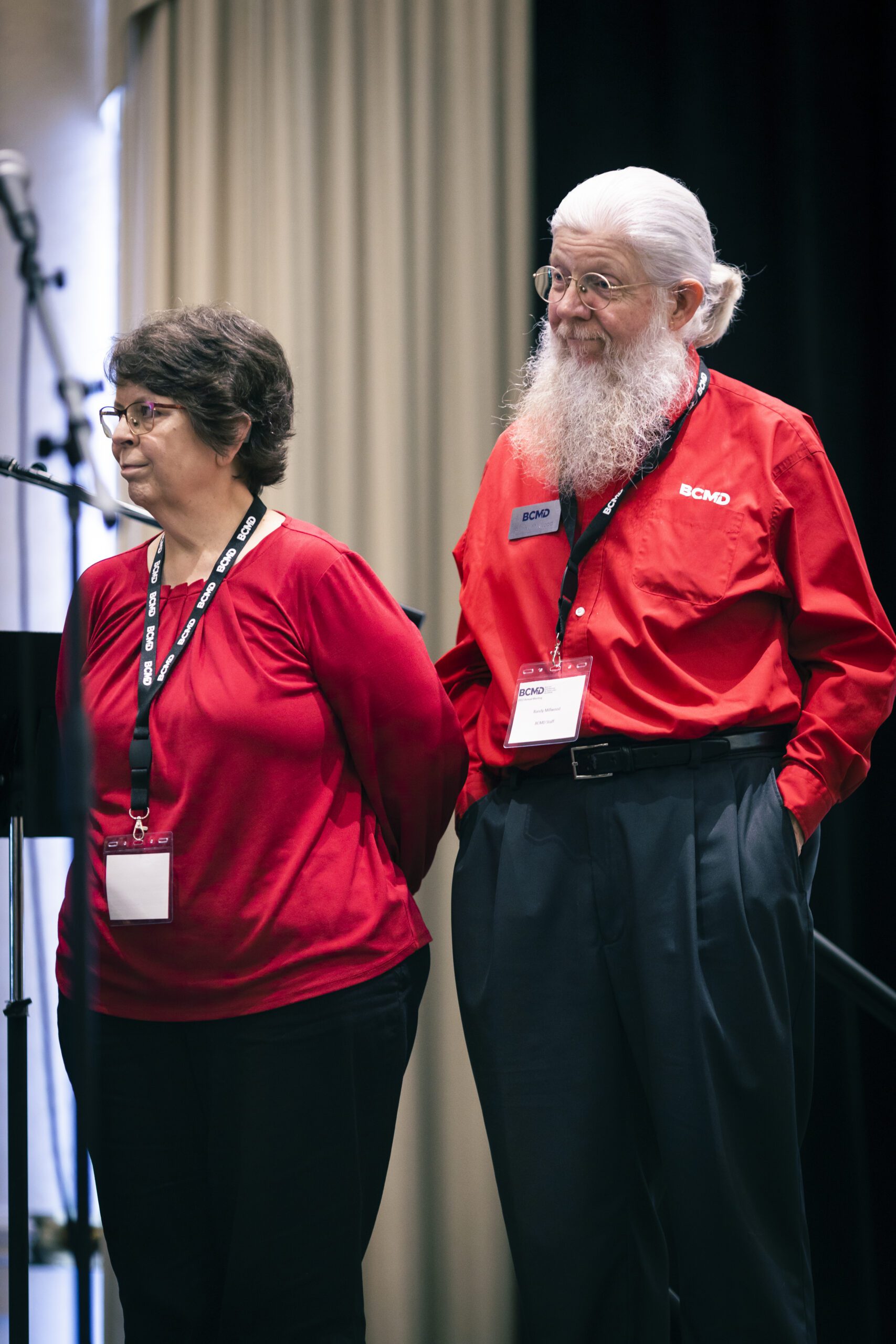 After 18 years serving on staff with the Baptist Convention of Maryland/Delaware (BCM/D), Dr. Randy Millwood will retire, effective December 31. Millwood made the term "soul care" a part of the convention vernacular and led the way in emphasizing healthy pastors and healthy churches.
His tenure was marked by prayer, encouragement, teaching, and humor. In a room of BCM/D colleagues, a few mentioned Millwood's unique presentations. He would present breakout sessions about how to deal with dying or dead churches by welcoming visitors into a darkened room with a black-draped box or other object shaped like a coffin, nodding to them and quietly saying, "thank you for coming." He grabbed the group's attention, and they remembered the presentation.
BCM/D Church Services Consultant John Gauger said of Millwood, "I don't know anyone else who can entertain so well as while he's teaching." Victor Kirk, the pastor of Sharon Bible Fellowship, concurred. "Randy has a unique gift of captivating and commanding an audience," he said.
Adron Dozat, BCM/D Facility Support Specialist, said, "After every conversation I've had with Randy, I've walked away a better Christian and a better person. Doors would open in my mind."
Randy and his wife Adele moved from New Orleans to Maryland twice – once in 2000 and again in 2007. What brought them? Randy said, "That's an easy answer — the LORD!"
"How the LORD did it (twice!) is a bit of a story!"
He shared, "I was teaching at New Orleans Baptist Theological Seminary (NOBTS). I had three students who were considering planting in Maryland — Dave Cowan, Clay Carver, and Jonathon Lee. The seminary had a joint planting arrangement with NAMB called "the Nehemiah Project." As a part of those expectations, Jonathon asked if I would coach him through the planting process. At the time, David Lee (Jonathon's father) had joined the BCM/D staff from Faith Glen Burnie (David later became BCM/D executive director). I worked with Jonathon for over a year. During that time, I got to know two BCM/D pastors (who were potential supporting pastors —one in Anne Arundel County, where he ended up planting, and one in Frederick).
Randy's Maryland/Delaware connections grew. "I corresponded a good bit with Jimmy Jackson (a former BCM/D church planting consultant) with whom I had served when he pastored in Metairie, LA. I also met and started a relationship with David Lee. And I got to know a lot about Anne Arundel and Frederick counties. After Jonathon had moved here and started building a core, our family took a vacation to Lancaster county (it had always been on our list … a love for anything 'simple' inspired us to be students of the Amish!). And, as was our practice when we were traveling through a place near where a former student lived/worked, we met Jonathon for breakfast at a Bob Evans in Elkridge, Maryland. In that conversation, Jonathon told me David had just been elected the new executive director and asked if he could give him my name as someone who might be open to joining the staff. That all happened at the same time that I was itching to take the church health/growth theories I'd been teaching at NOBTS into 'the real world.' So, in pretty short order, the invitation came, and I moved to Maryland. I even joined Jonathon's new church. 
Maryland/NOLA
"In those 2.5 years, I had the opportunity to experiment alongside Wayne Harris (a BCM/D consultant specialist at the time and a past Arundel Association director of missions) in the world of church health. And one of my convictions coming out of seminary deepened: the soul of the minister/pastor is critical to that person's health, and the health of the minister/pastor is directly aligned with the health of the church!"
Millwood continued to teach at NOBTS and flew back and forth to NOLA to facilitate graduate workshops and D-Min seminars. "I actually taught more academic hours during that season than when I was on faculty full-time because there were no administrative or committee assignments. On one such trip, I was loading the car for BWI when Adele stopped me and said something like, 'I love you and I miss you. Two full-time equivalent jobs are just too many. Pick one. Please!' I promised to spend out-of-class time that week doing just that." 
God answered the couple's discernment prayers when a NOBTS dean approached Randy with a new opportunity. "He offered me the one role I couldn't say no to: come back and build/direct our new spiritual formation program. Because that aligned with this conviction about the pastor's soul care, I took that as an answer and took the job." He still flew to Maryland every year and led conferences at the "Horizons" event at Skycroft, did associational tours, and consulted with pastors. "It wasn't like having two full-time jobs, but it kept me connected to the BCM/D world.
"While back in NOLA, both of our sons became engaged and got married, so, in addition to my work at NOBTS, Adele and I got to be intimately involved in that whole process — it was such an incredible blessing. Of course, we also lived through Katrina. Our home had minimal damage (though we were not allowed back in the Parish for about a month). The water came up to soak the carpet in my office on campus, but not into the books. Living out of the city (as we were by that time), we could host students and let them use the driveway to wash what they could salvage." 
A year later, Adele's dad, in Georgia, began to have significant health challenges, and Adele was the primary caregiver. Randy and Adele faced a new challenge —living separated for too much time. He appealed to the NOBTS administration to teach from the Georgia campus but was denied. "Due to Katrina and the 'all hands on deck' required in a crisis, they couldn't make that happen. After a good bit of prayer, I requested permission to teach in Georgia and Alabama for the next semester with the understanding that I was resigning. Given the choice between Adele and a job – any job – was a no-brainer. 
"During that semester, we prayed ceaselessly, exploring various ministry roles. When it came down to the last month, I told Adele I would send a 'hail Mary' resume to every state convention (which included the BCM/D).
"One of David Lee's practices was what some books called 'leadership by walking.' Every day he was in, he would pass by offices just to check in on/with folks." Lee providentially saw Randy's resume on former BCM/D Consultant Specialist Ken Jordan's desk. 
Randy said, "He (Lee) called me and said, 'I know you were thinking about a church role, but if I had a role at the convention, would you come back to work for us?' I said, 'well, sure. What's the job?' He said, 'You and Adele plan to fly up on Friday. I'll have something by then!'"
Lee hired Randy as a consultant specialist, and Adele worked alongside Randy as his ministry assistant. She served in that role until 2012. Adele, who also worked with Randy at NOBTS, said she's thankful for those years. "We worked together almost all of our 46 years of ministry," she said.
Though officially a part of the BCM/D staff for 18 years, Randy said he was involved with Maryland/Delaware churches and people for 25 years. 
"BCMD churches/people have been God's instruments, shaping my life on this spiritual journey," Randy shared. For Adele, that's even longer because, until her last middle school year, she grew up in southern Maryland, where she was in Sunday school and Girls in Action in three different BCM/D churches.
Randy has served with various titles in multiple roles, including church health, church revitalization, spiritual/soul care, discipleship strategies, and small group ministry. He helped with adult Sunday school and deacon training, facilitated training and certification for transitional interim pastors, and worked with Southeastern Baptist Theological Seminary to host two Doctor of Ministry cohorts.
For several years, Randy and Adele traveled around Maryland/Delaware in a motor home, giving them flexibility and an opportunity to visit churches easily. Randy said they enjoyed that time and hoped to buy a smaller version of their RV when they are settled.
Reflecting on his time in Maryland/Delaware, Randy said he's always liked that Maryland/Delaware churches, aligning with the national convention, have a strong regional mission focus and concern for people in their area. He also enjoyed the rich diversity in the churches as well as the amazing number of connections he and Adele discovered. So many people in Maryland/Delaware churches have a connection through family backgrounds or friends.
Randy said he and Adele would miss the many people they've come to know and love and the relationships they've built. "We've gotten to know people. That's the way we're wired." While visiting churches, often in their [RV] mobile home, Randy said they had formed relationships. "We learned about births and illnesses." They bonded. "These people are so much more than clients and constituents, but they really became a community for us." As a denominational worker, Randy said he and Adele have not been able to be as closely attached to a local church. But pastors and directors of missions came to the hospital when Adele had her heart attack and when Randy had cancer. "They have been our church family in the truest sense of the word," he said.
They will also miss the ability to travel from the seashore to the mountains quickly. But they're looking forward to their new adventure because they will be much closer to their children and grandchildren. Their clothes are packed, and they'll be in Long Beach, Mississippi, by Christmas. "We don't know people there — no relatives, but our son Josh and his family are in New Orleans, about an hour away, and our son Caleb and his family are in Alabama, 3.5 hours away. We're very excited."
They've also put their side business on hold. Randy and Adele began their Santa & Mrs. Claus business three years ago. "We were surprised how quickly we built a business out of it," Randy said. "It's so much fun, even when you're not officially playing the part." With his white hair and beard, red shirts, and Christmasy vests, folks are drawn to "Santa." "I've done photos at medical appointments and restaurants," he chuckled. Even yesterday at Olney Baptist Church, someone came up to Randy and wanted a photo taken with Santa, and the pastor (Brian Tubbs) introduced the couple as Santa and Mrs. Claus.
They plan to start the Santa business in Mississippi after settling in. The couple is excited to begin their new adventure in Mississippi — following God's leading wherever He takes them. 
Don't Miss Today 
Below is a passage from one of Randy's "Simply Millwood" blog posts:
I am missing way too many "today's" while reflecting on "yesterdays" and setting goals for "tomorrows."
I am increasingly convinced that a full and meaningful life – the kind of life everyone longs for – the kind of life that Jesus actually lived – and the kind of life He advises and facilitates for absolutely anyone to live – is only lived… TODAY.
The more time I spend in yesterday, the longer my list of irreparable regrets.
The more time I spend in "tomorrows," the heavier my anxieties seem to become.
But, when I attend [to] today, I am, almost without exception, wowed beyond my ability to comprehend or process.