Delaware Church Ministers in Hungary and Ukraine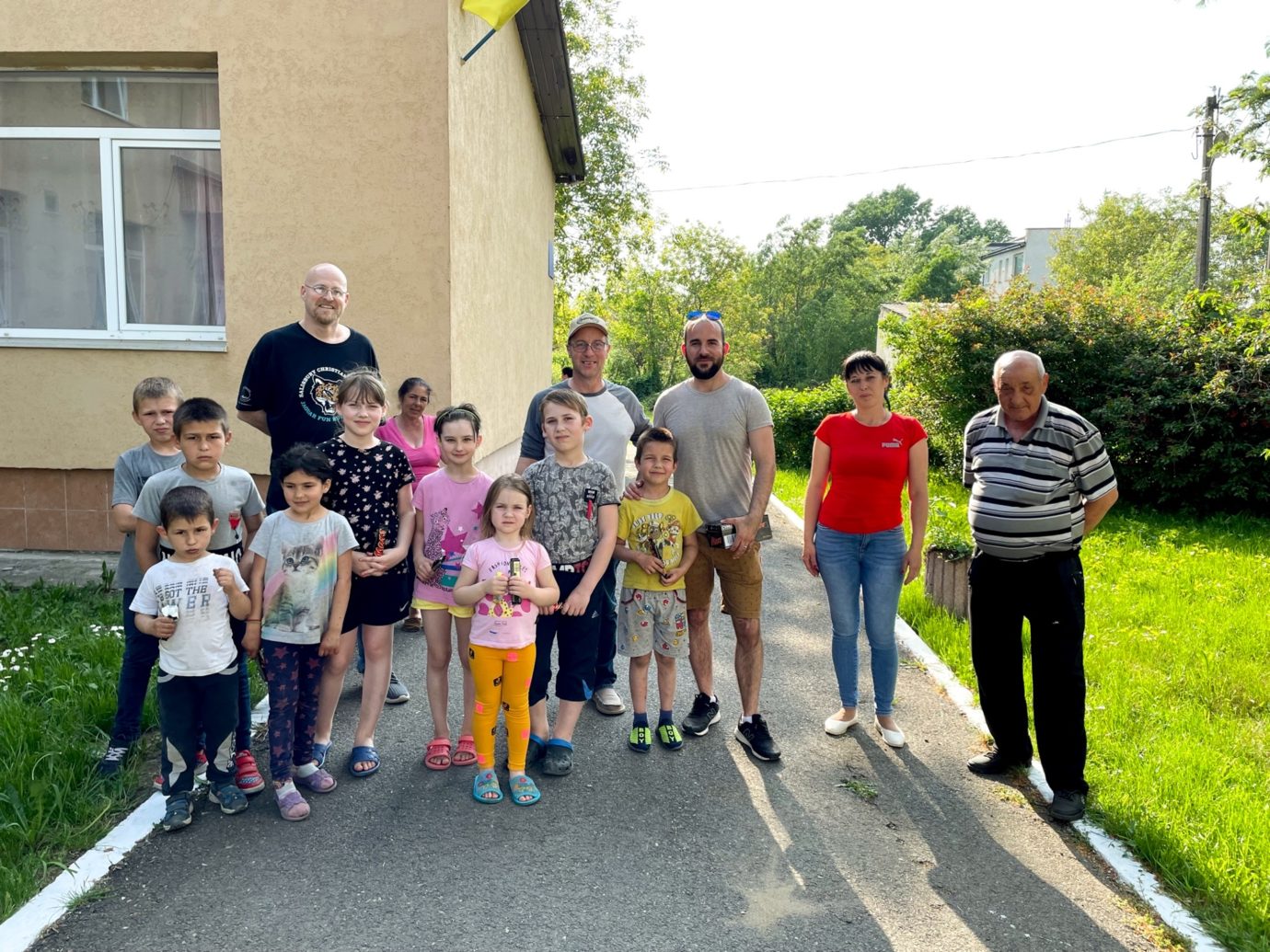 Two members of High Tide Church in Dagsboro, Delaware, Deacon Scott Hook, and Church Member Nathan Hyde set off on a trip to minister in Hungary and found themselves serving refugees in Ukraine.  
The church partnership came about when Hyde met Tamas Mezei, a Hungarian missionary who was working with student mission trips from Salisbury Christian School, where Hyde works as a high school English teacher. After meeting Mezei, Hyde facilitated a ministry partnership between High Tide Church and churches in Hungary. The first trip was in 2019.
"We sent two groups to help with outreach summer camps in Hungary, led by Tamas," Hyde said. "One of those groups went to a church in Soltvadkert, where our team built relationships that have kept the two churches close since that time. In fact, their worship leader, Janos Medveczki, recently spent two weeks in Delaware visiting our church family." Unfortunately, the team was thwarted from returning after Covid hit in 2020, but the church has remained in contact.
When Russia invaded Ukraine earlier this year and the refugee crisis grew, spilling into Hungary, Mezei was compelled to respond. He and his wife, Xenia, began networking with other Christians who felt called to help. Working with a Ukrainian Christian Adris Gazdik, among others, they developed a system to transport refugees, find them housing, and meet practical needs such as food, clothing, toiletries, and baby formula. They also provide for spiritual needs, praying with refugees and giving them Bibles in their own languages. As High Tide became aware of what the Mezeis and their friends were doing, church members started raising funds to support their work. Since February the church has sent over $42,600.
Hyde contacted Tamas in April and asked if it would be helpful for the church to send a team to help with the ministry. "Tamas said he didn't need a team at the moment but would really value the presence of some of his American friends." 
Hook said, "They said the best way to help would be for one or two of us to come over and just be with him. He needed emotional support."
In response, High Tide Church, led by Senior Pastor Andy Ehlers, sent the two men to Hungary from May 10-15. Hyde and Hook knew they might have an opportunity to serve in Ukraine, but it wasn't confirmed until they landed in Hungary and then they hit the ground running. They hustled to buy $1500 worth of groceries to add to the clothing and Bibles they brought and then, with Tamas, they drove to the northeast Hungary/Ukraine border. During the three-hour trip, they had an opportunity to catch up and enjoy the fellowship. They spent the night at the border and then with allies who assisted, they crossed early the next morning. The group visited schools, orphanages, and psychiatric institutions now serving as refugee shelters.
"At each stop, we gave supplies, toured the facilities, met with refugees, and offered encouragement," shared Hook.  
They returned to Hungary, and once again ministered to Ukrainian Refugees in that country. "They are scattered everywhere and are in great need," Hyde said.  
The Need is Great
There were challenges, including blowing a turbo in their diesel van, requiring them to drive about 35 mph on a highway while others were blowing past them at 70mph. The biggest challenge, however, Hyde said, was being immersed in an overwhelming situation of dire need.  
"It's heartbreaking to see a line of mothers with their young children carting all the belongings they can carry as they walk across the border from Ukraine to Hungary. It's hard to see older women on bikes with plastic bags hanging from the handlebars, salvaging all they can from the only life they've known as they flee their homeland. It's devastating to see families torn apart as young sons and fathers are forced to leave Ukraine or else be sent to the frontlines of a war they don't believe in. It's heart-wrenching to see tiny rooms where entire families are seeking shelter, sleeping on floors, having no running water, while their homes back in Ukraine lie in rubble. Those are the real challenges.  
"The need is so much bigger than anything I could ever have imagined — but so is our God. And He is busily at work meeting the refugees' needs through the generosity, unity, and faithfulness of His people." 
Hyde said, "I've seen God move powerfully in this situation through His provision and through the fellowship with other brothers and sisters in Christ. People have given thousands of dollars, and funds are pouring in from Poland, Germany, and other places as well. It reminds me of how the Jerusalem church in the first century was in crisis, and the churches of the Mediterranean world united in an abundance of generosity to meet the need out of love for God and love for people. As for the fellowship, it was startling how quickly I could become so close to brothers and sisters who don't even speak the same language as I do! We quickly bonded as we served together, and parted with hugs and tears. Thanks to modern technology, we're able to keep in touch with each other through tools like Facebook and Google Translate."
The church hopes to return next year. They are continuing to support the churches in Hungary and their efforts to minister to Ukrainian refugees.
Contact High Tide Church for more information about Hungary and/or Ukrainian missions. To donate visit the church's give page and designate the offering.
The feature photo shows the mission team with children in a refugee shelter in Hungary. The shelter is actually at an elementary school that Andrew Gazdik used to attend. (photo by Andrew Gazdik)
Sharon Mager is a communications specialist and journalist with the Baptist Convention of Maryland/Delaware.