Classifieds & Job Listings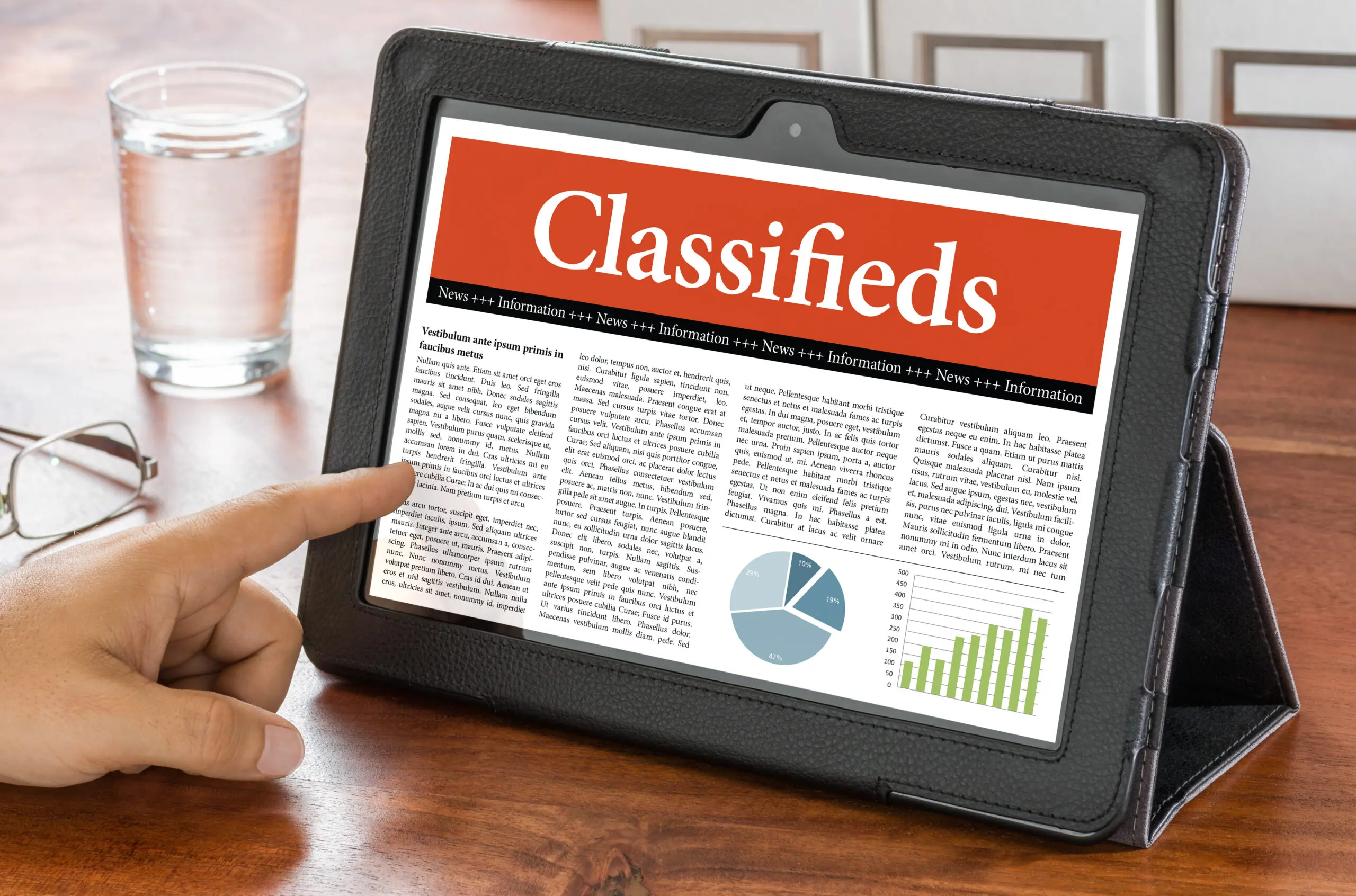 In addition to jobs/ministry-related or church-related positions, we are now accepting classified ads from church to church! Email them to info@bcmd.org. We do ask that you contact us when you no longer need the classified ad to keep our listings up-to-date! We will assume that after 30 days, they are no longer active.
Classifieds
Wheelchair Lift Available
Smithsburg Valley Church has a wheelchair lift available they would like to donate. If your church has an interest in this, please email allen@smithsburgvalleychurch.com for more information.
Facility Space Available
Berwyn Baptist Church in College Park had another church using its facility on Sundays from 3-5 p.m. That church has moved out, and that time slot is now available for a church that is seeking space. Please contact the church office, secretary@berwynbaptist.org, or call 301-474-7117 for more information.
Ministry and Church Positions
Interim Pastor — Redland Baptist Church, Derwood, Md.
Redland Baptist Church seeks an interim pastor who will be primarily responsible for the delivery of two Sunday sermons per week for a minimum of three Sundays a month. This may include other ministerial duties, including leading Wednesday night prayer meetings/Bible studies, working with the RBC pastoral staff to ensure training, advising, and equipping of the saints, and preparing occasional articles for RBC's Grace Connection newsletter.
The ideal candidate will have at least five years of experience in pastoral positions; formal education in theology and Biblical studies from an accredited institution; practical experience in preaching, counseling, and teaching; and be proficient in office productivity software.
The interim period will continue until the Pastoral Search Committee recommends and the congregation calls a new Pastor to Redland Baptist Church. The candidate will not be considered for the current pastoral vacancy. Send your resume, or request more information by emailing psc@redlandbaptist.org. 
Pre-School & Children's Ministry Director — Colesville Baptist Church
Colesville Baptist Church (CBC) seeks a preschool & children's ministry director. This is a full-time, salaried position. Duties include staffing, curriculum, licensing, and other duties, as well as providing leadership, demonstrating Christ-like behavior to colleagues, students, and parents, and becoming an active member of CBC.
For detailed information about the job, requirements, and how to apply, visit their website.
Senior Pastor — New Harvest Baptist Church, Dover, Delaware
New Harvest Baptist Church is seeking a senior pastor to lead our congregation of 78 active and outreach-minded members. Our church focus is on evangelism and missions, along with feeding our members and friends with God's love. NHBC was formed in 2013 by 48 members following a larger Southern Baptist Church division; most of these individuals were active in church ministries and leadership.
The church is comprised primarily of seniors and a few young adults. Sunday School classes continue to grow, with over 50% of the members attending. We have numerous active small groups and active mission-based groups. We are currently meeting in a rented building.
Our current senior pastor recently announced his retirement plans and is looking ahead to continue God's service in other avenues. We look forward to interviewing candidates who can appreciate the conservative Bible-based needs of our congregation while complementing and promoting our strong desire to reach our community, develop new ministries and seek and save the lost.
Our pastoral search committee will be considering nominations and applications until July 1, 2023. To submit your resume for consideration and for details on NHBC's history and mission, demographics and senior pastor job description, please send your resume/request for information to Dot Abbott, 33 W. Camden-Wyoming Avenue, Wyoming, Delaware 19934 or email cinnamon7320@gmail.com.
Children's Ministry Coordinator — New Covenant Baptist Church, Rockville, Maryland
New Covenant Baptist Church is seeking a part-time children's ministry coordinator to join our staff. The children's ministry coordinator will manage the day-to-day efforts of the children's ministry; maintain, organize, and support the implementation of the curriculum; oversee and maintain the children's ministry team schedule; coordinate training; manage email and communications regarding children's ministry; update expenses; and other duties as assigned.
The children's ministry coordinator will work 8-10 hours per week under the direct supervision of the lead pastor and will also engage regularly with other elders and the deacon of the children's ministry.
Visit the church website for the complete job description.
Kids Ministry Leader —  First Baptist Church of Damascus
First Baptist Church of Damascus seeks a part-time kids ministry leader to facilitate biblical learning in a kid-friendly environment.
Summary: Kids Ministry Leaders facilitate biblical learning in a kid-friendly environment. Part-time leaders provide age-appropriate biblical instruction and care for children within their assigned group.
Reports to Pastor
Oversees Kids Ministry Volunteers
Weekly commitment 5-8 hours
Outreach to the community to grow children's ministry
Willing to sign for a background check
Responsibilities:
Arrive at least 15 minutes prior to the classroom and children's church time
Greet and welcome children and parents
Oversee the duties of volunteers and serve in capacities as needed.
Prepare and teach an age-appropriate Bible lesson
Pray with and for the children
Core Competencies:
Discipleship: knows basic doctrines, practices, and spiritual disciplines and exhibits the fruit of the Spirit
Vision: articulates and implements vision for ministry area
Strategy: leads others to unite around and execute ministry strategy
Collaboration: works through others
People Development: develops others
Stewardship: faithfully stewards the giftedness of others
Must unite with church membership
Call the church for more information at 301-253-3278.
Teachers and Aides —  Rosedale Christian Academy,
Rosedale Christian Academy, a private k2-12th grade school in Baltimore County, is actively seeking Christian educators for the 2023-2024 school year. The school currently has positions available for pre-k through elementary school teachers and aides, as well as math, science, drama, art, and Bible teachers in our middle and high schools. Interested applicants should visit rosedalechristianacademy.org/employment or email stewll@rosedalechristian.org.
Piano Player — First Baptist Church of Kent Island
First Baptist Church of Kent Island seeks a piano player for Sundays, holiday services, and special occasions. This person would report to the church music director. The ideal candidate would be someone interested in joining the congregation as a member. Contact Deb Valainis for more information.
Human Resources & Recruitment Manager — CentrePointe Counseling, Columbia, Maryland
CentrePointe Counseling seeks a human resources & recruitment manager. This is a part-time virtual position with monthly in-person staff meetings. The successful candidate will manage human resources concerns and be the chief driver for marketing, recruiting, and screening professionally licensed Christian mental health counselors at our unique non-profit charitable organization. For detailed information and to apply, visit their website.
Full-Time Pastor — First Baptist Church, Washington, District of Columbia
First Baptist Church is prayerfully and actively searching for our next pastor and under-shepherd. We are seeking a pastor who is led by the Holy Spirit and a Pastor who God has chosen to lead a congregation. The Pastor shall function as an executive, and oversee and direct the church's day-to-day operations, including strategic planning of the Church's mission, vision, and values.
For more information and to apply, details about the position may be found on the First Baptist Church's website at www.fbcwdc.org. The vacancy position opens on March 31, 2023, and closes on May 31, 2023.
Worship Leader of Music — The Church @ St Charles, Waldorf, Maryland
The Church @ St. Charles seeks a part-time worship leader of music (WL/M) up to 20 hours a week. This person will be responsible for leading, developing, planning, rehearsals, music, and sound/technology ministries of the church. The WL/M must be a growing follower of Jesus Christ who applies the Bible as their sole source of faith and practice and affirms the Baptist Faith and Message, 2000, as well as support the vision and purpose of The Church @ St Charles.
The WL/M must have an adequate voice to lead in hymns, praise, and contemporary songs; the ability to play keyboard/piano is preferred and this person should be familiar with technology and sound equipment. Also, this person will develop and direct a complete music ministry, including choir (special services) and vocal and instrumental components; coordinate the schedule for worship service accompanists, including recruiting, training, coordinating, and leading members of the music worship and audiovisual/sound ministries of the congregation. Administrative duties would include managing appropriate licenses and administering expenditures of the music and worship budget.
This WL/M would share in the witness to be part of all regular church worship, meetings, and special church meetings.
Please email Pastor Fred Caudle for inquiries or to submit a resume.
Interim Pastor —  South County Community Church
The Interim Pastor at South County Community Church will be responsible for shepherding the church until a permanent senior pastor is identified and hired. The interim pastor will focus on transitional ministry. He will lead the congregation, volunteer teams, and church staff in a gospel-centered ministry. The Interim Pastor will perform various other duties pertaining to the office of the pastor as necessary.
Please submit a current resume, a list of references, and at least two recent sermon recordings (preference given to video). Resumes can be emailed to elders@scccmd.org with the subject line reading: "Interim Pastor Application."
Full-time Pastor – Faith Southern Church, Elkton
Faith Southern Baptist Church, Elkton, Cecil County, Maryland, is recruiting a full-time pastor. This congregation is mostly senior adults desiring to build up youth and family programs. We are strong on missions and mid-week prayer groups. If the Lord is leading you in this direction, forward your resume to: mheverin313@gmail.com.
Transitional Pastor — Hillcrest Baptist Church, Temple Hills
The Transitional Pastor of Hillcrest Baptist Church (TP) is a temporary pastoral staff position responsible for assisting the leadership and direction of the church. The TP oversees the general administration of the church, serves in preaching and teaching along with the executive associate pastor (EAP), and works in collaboration with the deacon ministry to facilitate family care and the goals of the deacons. The TP serves under the direct supervision of the search committee. In the absence of the EAP, the TP will collaborate with the deacon chair.
The core hours will be as agreed upon with the EAP but not limited to some evening or weekend work. The TP is expected to attend the regularly scheduled church business, deacon, and church council meetings unless other arrangements are made with the supervisor.
Spiritual qualifications include demonstrating traits of a disciple of Jesus, spiritually mature and committed to following the membership covenant and church constitution.
General qualifications include proven results in related experience; demonstrating leadership and leader development; demonstrating wisdom in decisions, actions, and recommendations; ministry development; and a relational match with EAP and ministry leaders.
Duties include representing well the vision and direction of the pastor and deacons; fulfilling duties defined in the church's constitution; facilitating worship services, Bible studies and small group studies; helping leaders envision potential direction and changes in their ministry; defining and promoting goal-directed ministries; developing clearly defined expectations for ministry leaders; coaching, motivating and aligning the church towards specific vision and direction and assist EAP in planning funeral services.
For more information description, email hbhillcrestbaptistchurch@gmail.com
Minister of Music — Friendship Baptist Church, Sykesville
Friendship Baptist Church in Sykesville seeks a part-time minister of music (up to 29 hours a week). This person will be responsible for leading, developing, planning, rehearsals, and growing the worship, music, and sound/technology ministries of the church. This person must be a growing follower of Jesus Christ who utilizes the Bible as his/her sole source of faith and practice. The Music and Worship Minister must support the vision and purposes of Friendship Baptist Church. The qualities of holiness, commitment to Christ, organizational skills, and self-motivation are required.
Responsibilities include proficiency at playing the guitar and singing to lead rehearsals and lead congregational singing. This person also must be able to display leadership and organizational abilities in working with a band and worship singers/choir.
The minister of worship will direct the planning, organizing, conducting, training and evaluation of a comprehensive contemporary/current music ministry, including choir and vocal and instrumental components; coordinate the schedule for worship service accompanists and special music and recruit, train, coordinate, lead members of the music/worship and audiovisual ministries (sound/video, online worship technicians) of the congregation. He will also work with, train, and direct the sound, lighting, multimedia, and online worship technicians. Additionally, this person will coordinate with the pastors in planning services. Administrative duties include managing appropriate licenses and administering expenditures of the music and worship budget.
The salary is up to $39,000 per year, with the benefits of travel, hospitality, and conference expenses.
(This is a condensed version of the posting. Please email the church office for more detailed information)
Music Director/Worship — First Baptist Church of Suitland (part-time)
First Baptist Church of Suitland seeks a person called by God to minister to the church as a music director/worship leader who is proficient in reading music and is able to lead FBC's choir and band. This person must be willing to participate and prepare music that is spiritual and educational for the FBCS church as a whole.
This music director will be expected to attend all regular church meetings and special church meetings as they relate to the FBCS choir and all choir-related activities and other events and activities necessary to fulfill the duties.
Additionally, this person must be able to meet with the pastor on a regular basis, work collaboratively with the FBCS choir president and audio/media ministry, and provide the administrative ability to submit appropriate reports, etc.
A bachelor of music/master of music is preferred.
Compensation will be based on experience and education.
If you are interested, please send your resume along with three references and video recordings in a church setting (minimum of 3-5 minutes) to fbcs@fbcsuitland.org. Please include "Music Director/Worship Leader" in the subject.
Lead Pastor — The Village Church, Hampden
At a Village Church partners meeting in June 2022, the elders announced Lead Pastor Dan Hyun's transition out of the lead pastor position of the Village and the start of a hiring process for a new lead pastor. Hyun, who founded the Village Church in 2008, will lead in an interim pastor capacity during this process with the goal of helping the church be in the best place possible through these changes.
The lead pastor will communicate a clear vision for the church while developing leaders to implement and bring that vision to fruition. This role will include Sunday morning preaching and leadership of Village officers, staff, and community group leaders.
This is a full-time paid salary staff position. Visit here for more information.
Feature photo: Adobe Images
[