Caring for Immigrants at Salaam Center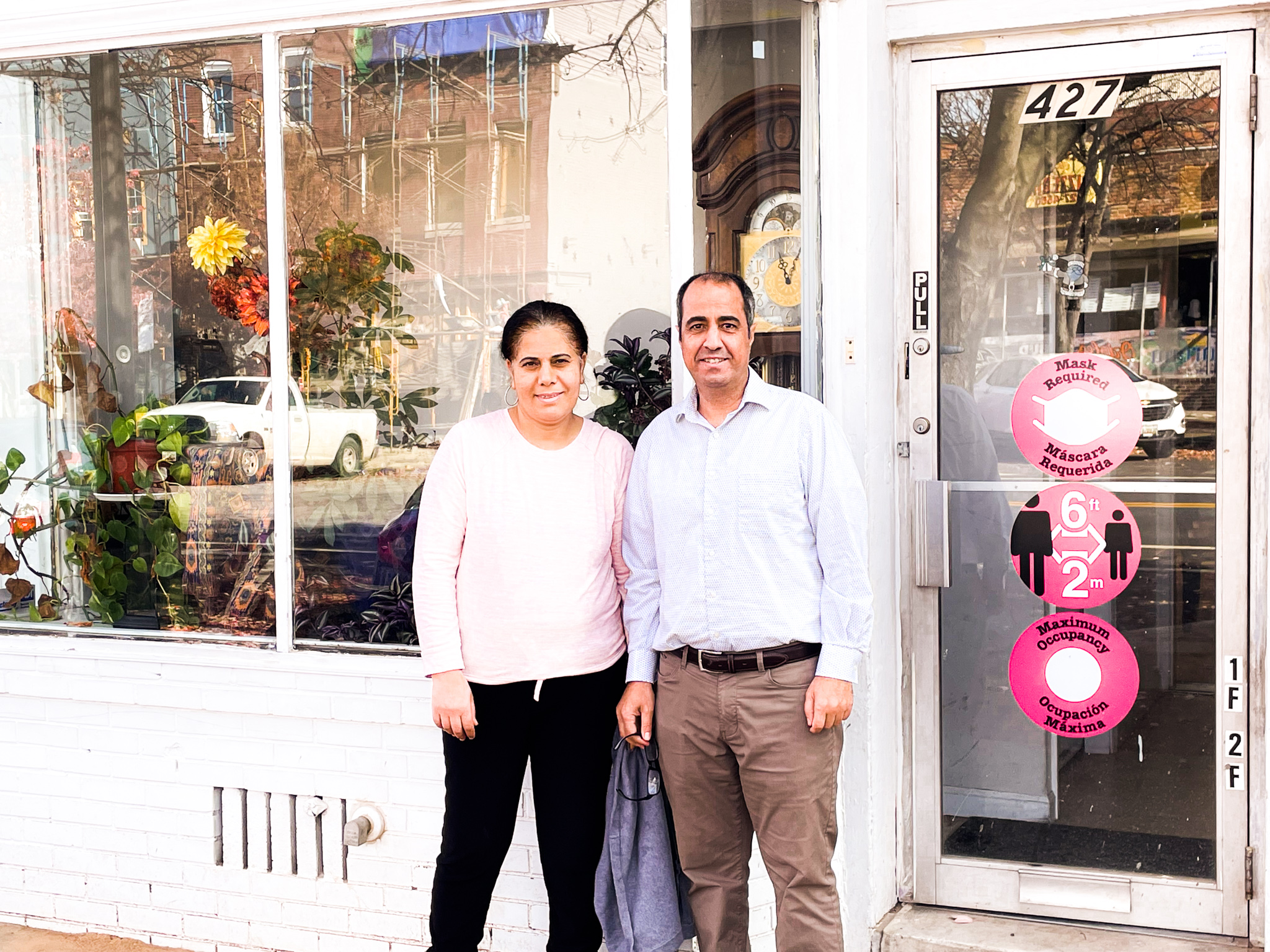 Immigrants, including students and those seeking medical treatment at Johns Hopkins Hospital, are among the people drawn to a small, homey ministry building along Conkling Street in Baltimore called the Salaam Center. "Salaam" is the Arabic word for peace — and these people need peace, some desperately. Immigrants are adjusting to a new culture and a new life. Many don't speak English and find themselves struggling to fill out paperwork, enroll their children in school, and procure transportation. The Salaam Center Directors Reda and Nadia Narouz, with their volunteers, offer these individuals and families help and friendship, and they share the love of God. Reda and Nadia understand the difficulties. The couple has four children — young adults Fadi, 22 and David, 21; Vicky, 16; and Grace, 12. In 2012 the family came to the United States from Jordan, where Reda had served with Cru,  because Vicky needed treatment for an inoperable brain tumor.
Started in 2015 by Pleasant View Baptist Church (PVBC) in Port Deposit and supported by PVBC, the Baptist Convention of Maryland/Delaware (BCM/D), and various other churches, the Salaam Center has grown through word of mouth, and due to the increased number of immigrants coming to Baltimore. The Center serves immigrants from at least 14 countries in west Asia, northern Africa, and Afghanistan, Reda says, "We are ministering to about 300 families, most with at least five children."
Volunteers teach English and citizenship classes and assist in meeting needs such as providing food, clothing, hygiene items, and furniture. They also distribute backpacks and school supplies and provide transportation. Pat Roush, a member of Calvary Baptist Church in Bel Air, has served with the center for years. "I have had the opportunity of assisting those who need help understanding materials their children bring home from school, forms they need to fill out, or interpreting what's important in their mail or understanding their bills," she said. It means a lot to them, she said. Roush added that volunteers help clients understand information during zoom meetings, telephone calls, and sometimes at hospital and doctor visits. There are also opportunities to help children with their homework which is difficult for their parents to do. Often, parents will eagerly watch what their children are learning, which also helps the parents with their English skills. The needs are varied.
A New Location
Reda and Nadia are especially excited because they will move to their new location, next door to their current spot, hopefully by December 31. Walking through the construction area, it's easy to see that while an onlooker views a frame, Reda is envisioning all the ministries that will take place there. His eyes shine, and he talks rapidly, pointing out the different areas where there will be a small apartment for people to spend a few nights. Other areas will be for Bible study, ministry, and counseling; citizenship and English classes; and a special place for women. Additionally, there's a large kitchen, and Reda envisions ladies cooking together and sitting around a table enjoying fellowship.
Peeking out a back door, there's a yard that Reda envisions as a refurbished area for families to sit outside and relax and for children to play.
There is a strong focus on relationships at the Salaam Center. "People are scared," Reda shares and adds that building friendships and trust allows walls to come down and people to relax. He and Nadia are especially concerned for women who are mostly repressed in their culture. They stay home most of the time without fellowship, caring for the home and children. Some do not drive or don't have access to a car. Being with other women helps tremendously. Reda says,
[Nadia hopes to have meetings for women every few months for fellowship, perhaps doing crafts, painting, and maybe parenting classes, or inviting cosmetologists to give haircuts and manicures.
Missions Training 
Reda is also excited about a plan to help train missionaries heading to Arabic-speaking locations. Missionaries can come to the Salaam Center and work with people from the very area where they will be ministering. Learning the culture and language will provide better assimilation for when the missionaries deploy.
How You Can Help
Maternity items and Baby Supplies — Nadia seeks churches willing to help women who are pregnant – perhaps having baby showers for them or collecting baby items. With their new facility, they'll be able to store supplies.
.Christmas Party —  The Narouz family and Salaam Center volunteers host an annual Christmas party with music, food, and gifts. They use the opportunity to share the Christmas story. To fill gift bags, they need

Jasmine

rice (10 lb.),

sugar (5lb.), olive oil (2 quarts or 2 L), dried chickpeas ( 2-5 lb.), honey (2-5 lb.),

chocolates, dates, and nuts (

walnuts, almonds, pistachios)

. They also want to include $50 gift cards (

BJ's, Costco, Visa)

for each bag.
Volunteers — The need is great, and the opportunities to show the love of God hands-on to internationals are unparalleled. Churches, individuals, and mission teams are welcome.
The Vision
Reda is now working with partners to establish a Salaam Center in Virginia, and he believes there is a need and the possibility to have such centers throughout the United States.
The couple is thankful for churches and individuals who have supported and are continuing to support the renovations currently going on in the new building, those that support the ongoing needs of the ministry, and especially the volunteers who give up their time to make the ministry possible. Reda said,
"This ministry will not grow nor have any influence without God's leading, the involvement of the churches, and the support of the volunteers."
Visit the Salaam Center website's "Get Involved" page for more information.
Hear from Reda at the BCM/D Annual Meeting this weekend in Ocean City!