#36: Teaching and Preaching with an Apologetic Focus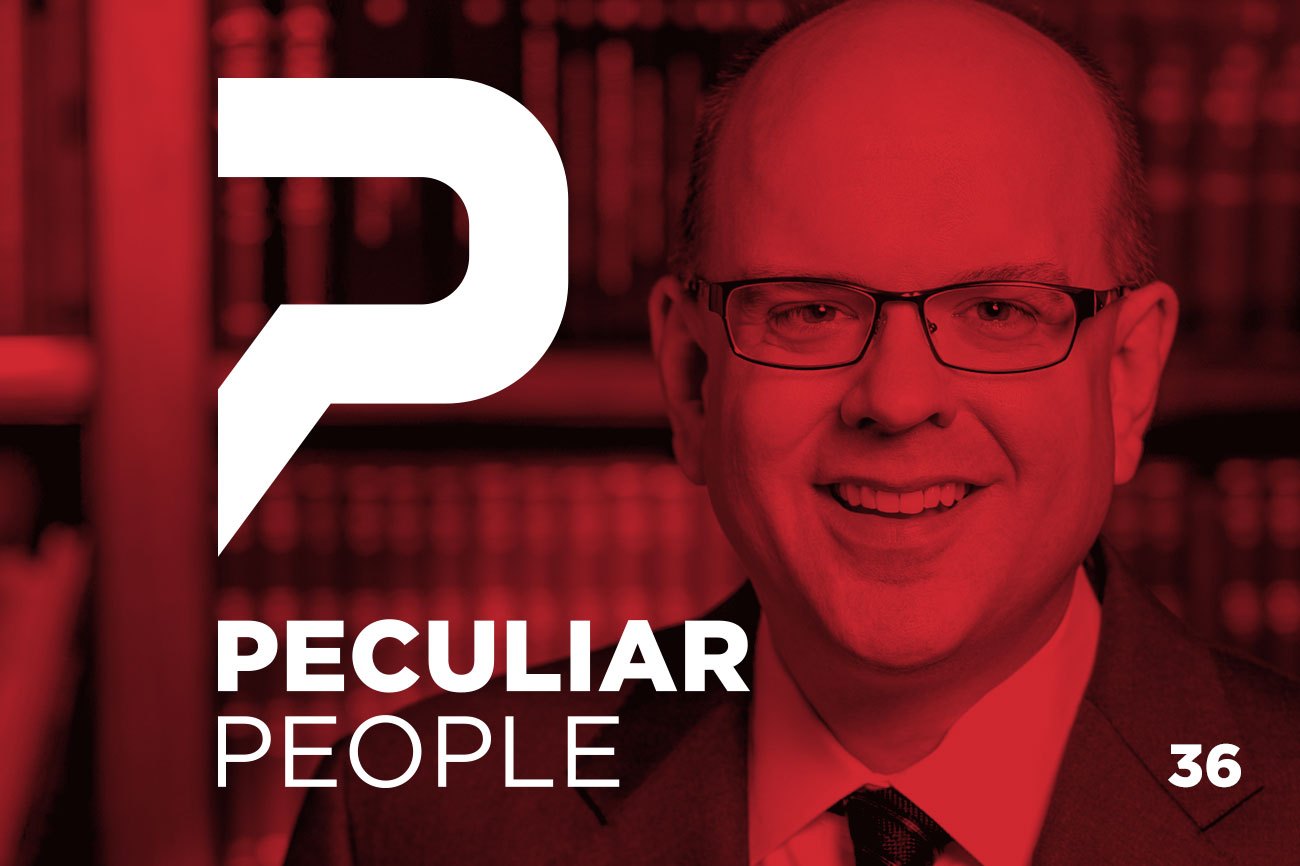 "If you think apologetics and defending the faith is merely an intellectual exercise, I encourage you to realize that apologetics is a tremendously consequential exercise." Dr. Kevin Smith and Dr. Adam Green discuss teaching and preaching with an apologetics focus.
Dr. Kevin Smith:
Welcome to Peculiar People, a podcast where we think about what it means to be a follower of the Lord Jesus Christ in the days in which we find ourselves. We anchor our consideration in Peter's exhortation that we are peculiar people, that we should show forth the praises of him who has brought us from darkness into the marvelous light. And so we seek to have conversations with followers of Jesus Christ along those lines.
Dr. Kevin Smith:
Today, I am excited to speak to a dear friend and brother in the Lord, Dr. Adam Greenway, who is the president of the Southwestern Baptist Theological Seminary in Fort Worth, Texas, one of the six seminaries of my denominational family. And he would tell you one of the finest seminaries with a great commission focus and a rich heritage of sending out men and women seeking to do ministry to the glory and the honor of the Lord Jesus Christ. So, Dr. Greenway, thank you so much for joining us on this podcast today. How are you, brother?
Dr. Adam Greenway:
Doing quite well, thank you for having me, my friend Dr. Smith there in the Baptist Convention of Maryland/Delaware, and certainly through you to all of those who will be blessed by your podcast and ministry. It is my joy to be with you and certainly to bring greetings from Southwestern Baptist Theological Seminary, where I've had the privilege of serving now for just over two years as the ninth president of the seminary.
Dr. Kevin Smith:
Thank you so much. I wanted to speak a little bit about apologetic teaching and preaching. And we pray that pastors and ministry leaders and lay people in our congregations tune in to our podcast. So, if someone is unfamiliar with the term "apologetics", how would you describe that term to them?
Dr. Adam Greenway:
Sure. Apologetics is a term that at first glance, people might misinterpret because of how we use the word "apology" today in common conversation. We think of the word "apology" as a reference for needing to say, "I'm sorry for what I've done," but the word "apologetics" comes from the Greek word "apologia" which is the language of the courtroom, it's the language of defense. And you can think about your favorite courtroom drama, as it were, but apologetics when applied to Christianity, usually refers to the attempt to answer objections or criticisms or critiques that are brought against the claims of Christian teaching and truth, but also the desire to provide a positive case, or the evidence for faith.
Dr. Adam Greenway:
So, typically there's a defensive posture, if you will, you're defending the faith against criticisms and attacks and those who seek to misrepresent and malign historic orthodox Christian teaching. And then there's an offensive side, doesn't mean you're offensive in your personality type, hopefully, but that you're trying to in a sense move the ball down the field. You're trying to help articulate the Gospel message and the claims of Christ in a way that can be credibly understood in our cultural context.
Dr. Kevin Smith:
Well, what are some of the major issues of apologetic concern in our contemporary culture? And I ask you this, just laying out my thought process, and I've shared this probably over three decades of ministry. I always think things like the nature and the authority of Scripture. Secondly, coming out of that, the exclusivity of God declared in the Old Testament and the exclusivity of Christ certainly the new Testament and all throughout the Scripture, the Trinitarian nature of God. So I've always seen those three consistent apologetical issues: the nature of Scripture, the exclusivity of God and the Trinitarian nature of God. But in our contemporary setting, what would you highlight as some apologetic issues that arise to the forefront in the days in which we find ourselves?
Dr. Adam Greenway:
I think all those you identified are true, but I think it even starts a little further back than that nowadays, because the whole nature of is there such a thing as truth? Is truth objective in nature? One a post-modern philosopher has said that truth is just what your friends let you get away with. And in terms of that kind of denying objectivity, that attempt to redefine truth and subjective, personal, emotive senses. What may be true for you may not be true for me, which of course has major ramifications for how we articulate Christian truths, which claim not to be just those things that work subjectively, but that aren't true objectively.
Dr. Adam Greenway:
And I think the real issues of our day go down to the nature of truth, is truth possible, is it revealed? And then beyond that, we're getting these issues like the personhood today. 20 years ago, I don't think it was a largely debated notion that there were two biological sexes, male and female, that correspond to two identifiable and distinct genders, male and female. Now, depending upon where you look, some social media platforms give you 50 different options for gender. Gender is now thought of as a social construct that is fluid, as it were.
Dr. Adam Greenway:
And these issues going to identity and personhood, I think are challenges unique to our time in a way that our parents and grandparents really never had to deal with those kinds of issues in our social contexts. It started a few years ago of course with marriage, and what is a marriage and who's able to get married and those kind of issues, throw that into the Obergefell Supreme Court decision [inaudible 00:06:23].
Dr. Adam Greenway:
But now, moving into the whole nature of personhood and identity today, the desires to define the self totally in reference to one's own self-conception apart from any external constraint, if you will. These have been massive challenges that in a sense force the issue further back before we even get to the very key issues you talk about: the nature of the authority of Scripture, is God personal and knowable, has he revealed himself, if so how and when? Is that a trustworthy revelation? Should we expect more revelation, or do we have a closed canon, if you will. Of course the nature of God himself.
Dr. Adam Greenway:
All of these things are issues that, in many cases we used to be able to assume, and particularly to assume, because we were operating in cultural and broader sociological constructs that largely borrowed from this Christian capital, if you will, we benefited in ways from the fruits of Christian truth, even in a secular culture in ways that maybe we didn't fully appreciate until we're now having those foundations being systematically chipped away at a time, in some cases outright obliterated.
Dr. Adam Greenway:
So I think those are some of the challenges when you're thinking, teaching, preaching to people today, the worldview issues at stake here are far more serious than perhaps would have been true even 10, 20 years ago, because of what they're being bombarded with, in all the ways we process information, what's happening in our public education system, what's happening in our media. These are trying times, to say the least, for those of us who are committed to teaching and transmitting truth.
Dr. Kevin Smith:
Thank you. So let me ask you a question. And when I ask you this question, think of the businessman or person working who is a 10th grade Sunday School teacher in their local congregation, and then think of the single-staff or bi-vocational pastor of a local congregation. In an age where many tests and evaluations, I know [inaudible 00:08:31] regularly does one, points out a tremendous amount of biblical illiteracy within the church, if Sunday School teachers, small group leaders, pastors are seeking to teach Scripture, how much extra-Biblical knowledge should the teacher of the Scripture really be prepared to pursue?
Dr. Kevin Smith:
And I'm asking this because sometimes when I talk to people about apologetic preaching or teaching, they seem a bit intimidated by the philosophical and the contemporary cultural issues that come into play as far as the ability to articulate and understand those things. And so what is the interaction there in your thinking, and I'm thinking from the old common narrative of when the Treasury Department teaches people how to spot counterfeit bills, they spend a lot of time showing them the authentic. And so what is the interaction between a teacher or a preacher preparing, obviously in being rich and deep in the Scripture, but also engaging extra-Biblical cultural, philosophical resources?
Dr. Adam Greenway:
Well, I would say that I think the task today is only going to require more effort and work on the part of, let's say that 10th grade Bible Study teacher, because, again, we used to benefit in ways from the broader culture in forms and fashions that we can't always accept we're going to have working for us today. So just to go back to the classic illustration about how do bankers learn what is legitimate terms of counterfeiting money? It's not by trying to examine every conceivable form of counterfeit currency, but becoming so familiar with the genuine article that they can immediately spot the counterfeit.
Dr. Adam Greenway:
Well, of course, that actually presupposes we do believe in something that is genuine, that is objective, and that we all agree that that's a $20 bill, and that's what we are supposed to think is a $20 bill. There's a level of objectivity and universality there that, again, was understood and assumed, but what happens to the person who denies $20 bills are even possible? Or you say it's a $20 bill and I think it's a $10 bill or a $50 bill, and who are you to impose your $20 bill view on me? Aren't you being oppressive and socially constructed and all these other epithets to be thrown out today?
Dr. Adam Greenway:
A part of the challenge we have is just, again, we don't do ministry or mission in isolation, we're living in an acculturated time, we're living in a particular moment where there are ideas that are happening all around us. And from the very beginnings, again, thinking back to how the, in our context, the American education system has worked, until the most recent years, there were a lot of parallels between what was happening in the broader culture and what was happening within the church culture in terms of we didn't believe there was such a thing as absolute objective truth. We believed that two plus two equals four, for example, not five, not three, not four point two, but four, that there's only one in one correct answer. And that's a very narrow-minded, exclusionary, if you will, intolerant point of view, weeding out the entire universe of possible numbers, there's only one right answer to the question two plus two equals what? Well, the answer to that's yes. I believe, and I think you believe that.
Dr. Adam Greenway:
And for most of us, that's been the way we've operated, but increasingly, even that kind of axiomatic mathematical statement is being challenged by some who want to continue to push back against any notion of objective truth. So those 10th graders you're going to be teaching today are being bombarded with ideas, and every asset, unlike anything any previous generation has known that isn't just, well, why should I be a Christian as opposed to being some other religion, but why should you believe anything at all.
Dr. Adam Greenway:
So that does get to, I think, the importance of helping to teach students at all levels, but especially, if we use your 10th grade example, 10th graders, sophomores in high school, the importance of thinking critically, thinking Christianly, understanding that truth is known, truth is real. We do live in an created universe, a created a world that has order and design to it, that is not by accident. And it is important for us to understand in terms of who God is and what he has done, that we find in general revelation, the book of nature, if you will, that leads us, of course, to recognize that there is a God that is out there.
Dr. Adam Greenway:
But creation itself is not going to help me understand how to be in right relationship to that God. It's merely going to show me my need of transcendence and my need of a savior, which of course is Romans 1. The nature revelation in general form is sufficient to reveal aspects of God and human sinfulness, but it's not sufficient to save; we need special revelation. We need a course of work in Christ as testified to us in the Bible. And the Bible alone is the written word of God.
Dr. Adam Greenway:
So all these things come together, obviously in a way that previous generations didn't have to go through some of the worldview hurdles and cultural obstacles that increasingly people throw up today. And I do think it's going to require, again, more, not less, from preachers, teachers, pastors and others. The Church incompetent can never be the Church triumphant, especially in our context today.
Dr. Kevin Smith:
No, no. And, again, I think your emphasis on truth is right on point. Aside from my concerns as a Christian, I'm amazed at some discussions when I see culturally what some people are doing with the biological sciences, physiology, pregnancy technologies and all those types of things, and things that are just generally accepted scientific conclusions through research and constant experimentation are now just off the table and questionable because of ideological commitments. It is interesting to observe.
Dr. Kevin Smith:
Let me ask you a question from another perspective. I am a pastor of a local congregation, I believe in the sufficiency and the truthfulness, the authority of the Scripture, and I have pursued preaching with a historical grammatical exegesis of the Scripture, and I love to apply that and teach my people how to live for the Lord Jesus Christ in this present world. Are you suggesting, when you speak of apologetic preaching, that there's something in my preaching that I'm not doing, or something in my preaching that I need to add to the equation?
Dr. Adam Greenway:
No, any more on than I'm saying that the fact that air conditioning is not mentioned in the Bible means we shouldn't run it in the summertime. I think part of understanding the doctrine of sufficiency is understanding that the Scripture is sufficient to lead us to salvation in terms of everything that we need to know in order to understand God's plan of redemption for us in Christ, and to help us live lives in obedience and sanctification by the working of the spirit of God, reproducing the character and commission of Christ within us.
Dr. Adam Greenway:
But it doesn't mean that everything that we need to know in life is something that I can find contained in the pages of Scripture. Again, the Scripture is given to us for our edification. It was originally given to particular people in particular settings and particular moments in history, and as John Stott said, we have to be between two worlds. We have to always go back to the world of Scripture and to rightly hear and understand what the Scripture meant then, because the Scripture can never mean now and didn't mean then first, and then from that, out of that exegesis, out of that, how we are to understand and to apply the word of God to us today.
Dr. Adam Greenway:
But in doing that, again, there are concepts and background material and other things that are not as obvious or easy for us to understand. That's again why we use resources like commentaries and Bible atlases and introductions and surveys and language tools and other things to help us get at what the Scripture is trying to say. But in some cases, again, there are things that the Scripture does not directly speak to that we have to make judgment calls upon. We have to use wisdom.
Dr. Adam Greenway:
So for example, when your church gathers together online or in person, should you take up the offering before, during or after the sermon? If you look at the Scripture for explicit instruction there, you're going to come up short. How many verses at the invitational hymn should we sing? One, two, three, excluding the third stanza? Four? Six? There's some things, again, that we don't have.
Dr. Adam Greenway:
And so sufficiency cannot be taken to mean that there is nothing for us to glean of value and of usefulness from what God has given to us in the book of nature, what God has given to us in general revelation. But it means that the Scripture is sufficient to infallibly and authoritatively lead us to salvation and fulfill the purposes of God for us in our lives and in our churches. But God's also given us brains and minds that he expects us to use as the spirit is sanctifying us and helping us grow in grace.
Dr. Adam Greenway:
Again, that's part of, I believe, the New Testament mandate for a pastor, is to study to show himself approved. Part of, again, being 2000 years on this side of New Testament history means we need help at times to probably understand these things. Obviously the spirit of God, that is non-negotiable, but I do believe there's value in good commentaries and Bible reference tools and atlases and other materials as well. And then also the study of church history, which I know you and I are both a student and a fan of. I think it is chronological snobbery for us to think that we have nothing to learn from faithful ones who've gone before us, who've wrestled through some of these same issues.
Dr. Adam Greenway:
I've said in other contexts, I think most of our issues today would be settled if we had a better grasp of Christian history and realize that though some of the names have changed, maybe some of the labels have changed, a lot of the issues haven't changed. We're fighting some of the same issues today that other saints have fought, particularly in terms of relationship between revelation and reason, and church and state and other issues. And it is to our shame that in many cases we are ignorant of saints of God who've gone before us who could help us think through these issues and generate much more light than heat.
Dr. Kevin Smith:
Amen. And I would encourage pastors to really examine your congregations and examine the community in which their congregation is situated and find resources regarding apologetic or things that are going on in our culture that are challenging biblical truth claims, find resources and trusted persons that you can engage those topics with.
Dr. Kevin Smith:
As a pastor, I've always wanted to know other disciples of Christ who were working in law enforcement. I've been able to pastor state senators and city council people to ask about political things. I think pastors should know biologists and people who focus in the biological sciences. I mean, the issues of personhood and the reproductive technology issues are so complex, it's certainly is not something that a passer or a typical Sunday School teacher without that particular training would understand these matters. And so, again, in the realm of common grace or general revelation, I don't hear Baptists say common grace as much as my Presbyterian brothers, but in the world of general revelation, we should be really open and responsive to those avenues of knowledge.
Dr. Adam Greenway:
The old line "all truth is God's truth" is true. And I think it's particularly important that we commit ourselves to being a people who are always in search of the truth. Obviously, the Scripture itself is the ultimate measure of truth. It is, to use the old Reformation line, it is a norm that norms other norms that cannot itself be norm. And so it is absolutely critical that the Scripture always stands at the apex of any hierarchy of authority. But it doesn't mean there's not value in learning other things that will help us as faithful Christians in Genesis 3 world.
Dr. Adam Greenway:
Again, that's part of, I think, the way that God has wired us, is to be people who are rational beings, people who prayerfully recognize that we are to think and think Christianly. As you know, it was all over [inaudible 00:21:17] as the greatest commandment added our mind to the command to love the Lord with all your heart, with all your soul, with all your mind and with all your strength. And I think that's one of the areas where many Christians do a pretty good job on those other areas, but we can certainly improve in terms of how we love God with all of our minds.
Dr. Kevin Smith:
Amen. Amen. I was really encouraged when you mentioned John Stott's book, because whether at the Southern Baptist Theological Seminary or Anderson University, wherever I'm teaching, I always start preaching classes with some type of introduction or consideration of Stott's central thesis there. And so that was encouraging.
Dr. Kevin Smith:
Let me ask you a question about preaching methodology. I encourage pastors to know the leading sin issues in their community, I encourage them to know the leading and challenging apologetic issues in their community, but also, I've been a part of a preaching faculty where we seek to encourage consecutive exposition of the Scripture. And I say that believing in the breadth and the sufficiency of the Scripture, and that if a pulpit has a consecutive expository ministry where they're preaching through chapters or books of the Bible, they will address all types of issues and they will certainly address the prevailing apologetic and sin issues in their community.
Dr. Kevin Smith:
But also I have very thoughtful and very reasonable brothers who would suggest a topical approach, and addressing specifically, and really focusing their preaching planning based upon those dynamics in their community and issues that are going on in the broader culture. How would you address those two approaches to preaching methodology and preaching planning?
Dr. Adam Greenway:
I will confess my bias up front, that I'm a text-driven preacher, what may be called expository preaching, is that text of Scripture has to drive the sermon and drive the message. And the test for me on that is if I strip out all of the Scripture and Scriptural exposition from your sermon, does your sermon still stand together as a coherent unit of thought? If the answer to that is yes, there it's probably not a tex-driven sermon by definition. The text was never meant to be merely illustrative for my own rabbit chasing, for my own prevaricating. I'm not to take the text and depart therefrom or to amaze and impress the listeners with my own brilliance or eloquence or opinion or what have you else.
Dr. Adam Greenway:
Not to mention the fact that I think preaching systematically, and going passage by passage through books of the Scripture or taking, perhaps, a series that you're going to do on some topic or theological truth and taking those texts and those are the text-driven expositional [inaudible 00:24:19], it keeps you honest. It reminds you where the authority in preaching comes from and the authority does not reside in you. The authority is inherent in the text and the work of the spirit of God in taking that text through the medium of the preacher, and using it to bring about desired ends on the part of the hearers and the recipients.
Dr. Adam Greenway:
I really do believe that the Bible is the inspired, inerrant, infallible, indestructible, insurpassable, indescribable, and every other adjective I can stack up there, and I do. But if I believe all of that, it doesn't show up in terms of my movement to really taking the Scripture and helping to explain it and illustrate it and apply it in a way to where the people I'm charged to shepherd understand and therefore are empowered to be able to obey. I can't guarantee their obedience. I can't compel obedience, certainly not in Free Church, but I certainly have a responsibility to exhort, to reprove, to rebuke, with all long-suffering, as Paul says.
Dr. Adam Greenway:
And the only way you do that, I think, is to really put the exit mark upon the text, to wrestle through the texts, have that text grip you. Because if the text doesn't grip you, it'll never grip them. You got to preach as a dying man to dying men, to use the old preacher adage.
Dr. Adam Greenway:
And again, I just would say that's where the authority in preaching comes, when the Bible says that Jesus taught as one having authority, not as ascribed. He wasn't just making points in terms of referring to the text, In fact, in that particular context, as you know, it was Jesus reading from the scroll of Isaiah about, "The spirit of the Lord is upon me, because he's calling me to preach good news to the poor," and so forth. And Jesus says, "Today, this Scripture is fulfilled in your hearing."
Dr. Adam Greenway:
Now, my brother, this has been the greatest revival and reception on the part of that crowd there, and instead they ended up being apathetic, then they became enraged, they tried to kill him at that point. That's a word of warning to what will happen to us if we're preaching the text and we're really letting the text have its work in a way that, again, you don't get if I'm just up there cracking a few jokes to warm up the crowd and just talking about all the other things out there, and then closing with, "Oh, by the way the Bible says Jesus wept. Let's pray."
Dr. Kevin Smith:
Yeah. Yeah, most definitely. Let me ask you a question. If a brother or sister is listening and they are not maybe in tune with some of the ideological or philosophical trends of the last 30 years, when Pilate said, "What is truth?" What is the landscape out there, brother, that Christians would need to understand as we seek to share biblical truth from a position of believing that there is such a thing as truth, but what is the landscape that they need to understand is out there on the street and in the university of culture, and maybe even with the colleague in their cubicle at work?
Dr. Adam Greenway:
Well, the landscape is one that has over the last couple hundred years moved in a direction away from a philosophical theological centering around God and divine revelation, objectivity, starting in creation and Genesis 2. Obviously go back to 1859 and publication of Darwin's Origin of Species and all that's happened since that time. In terms of wanting to deny that humankind anything above just higher evolved mammals that came out of the primordial slime, that really was just a cosmic accident, in a few words, billions and billions of years ago when all these things happened. Once you start with the premise that we are nothing more than cosmic accidents that are the result of a blind evolutionary processing path to go down towards the fact that life has no ultimate meaning here, is basically the struggle of will to power.
Dr. Adam Greenway:
It's the other golden rule. Those who have the gold will try to make the rules. And so you end up with, again, these hedonistic quests for money and sex and power and all of the biases in life and all overly centered around the self, the autonomous individual, and I, the measure of all things. And how I define myself is not just increasingly by subjective reality, it is the object of reality I want to impose upon you. You can't tell me what I am not, particularly in terms of my gender identity, my sexual orientation, my expression of personhood. And in fact, most intolerant thing you could ever do is look at somebody and say, "You are wrong," on anything.
Dr. Adam Greenway:
So that's the cultural context we find ourselves in today, where, again, you look at the LGBTQIA plus revolution. The letters keep stacking up, because it keeps going on. And since the one thing you can't do in light of the popular culture today is try to impose a boundary to say that, "There's nowhere else that you can go." And of course the T in that, the trans part right now is perhaps the most culturally disputed and debated right now in terms of what does that even mean.
Dr. Adam Greenway:
And we're seeing this play out in issues related to governmental edict. So, particularly things like Title IX, how does that relate to, for example in 1972, when Title IX was adopted, the goal was to be able protect and to validate biological females in their equality in competitive, particularly in the educational settings, that women were not men, men were not women, and there were differences that were meant to be protected and valued and enshrined. Well, what happens when you now have a man who claims that he's a woman trapped in the body of a man and wants to compete in sports as a woman?
Dr. Adam Greenway:
And of course, increasingly, secular society and even secular politicians say, "Well, you have to accept that. You have to be able to let somebody define their own existence, define their own reality, define their own personhood." Well, of course, there are massive ramifications for that, just in terms of a variety of social and political and religious issues, if you will, in terms of going down that path with convocations that we clearly have not thought about or contemplated in any way. I mean, in a sense, Title IX means nothing if gender is a social construct that is fluid, and it says anything goes at that point.
Dr. Adam Greenway:
And that really is, I think, part of the broader cultural project right now, is in a sense a kind of anarchy, in where there is no such sense as a collective society and structure that in a sense imposes restraint on behaviors, it really is increasingly becoming like the last end of the book of Judges where everyone was [crosstalk 00:31:41].
Dr. Kevin Smith:
Yes, yes. Interesting how often that biblical truth comes to my mind. Just as a side, what you're saying, obviously, you may remember I certainly raised a daddy's girl who was very interested in sports, and I'm amazed how what would have been Title IX advocates are, unless I'm just missing things, seem to be tremendously quiet in some of the present debates that we have going on. And I just find that stunning in light of everything that they contended for in the '70s. And I don't know if that's a change of heart or if that generation has died, but I find it interesting. And your cultural observations, you have any thoughts on that? Now I would imagine in the great state of Texas, women are still women.
Dr. Adam Greenway:
Yes, and we rejoice in that truth. I think part of it's just that the landscape's changing in terms of what public society, particularly those who control the influential media and platforms of our society, what they are willing to tolerate. And things are continuing to move so far out, if you will, in this radical, deconstructionist, personalist direction, where again, the most intolerant thing you could ever do is to look at somebody and say, "You're wrong," in terms of any kind of self-conception, any kind of self identity, and try to claim that these people are going in a direction that is harmful to society.
Dr. Adam Greenway:
Again, the people are not clearly thinking through what all the ramifications or issues are of these worldviews and what they're constructively doing, particularly when you start getting into gender reassignment surgeries, hormone therapies, particularly with young children, pre-pubescent, pre-adolescent children, and how some are continuing to allow them to define their own desires and nature in ways that could have catastrophic ramifications.
Dr. Adam Greenway:
Again, these are just unprecedented times of the challenges that we're facing, when again, 20 years ago, 30 years ago, if our grandparents would have heard somebody say, "I think I'm a man trapped in the body of a woman," it would have just been nonsense. There was no category for that. There was no universe in which that even makes any sense, which of course raises all kinds of questions about, well, what are the things today that we still assume or think are taken for granted that our grandchildren, if Jesus tarries, will look back and go, "Boy, that was a quaint era where people could still think …" whatever it may be. That's a scary thing, and I say that as a dad of a son and a daughter who are not quite to the teenage years yet. It's just, what kind of world are they growing up in?
Dr. Adam Greenway:
And even here in the great state of Texas, doesn't mean we're immune from the challenges that are going to be faced across our land, and what is happening again through attempted legislative efforts and policymaking on matters to where these have huge ramifications for all of us. And we don't do ministry in isolation. We do ministry in a real culture, in a real space and real time.
Dr. Adam Greenway:
I'm reminded back to a hundred years ago, when people like [inaudible 00:35:02] and others were dealing with issues in that time, what became known as the fundamentalist modernist controversy and other issues. And even then, there were the attempts of people to say that we need to be more accommodating of the times, in a sense we need to get an update and get with it. Christianity itself needs to evolve into new levels of understanding, and discard all of that prescientific mythology and the like.
Dr. Adam Greenway:
The challenge for us is increasingly, what were once arguments merely confined to the classroom and to the academy you are taking on great residence in the broader culture, that are massive issues for us if we allow the collective thoughts and minds and cultural mores and norms to be in bondage to all of these ideas in ways that many Christians have not woken up to to realize what is happening. Because we're too busy living our own lives and not thinking about what is happening on the average state university campus today or on the average public school today. If you will, most of our reading critical philosophy and other issues, but that do impact our work.
Dr. Adam Greenway:
And that's why as a seminary president, our challenge is greater all the time in trying to educate God-called men and women to know how to meet the challenges of this day with the timeless truth of God's word and the unchanging message of the Gospel.
Dr. Kevin Smith:
Amen. If you're listening with us and you think apologetics and defending the faith and thinking about these matters is merely an intellectual exercise, I would certainly affirm Dr. Greenway's remarks just now, and just encourage you to realize this is a tremendously consequential exercise. Humanity can, as Romans 1 says, suppress the truth in unrighteousness, but we still cannot get around the reality and the truth that God shall not be mocked. And whatever we sow, we shall reap. And we are free to make choices and we're free to do a lot of things, people are rejoicing in whether you call it libertarianism or licentiousness or whatever, the ability to make choices, but they're also finding out consistently, you don't have the ability to choose the consequences of your choices.
Dr. Kevin Smith:
Every cultural turn has consequences, and we are not able to put our hands around those things, because we are not sovereign and we are not omniscient and we just don't understand, and we reject the boundaries and the rails of absolute truth, we put ourselves in a perilous situation.
Dr. Kevin Smith:
I interact with young people all the time in their twenties, and two decades ago, their parents could never realize the consequences of their so-called inconsequential, "We did it well," no fault divorce. And they don't realize now how their kids, even in their twenties, are still unpacking and dealing with those things. I deal with people who made bad choices as a young adult and trying to reenter society from prison sentences. I deal with people with addictions and things trying to get over the consequences of that. I counsel couples all the time. No one is happy about the non-custodial parental situation, but they weren't thinking about those things in the midst of abandoning the biblical sexual mores and things like that. And so, apologetics is certainly much, much more than just the intellectual component of it. There's the intellectual component that is serving some very consequential matters, brothers and sisters, that come up as we seek to show forth the glory of Christ in our society.
Dr. Kevin Smith:
Dr. Greenway, I have a question about showing forth that glory. You discussed and brought up some contemporary issues, and I have observed, even in myself, even in myself, I have observed that as we engage some of these issues with the chaotic, divisive nature of our culture right now, I imagine we're a generation into cable news, and I think we took a certain kind of cultural shift back when CNN started this show called Crossfire, and it began to set things up in a debate format. How might one be a apologist for the faith and apologist for their beliefs and for the truth of Scripture in this day and age, as we contend for these ideas. In a pastoral sense or just in a brother in Christ sense, how would you encourage believers to contend for the faith and yet not be contentious, or dare I even say, cantankerous, because you and I know examples that I think are not helpful for the body of Christ and our corporate witness.
Dr. Adam Greenway:
Well, a lot of it is honestly just a heart check, an attitude check in terms of, am I more concerned about winning the argument or am I praying that the Lord will win the person? I do think there are certain personality types who are attracted to apologetics and that ministry because they like to argue and debate and fight verbally, but I don't think the New Testament mandate is for us to be a jerk for Jesus. I think that actually is the opposite of what we ought to be seeking to do, which is why in the great apologetic text of 1 Peter 3:15, we're set apart, sanctified, Christ is Lord in our hearts, and always be ready to give an answer to anybody who asks you for a reason for the hope that is in you, but to do this with a level of gentleness and respect maintenance, if you will, or again, I'm not trying to [inaudible 00:40:47] and smack somebody up the head with my 14-pound reference Bible to help them see the light, but try to do it in a way to where we're in conversation, we're in dialogue.
Dr. Adam Greenway:
Jesus of course is the master of this. I mean, Jesus, I'm particularly drawn to John 4, the Samaritan woman there at the well, which of course comes after John 3 and Nicodemus, and he's pretty harsh to Nicodemus, "Aren't you a teacher of the Jews? You don't have all of this stuff, how to be born again [inaudible 00:41:15]?" But the Samaritan woman who was clearly a sinner in the cultural context of that day, and he's crossing all kind of boundaries there, ethnic and sociological and otherwise to engage with her, he meets her where she's at, and also keeps the conversation on track, even as he gets right in her business about, "Go call your husband." "Well, I have no husband." "Yeah, you've had several husbands, the guy you're with right now is not your husband." "I perceive that you're a prophet. So where are we supposed to worship? What mountain are we supposed to be on? Where we supposed to go?" And Jesus cuts through all that and says, "Listen, don't worry about the form of worship. You got to get to the heart of worship, which is in spirit and truth."
Dr. Adam Greenway:
And so I think there's a lot there that is worth unpacking in terms of how Jesus dealt with people, not just who were the sinners of that time or the outcasts or the other if you will, even when they tried to bring up arguments or other things to get off track, Jesus didn't get into an extended conversation about who was right and who was wrong. He tried to turn it back to the heart of worship, what mattered most. And I think that's what we always have to do, that's why I'm a fan of what I call Gospel directed apologetics. And that is, we're always trying to turn the conversation back to the Gospel, because it is the Gospel that is the power of God unto salvation everyone who believes. It's not just about can I impress a person with the fact that I can destroy their argument logically or empirically or otherwise, but what am I doing to really help this person prayerfully be able to encounter Jesus in a life-changing and saving way?
Dr. Kevin Smith:
Amen. Our ultimate end is not for them to say, "Yeah, you are right. I'm wrong. See you later." Our ultimate end is for them to bow to the Lord Jesus Christ as lord and savior. Let me ask you a question about integrity. Share some thoughts about the importance of how you articulate an opponent's argument or thought. And I'm saying that because, and I'd love for you to push back, I think some of our apologetics, even evangelism is undercut because we straw man or don't generally engage what the other person is really thinking or saying.
Dr. Adam Greenway:
Well, I don't think we're ready to have the conversation credibly until I can state your view back to you, and you tell me, "Yes, that is exactly what I believe," because it's easy just to misstate, mischaracterize, caricature, a little false view and just kind of fight on that a little bit and make yourself feel better, but if that's not really what you believe, I don't think you're engaging in credible Christian conversation of any kind. And that's intermuralend outside of the household of faith. If I misrepresent your position to you and to others, that is not likely going to help me be able to witness to you, because I will not be seen as a person of credibility. I think credibility is the key of words in terms of am I able to understand and to articulate your position back to you in such a way to where you would say, "Yes, that is exactly what I believe," because if we can't do that, you and won't have a conversation about what the issues are at hand.
Dr. Kevin Smith:
Yes. I had a text and I wanted to unpack a term we referenced. Could you describe, define general revelation and common grace?
Dr. Adam Greenway:
Well, general revelation, in a sense, or what some would call common grace is God's attributes and dispositions on display that are accessible and understandable to all humanity, if you will. So, Romans 1, creation itself declares the glory of God. Psalm 19, the heavens declare that there is a God. So, theologians have called this general revelation in the sense that it's revelation that is general. It is available to all. It is in a sense apprehendable to all, that as I look outside and I see the wonder of a sunset in Texas, and my brother, there are no sunsets anywhere on earth than the sunsets in Texas. And I see the colors, and I realize that really could not have happened by accident. There's something there that just defies the logic of imagination, or as a father, having experienced the birth of our two biological children, we realize this is a miracle. Every time that I hug and love on my baby girl, I realize that there's something here that is more than just protoplasm and skeletal structure. There's something going on.
Dr. Adam Greenway:
But general revelation itself will lead people, if not properly interpreted through the spectacles of Scriptures, special revelation, into idolatry. And so that's Romans 1. Professors to be wise, they became fools. They exchanged the glory of the creator and served the created things, then all kinds of perversity. So, general revelation, the Lord makes the rain fall on the just and the unjust, that's common grace in figurative. Of course special grace being that which is given to us uniquely in Christ.
Dr. Kevin Smith:
Amen. Amen. Well, the same doxological feeling that you have in Texas when the sun sets, I have that feeling in Broward County, Florida, when I'm on the Atlantic ocean and the sun is setting. So praise the Lord for general revelation.
Dr. Adam Greenway:
Amen. Amen.
Dr. Kevin Smith:
If you're listening to this podcast and you see the urgency, and again, the consequence of the matters we're discussing, and if you're in the Mid-Atlantic region, I do want to just briefly say that Dr. Greenway will actually, Lord willing, be with us here in the Baptist Convention of Maryland/Delaware in the fall in a series of events where we'll be discussing, again, teaching and preaching the word of God with an apologetic intent. And so, please look for notices about that, and please pray that we will be where we need to be nationally so that we might be comfortable traveling and he can be with us and we can assemble together.
Dr. Kevin Smith:
But Dr. Adam Greenway, president of the Southwestern Baptist Theological Seminary, you have grace us with your time. I certainly count you a dear brother in the Lord and I thank you for being along with us today. And we pray God will bless you richly as you lead the seminary there and prepare men and women for Gospel ministry, both here in the United States and all around the world. And we are blessed and thankful for your service to the kingdom, my brother.
Dr. Adam Greenway:
Well, thank you my brother for having me. And let me just through you pass along my personal words of gratitude to all of your podcast listeners who are part of the Baptist Convention of Maryland/Delaware, and the churches for their generous support of our work through the cooperative program.
Dr. Adam Greenway:
The fact that churches of Maryland/Delaware support our work, and not just our work, but all six of the Southern Baptist seminaries, along with our International Mission Board, North American Mission Board and more, all of that cooperation and accomplishment is made possible because of the sacrificial generosity of the churches that are like those in the Baptist Convention of Maryland/Delaware, and certainly, though we may be separated by a great distance geographically, we are together in our cooperative [crosstalk 00:48:51] because of the generosity of churches there and because of our work here. And so, [inaudible 00:48:57] from all of us here at Southern Baptist Crown Jewel Seminary, I want to say thank you, Maryland/Delaware Baptist, and others who may be listening, who are part of a cooperating church of the Southern Baptist Convention.
Dr. Kevin Smith:
Amen. Well, brother, you have a great afternoon, and again, thank you so much.
Dr. Adam Greenway:
Thank you.
Transcript