#34: The Role of the Family in God's Design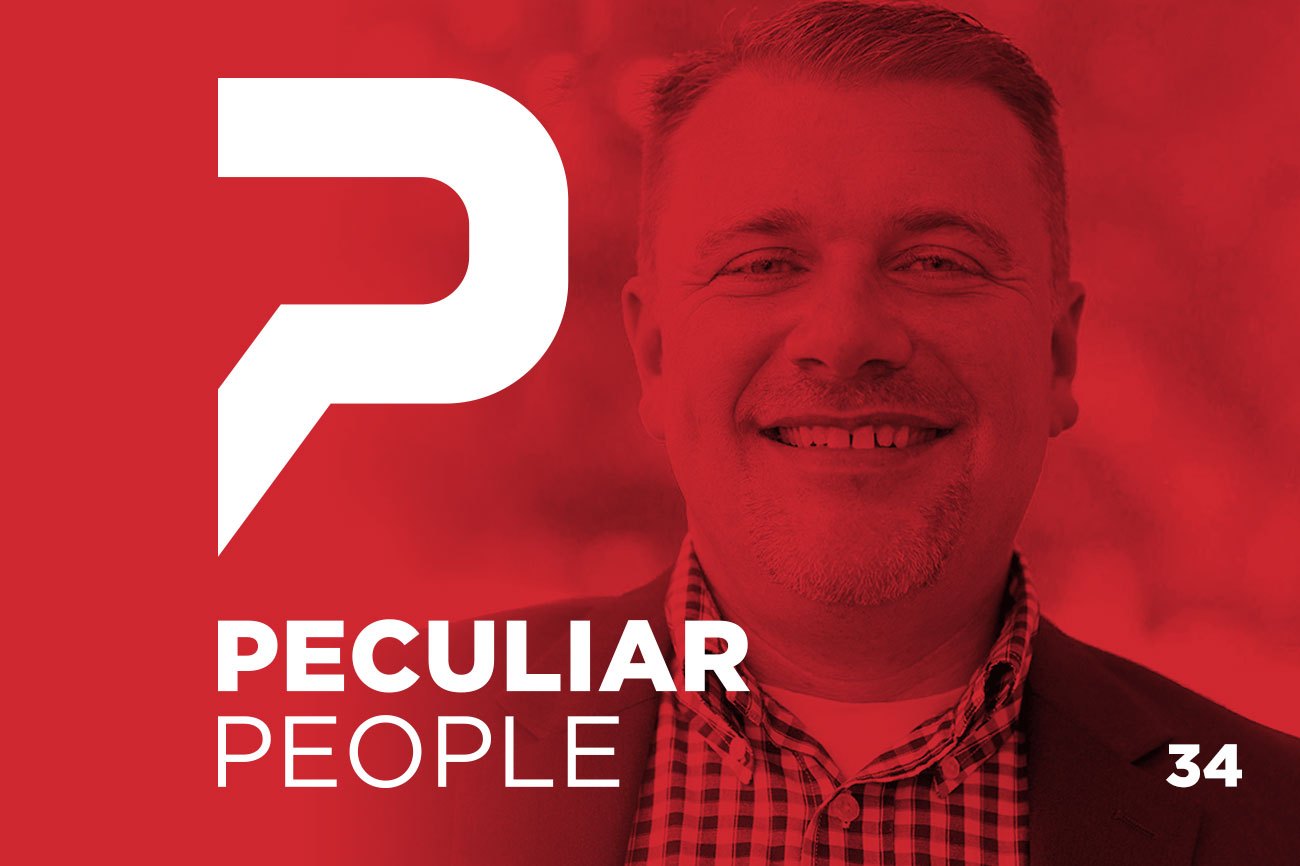 Martin Luther called the family "The School for Character." The family, from the beginning, was also intended to point forward to a greater family that was yet to come.
Listen as Dr. Kevin Smith and Dr. Timothy Paul Jones discuss the dynamics of marriage, the nuclear family, and the Church. Dr. Jones is the Vice President for Doctoral Studies at Southern Baptist Theological Seminary.
Transcript
Dr. Smith:
Welcome to Peculiar People Podcast. A podcast where we examine what it means to be a fruitful follower of the Lord, Jesus Christ, in the days in which we find ourselves. We anchor in Peter's exhortation that we are peculiar people, a chosen generation, that we should bring forth the praises of him who has brought us from darkness into the marvelous light. So, we are excited always to have conversations with brothers and sisters who are thinking about these kinds of matters. Today, we are tremendously blessed to have from the Southern Baptist Theological Seminary, Dr. Timothy Paul Jones. I'll let him tell us what he is a professor of, but I call him a professor of why you should believe the Bible, a professor of family, a professor of counseling, a professor of apologetics, a professor of everything a pastor needs to know. Brother Jones, we are honored to have you on the podcast, and good afternoon to you, brother.
Dr. Jones:
It is a delight to hear from you again. I've enjoyed the years that we had together at Southern Seminary, and we've missed you since you've been gone, but we know you're doing God's work where you're at.
Dr. Smith:
Amen. Well, let us know what exact study centers and programs you are giving leadership to there at the seminary.
Dr. Jones:
Well, I'm the vice president of doctoral studies. That's kind of the academic administrative title that I have here, but then the other things that I do, I do teach in the areas of family ministry and apologetics, both. So, both of those areas. People look at that and they may say, well, how did you end up with two totally disparate fields that you study in? Family ministry and apologetics. But what they don't realize is I actually ended up in family ministry because of apologetics. Because what I did is I was a youth minister. I was trying to minister to students. I was trying to love students and get them to hold onto their faith. After several years of that, many of which were very frustrating years, I realized that it doesn't matter how much I may pour into them.
Dr. Jones:
If they don't have some sort of a family structure to instruct them in the faith, now that family structure can be an ideally is in the household where it's their address, but that family structure may also be a family in the church that's feeding into the life of a spiritual orphan, but either way, if they don't have some family structure around them that is supporting them and sustaining them in the gospel, in the truths of Jesus, they're not going to hold onto that faith.
Dr. Jones:
So, my interest in apologetics, which was there, which was, I wanted them to hold onto their faith, be able to defend their faith that led into an interest in family ministry, because I realized that if apologetics is going to work in the lives of students, you've got to have family ministry too, and I see those two things as hand in hand. So, one of those actually led to the other. I've always been about apologetics. The family ministry stuff, that's simply been what I've done as an outgrowth of my love for my interest in my calling to apologetics.
Dr. Smith:
Wonderful. Well, we are looking forward to conversation, brother, and excited about the lights and the blessing that you will be to our listeners. I want to give you a broad runway for this first question. Let me tell you about two conversations. One, just speaking with someone regarding foundational matters of Deuteronomy chapter six, and I often find that Christians can disconnect the gospels and the teachings of Jesus from the Old Testament. Obviously, if a person has one of those study Bibles that italicize Old Testament passages, they would realize how much of the Old Testament is cited in the New Testament.
Dr. Smith:
So, obviously to love the Lord, God, and to teach your children, these things as you come in, as you go out, kind of a biblical foundation for thinking about family, but also in a contemporary conversation, I was listening to a panel discussion on a podcast, and one panelists lamented the discipleship and the family dynamics that are going on due to what they call over segmentation and over programming within congregational life. But it's real interesting because the next panelist said, well, yeah, you might say that, but at the real core, the issue is family discipleship and home discipleship. 
Dr. Smith:
In the context of that conversation, I was really surprised that, that person raised that issue like that. If someone were to ask you just in a broad way, as a Bible thinking Christian, say they're in their mid 20s, and they're thinking about marriage, and they say, what is the role of the family in God's design?
Dr. Jones:
Here's what I would say to somebody who says, what's the role of the family in God's design? There's a twofold answer. There has to be a twofold answer to this question. Here's the first part of that answer. The family is that fundamental unit of society and also of the Christian faith, wherein Christian training is supposed to be taking place. Martin Luther called the family, the school for character, is what he called it. And that's true. That's true. We see that all the way through the Scriptures, and that's part of what we see in Deuteronomy six. It's part of what we see even all the way back in the Garden of Eden, all the way through.
Dr. Jones:
One of the temptations is to latch on just to that, only to that. If we do that, we forget something, because the family was also intended, from the beginning, to point forward to a greater family that was yet to come. This is really important for us to get this, because otherwise, we're not thinking as New Testament Christians if we don't get this down. We're thinking as New Testament Christians. We have to recognize that, even in the very beginning, when God created the world in the beginning, God created the world with Jesus already in mind.
Dr. Jones:
God created it in that way, thinking that way. I'm going to kick into a preacher mode here. I may just a little bit, because what I have to remind your listeners is I am not really a professor. I'm just a pastor on long-term loan to the seminary. That's all. So, I'm still a pastor of a church, still to this day, and have never stopped being a pastor since I've been in a professor role. If I kick into that, then forgive me. Just know that I'm going to do that. We have to understand something. When we read the Old Testament, we have to read it with Jesus in mind.
Dr. Jones:
We say that at a theological level, but this matters very, very, very practically here, that when God created the seasons, when he created winter to turn into spring to summer, God created with the resurrection of Jesus already in mind. He created knowing that there would be death followed by resurrection. When God created the world and God created Adam and Eve, he tells us through Paul in Ephesians chapter five, that God created Adam and Eve with Christ and his church already in mind.
Dr. Jones:
So, God already had these things in mind in the beginning, in Genesis, when he began to create. Now, what does this have to do with the family? It has everything to do with the family, because if we say, God created the family as the fundamental building blocks of society, that's where discipleship is supposed to take place, and that we are speaking truth at that point. But we are only speaking part of the truth. When God created the family, he already had the church in mind. When we look at the family, we have to look at it, not separate from or precedent to the church, we have to look at it as something that is fulfilled in the church.
Dr. Jones:
Here's what we have to think about when somebody says, what's the role of the family? What's the place of the family. We have to say the family has two meanings or two things, and I'll use the two different phrases for this. We have to think of family as church. And what I mean by family as church is the family is to do the things at a small way that the church does in a big way. That's family as church. We're to be doing discipleship, things like that. But also, we have to think about the flip side of that, of the church as family, which is the church filling in the role of the family and being the true fulfillment of the family of God.
Dr. Jones:
If we ever get one of those and not the other one, then we end up with a skewed understanding of the family and of the church. We have to have both of those, church as a family and family as church. And somebody says, well, which of those should we do? Which of those is most important? And here's my answer. When you're flying on an airplane, which wing do you want to work? You don't want one or the other. Both of those. You got to have both of those or you're going down. In the same way, if you don't have both of those truths, the church as family and the family as church, the church as something that is a family for the people that are Christians, but also family doing in small ways what the church does in big ways, if we get either of those out of line, then we're going to crash, and so we have to have both of those when we think of the family and the church.
Dr. Smith:
Thank you. That is very helpful. I am mindful of pastoral ministry and congregational life, and just the dynamics that I've seen shift over three decades. Certainly, as our society has minimized family, minimized marriage, minimize distinction of male and female, as our society has pushed along in those ways, sadly, I cannot definitely say that I've seen a strong counter push or a counter knowledge going on within the professing church world concerning those matters, and obviously it is bang fruit. When I say it's bearing fruit, I'm saying that from being strategic in youth and student ministry, and also teaching at Boyce and Southern and at undergrad colleges.
Dr. Smith:
You see the fruit when you meet college students and you see the lack of grounding and discipleship that we would have prayed would have occurred within the confines of a Christian home. As you interact with young adults, as you interact with students, what are their attitudes concerning marriage and family? 
Dr. Jones:
Until the pandemic kicked in, I worked week by week with high schoolers and middle schoolers still, and look forward to, at some point, when we're doing that full fledged again, to doing that again. This is something that I actually engaging with them as well as with college students on a consistent basis, and here's what I find over and over, especially among those who are not in Christian families, but even to some degree of those who are in Christian families, and that is simply confusion. They just don't know. They can't describe what a family ought to be or how sexual relations ought to happen.
Dr. Jones:
They simply are oblivious to all these things. I remember just teaching on some of these things and a girl raised her hand. We were talking about just the things that we thought they needed to hear, and they did need to hear eventually, but about having sex inside of marriage, and we're just trying to talk about that, and she raised her hand and started asking questions, that it was clear she didn't even have a fundamental idea of what a marriage even might be.
Dr. Jones:
She just didn't even know what we were talking about yet. She was so far from getting to the point where we were, that she had to have explained to her simply that she had never seen a marriage in a healthy way, like you and I might talk about a marriage. Here's what I come to in this, is that what we have to do is we have to start at a much more basic level than we ever thought we were going to have to, because we have a generation of students coming up who simply don't have the concepts we're even talking about. Before we even get to what you ought to do and not to do in marriage or before marriage, we have to be able to help them understand what is a marriage? Why would somebody be married? What is marriage supposed to do?
Dr. Jones:
What is it supposed to look like? How are people supposed to relate to one another who state that they are romantically in love with one another? These are things that we may think are too basic, but what I'm discovering is they're not too basic.
Dr. Smith:
I mean, isn't it just a piece of paper. I mean, we love each other. What difference does a piece of paper make?
Dr. Jones:
And what you're describing is you're right. That's exactly what they're just saying. What difference does this make? How does this even work? We had students who don't know anyone personally who's married. We had some of them who didn't know anyone personally who is currently married. They don't personally know. They've seen some people that are, but they don't, in terms of their family structure around them, none of the family members around them are married and living together as married. Those are the types of things we have to recognize that we can't begin at a point of assuming they even know what we're talking about.
Dr. Jones:
I think that a lot of times our students don't get to the point we want them to, and we should want them, to do with gender and sexuality and all those things like that, because we didn't start at the most basic level. We needed to get them to the basic thing of here's what a man is, a woman is, and here's what marriage is. At the most basic level, they don't even have those concepts. It's not part of their viable social imaginary.
Dr. Smith:
Amen. What about congregation? You've mentioned churches, family. What about the discipleship component of walking with people through pain? I am a child of divorce. My wife is a child of divorce. So, I find myself encountering teenagers and young adults who are dismissive or skeptical about marriage based upon things that they themselves have experienced 40 years as a generation. I guess we're a generation into the consequences or the results of early, no fault divorce laws. I guess that would have been the '70s. In a discipleship, in a congregational loving way, how have you seen congregations effectively engage those of young adults or teenagers?
Dr. Jones:
I think there are some important things we can do at the level of large scale ministry, and I think we should, helping singles learn how to navigate life and what that may mean, where we're talking to the youth. But honestly, the congregations who are doing this well, they're not doing it through these big programs. They're not doing it through large scale. Here's what they're doing. They have people who have the discipline of hospitality. That's what happens. Because here's what I see over and over, what convinces people that marriage is a good thing is seeing good marriages.
Dr. Smith:
Yes. 
Dr. Jones:
That's it. That's what convinces them of it. So, what we need to do is, if you are in a church, I really mean this, I want everybody to hear this, if you are part of a church and you say, I've got a pretty good marriage, do you know what you ought to be doing? You should be having singles in your home to see what a good marriage looks like, because they don't know. They've not seen this. So, if you have a good marriage, and I don't mean a perfect marriage, I mean a good marriage, as in you're planning on still being married tomorrow, okay?
Dr. Jones:
You're plan on being married for the long-term. If that's you and you're not having singles into your home on a consistent basis, then there is a gap in your church that you need to help fill. That's one of the hardest things about COVID-19 and the pandemic and everything like that in terms of church life is normally, we have singles into our home on a consistent basis, and it's slowed us down where we can't do that, and we're looking forward to being on the other side of this where we can, because if you've got a good marriage, then you need to have singles in your home.
Dr. Jones:
That's the way you convince people that marriage is good, is by showing them a good marriage. You know what? They need to see the weird and rotten stuff too. I don't mean you bring up all your dirty laundry, but what I do mean is that you have to get onto your kids, and you have to deal with your kids, and sometimes you disagree with each other. They need to see that and be like, oh, you can work that out without raising your voices, without becoming angry, without becoming enraged. There are ways you can work that out. Again, there are singles in your church who don't know that.
Dr. Jones:
They've never seen a conflict worked out in the house between a husband and wife, or between parent and child apart from anger, frustration, raising of voices, or passive aggressive behaviors, and also … They've never seen that. Show them that. Show them that. The only way to convince people marriage is good is by showing them good marriage.
Dr. Smith:
Amen. Pastors, I would encourage you to certainly give heed to that word, and congregational leaders. I've been involved in congregations of different sizes and ones that were mostly black, ones that are mostly white, and I've seen in a variety of settings, and even talking to colleagues, sometimes single people feel at the margins of congregational life. But things like Christmas breaks and social gatherings and just all kinds of interaction that congregations normally have, I would certainly encourage you to make all members of the congregation parts of those types of fellowships and not to have any type of artificial bifurcation between married couples and single adults, and single folk.
Dr. Smith:
Thank you so much for that word. I think that's tremendously helpful in the life of desiring to be a gospel congregation, so thank you so much for that. Let me ask you a question. I constantly get this question from pastors, especially evangelistic outreaching pastors. As far as discipleship, I've never had a problem with this, but it seems some congregations has a strong distinction between the discipleship we want to do with our kids, meaning the children of families that go to the church versus the discipleship, or maybe it's called the outreach or whatever, to kids from unbelieving families in the neighborhood.
Dr. Smith:
I've always had what I call outreaching type VBSs and that kind of thing, but sometimes I see churches struggling between student things that are "for our kids" and student things that are for the community, and I think in a society with tremendous family breakdown and society with tremendous out of wedlock parenthood, in that type of society, it just seems impossible, or it seems extremely challenging to have evangelistic fruit if you're having that type of bifurcation in how you're thinking about youth ministry, youth evangelism, youth outreach, what are your thoughts on that type of struggle with congregations?
Dr. Jones:
For several years in a congregation, which about two thirds of the students in the church were from the "neighborhood" from around the church. I say, quote unquote, because that's one of the most terrible terminologies, but I hear it often. We all hear it often in that, so we need to think of better terminologies. I'll talk about that in just a moment, but that about two thirds of the kids came from around the church and their parents didn't come, and only about one third of the students came from within the church. That's what we were dealing with.
Dr. Jones:
I pastored that church, and I was the student minister before being the pastor was there between eight and nine years total ministering in that context. So, I've lived this at a very deep level over a period of years in a congregation. One of the things that was really decisive when I started to do this well, and the reason I say that is because I did it for several years very badly, completely, basically doing two different tracks for two different ministries, basically separated ministries.
Dr. Jones:
What I realized is the key thing we were missing is we didn't know what we were discipling for. Here's what I mean by that. What we were doing discipling the church kids "for being better kids." In other words, it was don't get pregnant, don't do this, don't do drugs, don't go drinking, things like that. That's what we were discipling for. We were discipling them for moralism instead of discipling them for the gospel. That's really a crucial thing. When I see that issue in churches, it is almost always a church that is discipling kids for better morals instead of for a focus on the gospel.
Dr. Jones:
We have to think through now, do we believe that better morals are an outcome of conformity to Christ and conformity of the gospel? Of course, we do, but that's not the central goal. The central goal is not making better kids. The central goal is us to be more like Jesus and us to conform to his word and be shaped by the gospel. Now, when you get that in your mind, that your goal is not just keeping the church kids out of trouble, which just as a side note, a whole lot of churches, though they will not say it, that's actually what they want for the youth minister. They want you to do things to keep their kids from embarrassing them. That's what they want.
Dr. Smith:
Which is also why they don't want them around certain other kids.
Dr. Jones:
That's exactly it. That's one of the struggles that we face in this. But if we begin to realize that our goal is the gospel, then we recognize that we have to be training our kids in the congregation to be evangelists to those that are coming from outside, that they are to be evangelists, they are to be disciple makers. If we're not doing that, then we have the whole thing headed in the wrong direction, and so, bring that back around to our initial question. Here's what's happening in that, the reason we end up with two separate ministries is because we have two separate goals for them.
Dr. Jones:
Because we have for the church kids, be better. That's our goal. We may not say it, but that's the goal. And we have for those outside the church get saved. That becomes the goal. The problem is, with that is that, by going to different goals, we're going to have two different ministries and neither one of them healthy. Now, what we need to do instead is to have the same goal, one goal for both, and that is conformity to Christ by means of the gospel for both. Conformity to Christ by means of the gospel for those that have never heard is them receiving Christ, then following through in faithful obedience and service to Christ.
Dr. Jones:
For those that have already professed Christ, it is that you are a minister too. You are a disciple maker of students around. You have a responsibility for them as a disciple maker, and we have to get that so that, that unifies the goal so that yes, they may be coming from different places and starting at different places in terms of the life of the church, but you have the same goal for both of them. Now, I'll take one step beyond that. Here's one of the things I think it's important for every church to do, especially mid-sized and larger churches, though I think the smaller churches can do it in a slightly different way.
Dr. Jones:
One of the things I did in one church that I served was we developed what we call the families and faith program. That is to say there were certain families, sometimes it was a couple, sometimes it was a couple of older adults, a husband and wife. Sometimes it was a family that their kids were in the youth group. There were a variety of different ones, but they were called families in faith, FIS. Families in faith. For every student that was regularly coming, that their parents didn't come to church, then they would be assigned to a family in faith.
Dr. Jones:
That family in faith was just supposed to be that kid's family at church. So, when that kid walked in, and they said, come sit with us. When there's a church dinner, come sit with us. That was what they were to be, is just to be the family at church. It's important to have that specificity, is that you, this family, you're responsible for these two kids or these three kids. Those are the ones you're responsible for. You're to be watching out for them when they walk in the door. We developed that, we cultivated that for years and it was something that welcomed students in and retained them. But it also then, in the long-term, provided an opportunity to, I think too few churches are taking, and it's this.
Dr. Jones:
They give up on the parents of the students that they're coming without their parents. They give up on them. This is one of the things, God convicted me of this years into this, is that I realized I've never seen the parents of a lot of these kids. I don't even know the parents. And the fact is when I've called them, and this is not an exaggeration, it is a real event, I've called those parents, and they were not sober enough to be able to give an answer to things. I had visited their homes and seen the evidence and smelled the evidence of drug use.
Dr. Jones:
Those would be the things that I had seen and been around, and I had written off those parents. God convicted me of that. And we began a process and a program in which we made regular contact with every single one of those parents. On a monthly basis, we called that parent and we just had two things that happen every time we called. It was, thank you for letting your child come to our church, and is there any way we can pray for you? So, we don't need to tell them you ought to be in church. They know that.
Dr. Smith:
They know that. Yes.
Dr. Jones:
We just tell them, thank you. Thank you for letting your child come to church, because there are so few things that they feel like they're doing right. There are so many people around them telling, you're doing it wrong. Those people around them telling them that they're doing it wrong are probably right. It's only that they're doing it wrong. But to tell them you're doing something right, you're letting your kid come to church and we're really thankful for that, that's powerful. Then to say, how can we pray for you now?
Dr. Jones:
90% of the time, when we made those monthly calls to those parents, we got an answering machine, and that was it. We just left that as a message, but here's what I guarantee, and I saw it happen. That parent hits a time of crisis when they're ready to cry out to God, and they're clicking back through to find that phone number of the person who called them on a monthly basis and said, thank you for letting your kid come to church, and how can we pray for you? They're going back for that one. I've seen that happen. On multiple occasions, I've seen that happen over and over.
Dr. Jones:
My encouragement to churches as well who are faced with that dynamic, that split between the kids who are in the church and the kids who aren't, and that split ministry, it's not complete even when you … I mean, you can care for those kids, get a unified discipleship vision, like I said. You can take that next step in your families in faith, but you got to take that one last step, and take advantage of your opportunity to proclaim the gospel, the parents that may never hear the gospel, that yes, they may reject the gospel, but so did you at one point, but God changed you. If God could change you, he can change them. Reach out to those parents.
Dr. Jones:
For us, it was just a monthly call to every single one of them. Most of the time never got an answer, but then when the time came, they called back.
Dr. Smith:
Amen. Amen. I have places I've lived, certainly Louisville, Kentucky. I've been involved in the motorcycle community ride at Harley-Davidson. As you say, you sow a lot of seeds, and sometimes you don't think there's a lot of fruit, but it never fails when the realities of life bump up against a person. They remember that Reverend dude that rides a motorcycle, that reached out to them, and so praise the Lord for that. I'm trying to just pepper in some questions that I often get from pastors. You've worked with students in congregational life, but also, even up to the highest level of the [inaudible 00:28:47] and the PhD, you supervise doctor students.
Dr. Smith:
So, you understand learning and thinking and intelligence. Often, pastors are hesitant, some even nervous about sharing content with students, even high school, but I just want to even start with middle school. Our colleague there at Southern, Dr. Gregg Allison, he's written something a while back called 50 Core Truths of the Christian Faith. Then there's other kind of basic theology books by people like Wayne Grudem and others, just summarizing a central truths. What has been your experience about the ability of students, and we'll just hone in on middle school, to learn biblical doctrine?
Dr. Jones:
My answer is, in some, start basic, but don't stop basic, and that's just as simple as that. Start basic, but don't stop basic. Here's the problem. We usually do one or the other. Either we go too deep too quickly, or we don't go deep enough, and we need to start really, really basic, but don't stop basic. What I find with middle schoolers in particular, they are insatiably curious. They're really, really curious about different things that you're talking about and so on like that. With middle-schoolers, the first thing I think is really important to do is to try to gather their questions.
Dr. Jones:
You need to do a baseline for where they're at and find out their questions. Most middle schoolers, for example, are thinking about the problem of evil at some level. They may not say it that way, but they're thinking about the problem of evil. They're thinking about, how did God begin? They're thinking about the age of the earth and creation and evolution. There are certain things that are recurrent themes with middle-schoolers as I've worked with them, that they are already thinking about. But gather the questions from your middle schoolers, because they are willing to go deeper than you ever thought.
Dr. Jones:
So, start basic, but don't stop basic. Go deep with them. Take some of those questions and start at a very, very basic level so that they understand, then work them to something really deep. Go as far as they can. And just try to push them as far as you can for them to understand this. So, my youngest daughter's middle schooler. She recently was interested … We started talking about, and she got the concept. I was surprised she got this. I didn't get this concept until I was getting a master's degree, about of necessary and contingent beings.
Dr. Jones:
This is a philosophical concept that it's not an easy concept, but she got it. She got necessary and contingent beings. And she got that concept. We talked about some different things to do with that. She actually got this concept. She's a middle-schooler and got the concept. Now, I'm not saying every middle schooler is going to, but she is a normal, fairly average middle schooler and she got this concept. She absorbed this concept. She got it in her mind and she has it, as we were talking about something to do with the problem of evil. All that to say, start really basic, but don't end there.
Dr. Jones:
Find out what their questions are and take some of those questions and pursue them. We did this before COVID in our youth group, and just did that. Gathered their questions and then went through their actual questions, and we use that as our curriculum, basically built a curriculum around their questions that they'd asked, and the kids really, really enjoyed it. They had a great time and they learned a lot. I learned a lot, but they were asking some really, really good questions. But for each one of those, we started as super basic and then took them as deep as we felt like we could.
Dr. Jones:
Again, that youth group I serve right now is not a bunch of church kids. It is a mixture of a very diverse group, both socioeconomically and ethnically and racially. It's a very diverse group of students, and yet they ran with this, they got this, and they absorbed it and they enjoyed it. You can do that. You can take them deeper than you think you can, but you have to start more basic than you think you do.
Dr. Smith:
Yes. Oh, beautiful. Beautiful. Often, when I'm giving my a biography, I tell people I'm thankful to be a child of the historic black church or one of the churches in the historic black denominations, because there was a non-academic but very real wrestling with the Odyssey and the problem of evil. Then later, to begin to study those things at a, I'll use your language, at a deeper level, I realized I was getting the basics of that throughout my life in VBS, in Sunday school, and all those other kinds of things, and those matters were addressed. Again, I was of the generation where we were just kind of more broadly together in the midst of the congregation anyway.
Dr. Smith:
As a kid, it's one of the 20 things you're paying attention to, but it is one of the 20 things that you're listening to, doing service to make sure your grand-mama has a little snack for you to eat while you're in church. It's amazing substantial concepts of biblical truth that children think about, ponder, and can grasp. Let me ask you a question here, and this is a little overlap between students and apologetics. The churches that I've served, I've always told Sunday school teachers, youth that we're in the home scratch in 11th grade and 12th grade, and I get a little bit level of desperation in 11th grade and 12th grade.
Dr. Smith:
Now you just say, I want our graduates to be able to one, understand the nature of Scripture, and from the understanding of belief about the nature, authority, sufficiency, truthfulness of Scripture, to be able to understand the exclusivity of God in the Old Testament, then the exclusivity of Christ in the New Testament. Then secondly, the Trinitarian nature of God. I'm just wondering, as an apologist thinking about a 12th grader leaving your congregation, going off to a university 500 miles away, disconnecting from the regular flow of congregational life, what other three, four, five things might you say, hey, make sure a high school student leaves your congregation with this.
Dr. Smith:
My three were always the nature of Scripture, the exclusivity of God in Christ, and the Trinitarian nature of God. What would you add to that list?
Dr. Jones:
I would add to that something we've kind of already hinted at, and that is the problem of evil. I think that's a huge one right there. The other one I would say is, and this really, to me, is woven in with Scripture itself, but also specifically the resurrection of Jesus. The other thing that I see that I think again, this is woven in with that is the canon of Scripture. Those are looking at the things that get challenged in that first year or two of college. Those are the ones that get challenged, not so much the resurrection. There's some of that depending on what class they take and everything like that, but especially the problem of evil and the canonization of Scripture.
Dr. Jones:
How did Scripture become Scripture? Those two questions I think are really huge. A couple of three years ago, two of my doctoral students did a study of students coming out of college. As they studied these students coming out of college, what they were asking them was, what were the questions that you couldn't answer in college about your faith? All of them were students who professed Christ coming into college, and now here's the sad, scary and frightening thing, about 20% of those are private colleges and almost 40% of those are public colleges, universities, they professed Christ at the beginning and they did not at the end.
Dr. Jones:
That's a pretty massive declension right there that we see. The number one thing they said was, and this was primarily among those who walked away from the faith said, I had no answer for the problem of evil. I had no answer. Which was heartbreaking to me, because of the fact Christianity actually has really good answers to this question. It's not something that we don't have answers for, and many of them had the impression that nobody in all the history of Christianity had ever answered this question. It's like, you know what? A lot of people have answered this, and answered it well. In fact, you've got somebody like Alvin Plantinga, all the way back in the 1970s in his book, God, freedom, and evil, answered it in a way that even secular philosophers recognize. Answered the problem.
Dr. Jones:
This isn't even just a Christian only thing, and yet they believed that, they thought that there was no answer to this. They thought it was a dilemma that nobody had ever answered. Those are the ones I would say. But I think the ones you said are excellent because of the fact that they especially guard our students against heresy, the Trinitarian nature of God, the exclusivity, and the authority of Scripture guard them against heretical teachings as well, which are really important for them. And against that corrosion that comes from skepticism and secularity, I would add canon of Scripture, the resurrection Jesus, problem with evil.
Dr. Smith:
Wow. Listening to you give that response, it gives me a greater appreciation for what I mentioned earlier, just kind of the setting in which I've found myself as a child, I guess in light of the history of our country. The Odyssey is just kind of baked into the rhythm of a historic black church. So, you don't even think of it as a specialized theological category. It's just part of reality. So, I'm tremendously thankful for that. I'm wondering, evangelistically or apologetically, when I'm talking to younger or older people, people are tremendously uncomfortable in not knowing the answer to a question. We used to go out on Bardstown Road with cameras in the highlands, which is a very cosmopolitan area of Louisville.
Dr. Smith:
You can have all kinds of conversations with all kinds of people. Unless one is an encyclopedia, there are things that come up all the time that you just don't know. If someone is seeking to be a faithful witness for Christ, seeking to be a layman apologists in this world, what would you say to them if they are hyper defensive about not knowing the answer to something?
Dr. Jones:
One of the things I like to remind people of, because in our culture, we've lost this common sense notion right here. It is that, not knowing the answer doesn't equal losing the debate. We live in a culture in which people, even if they're not completely true, just the social media, the instant response culture that people have the notion that not to know the answer or not to have an answer equals losing the debate, which is silly, illogical, irrational, and yet almost universal in our country right now.
Dr. Jones:
Not only that, that step beyond it, that I can come up with any, what about this? That you can't answer, therefore you've lost. That's the attitude, and that's the real one that I see in engaging with people is this attitude of, if only I say one what if, one what about that you can't answer, then therefore you've lost, I've won in terms of this skepticism. We've got to recognize that's not rational, it's not reasonable. It's actually, historically, it's an anomaly. It's a weird historical thing people two or three centuries ago would have never thought of reasoning that way, in any way, shape, or form. It's an effect of all sorts of media in our culture, all those things like that. But it's very real and we feel it. One of the things to help us as Christians is to recognize that feeling and not to let it control you.
Dr. Jones:
You don't feel like you have lost this person if somehow they come up with one, what about, that you can't answer. That said, that's a foundational recognition of recognizing simply our cultural moment and the effect of media on us, things like that. Let's take two steps beyond that. There's two things I think are really crucial to know. Number one is, it's okay to say, I don't know, let's explore this together. That's okay. That's okay to do that. Be ready to say, I'm not 100% sure, but let's explore this together. If you get it wrong, say you got it wrong. That's as simple as that. And it's hard to do, especially if you're a professor.
Dr. Jones:
Just today, I'd said about an article, a student sent me back, said, "Well, this article actually says this," and I realized I had it wrong. That's hard to do. It's a pride issue of emailing that student back and say, you know what? I emailed back and said, "Thank you. I misremembered that. I was thinking of a different article. I got that wrong." And just letting them know that. It's okay to say I got it wrong, it's okay to say, I'm not sure let's look at this together. That is okay. It's better to be a person of truth and to say that, than to be a person of falsehood and try to cover it up. That's number one.
Dr. Jones:
Here's the second thing though, and these two go hand in hand. Never forget that it's not your argument that ultimately convinces them. It's not your argument that ultimately convinces them. Ultimately, what convinces somebody of the truth of Jesus is the work of the Holy Spirit in their lives. Now, does God work through the means of your proclamation? Does God work through the means of you giving answers and reason? Yes, yes, yes, yes, yes. Praise God. He does. He works through that as a means. But just know it's not a lack of evidence alone that causes somebody not to believe. It is the fact that their hearts are dead to the things of God, and the spirit of God must work in them to enliven them to that such that they see the beauty and the glory of Jesus and run to him.
Dr. Jones:
If we recognize that, it takes some of the pressure off of feeling like I have to answer everything, because praise God, I'm not the ultimate answer. I'm not the answer. The answer is in God. The answer is through the work of his spirit, the answer is in his son. The answer doesn't have to be in me, and that lets me operate with humility and honesty and say, I don't know. I don't have an answer for that, but let's talk about it later. Let's think about it together. Well, let's figure out this together. It's okay to say that. And it's okay to recognize that if somebody just walks off in a huff, because you didn't have an answer to there, what about, you pray for them, you love them, you try to make contact with them again.
Dr. Jones:
But ultimately, there's a work that God's spirit has to do that is not within your power, and so you trust and you rest in the God who has the power that you don't.
Dr. Smith:
Amen. Amen. Because ultimately, we must have the moving of God's power versus suppressing the truth in unrighteousness. And Hosea's saying, my people are destroyed for a lack of knowledge, might better be acknowledgment. It's not a lack of content. It's a failure to acknowledge the content of the truth of God's word. So, yes, we must pray that the Spirit would move even as we are speaking forth truth and trying to share the word of God and share the good news of Christ. One thing I thought about as you were describing that, hey, I don't know the answer. Let's look at this together.
Dr. Smith:
That pushes the Christian into more of a gospel or relational posture rather than in just kind of a decision, debate, make a decision kind of posture. I find sometimes, I think in evangelism, and you would know better than me, I think maybe in apologetics, sometimes certain Christians can have an impatience about the whole process. I mean, Jesus talks about sowing seeds. He talks about different soils responding differently. I find sometimes some Christians can have just an impatience about the whole dynamic of what it means to be a witness for the Lord, Jesus Christ.
Dr. Jones:
I think 1 Peter three in this, where it speaks about apologetics, that it has two words there that I think are so crucial in 1 Peter three, and it is meekness and fear. Those words are so important, meekness and fear. We are to do apologetics in meekness and fear. That word meekness has to do with the way we respond horizontally. That's the horizontal part. Humility, meekness, the word there [foreign language 00:45:29] has to do with power under control for the sake of a greater goal. That's what that word means. Power under control for the sake of a greater goal. In other words, we are to hold back and be gentle in our horizontal relationship.
Dr. Jones:
Then it says meekness and fear. The fear is the vertical part about how we do this in the fear of God. Now, apologetics ought to be done in gentleness and fear. In gentleness humility toward the people around us, and then the fear of God. I see a lot of apologetics that isn't done with a lot of meekness and fear, and that's not glorifying to God if it's not done with meekness and with fear. Both of those are crucial and essential biblically, not just rhetorically, not just societaly, but biblically. Those are essential to apologetics.
Dr. Smith:
Amen. Dr. Jones, you have been so generous with your time, and I don't want to do a commercial, but I kind of want to do a commercial. You have a audio series on the nature of Scripture, how we got the Bible. You have an audio series on church history, and I think you designed these series that they would be useful in congregational small groups, in Sunday school classes, other things like that. What do you see is the teaching role of local congregations? I don't find that all pastors have thought that through. What do you see is the teaching role of local congregations?
Dr. Jones:
Well, at a large level, something that my students hear over and over from me is I don't want apologetics to be about a conference stage. I want it to be primarily about a local church. Honestly, I do some conference events and things like that, but what I focus most of my time on, if you look at my calendar when I was traveling and when I'm looking toward traveling again and speaking in places, I prioritize, above everything else, teaching people and training people in local churches to do apologetics. I think one of the great errors there has been, over the past few decades, there's been a wonderful surge of apologetics resources.
Dr. Jones:
I'm thankful for that, but the downside of that has been people have relegated apologetics to an event, to a debate, to a conference stage, instead of weaving it into the life of the local church. What I want to see is a resurgence of local churches that are engaging in apologetics. To your question specifically, what's the role of the local church? What I want the role of the local church to be is that that is our apologetics training center, and that every pastor is, at some level, an apologist and a trainer in apologetics. What I really encourage students to do at a basic level, I tell them, you know what? You can't become an expert in everything and that's okay, but find one thing in apologetics you can really become an expert in and really get where you do that well, and be able to train your people to do that really well in your local church. Train them in one thing that they can do really well.
Dr. Jones:
If that's how to defend the resurrection, praise God, you do that. If that is to look at the design of the world and to see that there must be the type of God that we see in Scripture, you do that. Whatever it may be, choose something and become an expert in that and train people in your local church for that. Because the local church has kind of abandoned the feel to the para church in terms of apologetics, and that shouldn't be the case. It should be that the local church is a central hub of apologetics training. I would far rather be an unknown servant teaching people about apologetics in a local church than some sort of a star on a conference stage that travels around and everybody sees you as the apologist.
Dr. Jones:
I just think it pleases God far more somebody serving faithfully in a local church and equipping those people there how to do apologetics, that's far more pleasing to God, than being a apologetics star on the stage anywhere.
Dr. Smith:
Amen. Amen. I was looking at my list, and I just cannot ask this one last question. So, in good black preacher form, give me two closes. We spoke of Scripture, we spoke of the family and how some of those dynamics have broken down in our society. If you examine the Scripture and you interact with middle school and high schoolers, one of your questions is, what are we discipling for? And in the context of what we're discipling for, godliness and desire to honor God and how we approach life, in your biblical thinking, in your experience as a pastor, when does a boy become a man? When does old girl become a woman? Marriage statistics say that marriage is drifting further and further back. My daughter got married at 23 and many of her peers, it's like, well, what are you doing?
Dr. Smith:
How do you disciple and pastor young people thinking about what we might call the markers of life that are kind of laid out in Scripture?
Dr. Jones:
That's a great question. I think we have to take one step back from that because I think we have to disciple the parents before we could disciple the students in that, and that's what I found that I had to do because the false messages, here's what I found as a youth minister, the false messages that the students were getting about this actually weren't coming from the culture. They were coming from their parents. Some of these were godly, Jesus loving, Bible believing parents, and they were giving their students all sorts of false messages about what to do and how to be … And all these things like this. Here's, at a very blunt level, one of the core truths that I saw in this, is these parents saw financial hardship as something worse than fornication.
Dr. Smith:
Yes.
Dr. Jones:
They would rather have their child engage in fornication than to face financial hardship. So, I had to take a step back to the parents and work through with the parents some of these values with the parents first, so that I could get to the kids. Because I couldn't counteract what the parents were saying. That's what I realized. I was telling the kids one thing and the parents were giving them something else. And you know who won in that? The influence of the parents, ultimately, especially when the parents were tacitly giving them green lights that I wasn't.
Dr. Smith:
If you get married, I'll stop paying your college tuition.
Dr. Jones:
Exactly. Those types of attitudes, that's exactly the type of things. Here's what I ended up doing with parents, and that is actually doing some classes, seminars working through with them. I had each parent develop a customized plan with certain markers for what does it mean to be an adult? Because I really do think that differs from family to family, that's going to be slightly different, and that's okay. But there's some things such as faithfulness to Scripture, things like that, and the good of marriage, even as we affirm the goodness of singlehood, also we affirm the good of marriage, there are certain things that biblically have to be in place, but there's also some things that can change from family to family.
Dr. Jones:
But there are certain things like financial independence, address independence. That is to say you live somewhere other than where your parents live. So, address independence and financial independence, things like that are going to be part of that, but to help them work through, what does it mean to be a grownup? But I found that I couldn't even get to that question until we resolved some of the things with the parents that are a much deeper level that had to do with, that honestly, parents viewed financial hardship as the worst thing their child could face, and help them understand very bluntly, facing hell fire is far worse than financial difficulties they may have.
Dr. Jones:
Financial challenges they may have because they got married now is far worse than the fact that they are turning their back on God's plan with your blessing, and that they are by that demonstrating that they are not living with a regenerate heart. That's far worse. Let's be really, really blunt about that with them. Now, I'm not saying … I probably was that blunt at times. I probably don't lead with that. Get to that after a little while into the conversation with the parents. Be pastoral in that, but that's, at a base level, that a lot of the parents, they really saw financial hardship as the worst thing when that's far from the worst of things.
Dr. Smith:
That is so funny. I mean, at a church plant, at a medium size church in Louisville, then at a large church in Louisville, I've always found myself saying to the congregation and to parents, there's no advantage to being single and broke versus being married and broke. What is the advantage to being single and broke versus married and broke? I think you hit the nail on the head. The materialism and some of the things of our culture have too much influence how we think about the dynamics of marking life and progressing in life in certain ways. Well, oh my goodness. Dr. Timothy Paul Jones, professor of family ministry and apologetics at the Southern Baptist Theological Seminary, you have been a blessing to us here on Peculiar People.
Dr. Smith:
I certainly count you among the peculiar people, one who is seeking to show forth the praises of him who has brought us from darkness into the marvelous light, and so we praise the Lord for your ministry there. We will continue to pray for your ministry and the local church and there at the seminary as you equip men and women to serve the Lord, Jesus Christ. Thank you so much for being with us today.
Dr. Jones:
It's been great to be with you today. Good to see you again. 
Dr. Smith:
God bless you,