#32: Divinely Designed with God's Purpose in Mind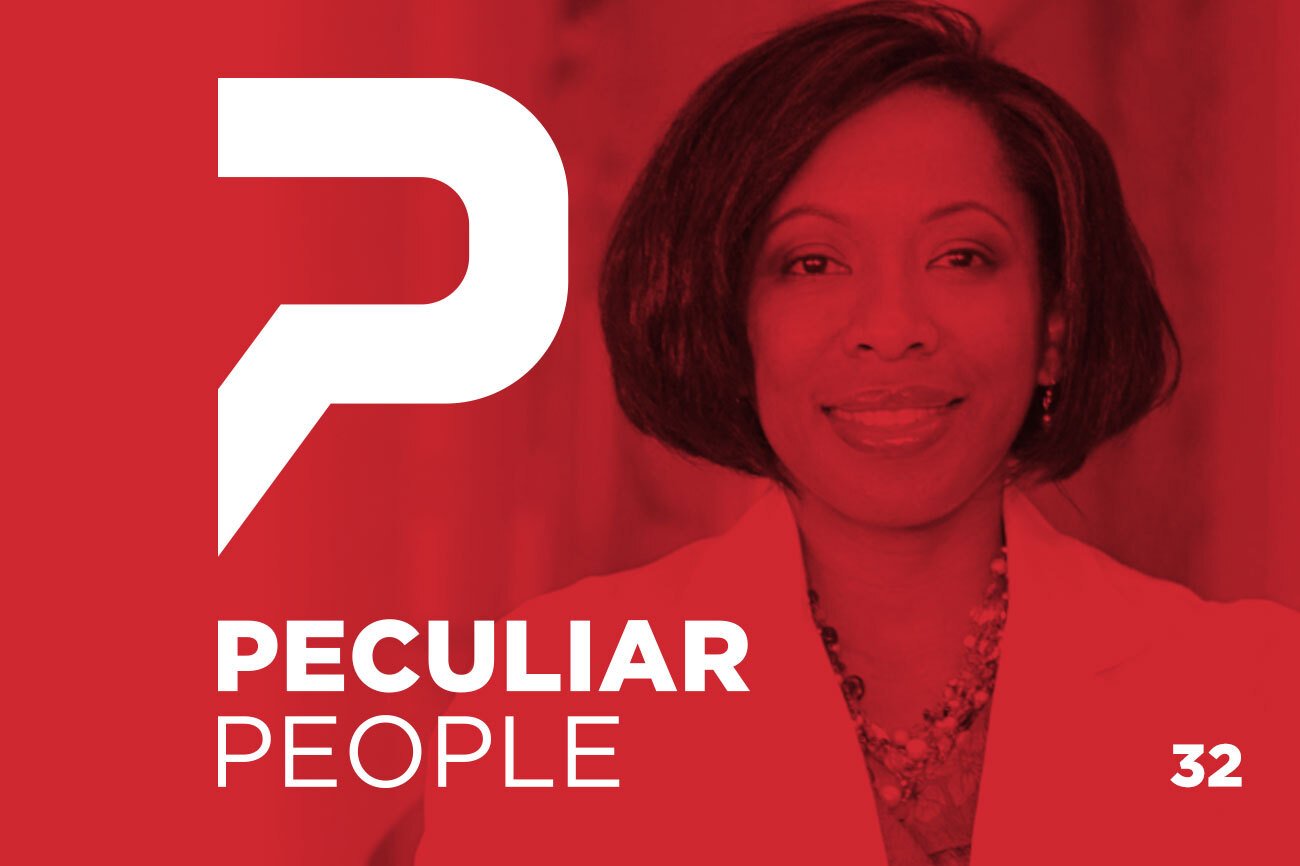 Recently, our Associate Executive Director Tom Stolle was able to sit down with author and board-certified psychiatrist Dr. Bergina Isbell. Listen as Tom and Dr. Isbell discuss ministry to individuals and families affected by disabilities.
Transcript
Tom Stolle:
For those of you out there listening to this podcast, my name is Tom Stolle, I serve as the Associate Executive Director of the Baptist Convention of Maryland to Delaware. I'm blessed to serve Maryland and Delaware Baptist and churches in this region. I'm also blessed to be able to serve as the Executive Director of the Banquet Network. The Banquet Network exists to inspire, equip, and resource churches to serve and reach individuals and families affected by disabilities. And on this podcast today, I'm here with my dear friend, Dr. Bergina Isbell, doctor, would you mind introducing yourself and just telling us a little bit about you and what you do?
Dr. Isbell:
Absolutely. So I am a board certified psychiatrist. I am a speaker and author, and as of today, a podcast host as well of the Hope Infusion. I usually like to either start with, or follow up with the fact that out of all the things that I've accomplished, the one that I think is the most important which really isn't of me, is that I'm God's baby girl.
Tom Stolle:
That's wonderful. I know that in my life, God gave us three boys, the youngest boy that we have is now 19, his name is Jimmy. Jimmy has severe autism, and that has manifested itself in a number of ways in his life. And there's been some very painful experiences, but God has used Jimmy to teach my wife, Shelly and I more about love than anyone that's ever been involved in our lives. And so we're really, really thankful for Jimmy, but having Jimmy has opened up our eyes to a lot of things, and has given us a burden for individuals and families affected by disabilities, and has really, really allowed us to enter into a wonderful ministry to help and serve churches reach these very special individuals in their families.
Tom Stolle:
Dr. Bergina, our connection came together, our personal connection was a result of our connection through disability ministry. I'm glad to be your friend, and certainly thankful for you and your husband, Amir, and what you do for the community of individuals and families affected by disability. Dr. Bergina, you and I had an opportunity to go to Puerto Rico on a mission trip a little over a year ago, and serve in a night to shine event. That was just a wonderful experience. Can you share your reflections on that before we get into some other questions?
Dr. Isbell:
It was a beautiful experience and I was so blessed to be able to be a part of that. Tim Tebow and the Tim Tebow Foundation of course have created the Night to Shine and they do it annually all over the country and all over the world in a variety of other places, but this was the first time that Puerto Rico had it. So it was a really a great opportunity to be a part of that event, but also part of history, because it was the first time it was being done in Puerto Rico and the opportunity to just go and serve.
Dr. Isbell:
I really can't express in words how phenomenal that was. I think I got an extra blessing because I remember there was one young man that was there, his mom had brought him. He looked exactly like my son. So it was so interesting, from his mannerisms to just the expressions on his face his reticence. He just reminded me so much of my son. And I just got to see, it was kind of like looking at a mirror, but not. Kind of how the Bible says, we look at certain things and face to face, but when we walk away, sometimes it almost feels like we've forgotten what we look like.
Dr. Isbell:
It was literally that same experience because the mom, I could just see myself in her and the way that she was maneuvering with her son. How she was kind of coddling of a little bit, but then at the same time, trying to step back and allow him to experience the opportunity. I was really shocked as well, because I just assumed, because this is kind of like a special needs prom that the folks that were going to be there were all school age kids. That was what I anticipated. But I was just so struck by the fact that there were adults. There were literally kids "of all ages", right?
Dr. Isbell:
There were folks who had never been to anything like that. And folks just came spruced up. It was interesting because this was not too long after one of the hurricanes had just devastated the island. So we were seeing folks who had literally just gone through this devastating experience. And I think we were told that, we might see folks there who were not really able to afford nicer clothing. And so we kind of dress down a little bit initially, but when we got there, these folks, they were spiffed out. They were in all of their finery.
Dr. Isbell:
And to know that these were folks that had never had an experience like this, I think one of the families was basically saying, "We didn't care where we were going to have to go to get clothes or where we were going to have to go, to get jewelry and to get made up. We would have traveled miles and miles and miles." And there were people who had traveled literally from the other side of the island, just to be a part of this event. So it was just really special.
Tom Stolle:
It was special. I love the Tim Tebow Night to Shine events. One of the things that it does for these affected families is it gives them a night, not just of respite, but a night of celebration. Where these families can come together and be celebrated in an amazing, special way and just be told over and over again, that they're designed for a purpose and that God loves them and that we love them. And it's just an incredible thing. It's a great break and a good segue into our discussion about the difficulties of life for families that have children that are affected by disabilities and the trauma and the isolation that can occur.
Tom Stolle:
So I'd like to ask you some questions regarding that if I could. The first question I'd like to ask you is, how are children affected by intellectual and developmental disabilities impacted by bullying?
Dr. Isbell:
Yeah, it's really difficult. As we can imagine with any kind of trauma if you're neuro-typical, there is no trauma center of the brain, right? There's a visual center, there's an executive functioning center for controlling impulses. There is a hearing center, there's a vision center, but there is no trauma center. So what we do is our brain basically takes things that we already know and recognize, and we add novel experiences and we try to compartmentalize them and put them in places that kind of makes sense and fit.
Dr. Isbell:
So for the neuro-typical person, when they're getting bullied or they're experiencing trauma, they don't really have a great place to put that. But if they've already had some wonderful resilience factors, like someone telling them that they are loved, that they are accepted, that they are worthy of attention, then they have a place to create that bullying and they can kind of spin that off. They can kind of put that in its place. I'm not saying that it's not difficult for them, but particularly if they've got those resilience factors, it does make it a little easier.
Dr. Isbell:
With the kids with special needs, it can be really frightening for them because again, you're compounding the fact that they don't really have a place for that trauma, along with the fact that they have a different wiring system from kids with autism, to kids with ADHD or down syndrome, they have a completely different wiring for their brain. So it's even more difficult for them to understand what bullying is. Some of our kids don't even recognize that they have been bullied, right? That someone's making fun of them or that someone's taking advantage of them. They don't understand that.
Dr. Isbell:
So it's up to us as parents and caregivers to frame it for them and also to step in and be a form of protection. So bullying can be incredibly confusing for our kids. And again, if they have an outside source, someone who literally is just kind of standing in the gap for them, that can ameliorate the effects for our kids.
Tom Stolle:
Does this trauma that comes from bullying have acute lasting effects for these very special children?
Dr. Isbell:
It can. It can have both acute effects and long-term effects. again. Actually, when we think about PTSD, Post Traumatic Stress Disorder, it falls into two categories. It's either acute post-traumatic stress disorder, or it's chronic PTSD. Acute is basically the first 30 days. So we like to intervene within those first 30 days, which is one of the reasons that I like to make sure that parents are educating, caregivers are educated to understand signs when a child has been traumatized or been bullied, because if we can get to them in those first 30 days, we can kind of protect the brain.
Dr. Isbell:
If it's beyond 30 days, it does become chronic, and it is a little bit more difficult for us to address. So the story is told of, I did an interview of a mom a few years ago, who happened to also become a BCBA just so that she could provide for her son. She started noticing some significant warning signs and thank God it was within those first 30 days. She noticed that he was more withdrawn. She also noticed that he used to love playing the piano and he stopped playing the piano. He used to enjoy going to school, loved getting on the bus and riding the school. And after a period of time was giving her the business like we know of getting on the bus to go to school, did not want to get on the bus, not want to go to school.
Dr. Isbell:
She kept saying to the school authorities, "Something is going on." The authorities did what they could, but basically kind of poo-pooed mom. I'm so glad that she said, "No, something's going on with my son." And basically found out that one of the aides, it was a new aide who was kind of filling in, a paraeducator who was filling in, he actually had been abusing her son. He was taking him in the bathroom and they caught it because one smart teacher noticed that he's typical bathroom breaks would last five, 10 minutes. And these breaks would go on for 30 minutes, an hour 90 minutes.
Dr. Isbell:
The teacher said, "Something's going on. This kid should not be spending as much time in the bathroom." It turns out that the, again, the aid was taking him to the bathroom and physically abusing him. But the mom picked it up on those warning signs. So usually I will tell parents and caregivers when you see behavior that just does not make sense, it is totally out of the norm, one of my mantras is that behavior speaks, are you listening? You need to make sure that you are listening to the behavior of our kids.
Dr. Isbell:
Some of them are non-verbal and they can't tell you, "Mommy, somebody is hurting me." But their behavior is going to tell you. On my refrigerator right now, it says, "When Amir is acting out, check to make sure whether or not he's in pain." And I'm going to add to that hungry, because we recognize that when his behavior gets different than what it normally is, it could be that there's pain. We know our kids struggle with dental issues more often than not, a tooth is coming in or there's something going on and he can't express it to us. Or the other thing is, he hasn't had a meal. He's kind of on a schedule every three hours, we try to give him something. But if that three hours comes and goes, and he's not able to express to us that he's hungry or that he wants to eat, sometimes we'll see behaviors.
Dr. Isbell:
And that's the best way that we know that our kids are either having an off day, because of their schedule or having a tough time because they're experiencing some trauma.
Tom Stolle:
Yeah. I know with my son, Jimmy, dental pain has played a factor in behaviors. I also know that when he's hungry and he can't tell us that he needs to eat, that sometimes will manifest itself as well in behavior. So that is very interesting and sounds like it's very common. I'd like to ask you also, talking about trauma related to this from a broader family aspect, how are families with children affected by intellectual and developmental disabilities affected by trauma? How does that get to brothers and sisters and moms and dads?
Dr. Isbell:
Yeah, so of course, we call it the index and individual when we're doing research, but of course the person that's affected, the directly affected by the special need can be traumatized themselves. Right? Ostracized, isolated again, the physical abuse. Our kids are unfortunately more likely to have a history of abuse and trauma. But we sometimes will forget about the fact that parents can also be abused and kids. Now, this is beyond when I say abuse, I'm specifically talking about traumatic experiences.
Dr. Isbell:
So definitely our parents can, can experience periods of isolation and loneliness and despair. That kind of comes with the territory. We can have some hope and get beyond that, but it is a part of the tear point. When I'm talking about abuse, I'm specifically talking about traumatic events, things that someone outside would look at and say, "This is abusive." Emotional abuse, physical abuse, sexual abuse, or some other type of trauma or assault.
Dr. Isbell:
Our parents and our siblings of folks who have a history of special needs, they are more likely to experience trauma. Unfortunately, parents, as you know, and as I've experienced, as we've experienced, our kids can become aggressive, right? If we don't pick up on those cues, if we're not 100% sure about why they're acting out, it can escalate and it can go south really quickly. Our kids can start biting, they can start hitting, they can start punching, they can start kicking. We as parents, we're usually the first line of defense. Our kids are more likely to act out with us because they feel more comfortable with us. And because they kind of expect that we should be picking up on their cues.
Dr. Isbell:
So we sometimes take the lion's share of that. Unfortunately aides and caregivers can experience that as well. And we try our best to protect them, but aides that come into the home, aides that are also in the school environment or in away from home environments, our kids sometimes will also do things with their bodies and in their behavior that's trying to get our attention, but it's also, it can be because they're frustrated and they're being aggressive and they're acting out.
Dr. Isbell:
Siblings unfortunately, can also be impacted by that physical aggression. But more often than not, what I noticed with siblings is siblings kind of get the Middle Child Syndrome, right? Because parents are putting a lot of attention, energy, resources, whether it's financial resources or time resources into the child with special needs. So the other children, the other siblings can sometimes feel a lack of attention. Kids with siblings, our siblings, are more likely to experience depression, more likely to experience anxiety more likely to be at risk for what we call adverse childhood experiences. Those are experiences that the Kaiser Association and I want to say it's care first, started looking into maybe 30 years ago and they're still collecting data on it, but our kids unfortunately do have more adverse child experiences.
Tom Stolle:
So kind of extending that out a little bit, parents like me and my wife, Shelly, and I imagine many families that have endured trauma, significant trauma in terms of the disability life, so often we feel like we have to forgo our own self care. We just feel like it's a war and we don't have time to take care of ourselves. We're fighting a war and we really need to take care of ourselves, but we're so focused on adequately caring for our kids. Especially the ones that are affected by disability.
Tom Stolle:
So I wanted to ask you, because you live in a special needs house as well, do you have any practical tips for parents like me? For parents like my wife and others, that we can prioritize our own health so that we can be more effective and be around longer, taking care of our loved ones.
Dr. Isbell:
Absolutely. So for any parent or anyone actually, I recommend having 90 minutes of self care. I know that sounds like, oh my gosh, you want me to take 90 minutes for myself? But there are two things I want you to think about. Number one, the 90 minutes doesn't have to be all at one time. It could be, but it doesn't have to be. And self-care doesn't have to be done alone. So when I get asked to speak sometimes on self-care, one of my signature talks is that self care does not have to be done alone. We often think, oh, well, you know, it has to be me pulling away from everybody and going and doing something by myself for it to be self care. That's not necessarily true in the 90 minutes.
Dr. Isbell:
So 90 minutes of self-care can be done in five minute, 10 minute or 15 minute increments. Or like I said, it could be done altogether. When I'm doing my self-care, if I decide to work out it's usually a 20 or 30 minutes. I used to be able to do hours at the gym, that doesn't happen anymore. That's just not going to happen. So I'm not even going to set myself up for that, but, I can eke out 20 or 30 minutes. Okay? And I will pop in either a video or I'll go online and look at something. Especially with COVID, there are even more opportunities than there were before, because gyms are using video conferencing to allow you to be able to utilize exercise.
Dr. Isbell:
And then, think about the industry that not to call it any particular name, but they're the two that are the big ones right now, but Peloton and Mirror. Those are things that you can do right in the home. You don't necessarily have to leave and go to a gym and places that have gym memberships are again bringing things into the home. And when I exercise, sometimes I do it alone, but I will tell you probably 75% of the times that I exercise, it's with my family. I purposely involve them. So I do strong by Zumba and my husband and I do it together. We have a newborn, as a lot of people know, we have a five month old and we will sit him in his little bouncer and we will have him watch us while we do it. If he gets a little fussy, I'll pick him up and I'll add him into my workout. He's 11 pounds now, so he makes a nice little 10 pound weight. So I can do some things with him as well.
Dr. Isbell:
We invite our son and he does a lot of the…he loves music. He loves making music. So he will join us in the exercise and he doesn't do exactly like we do, but we let him do whatever he can. So that again, that's 30 minutes right there that I've involved my family and I've gotten self-care. I'm big on tea. I'm big on infused tea. It's part of the reason that we chose the name, the Hope Infusion for the podcast. Because I love drinking tea and I love being able to infuse hope. So I will take 10 or 15 minute tea breaks.
Dr. Isbell:
Sometimes those are tea breaks are here in the home where I'm purposely steeping tea and picking out the tea that I want and just going out on the back porch or sitting at the table and having tea. Sometimes it means going and making a tea run. I might go to my local coffee shop and that might take 15 minutes for me to go and I get to get out of the house. Sometimes I take the kids with me and it's still a break and it's still self care for me, but it kills a couple of birds with one stone. I was talking to my husband about that. Why do we have to kill birds with stones? But anyway, it covers a lot of different things. Because I will make this run. I can get curbside service, I get my tea, I get to sip my tea and drink my tea. I'll have my son in the car, he loves going for rides. He loves being able to look at things.
Dr. Isbell:
We'll take a detour and go through the state park. It just so happens that we're right next to Patapsco Valley state park. So we'll drive through the park. We'll take the long way back home for the tea run. And then the infant falls asleep in the car on the car ride. So again, that's self care, but I just involved two or three members out of the family when I decided to do it. But if you keep adding up and doing that, you can easily get to 90 minutes of self care. You just have to be intentional about it. Intentionality is the key.
Tom Stolle:
My wife and I started late in the summer for self-care, riding bicycles. We would ride outside, and then during the winter, we've ridden inside on an exercise bike, and we do that an hour a day. That's just been really amazingly helpful. Maybe after Jimmy goes to bed, we have two bikes, we could ride side by side or one could ride while one is watching Jimmy, if he's awake, then the other could ride while the other is watching Jimmy while he's awake. And that's just been fantastic for us.
Tom Stolle:
Here's a little confession for me. One of the things I might try to steal away and do for small amounts of time during a week is I may fire up my PlayStation and become Spiderman. And so I play the video game, the Spiderman game, and I'll sling the webs and I'll swing through the city maybe for just 30 minutes, every three or four days. Maybe just fire it up say, "I did 30 minutes on Monday." Maybe for 30 minutes on Thursday, I'll be Spider-Man. Just little things like that to try to find a space to just take care of myself and relax and do some things for me and do some things that are fun. Just recognizing that if I'm not healthy, I can't help my son to be healthy.
Dr. Isbell:
Absolutely. Absolutely. You have to carve out that space. And we talk about creating space and creating safe spaces, but we absolutely have to do it, because you're exactly right. I saw a meme, I don't know why I see memes all the time, but I saw a meme and it was very sad when I saw it. It was from an autism community and it says, "I am an autism mom and I can never die." I think that we're tempted to think that as parents of children with special needs, because it's like, I must always be here because what if something happens to me, who's going to take care of my child or young adult with special needs?
Dr. Isbell:
There's definitely a place for good financial planning and there's a place for able accounts and special needs trusts, and all those wonderful things. I'm not saying that we don't prepare and do that, but I'm also saying that we need to make sure that we are doing what we need to do while we are yet alive and not make it a oh, well, I have to live forever for my child, but make it a, well, you know what? I am living this life. I need to make sure that… John 10:10 says that, "He came so that we would have life and life more abundant." I don't think that's just for the neuro-typical people. I think that we have the gift of life and God wants us to live and live a life and enjoy it on this side, as well as the eternal life that we're going to have.
Tom Stolle:
Yeah, you are so correct. You are so correct. The Bible says that children are a blessing. I'm blessed to have Jimmy. I just want to make it clear, we're talking about some really hard things on this podcast. Raising Jimmy has presented significant challenges, but Jimmy is a blessing and I could not imagine my life without him. I want to make that really clear to the people that are listening. Is that I am so thankful that God has gifted Shelly and I, Jimmy. I would not trade the person I am, what God has done in my life through Jimmy for anything. It doesn't mean the moments have been easy. In fact, a lot of them have been difficult and painful, but God has used Jimmy to teach me incredible things about love. More about love that I could've ever possibly hoped to know or imagined.
Tom Stolle:
It's interesting that Jesus said to his disciples in John chapter nine verse three, when the disciples are questioning, well, why was this man born blind? Did he sin? Did his parents sin? Something bad must have happened for God to inflict this horrible life sentence on this individual? It's interesting what Jesus says. Jesus turns the tables, and he says, "It's not because of his sins or his parents' sins." Then he goes on to say to his disciples, "This happened so the power of God could be seen in him."
Tom Stolle:
I find that really interesting because I do see making this connection in my own son, the power of God in him. God has used Jimmy to teach me things that otherwise I may not embrace. That I may not hear, that I may ignore just walk by or not notice. And so, Jimmy is been amazingly influential in my life and in my wife's life. And, he is a major, major blessing. Not saying it's easy, but many things that are worthwhile are not easy, but he is a blessing. I wanted to ask you, because I mentioned Shelly, my wife Shelly and I. And you know what this is like as well. How can moms and dads, married couples, take care of their marriage under this intense pressure dynamic? How can this happen, how can marriages grow stronger in our situation?
Dr. Isbell:
Yeah, I think that self-care again, alone and together is definitely a key. I love looking at Jesus's example. Jesus was obviously radical. We look back and we think about how radical his ideas were. Love those who hate you and bless those a curse you. But he was also radical when it comes to self-care. There were so many times that the disciples went looking for him and said, "Hey, we need you to heal this other person, or these people are looking for you, where did you go?" And he was ghost. He was going up into a mountain to pray, or he sent them on ahead of them and he says, "Hey, I'll be there in a moment." He did stop and minister, but then it keeps coming back to the fact that Jesus spent time alone with his father getting reconnected, getting restored, getting the strength that he needed to do what he needed to do.
Dr. Isbell:
He was very good at saying no to the things that he needed to say no to, including healing people. So there were times that Jesus said no to good things to do the God thing. Right? and I think we have to do that as well in our relationships. We need separately to be able to go to spend time with the father to get replenished and restored, but also together. I think that having periods of time of respite, I love what you mentioned when you said about the bicycle, where sometimes one of you is watching Jimmy while the others is getting self care. So you're spending that time maybe alone. But then I love even more when you said, when Jimmy's asleep, the two of you will sit there and side by side on the bike.
Dr. Isbell:
And I know that there are times that couples will have devotions together or will go and spend time away together. I mentioned, when we were offline, I think that my husband and I for one of our anniversaries, we went on a cruise to Mexico and we were gone for seven days. And it was like the longest seven days for us. Because it was the first time we'd been away from our son that long, but it was one of the most refreshing things to be able to take that time away. We were so grateful for our moms, my mom in law and my biological mom who step in very often to provide respite for us.
Dr. Isbell:
The other thing that I will mention is, we sometimes have to shut things out and ignore the hype. What I mean by that is that there's this myth out there that our families are more likely to deal with divorce. Depending on when you look at it, the divorce rate supposedly is about 50% even among Christian homes. But again, you have to look at the data, in God we trust all others bring data. You have to look at the data and you have to look at how it is, but in the special needs community, we actually aren't really more likely to deal with divorce. But it does depend on what you're looking at. It depends on the family size. It depends on where the child is in the pecking order. Are they the first born? Are they the last born? How many children there are.
Dr. Isbell:
For example, if you look at a snapshot of marriages, families that had more kids, it was like, that was protective. The more children there were in families that had a child with special needs, the less likely there was to be divorce. Okay? And what we think about that is because many hands make light work. The more kids there were, the more family members there were, the more folks to kind of pitch in and help out that there were, it took the stress off of the individuals. It gave more time for the individuals to either take time apart separately, or to take time together.
Dr. Isbell:
My daughter is phenomenal with both of our sons. While we're doing this podcast right now, she put one in a stroller, gave the other one a ball and took them to the park. We wouldn't have been able to do this without having her as a part of our family to help out. So the message I would definitely give to parents and other caregivers, including extended family caregivers, is that you all need time for self care. You all need time for respite, and there's nothing wrong with rotating the roles within the family to allow each person to have the opportunity and the blessing to be able to care for that family member with special needs.
Tom Stolle:
And the Bible says in Galatians 6:2, "You obey the law of Christ when you offer each other a helping hand." And so I think about that and I think about the local church, because I believe that the local church is uniquely positioned to potentially help to do some amazing things for these individuals and families. But a lot of times, the church doesn't understand how powerful they can be in this. So I wanted to ask you, how can the church be more intentional in assisting these special children and their families?
Dr. Isbell:
Well, we know we have lots of opportunities, right? We have lots of opportunities for the church and those who are a part of the body of Christ to be the hands and feet. Right? And we've got some organizations that are definitely stepping up and helping churches as a large body, but also individuals to fulfill that commandment of Christ, right? He invited all to come. I love the story of Mephibosheth, because you see a child who obviously has special needs, who was invited to the table. Who was invited by king David, which is a historical image of Christ to come and to be welcomed.
Dr. Isbell:
I think that when we, as a church are welcoming to not only the children or the adults who have special needs, but also to the families, that is huge. We're both a part of the Banquet Network, which very actively and intentionally tries to help and assist, comes alongside offers mentoring, offers counseling for churches. Not just from the physical edifice, but more importantly, the actual people, the true body of Christ, helping us to help them to make the sanctuary a more welcoming place. The physical sanctuary, our home opportunities, I actually like the fact that we're using video conferencing to have small groups in the home and to have opportunities for children's church or have opportunities for special needs ministries to reach out to those who are hurting within the body.
Tom Stolle:
I think about church and I think about the potential of church, and I think about families who could really benefit from churches that actively assist in pouring into their lives and helping them, but I know that as the parent of a child affected by disability, it's easy to disconnect. It's easy to kind of circle the wagons and say, "I just can't maintain relationship. I just can't go out and do this or that." Maybe you think they don't understand, or you just feel like you need to isolate and be alone. Do you have a perspective or thoughts on why so many of these families disconnect from other people and isolate?
Dr. Isbell:
Yeah. I think part of it is not feeling welcomed. And I think there's a little bit of guilt and shame in there as well. I've interviewed her before, but Joyce Bone is the author of the Millionaire Moms. And she basically is a millionaire mom, herself and also tells a story of other moms who are millionaires and have become entrepreneurs and been able to be financially blessed in that way. All three of her children have special needs from a variety of different ways. I think one has ADHD, one is deaf in one ear and another child has another special need. I think autism, if I'm not mistaken. She shares that even though she has a lot of financial wealth, she said there was a period of time for a year that she did not leave her home. And it was for a variety of reasons.
Dr. Isbell:
It includes those two that I just shared. One was not feeling welcome. She felt that whenever she would take her son out to family gatherings or to meetings or to church, she didn't really feel welcomed. She felt like she was being put under a microscope. And her son would sometimes act out and, and she wouldn't necessarily know how to get him to "behave". And sometimes we get, I think it's well-meaning, but unsolicited advice from other parents, both of neuro-typical kids, but also of kids on the spectrum, "Oh, why don't you do this?" Or you should do that. Or you should raise them this way. You should do this thing. That can be really frustrating for a parent, who's already doing their best to be told when they go out into the community, you're not doing it right. You're not doing it well enough. You're not good enough. And that's very frustrating as a parent. So she just kind of learned to keep her son at home.
Dr. Isbell:
The other thing it was that shame and guilt factor. Not only was it difficult sometimes to get him to be able to participate with others to do things that, again, others just take for granted that you'll be able to sit at a table, use your knife and fork and eat and not make a mess and not get things all over the place or all over your child or all over everything. That got frustrating for her. And it was difficult for her to be able to take her child out without getting looks or stares, or, and she just said, you know what? She's like, "It was just easier for me to stay home." But that was a period of intense isolation for her and for her son who wasn't able to go out and be around other people.
Dr. Isbell:
I think that that does carry over in the community, but it definitely carries over for the church. When we think about it, if you go to a restaurant and your child is making a lot of vocalizations or kind of acting out, that's one thing. Because you kind of expect that restaurants are going to be a little noisy or the mall is going to be a little noisy and yeah, maybe someone might stare or say something, but that's completely different than church, which is supposed to be quiet and reserved sometimes. If your child is loud, it's "disrupting the service". That can be very frustrating for a parent.
Dr. Isbell:
The church that we are in and you know pastor Mitch and, and I know you all are great friends, but we're at the church that we are in because they are so welcoming to our son. I remember the time that I literally just fell in love with our church is when our son was just kind of babbling in the background. I was kind of shushing him and trying to give him the iPad and some other things to distract him and pastor Mitch said from the pulpit, he said, "It's okay." He said, "He's a child. It's all right." And he just kept on preaching. He stopped the middle of his sermon to say, "It's okay. It's all right. He's a child. It's okay." He was like, "Oh, he's just praising God with the rest of us," and kept on going.
Dr. Isbell:
I just remember thinking, this is acceptance and this is love and everyone wants to be accepted and everyone wants to experience love.
Tom Stolle:
I am with you there. I know that in my church, when we joined and began to come, they would reserve seats for Shelly, I, and Jimmy. I felt weird about that at first, I don't deserve a reserved seat or anything. I didn't want people to think that we expected anything greater than anyone received, but they had reserved the seats. So Jimmy had easy access to exit the sanctuary when he needed an escape, because Jimmy couldn't sit in the service for an hour. So this allowed him to know that he was welcome, allowed us to know we were welcome, that we could sit in a certain place, that we had the freedom to exit with Jimmy when he needed to exit. They learned more and more about Jimmy, and now what Jimmy does, Jimmy receives the gospel in a very unique way.
Tom Stolle:
On Sunday mornings, Jimmy sits on an exercise ball and bounces and two or three men that have become great friends with Jimmy will talk to him and share a scriptural truce with Jimmy in a setting and in a way that he can embrace it and understand it. And to Jimmy, they're his buddies. They're his friends, even though Jimmy is non-verbal. When we walk into the church, Jimmy will drop me like a hot potato when he sees these friends because he knows that they love him and they accept him. And they speak to him in a way that he can understand and the best part of his week is going to church. I wish you could see him on Sunday mornings because he knows when he goes to church, it's good. He knows he's loved.
Tom Stolle:
And I grieve for so many families that just don't get to experience that. That just don't have the assurance or know that when they go to church, they would be loved. And so I encourage our churches to do what pastor Mitch has done for your family, or my church has done for my family. Not just accommodate, but accept. Not just accommodate, but include and to love. I just think that the church should be good at many things, but especially loving people. I mean, we should love people the way that Jesus loved. People should look at the church and say, I want to be a part of that because the way they love.
Tom Stolle:
So I wanted to just ask you a final question. And it's a pretty painful question for parents like myself and others. The journey can be difficult, can be very, very hard. We know that the Bible says that children are a blessing from the Lord. We know that they're a gift from God, but so often what happens is, we pour our lives into our children that have these very special challenges. And sometimes as parents, things don't go the way we hope they would. And we feel like we failed. We just feel like a failure.
Tom Stolle:
In spite of everything we've done and the sacrifices that we've made, we just wonder if everything's going to be okay. And did we somehow fail as a parent? What would you say to these parents that have sacrificed so much, attempting to help their child become all they can be and they live in this mental space where they think they failed?
Dr. Isbell:
I love the story of Mephibosheth, and I would turn them there. Actually what you just mentioned is how I felt for so long. There was a period of, I think it must've been about three years ago. There was a period where each day I would wake up and I would think, oh my gosh, I'm not doing this right. And I'm doing him such as a disservice and God, why in the world did you give this child to me? What were you thinking? I asked God questions because I think that's okay. I think he's big enough to handle it. My husband and I ended up writing a book, called Come To The Table. It is almost 100% based on the story of Mephibosheth and it is nothing but questions.
Dr. Isbell:
Why God? What do I do if, again, I feel like I failed, or what if I feel like it is my fault? I liken that to the nurse who is a caregiver and the mom of Mephibosheth.. So, for those who don't know this story when King Saul and Jonathan, Prince Jonathan were killed in battle, the thought was that when one king is slain or when one king has fallen and a new king arises, when king David was going to be arising to power, the thought was that the new king and this often did happen, that the new king would eliminate all of the family of the previous king so that they would have no right to the throne.
Dr. Isbell:
And so the nurse in her haste to believing this picked up Mephibosheth, which was Jonathan's son, and ran with him to try to escape. Because in her mind, the attempt was to save his life. So her thought was, I need to do whatever I can. I need to make whatever sacrifice I need to. I need to pour out whatever finances, whatever time resources that I have to get this child to give him all of the things that he needs. And unfortunately, in her haste, Mephibosheth fell. And he became lame from his childhood and he was lame for the rest of his life. When you look at that, I can imagine how heartbroken and how frustrated and what feelings of failure that nurse probably had.
Dr. Isbell:
And again, Mephibosheth's mom, we don't specifically hear about her in the word, but I can't imagine any mother who would not feel such loss. There was so much potential. We hear that a lot in the special needs community. There was so much potential from Mephibosheth, right? What if there hadn't been a fall? What if he didn't become lame? What if king Saul and Jonathan hadn't died, would Mephibosheth have been the new king? All of these what-ifs, and they can become incredibly consuming. But I love to look at the story of Mephibosheth and there are a couple of things that we can learn from it.
Dr. Isbell:
Number one, Mephibosheth eventually was invited to come to the table with king David, and the word says that he stayed in that honor position at the table of the king, all of the days of his life. He was accepted and he was loved by King David. I believe that all of our children are accepted and loved in spite of us sometimes. And in spite of some of the things that we do or don't do. The other thing is, Mephibosheth had a child and we can allude from that or extract from that, that on some level Mephibosheth became old enough and was taken care of long enough that he was able to get married and have a child of his own. He had a productive life. He was able to live again, in spite of, or because of some of the things that his mom and caregiver were able to do for him and provide for him, he was able to have a productive life and have a family and a life of his own.
Dr. Isbell:
I want us to think about those things. That, because again, even though we might feel like we failed, Mephibosheth was not a failure. Mephibosheth was a blessed young man who again, lived a productive earthly life. And then the symbolism is that he went on to live and eternal life. That term, he sat continually at the table before the king, all the days of his life. That's one of those other phrases that you see in the Psalms when King David is talking about being able to live in the kingdom of heaven all the days of his "life", not just his earthly life, but also his eternal life.
Dr. Isbell:
So I would just share those words with any mom or dad or any caregiver of a child with special needs. That again, there is a place at the table for them in the kingdom of God.
Tom Stolle:
All of us are divinely designed with God's purpose in mind, all of us. There's no ranking system. God has a plan and a purpose for all of us. And that includes individuals affected by disabilities. Makes me think about what the Psalmist writes in Psalm 139, when the Psalmist says, "For it was you who created my inward parts. You knit me together in my mother's womb. I will praise you because I have been remarkably and wonderfully made. And your works are wonderful and I know this very well."
Tom Stolle:
I want the parents of these special children to know God's works are wonderful. I want you to know that your child is divinely designed with God's purpose in mind. Your child displays the glory of God. You, in spite of the way you feel, you have not failed. God has not failed. We may not understand everything that happens in this world. We may not understand how everything fits together. You as a parent of a child with an individual affected by disability, likely would not have chosen this for your child. But the good news is, is that God can do amazing things through your child and in your life.
Tom Stolle:
I am so thankful for my son and thankful for the families that I have met in the ministry that we have through the BCM/D and the Banquet Network, that glorify God in some amazing, incredible ways through these individuals affected by disability. I have learned so much about the gospel and so much about the nature of God through individuals affected by intellectual and developmental disabilities. I am thankful that God has opened my eyes to see some of this and just learn a little bit more, just a little more about the true nature of God.
Tom Stolle:
Dr. Bergina, thank you for your time. Thank you for your friendship. I thank you for your example. I just am so thankful for how God uses you. You are such a blessing.
Dr. Isbell:
Thank you. I really appreciate that, Tom.