#27: What They Don't Teach Pastors in Seminary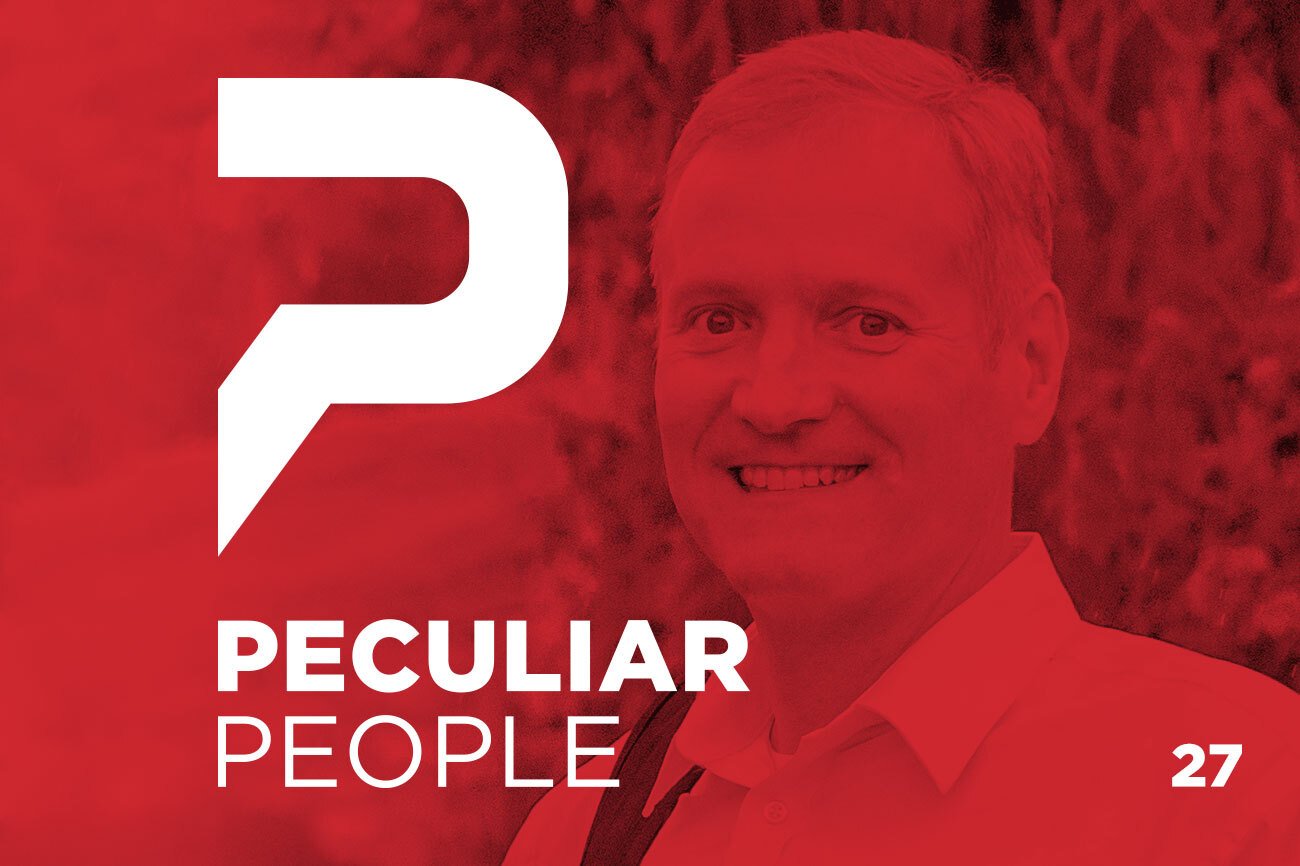 Listen in as Dr. Kevin Smith discusses the complexities of project management and strategic planning with Pastor Frank Duncan of Paramount Baptist Church in Hagerstown, MD.
Transcript
Dr. Smith:
Thank you for joining us on Peculiar People podcast where we examine what it means to be a follower of the Lord Jesus Christ in the times in which we find ourselves. In Peter, the scripture says that we are peculiar people, a chosen generation, a holy nation that we should show forth the praises of Him who brought us from darkness into the marvelous light.
Dr. Smith:
So in a variety of conversations with pastors and congregational leaders, people in our community we seek to talk about what it means to be a disciple of the Lord Jesus Christ in the days in which we find ourselves. I am really, really excited today for our guest is a Maryland, Delaware pastor. Pastor Frank Duncan of the Paramount Baptist Church in Hagerstown, Maryland.
Dr. Smith:
But also I'm very excited because he serves as the president of our mission board and the general mission board is the governing agency and fiduciary stewards of the cooperative work of the Baptist Convention of Maryland, Delaware so I certainly appreciate his service there as well and as the executive director of this state convention, I am accountable to that body. So I am thankful to be able to speak with him. Brother Frank, thank you so much for taking some time to come onto the podcast.
Pastor Duncan:
Thank you brother, I'm honored to be on today with you. It's a privilege to serve with my fellow brothers and sisters in the BCM/ D and happy to be here with you today.
Dr. Smith:
Amen. Well, I wanted to talk about some things regarding organizational management, project management but before that, as peculiar people, we always like to ask guests how did you become a follower of Jesus Christ?
Pastor Duncan:
It's a long story as it often is. I'll give you the Cliff Notes version. I didn't grow up in church. My family wasn't "churched" as you would say. There were a few times I remember my mom and dad would get religious and we would go to church for a few months but it never lasted, it was never consistent. I never saw the real fruit of a relationship with Christ in my mom and dad as I was growing up.
Pastor Duncan:
What I was blessed with was a really Godly grandmother who knew and loved the Lord and who taught me about that from a young age. I spent a lot of time with her and she told me about Jesus, and shared the gospel with me consistently. I was open to it but I think either I was too young or I never really understood but I grew up, and in my teenage years went my own way, rebelled, went the way of the world, lived the prodigal life, and came to a place at 25 years old where I'd been living in the world since I was a very young teenager, 12, 13 years old, all the stuff that goes with that.
Pastor Duncan:
And really just came under conviction about the way I was living and there had to be more to life. And it was at that point where my grandmother's testimony just kept coming back to me. And I thought about, you know, this world is a miserable place, I've tried to find satisfaction and joy in everything the world has to offer as much as I know is out there and it just doesn't. It doesn't fill the hole inside and I kept coming back to this Jesus that my grandmother told me about over and over again.
Pastor Duncan:
And my thought was if Jesus could make that kind of difference in my grandmother's life, and could make her the person she was, maybe he could do something for me and that's when I began to just call out to the Lord. I prayed the best I knew how, I reached out to some Christian friends, it was actually a guy that I partied with in high school who had gotten saved and was in church with his wife.
Pastor Duncan:
And I began going to church with them. Through a series of about six weeks of going to church and conversations with different people, the Lord just touched my heart one Sunday morning, June 14, 1992, and I'll never forget it. I remember where I was sitting, I remember what I was wearing, remember that overwhelming sense of conviction that this story I had heard became real to me.
Pastor Duncan:
That Christ had died not just for the world, he died for me. That was my sin he was hanging for, and I went forward that morning, received Christ right there at the altar, and was saved and God changed my heart radically. It was a process of  beginning and trying to learn to walk with Christ from that point but it was marvelous. It was just such a difference for me and I think every testimony's a miracle.
Pastor Duncan:
Every person who's saved from the curse of sin who's absolutely alienated from God is a miracle, but for me, just because of the change in lifestyle it was such a difference I never doubted my salvation. I've doubted my worthiness for it but I've never doubted my salvation and I've just been so grateful for it. God is good and His grace really is amazing and it changes things. It's still changing me today, so I'm very grateful for it.
Dr. Smith:
Amen. We give God praise and I want you to know you and I are in the same club of sharing our testimony and thanking the Lord for a Godly grandmother.
Pastor Duncan:
Yes.
Dr. Smith:
I did not grow up in a Christian home but my grandmothers outside of the home stretching in influence was so powerful and used by the Lord so we give God praise.
Pastor Duncan:
Amen.
Dr. Smith:
You and I were in a meeting and I heard you mention strategic planning. I heard you mention project management and those terms, ideas came up a few times in our discussions of a few things so I wanted to take some time to talk to you and flush out the discussion and some ways that might benefit pastors and congregational leaders.
Dr. Smith:
Now I've been wanting to have this discussion with you but obviously in a context of COVID-19 and all of the things that have happened in congregational life. Leadership and strategic planning and how we might try to implement some things – it only seems that that topic would even be more important in some of the challenging days in which we find ourselves.
Dr. Smith:
So I guess first I'd like to just ask you how you got into considering these matters? Was it work-related or education-related and I'm asking you, in the context of project management and strategic planning, it is often one of those things when I talk to pastors and I'm consulting with pastors, that even if they've been pastoring for a while it falls in that category often of what they did not teach you in seminary.
Dr. Smith:
And not because they didn't want to, obviously an M.Div. can only have so many hours and so I'm amazed regardless of the size of the church or the complexity of the organizational structure, I've talked to many pastors and they say, "In my M.Div. I had a three-hour class called Church Administration and that was the scope of thinking about these things."
Dr. Smith:
So how did you begin to think about and study and pay attention to things of organizational leadership or strategic planning?
Pastor Duncan:
I would say there was a bit of it in the military. I went into the military right out of high school and was a petty officer in the Navy and there was some amount of that just planning and leadership involved with that but where I really got into formal project management was in secular employment before ministry. My last secular job was with a great company, Fuji Photo Film, the green and red and it was back in the heyday when there was still 35-millimeter film and VHS videotape.
Pastor Duncan:
So I'm dating myself, I've been out of it for a while but I worked with Fuji just shy of seven years before ministry and I began there based on the engineering background I had in the military and went to work in a high tech manufacturing engineering environment. I progressed in that environment, was promoted a couple of times, ended up as a lab supervisor, and began, just because of the responsibilities of that job, doing project management, and because of that, the company began to train me in project management as a part of that job.
Pastor Duncan:
After a few years of doing project management as a part of that position, I was promoted into the job of a pure project manager for the whole site which was about nine different factories and about 3,000 employees. But it was solely in the workplace out of necessity moving up in the work environment they gave me some training and then because I demonstrated a knack for that, I really enjoyed it, I was able to move into a position where that was solely my job, project manager which was what I actually left the company as and went to work as a pastor.
Dr. Smith:
Wonderful. Well let me ask you, let me give you two examples to start into this conversation. I'm going to ask you why a pastor or congregational leaders or pastors should have concern about these particular areas of strategic planning and project management and I'll ask you in the context of perhaps some few examples.
Dr. Smith:
One is I often consult with brothers who have been very evangelistic and the Lord has given fruit and they love and they enjoy baptizing but then there's a level of stress because you realize that if you say you go to a church that has 85 people and you're doing a project, a revitalization and you look up in a few years by the Lord's grace and there's 400 people.
Dr. Smith:
I talk to guys they realize that's really a whole different leadership dynamic and they struggle with some of those kinds of things. And then another would be as churches would move and expand and then begin to have different facilities or large facilities that they're caring for.
Dr. Smith:
Then another would be as the ministry is growing and you have additional staff people or additional people serving in Christian ministry so just in a variety of settings because sometimes if I just say leadership sometimes I can find people a little bit, I don't want to say suspicious but a little cautious of what I'm trying to talk about and say, "Hey I'm saved, I believe in the Bible and I'm filled with the Spirit and I love God's people and I want to run with that."
Dr. Smith:
So sometimes I'm trying to say, well run with that but let me put some more armor in your bag of tools. So why would you tell a pastor, this is something, leadership and strategic planning are something you need to give some due diligence toward?
Pastor Duncan:
Well, I'm not a big fan of cliche's but some of them are helpful and I absolutely believe that one that if you fail to plan you are planning to fail. I've been a single staff pastor in three different churches with congregations that average 50 to 60. I've served on staff at a church with a congregation of 1,500 to 1,600 in attendance and pastor a church now with five paid staff and before COVID about 320, 330 in attendance.
Pastor Duncan:
So I've been at different levels in ministry and I can tell you this, every one of those levels I think you're going to better serve the kingdom and God's people by utilizing some of the planning. For me, I've been amazed at how, and this just goes for me to my belief in the providence of God. I love project management. It suits me, my personality. I get bored with things quickly. I love that a project is something that is clearly defined. It has a beginning, an ending, and a measurable achievable goal. You know when you succeeded and you know when you didn't.
Pastor Duncan:
Every project's different. You do one, you move onto a next. So it suits my personality but it's amazed me when I first went into ministry I was like, Lord you gave me this job that I love as far as secular jobs go, project management was what I wanted to do. And I'd reached a level in that where I was doing very well and had a lot of ability to continue moving forward and then I went into ministry and I don't regret that because God's calling on my life as pastoring but I was like, why would God allow me to progress that far?
Pastor Duncan:
Why not do ministry sooner? And in the 20 plus years since I've been amazed at how much of that project management God was preparing me to pastor. And you could say a lot about the skills and the organization. I do believe in managing and strategic planning, some people are naturally better organizers but much of that are skills that you can learn.
Pastor Duncan:
There's simple tools to use and I think it's really important from a ministry perspective because, for me, the intentionality and planning is me exercising pastoral oversight. If I'm the lead pastor of the church, I'm not going to dictate every decision but it's my responsibility as the lead pastor to make sure that I'm practicing oversight over the whole congregation and the totality of ministry.
Pastor Duncan:
And like everyone else I have things that are in my wheelhouse, I have things that I naturally gravitate toward and if I'm not careful in planning and being intentional about planning over the whole church I will naturally gravitate toward those areas that just suit my personality and there will be things that I neglect.
Pastor Duncan:
And I think that's true for every one of us. Every one of us are going to have those things that are naturally our preferred areas in which we operate but for me, the planning part is being intentional to make sure I'm trying to lead the whole church and the whole body of Christ and the whole cause that God has given us for the great commission and I think everyone can benefit from that.
Dr. Smith:
Wonderful. Wonderful. I tell you I think over nearly 30 years of ministry I've seen many congregations, many pastors have ideas, goals, passions and it seems like there's a great struggle to get from the level of vision or ideas of goals or passions to I usually say implementation. You might have a better word for it but from getting stuff from ideas and what we're talking about, what we would like to do to actually seeing those things implemented and occurring within the life of a congregation.
Dr. Smith:
So if the brother or sisters listening and they've seen somewhat of a disconnect between ideas and vision and implementation, how would you even invite them to begin to think about laying out a process for execution and having ideas get off the table and out of our meeting rooms and actually into real live action?
Pastor Duncan:
Yeah, that's a great question and it's not really a simple answer because again I see many parallels in the work that I did and the training that I had in project management and the way I go about things as a pastor. I mean it's just the way I look at it and I found it's very effective.
Pastor Duncan:
I think to start with before we ever actually undertake a specific type of project, and when I say project I think that's important to understand there's a difference in a project and a ministry. A project is something that has a beginning and an ending, it's definable. Sunday school is a ministry. Sunday school is not a project.
Pastor Duncan:
Now, reorganizing your Sunday school, revitalizing your Sunday school, implementing different levels of accountability, and teacher training and development that can be a project but I think it's important to understand the difference.
Pastor Duncan:
There's a project, there's an ongoing ministry, there's some things that are a task and if it's something you can do yourself in a short period of time without a lot of other people involved and a lot of resources, that's a task that's not a project.
Pastor Duncan:
So I think understanding what route you need to take to get there, are we talking about changing some things in an ongoing ministry? Is this a project? Is this a task? And I think understanding that how you make that decision has a lot to do with where you are organizationally, how well you know your people. You can't lead planning well if you don't know the state of your congregation.
Pastor Duncan:
One of the things that we were taught in the project management that I did is that you cannot be an effective project manager if you don't know, understand and share the organizations values. When we sat around and decided for the calendar year here's what we're doing you weigh that against, okay here's the organization's values.
Pastor Duncan:
And the company I worked for was very good about that. They were clearly defined you knew what they were shooting for so you were able to sit down and say, "Well here are a lot of things that we can do, and as we all know there's never a shortage of things to do, but the question is what are going to be the most profitable things and what are the most urgent needs?"
Pastor Duncan:
Sometimes for me and I have to check this against other people and I've seen other guys, hey this is something I want to do and it's a great idea God has given me. Well of course every pastor thinks every idea we have is a great idea from God, but that might not be exactly what the church needs though.
Pastor Duncan:
So I think being in your church, invested in your church in the way that your church works, knowing the values of the people now, and of course as a pastor those values for conservative evangelicals, there ought to be a pretty common foundation.
Pastor Duncan:
We're here to accomplish the great commission, make much of Christ, preach the word, see people saved, disciple them. So even within that, every church has a history, every church has a way that they've gone about things in the past. Things that they value, things that are important to them and I think one of the reasons that the things that we attempt, and I've learned this by making a lot of those mistakes.
Pastor Duncan:
Just because I have a good idea doesn't mean it's necessarily a good idea for where I'm at and where the people are right now. Sometimes I need to better learn where the people are and how to get them to the next step or the next place. And I know that's kind of ambiguous talk but I think in project management and I think this part is true of pastoral ministry, there's a great deal that needs to take place and a lot of understanding that you need in order to identify the right projects and the right things that you're going to go after.
Dr. Smith:
Amen. Yeah, let me just sneak in that I think that's tremendously helpful. First just distinguishing between a task and a project and just kind of an ongoing ministry but you begin to speak about number one knowing the values of the people that you're working among and seeking to serve and lead but also knowing them.
Dr. Smith:
Knowing their gifts and abilities I think in the 1 Corinthians 12 saints, there's different gifts, different administrations, different manifestations but the one same spirit. I do think strategic planning and project management, especially strategic planning can be very helpful because I find sometimes a congregation does something very fruitful and then all this guy's buddies or friends or people that hear about would say, "Hey that's very fruitful."
Dr. Smith:
It's very fruitful and that particular congregation I don't think strategic planning is across the board normalized thing. I mean I've planned at a church at a low-income public housing area. I've pastored a church at kind of an emerging suburbs area and I pastored a church it was kind of in an old established suburb area and one church had business owners and people could hire people and state legislatures all that kind of stuff.
Dr. Smith:
Another church had people that were trying to have other types of skills or other life experiences. I think that's tremendously important and as a matter of fact, it saddens me quite frankly a little bit. Sometimes I'll read organizational literature, brother Frank and people in government or people in the military or people in corporate life are speaking of knowing their employees and knowing the people that work for them, and sometimes I speak to congregational leaders and they are not pursuing the same type of knowledge of the brothers and sisters that make up that particular expression of the body of Christ.
Dr. Smith:
So there are skills and there are methods and all those kinds of things but I do always find myself highlighting we are shepherding and we are pastoring and leading people and we must take the time and the effort to get to know those people. Their values, passions, and abilities because it will affect our strategic planning.
Pastor Duncan:
Yeah, I would add on that I couldn't agree with that anymore strongly. I've had to remind myself occasionally that I have to pastor the church I'm in not the one I want to be in. Or the one I think I should be in. When it comes to people I learned this in secular project management, it's even in an industry setting you're going to interact with as a regular full-time project manager a circle of people who have roles within different departments and areas and you're going to interact with a lot of those same people multiple times.
Pastor Duncan:
So I learned very quickly that you better go out of your way to get to understand those people and understand what their strengths were and you know as well as I do there's some people you can ask something of and it's delivered to you the next morning gift wrapped with a nice little bow on it and there's some people that you're going to be asking five or six times a month later.
Pastor Duncan:
So one of the things I learned in the industry that's true in the church, you need to find out who your people are and it's not always the person with the title. It may be the person who has manager by that name for that department. Sometimes there's a person in that department who you're actually going to work with to get things done and I found that true in church.
Pastor Duncan:
Finding out who those key players because not everybody wants the title but there are a lot of people who get things done and if you know who those people are it's really going to help you long term. And one of theirs that they repeated over and over is that our people are our greatest resource and this is a secular company but one of the reasons that this company was so successful is they not only repeated that but people believed it.
Pastor Duncan:
They treated people well, they would give you what you need if it was justifiable and they really treated people well. So when you worked there you kind of took that on as well and you begin to understand that and from I say a selfish point of view, you understand that the more that you work with people along the way you build those relationships, you establish trust, you treat people well.
Pastor Duncan:
If you're consistent in your interactions with them, you deliver what you say you're going to deliver. You build trust with people and what that contributes is greater than that single project because it's multiplied in everything you do there going down the road. And I've come to see that in ministry as one of the things that I do as the pastor of the church, anytime there's a decision that involves an existing group or a committee or a ministry team, I never say, "Well here's what should be done and I'm the pastor let's do it."
Pastor Duncan:
Even though a lot of times I'm 99% sure what the outcome is going to be, I always want to respect those people in those groups and I say, "Okay well I'm going to take this recommendation but I'm going to honor those people in the delegated responsibility and authority that the church has given them and I'm going to go and work with them."
Pastor Duncan:
And what I've found out in the long term is when you treat people consistently that way and you respect them and the role that they have and the position they're in regardless of what that position is, it will pay off for you in the future because you establish trust and I can't put enough of an emphasis on that.
Pastor Duncan:
And exactly just reiterating what you're saying in the way that I've seen that proven in both the secular and in the ministry world is you can't know your people too well.
Dr. Smith:
Amen, and I would say having been in a variety of pastoral situations there's a big difference between a strategic plan being your plan pastor versus the strategic plan being the plan of you and your whatever the leadership is in your church, elders, deacons, ministry leaders, Sunday school teachers.
Dr. Smith:
There's a big difference between you pushing your plan versus you and others pushing something that has broad buy-in and a lot of people feel like they have skin in the game for that particular plan. You're a pastor and you stand in front of God's people in the pulpit every Sunday so I'm just kind of curious obviously the Bible speaks highly of Moses and the exodus and bringing God's people out of the Promised Land and then the transfer to Joshua.
Dr. Smith:
Then we have the period of the Judges and I think there's such a clear picture in Judges of the importance of leadership for the nation of Israel. Acts responds a particular way when there are leaders and then responded another way when there weren't for example we'd say and they served the Lord faithfully as long as this particular judge was alive or something like that.
Dr. Smith:
Then we go into the Monarchy and obviously, there's David and Solomon and then the splitting of the kingdom and if you read through Kings and Chronicles you can see so many stories and I'll come back to that and just lay my cards on the table with you. But then we go into the Prophets critiquing God's people and often leaders over the things that were going on. I'm thinking of Amos or Hosea, things like that.
Dr. Smith:
Then we get into the gospel and the King of Kings and the Lord of Lords is born of a woman and He begins to lead His disciples. And then that certainly spans into the birth of the church or the day of the Pentecost says, his spirit fills his church. You know I see strategic leadership or strategic planning when Paul is designated as the Apostle to the Gentiles and Peter is designated as the Apostle to the Jews.
Dr. Smith:
Different scenarios and then they will appoint leaders and often you'll read in New Testament letters about appointing elders and do this and do that and do this. And so I'm just wondering as you have read through scripture as you've been a pastor preaching through scripture or maybe even in your personal discipleship has anything in scripture been real special to you as regards your thinking about leadership or even planning?
Dr. Smith:
And I told you I would tell you about mine. I've really been informed throughout much of our ministry when I do my annual devotional reading through the scripture. There's just so many good and bad lessons in Kings and Chronicles. So I've learned a lot from Kings and Chronicles planning to make an alliance with this person or planning to not make an alliance.
Dr. Smith:
And plannings would go this way because it was dangerous or go this way because it was easier. Just the variety of things but I forgot to mention certainly Ezra and Nehemiah with the coming back after exile, but is there any part of scripture that has been helpful to you as you've thought about things of leadership and planning?
Pastor Duncan:
Off the top of my head things that have meant a lot to me that I've spent a lot of time reflecting on, I have mention three names. The first is David. There's a lot you can say about him but I'd say the positive as a leader in a church I want the first thing from me to always be that I'm after God's heart. You can get so busy in ministry and I do think there is much to strategic planning.
Pastor Duncan:
We do that every week in our staff meeting. We build it into the way that we structure everything. Every one of our staff pastors has to have a plan for their ministry for the coming year before that year begins. So we do that but I think anytime that does become disconnected from the fact that you're doing this because there is a God who loved you enough to reconcile you to Himself through the blood of his son.
Pastor Duncan:
And if that doesn't capture your heart and if that's not driving the strategy part and the planning part, I think it becomes mechanical and I think it becomes problematic. So for me, David he was a man after God's heart. I think that is the first and whatever other people think about it, for me that's the most important thing is the leader.
Pastor Duncan:
Paul said follow me as I follow Christ. My heart is not after him, I can't lead people well as a pastor regardless of how well I plan. Also, the negative side of David. It doesn't matter how close to Jesus you are, you can still fall far. So to guard what you're doing as a leader no matter how much success you have, don't ever think you're above reproach. Don't ever think you're above temptation and falling into sin. Let him who thinks he stands take heed lest he fall.
Pastor Duncan:
So I think the big picture, David is an example that I think about a lot just in my day-to-day ministry and my walk with the Lord. Second would be Paul. The older I get, you know I learned a lot about the specific tools and the mechanics of leadership but the older I get the more leadership becomes about the people that I'm shaping and helping them to become leaders.
Pastor Duncan:
Discipleship yes but seeing those that are kind of rising up above the watermark who you see God's hand on and really trying to take those within our own church, within our Sunday school teachers, within our deacons, our staff pastors and really trying to take them. And for me, Paul for a guy wrote whatever you think about Hebrews, he wrote 13 or so letters in the New Testament. He was bi-locational, tentmaker. He was a Theologian. He was a preacher.
Pastor Duncan:
I mean it's unbelievable but Paul was always involved in bringing these other guys along. Timothy, Titus, Luke, Mark, Barnabas, Saul. He was always taking. He was never so busy that he wasn't investing in other guys and for me, I think about that if there's something that I have to lead as a pastor and I think there are a lot of things that need your hand on it as pastor even while I'm doing that I'm thinking about while I'm doing this I should be equipping somebody else to do it next time if I'm not here and trying to bring those guys along.
Pastor Duncan:
And then the third guy that I think really has helped me a lot is Moses. I love Exodus 18 where Jethro comes and gives him the advice and says, "Brother your taking too much." All of us want to do I think great things for the Lord if we're in this for the right reason. God's put a calling on your life.
Pastor Duncan:
It's very easy to justify ministry burnout. It's very easy to spiritualize overworking myself at the cost of my relationship with Christ and at the cost of my family. And I think being able to acknowledge I'm taking too much, sometimes I think there's a good motivation in that. Sometimes I think it's a little ego. But understanding you're here to oversee, you're here to administrate and that means a lot of delegation.
Pastor Duncan:
That means structuring things the right way. So that's been really helpful to me. That's been something that I have begun to understand in our Baptist polity. There's not many Baptist churches that have very little structure. Now, granted some are more structured than others. The more traditional churches you know emphasize the committees.
Dr. Smith:
Brother, I have read over 100-page bi-laws.
Pastor Duncan:
Yeah. Yeah, and I know that there's some of our elder-led congregations that have a little less but one of the things I've learned in leadership and I think Moses' example applies very well is you need to understand how your organization is structured.
Pastor Duncan:
A lot of times I hear guys say, "Well it's just a traditional church, it's too much committees." Well if it's not structured well and your the first leader then change the structure if you can. One of the things we did at Paramount was the church had really outgrown the structure.
Pastor Duncan:
The church still had the structure that it had 30 years ago when it was a 60 person church and now it's a 30 person church and it just wasn't working. So I know that's hard to do because some people hold the bi-laws up there on the level of the word but if you have the freedom of leadership change the way your organization is structured to make it more efficient.
Pastor Duncan:
This is one of the reasons why a lot of the things that we undertake in church don't work. If you have to get six committee's approval and if you have to go through more red tape than some kind of government bureaucracy organization that's one of the reasons things in church don't work well and that has to do with organizational structure.
Pastor Duncan:
I've learned a lot from Moses in that regard and his willingness to let enough things go and set up a healthy structure.
Dr. Smith:
That's so encouraging and I do encourage pastors if you're doing a revitalization or if your church has just experienced a time of growth and things need to change, I think for integrity but I also think just for congregational continuity and good fellowship even if it takes a little extra work it's much better to change and modify processes and structures rather than trying to go around them or undercut them or other things.
Dr. Smith:
So I just want to affirm that word that you shared there and I'm so happy you mentioned David because I've talked about the Kings. I'm constantly reminded that if I want to do something the easiest way or the quickest way that's not always the best way when you think about Uzza and then in Godly and spiritual leadership I'm often thinking about David taking the census and instead of being prayerful about that particular matter of need and it reminds me that our best planning and all of those things need to be submitted to God and prayer and not merely any evaluation on our own resources. So certainly David and Moses and Paul are three wonderful examples.
Pastor Duncan:
I was thinking as you were speaking earlier and I'd be very careful with this, but you look at the whole plan of scripture, God has a strategic plan.
Dr. Smith:
Yes.
Pastor Duncan:
From the garden in Genesis 3:16, there's a strategic plan and we see the end goal in Revelations 7.
Dr. Smith:
Yes.
Pastor Duncan:
The means of getting there, the message has already been ordained. The vehicle which he's using. I mean it is very intentional specific, strategic. I mean you could say, "Hey there's ample justification in the whole book, the whole plan of redemption."
Dr. Smith:
Yes, yes. We really enjoy hearing pastors preach in books that aren't explicitly aren't mentioning God a lot like Ester or Ruth and yet they show how those books are part of God's strategic plan and the laying out of salvation. The genealogy of the Lord Jesus Christ, yes those types of things are just fascinating.
Dr. Smith:
Let me ask you a planning question, strategic planning and if I don't use the right word you can give me the word but sometimes I see congregations and pastors that don't really seem to be trying or attempting to do much but on the other hand, sometimes I see congregation's, they just seemed to be stretched to the nth degree and many times I think they've just observed what some other congregations are doing rather than just measuring themselves.
Dr. Smith:
So I use the words in planning determining congregations capacity or breadth. Sometimes I hear younger people talking about bandwidth but how do you think about in strategic planning what is the role of that type of measurement of ability or capacity and those types of things? You've been in different settings so you should have a frame of understanding that.
Pastor Duncan:
Yeah, and I think it does go back to your people. There are some things in your congregation that you can identify very quickly that need to be improved but you're only going to be able to do so much if you're a single staff pastor in a church with 50 people. So that doesn't mean you shouldn't address it.
Pastor Duncan:
I think the reality of your situation has to be considered while at the same time you're moving forward in faith trusting God to grow that as a need and I think assessing where those needs are and understanding what your priorities are, everything in the church doesn't have to work the way that I want it to.
Pastor Duncan:
There are some things here at Paramount almost six years in and we've made some pretty radical changes as far as a traditional baptist church goes. We completely rewrote our constitution and by-laws. We've completely reorganized and restructured how our church works and it's made an unbelievable difference.
Pastor Duncan:
We have a lot more freedom in ministry, we've taken a lot of the steps. We don't have to wait on a committee to make urgent decisions in leadership. We've put that onus with the leaders and so it's really radically changed how we do things and the results are seen.
Pastor Duncan:
A lot of times people out there they don't understand why things aren't happening. They just see nothing is happening. So I think as a leader you're going to have to identify some of those issues that other people don't really see and remove some of those hurdles and roadblocks but at the same time, you're going to have to be realistic in what's achievable.
Pastor Duncan:
And why it's achievable or not achievable those reasons vary. Sometimes it's resources, sometimes you're going to say to your church, "We need to reorganize the way that we do things." And they're going to tell you, "No. We're just not going to do it, this is who we are." So I think you have to pray about then, how do you work through that.
Pastor Duncan:
But I think understanding your church, understanding what the priorities are. Sometimes just because I want to do something a particular way that doesn't really matter. There's still things here I'd like to change but they're not important enough to die on that hill. We've done the big things that have really positioned us well for making disciples.
Pastor Duncan:
And I think being smart about where you want to invest yourselves, where you want to spend your leadership capital, that trust that you build up, managing risk, managing your priorities, and assessing all of that, that's a complicated answer but again it really goes back to knowing your situation and again, let me say, this is not all just about making calculated assessments and analysis.
Pastor Duncan:
The reality is you're going to find yourself in a situation sometimes where you know the church has to change to be more focused on the gospel. It's inwardly focused, it's counter-productive. If something doesn't happen the church is going to die and sometimes you're going to have to make some really hard decisions where you know the risk is great, there's a chance of splitting the church or losing key leaders on your side, but if you don't take this risk you know the church is going to die.
Pastor Duncan:
You know this has to be done but you shouldn't risk splitting the church because you have a philosophical difference about the way a ministry ought to operate. There's a big difference there. So I think a lot of it has to do with making priorities and managing the risk but setting the right priorities and being willing to take those risks when it's necessary.
Pastor Duncan:
I think that requires a lot of wisdom. I think it requires a lot of prayer. It requires an intimate understanding of where your church is and where it's lacking. Understanding what you do well and how that fits into the overall framework. I think as a pastor you have to know what the church is supposed to be there for.
Pastor Duncan:
Do you understand according to the word of God why this church exists and why you're there as a pastor? And then you start looking at where are the needs, what has to be done no matter the cost, and what else is able to be done right now with where we are and where is God leading us.
Pastor Duncan:
So I understand your question but that is going to be so different and distinct based on every church that you're in and I like what you said earlier, I've been at several churches and what I've learned is that every church has commonalities. We have the same purpose, we have the same DNA, we're blood-bought children of God but there is no such things as identical twins when it comes to churches or children of God.
Pastor Duncan:
So I think context is key in understanding where you're at. Again some of those are a given. Great commission, making disciples but how you go about that, how you approach it, the timing of it, the degree to which you need to change things. There's so many variables in that, that are based on your context that I think a lot of that is just where you're at and the experience you gain as you really learn those people.
Dr. Smith:
Wonderful. I'm amazed at this but I find myself regularly telling brothers and sister that in a congregational Baptist setting no one gets 100% of their preferences that's just impossible in that kind of setting and I'm glad you're further for your comments because I find myself sometimes reminding brothers hey that includes the pastor. No one gets every single thing preference they have in a Baptist setting.
Dr. Smith:
And another thing I do encourage congregational leaders, particularly pastors, and you and I have talked sometimes about internships and newer seminary grads, I try to encourage them to think of strategic planning in a long term sense of five-year blocks and not just thinking what do I want to do this year? Because you know when I was young the older preachers they used to say, "Y'all just go there for a year and preach and they'll do anything, shut up."
Dr. Smith:
So I try to give them a long runway and a long window to kind of think about some things. You've been so generous with your time but I do want to ask at least one more question in the sense of when you're managing a project and in my consulting I find that pastors struggle with this. It would be like metrics and measurements and assessments as you're going along a particular project and I'm asking in the sense of there's an ability to deal with under-performance in a military setting.
Dr. Smith:
There's certainly an ability to deal with under-performance in a corporate setting but many times brothers struggle with the same type of ability to deal with measurable marks as we pursue a project in a church setting. And one thing that has irritated me and I found this with brothers of a variety of ethnicities, church sizes, backgrounds is kind of the that'll do attitude.
Dr. Smith:
An attitude toward work and I'm using that word work. Work in the church that we certainly would not take regarding our educational work or our government work or our corp work or military work. So as you think about you're in the midst of a project and you're managing a project, as you think about performance and metrics and evaluation, how would you encourage pastoral leaders to think about those kind of things performance or under performance or hitting goals or missing goals, those types of things?
Pastor Duncan:
Yeah, I think that's really important and it's very difficult having worked in management in industry as well as in restaurant management. It's a lot easier to manage people that depend on you for a paycheck. There's some built-in accountability there. Managing accountability with volunteers is a whole different world and I think that if you don't build that in first you can't develop other leaders without accountability. You just can't.
Pastor Duncan:
And so one of the things that we do at Paramount is we codify particular requirements and accountability levels not only to begin somewhere but to maintain something. If you're going to be a deacon in this church attendance is a given. You're going to be involved in ministry and you're going to be faithful in discipleship. You're going to be in a Sunday school, a small group.
Pastor Duncan:
We have baseline accountability levels and we manage that as we go. If we have a deacon who's doing things we sit down and I think that's one of the hardest parts of leadership because let's just be honest, nobody likes doing that. Nobody enjoys sitting down and having a conversation and saying, "Hey as a leader this is some concern."
Pastor Duncan:
But if you don't do that you're not going to be able to lead your organization forward long term and I just had to accept that. If you brush it under the rug, sweep it under the rug ignore it, it's not going to go away. It's going to be worse and that individual and worse other people are going to see that and they're going to do the same thing.
Pastor Duncan:
If you don't require accountability of your leaders starting at the highest level with myself and our staff pastors it's going to be really difficult if not impossible to lead and plan in an organization. Because just the human nature, you know? What's the old saying, inspect what you expect?
Pastor Duncan:
So we do that now, I will say this, I think it requires a lot of sensitivity because doing that with volunteers is very different with paid employees, and doing it as a pastor is different than doing it as just a boss. As a pastor, you're a shepherd of those sheep. You love those people and that relationship's involved. Is it like a business? Somewhat but it's a family business.
Dr. Smith:
Yes, yes.
Pastor Duncan:
If this person doesn't measure up to the expected level of performance you don't get to fire them and send them out of the building. Hopefully, they stay a part of your congregation and they're still there. So it's just different and I think that calls for a lot of pastoral sensitivity.
Pastor Duncan:
One of our standards is this, the higher the level of leadership and responsibility, the higher the level of accountability. So that's been something that we had push back on. To be quite frankly we've had people walk away. We've had a staff member walk away here but we've gotten to the point where people understand that leaders are held accountable. They're held to a higher standard.
Pastor Duncan:
And I try to model that myself and when I'm wrong I don't hesitate to say I'm wrong. Whether it's to an individual, whether it's to a ministry team, or whether it's to a congregation. And I've apologized on all of those levels at other times. So I do think that accountability is important but boy it's a lot different than the secular world and if you just try to be a boss in the church it's going to be a problem.
Pastor Duncan:
But you have to do it. You absolutely have to do it and I think making sure, don't put someone who you know won't be held accountable. I think one of the things I've seen at Baptist churches is we're just looking for too many warm bodies and one of the things we've established here, I don't care if we had 16 deacons last year. If we only have 12 qualified this year then we're going to have 12.
Pastor Duncan:
Because if I can't count on that brother to be accountable as a leader in this church I don't care what number we have. They're doing more damage than they're doing good. So I think making sure that you select leaders who are open to that, putting people on the appropriate level of leadership to which they can be accountable, and if they know that you love them as a pastor and your not just going to come and correct them when they haven't done what they're supposed to do but you're encouraging them and I try to compliment people as often as I can.
Pastor Duncan:
I look for things because my natural tendency, I'm analytical that's why I like project management. My natural tendency is to only identify the errors and how we can improve and when it's with a good intent I don't consider myself a critical person but I've learned, hey I want to give somebody three complements for any kind of accountability or criticism I ever give them.
Pastor Duncan:
The growth that we've seen here, the success that we've had much of that has to do with establishing leaders and developing leaders. You're never going to outgrow your network of leaders in your church and your leadership influence is going to be limited. So you better develop those to expand that reach.
Pastor Duncan:
So yeah I can't say enough about that but accountability is an essential part of leadership which is an essential part of extending that organization and being able to plan effectively as a church.
Dr. Smith:
Amen. Well Pastor Frank Duncan you have been so generous with your time and we're going to have to invite you back because there are just multiple layers of this to unfold and discuss but I certainly am so thankful for your time and I just want to tell our listeners if you're on a Sunday morning and you find yourself driving up 81 or driving out 70 West I want to encourage you to stop into Paramount Baptist Church in Hagerstown, Maryland and hear the word of God and worship Jesus Christ with the brothers and sisters there.
Dr. Smith:
Certainly on a personal level, Pastor Frank I thank you for serving as president of our general mission board of the Baptist Convention of Maryland and Delaware and just as importantly you know from my heart I thank you for laboring with me as we seek to train pastors and ministry leaders in Western Kenya in three Baptist associations out in that area.
Dr. Smith:
There's much more to discuss about strategic planning and project management but we are so thankful that you joined us today on Peculiar People and we pray and look forward to another opportunity to extend the conversation but thank you so much today brother Frank.
Pastor Duncan:
Thank you, dear brother. It's an honor to be on with you. It's a joy to serve with people that love Jesus and want to see His kingdom move forward.
Dr. Smith:
Amen. Well God bless you and have a good afternoon.
Pastor Duncan:
Same to you brother. Take care.