#24: Multi-Racial Christian Marriage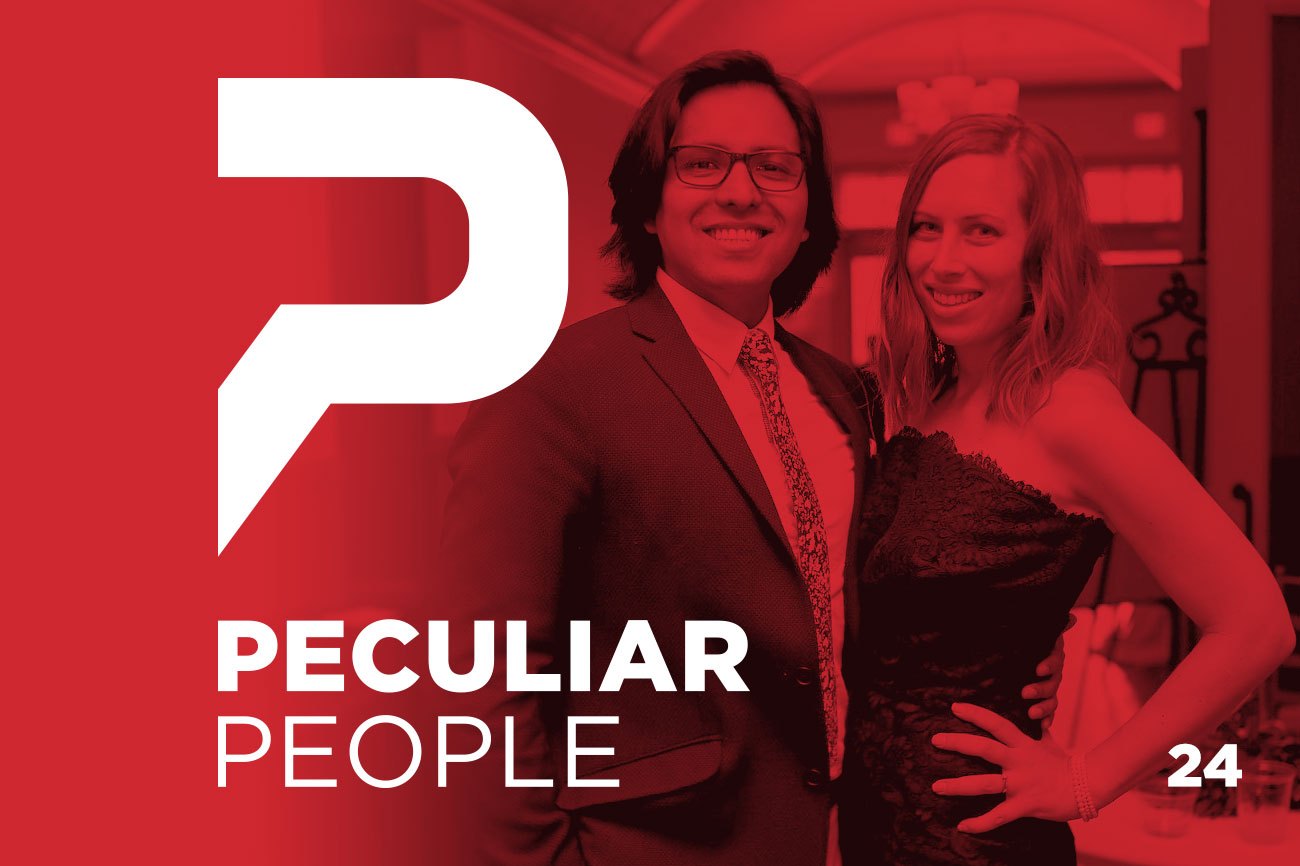 Listen in as Dr. Smith speaks with Francisco and Nicole Rivera. Francisco and Nicole are members at the Village Church in Baltimore and are a mixed-race couple who have faced interesting but rewarding challenges.
Transcript
Dr. Smith:
Welcome to Peculiar People. Podcast where we examine what it means to be a follower of the Lord Jesus Christ and the days in which we find ourselves. We are inspired by Peter's words in 1 Peter, that we are peculiar people, a chosen generation and a Holy nation that we should show forth the praises of him who brought us from darkness into the marvelous light. And so we like to talk with brothers and sisters about how we walk out being a follower of Jesus Christ. My name is Kevin Smith, executive director of the Baptist Convention of Merlin and Delaware. And I'm so happy today to speak with Brother Francisco and Sister Nicole Rivera, members of the Village Church in Baltimore, Maryland. We are just excited to have a conversation about a variety of things, but I want to begin by just saying hello and welcome to the podcast, and thank you so much for joining us.
Mr. Rivera:
Hi, Dr. Smith. Thank you so much for having us.
Mrs. Rivera:
Yeah, we're really excited to be here.
Dr. Smith:
Well, the thing that binds us together is our relationship with the Lord Jesus Christ, he who calls people from every kindred tribe, tongue and nation. And so I always like to start the podcast by asking our guests, how did you become a disciple and a follower of the Lord Jesus Christ?
Mrs. Rivera:
I guess I can go first because I think my story is maybe less interesting.
Dr. Smith:
Hey, well, don't feel bad. Don't feel bad, Sister. I went to college my freshman year and I was saved in chapel when the chaplain preached a sermon from John 3:16. So it doesn't get more basic than that.
Mrs. Rivera:
So I grew up going to church. I grew up in a Lutheran church, but my personality was very works-based, always trying to earn my salvation. I think I prayed to receive Christ every night for years just to make sure. So I didn't have a very good understanding of the Gospel and what it really means to follow Christ. So I had a lot of questions and when I was in high school, I had somehow found myself in a group of friends who were all true followers of Christ. And I was connected with their youth pastor and he answered my questions really well. So I really started following Christ in a Dairy Queen parking lot.
Dr. Smith:
The dear place for my wife and I.
Mr. Rivera:
For me, I think the Lord started working from different angles of my life. Back in medical school I was very competitive. I wanted to be top of the class, be my best wherever I went. But in a not very healthy way, I would learn later on. So one of my teachers, a surgeon that taught anatomy to us at the morgue, anatomy with a cadaver in front of the class. I always admired him. I thought he was amazing, so I thought very highly of him. And he always asked questions about medicine, about culture, about history. So I thought this guy knows everything. And every now and then he would ask questions about the Bible. It bothered me so much that I didn't even know those answers, but I remember there were a couple of students and classmates that were answering. Of course, later on I learned that they were Christians.
Mr. Rivera:
And at that time my mom became a Christian, and so she gave me a Bible. So because of that, because this teacher started preaching right there in medical school during anatomy lessons, I started reading the Bible. Not really because I was interested in learning about God, but it's just because I wanted to know all of the answers.
Dr. Smith:
Ah.
Mr. Rivera:
But little by little I learned about God, about his word and later on, I would become a Christian. After my family went through a very tough time, for three years we really struggled. And after some time, after seeing how my mom had been transformed by the Holy Spirit, and then seeing her life example, then God started working on me as well. And then later on, just living this life of just having this unhealthy ambition of being the best, just trying to be the first in everything, just at some point would crash and at that point, being emotionally also broken. That's when all the word that I had learned clicked and really entered my heart.
Dr. Smith:
Amen. Amen. Beautiful testimonies. So I am looking here at a smiling and happy married couple. So why don't you tell us how those roads crossed. Where you all grew up and how you eventually met.
Mrs. Rivera:
Yeah, so I grew up in Iowa in a very small town and I moved to Chicago for grad school, and was living there and working there. I'm a social worker, so I was working in housing at the time. And we met in Chicago. I can let you tell how you got to Chicago.
Mr. Rivera:
Oh, sure. I am from Ecuador. I went to med school in Ecuador and then I decided to do my residency here in the U.S. So I moved to Chicago and that's where we met.
Dr. Smith:
Wonderful. So I always like to tease people, who put their eyes on who?
Mrs. Rivera:
So we met online. We met on Match.com.
Mr. Rivera:
Yes.
Mrs. Rivera:
He reached out first.
Mr. Rivera:
I did, yeah.
Mrs. Rivera:
With a very good pickup line. He said, "If you could teach me anything, what would you teach me? I would teach you how to salsa." That's a very clever intro, so that definitely got my attention.
Mr. Rivera:
Yeah, I put my eye on her because I saw her profile and the first three lines talked about God and how she wanted her purpose to be directed towards God. So that's what caught my eye.
Dr. Smith:
Amen. Amen. Well, both of you, when you think of medicine and you think of social work, you both have been inclined towards, what I call, compassion and helping-type vocations. And so how did you both each sense your call to vocation? And also, as you became a Christian, did that even influence your work and how you began to think about humanity and biblical categories or anything?
Mrs. Rivera:
So for me, this is actually where I feel like God has transformed my life the most. I was always very ambitious and wanted to have a very prestigious career. I looked into going to law school, something where I could really make a name for myself. And I think God really worked in my heart while I was in college. And as I was getting closer to graduating, started to see God's heart for social justice and realizing that that was really his call for my life. So I ended up pivoting and that's how I went to grad school for social work instead.
Dr. Smith:
Wonderful.
Mrs. Rivera:
Yeah.
Mr. Rivera:
For me, what's interesting is that after I became a Christian I was probably a year and a half to finish med school. But I had that same ambitious attitude towards life and wanting to do the best. If I was is medical school I was like, what's the hardest that I will take it?
Mr. Rivera:
I had the same thing when I became a Christian. I was like, okay, I'm a Christian, what's the best thing to do? Okay, I'm going to become a pastor. I'm going to quit medical school and then I'm going to go to the seminary, and I'm going to become a pastor. And then I remember even choosing, I had already chosen the best seminary in the country. I wanted to go there. I went to my pastor just because I needed a letter of recommendation from him. I will never forget that he told me, "If you want, I can write a letter of commendation for you, but I want to know if you have a calling to be a pastor." I remember he told me, "I am a pastor and everything that we go through, the only thing that holds me is my calling. And I know that if you don't have this, you're not going to able to do it. If you want, I'll write the recommendation for you, but I need to know if you have a calling."
Mr. Rivera:
And I remember that was a very sad day for me. I came back home and I was telling her, "I really want to do this. Why can't I do this?" And I remember back then I was reading proverbs and I read the proverb that I had to read that day. I don't remember exactly what verse that was, but it was so clear to me. There was something in the lines of, the tongue of the wise man is medicine. And it became so clear to me since that day that my calling was to serve God in medicine.
Dr. Smith:
Wonderful. Yes. Your pastor served you well and loved you well. I have pastored in a variety of scenarios and I really do enjoy telling young people, you used the word best, the best way to serve the Lord is to strive after the great commandment. Thou shall love the Lord, your God, with all your heart, soul, mind, and strength. And the second is unto it love your neighbor as yourself, and then strive after the great commission to make disciples of all kinds of people. And we are able to do that in any scenario. As a matter of fact…
Dr. Smith:
Again, I'm honored to have you all on the podcast because I love to talk to Christians other than just pastors because the entire body of Christ. If you think about 1 Corinthians 12, for example, every member is a member of the entire body. And all of those members need to be filled by the Spirit and to be, Acts 1:8, witnesses for the Lord Jesus Christ, everywhere we are. There are conversations that doctors can have in the locker room, when you're changing after shift, about life or trials or the Gospel that a pastor just can't have in the pulpit of a congregation. Matter of fact, you said people were talking about the Bible over dead bodies in the morgue.
Dr. Smith:
So a pastor can't get into that scenario. And Nicole, I'm sure in the area of social work you talk to people about some of the most intimate and essential matters of purpose in life, and meaning, and identity. And so I certainly celebrate and biblically thank the Lord for your callings and your passions. And I praise the Lord for a pastor who serves you well. When I go to the dentist and when I go to the doctor, I'm happy to go to brothers and sisters in Christ that serve me well. And I do always repent. Even though the dentist is a brother in Christ, I still don't like him because I just don't like dentists. So the world is fallen and sin is-
Dr. Smith:
World is fallen and sin is a reality. Now I want to ask you some things about kind of what's happening in the US. Before we even get to the US, as an Iowan and as an Ecuadorian and our divided type world with nationalisms and ethnocentrisms and tribalisms and all types of isms, what kind of thought process, what kind of prayer or biblical considerations or just what kind of thought process goes into, "Hey, I'm from Ecuador and I'm going to ask this sister from Iowa to be my wife," and, "I'm from Iowa and I'm going to accept the proposal of this brother from Ecuador."
Mrs. Rivera:
I remember, I think when you went to talk to my parents about proposing, my mom was, there was something that she kept saying to you, "How can it be that a man from Ecuador would meet a woman Iowa and that you guys would fall in love?" They love him, my parents love him. But it was, I think, surprising even to my family that something like this could happen.
Dr. Smith:
Yes, and it really doesn't matter where you are, whether it's the United States or Europe or Asia or Africa or South America, Central America. Our world is kind of characterized by divisions and one of the majesties and glories of the gospel is Christ saving and redeeming all types of people. But nonetheless, as we walk into that, we do walk into it in the reality of a divided world. And so I was just kind of wondering, as you all came together from friendship to courtship, to engagement, to marriage, how are you thinking through and processing kind of what you all are doing as you pursue honoring the Lord and loving one another? Or was it even a consideration? You might just like, "Hey, we met online and he was handsome and he thought I was cute and it was done."
Mrs. Rivera:
I mean, it was something that we talked about and that we definitely considered. But what we found that was so remarkable was yeah, we grew up in very different places, but our families have very similar core values and our faith was so similar. That brought us together and it made the geographical difference not matter.
Mr. Rivera:
Even language barriers. For example my family, I'm the only one who left. And my family, my parents don't speak English. My brothers do, but my parents don't but even with that barrier, you can see that, for example, my mother, I think now all my family is Christian, but my mother, I would say has the strongest faith. And Nicole and my mother, even though they have the language barrier, Nicole speaks a little bit of Spanish, but it's still, it's a barrier. It's been wonderful to see how that connection through Christ's salvation and faith has been, even with the limitation of not being able to see each other regularly, just when we have had the chance to go and they have had the chance to visit, how strong of a connection it is that you can feel through God.
Dr. Smith:
Amen, amen. What a testimony of the phraseology that I love so much in Ephesians, the unity of the spirit and the bond of peace. The unity of the spirit, how Christ is able to unify the people that he calls and redeems. So since March or February, sometime in the spring or late winter, there's been tremendous amount of tension, and division, and chaos, and just a whole lot of stuff has been happening in the United States. And I was kind of wondering as a couple, that a brother and sister from different ethnic and cultural backgrounds, how you've fought through some of this, how you've processed some of this, and perhaps you would have some insights that could be helpful for other brothers and sisters in the body as we get to learn and get to know one another.
Dr. Smith:
And I'm speaking specifically, I guess of I think the major incident would be the George Floyd incident in Minnesota, but certainly there was an incident in Louisville, Kentucky, and in Georgia, Marbury and those kinds of things. But just kind of the, whether you call it ethnic tension or racial tension or things that have been happening in the country, how have you two been thinking or even discussing that?
Mr. Rivera:
So I think there's a lot of angles to what has been going on, and I can tell you from the personal level from Nicole and I as a couple, as an interracial couple. As me, from a minority in this country, I am witnessing these terrible acts of violence towards minorities as well. So of course at the personal level it's something that is of course terrible, and it's impossible not to think about what could happen to me as a minority. Nicole worries about me and it has had a major impact even before March, even before, I can tell you that as an interracial couple, we have had some limitations to our lives. For example, for me to look for a job, there were specific places and areas of the country that we did not consider because we just thought that we would be at high risk of being discriminated as an interracial couple.
Mr. Rivera:
And to looking into the future if we had a family, for example, we thought, well, there are areas in the country that we would rather not go. And we didn't even consider for me to look for a job there because we just thought about the potential family in the future and our children being able to have a diverse environment and also not be exposed to potential acts of violence towards minorities. So that's the context of how we went into March and then witnessing all these terrible events. Of course, it exacerbated all of those worries. And of course, our call to God, our prayers and how our future would be as well. And that I think on a personal level, and then at the level of the church, we have a fantastic community group. Our community group is probably the most diverse group I've ever been a part of in my life. And the discussions, just the moments that we share together and we have discussed about, which I think is so essential for the church to talk actively about this as we have had the chance in our community group, have been so rich.
Mr. Rivera:
And I assume that as a guy from a minority group, foreign guy living in the States, I assumed that I knew everything about racism, everything about discrimination. I know this, come on, I'm from a minority, I know about this. But I realize how ignorant I was in new things and things that I learned from Nicole. For example, I realized that I was very ignorant about how, I guess probably before this, I didn't know exactly how systematic racism worked. I thought that racism could be applied the same way from a minority to the group that is not a minority to so many aspects that I realized that I didn't know and I learned by actively being in discussion with our community group and my wife.
Mrs. Rivera:
I think, unfortunately, the events that happened in March were not surprising to us. I think if you've been paying attention to the news at all, it's not surprising to hear about, unfortunately, violence against minorities. So we've been having discussions for a long time about safety. I think, for example, if we're in the car and we get pulled over, I deal with the police. As a white woman, that feels safer. I think after the election in 2016, I remember there were a lot of acts of violence against Latinos and particularly there was some things in the news about Latino children being made fun of at school.
Mrs. Rivera:
Things like, "Build the wall, send them out." And that feels so much more personal to me than I think it would have if I wasn't with him and I've been able to kind of use our relationship in talking with my family. I don't think it ever occurred to my parents how painful it is to be discriminated against until, I remember talking with my dad about the things that we were seeing on the news and saying, "If we had children, those are things that people would say to our children. These are hurts that our children would experience." And I don't think that it occurred to them before. It feels different when it's your family, it hurts more when it's your family.
Dr. Smith:
Yeah. I have found in pastoring in different types of settings, even with people knowing biblical truth, even with people listening to other people, I've just been amazed. And this is by God's design with family, nothing is as powerful as grandchildren or even just the mere thought of grandchildren. Because as you said, by being with your husband, that gives you a certain closeness to the things you're discussing. And so then by parents being able to consider grandchildren, that draws them closer. They move stuff from theory to actuality or potentiality, which I think is very important for us to develop compassion and mercy with one another. I'm glad the way you described your community group. Part of endeavoring to keep the unity of the spirit, it seems that there are pockets of American Christianity where we struggle with a desire for just a kind of unrealistic hegemony. People come from so many places, people have so many different backgrounds, socially, economically, culturally, educationally.
Dr. Smith:
And so when you are discussing things within your community group, is there a good dynamic of, aside from the things that are specifically explicitly revealed in scripture, a lot of other things about how we perceive things about politics, economics, history, blah, blah, blah, those kinds of things will be different. Is there a level of grace did you find in discussions where Christians are allowed to have different experiences, different opinions and not have their brotherhood or sisterhood questioned just because we're different? I try to say sometimes is, different can be just different. And I put that just in there, different can be just different, not different is better or different is worse. Different can be just different. So you've mentioned a lot of different kinds of people in your community group. How does that discussion go, and you think everyone's opinions, thoughts, or experience can be received in that setting? Because I think that's important for Christian unity.
Mrs. Rivera:
Yeah. I think our community group does a really good job of being respectful of different experiences and different ways of seeing the world. Which is actually, unfortunately, I think very rare in society, but also we see in the church, it can be very rare to hear people be respectful of people who see things differently. And I don't-
Mrs. Rivera:
To hear people be respectful of people who see things differently. And I don't really know why our community group is different. I don't know why, but we've had some really good conversations where people present different ideas and there's pushback and there's healthy discussion. Our community group leader has been fantastic, and we did a book on racial justice in the church, and so that really opened up some really good conversation. And maybe just the way that we're led, maybe that's why we're able to have those conversations, but we've been really blessed with our community group that we are able to have healthy discourse.
Dr. Smith:
Amen, amen. I think we have to be able to understand the truth that is revealed in scripture, and also understand things that are not revealed in scripture, like worldwide, what is the best economic system? And worldwide, what is the best political structure? Democracy, a Republic like the US, or parliamentary? I mean, all those types of things are not revealed in scripture. How should we analyze the history of the United States between 1865 and 1888? Those types of things are important and those types of things affect how we think and who we are, but those things are not revealed in scripture, where it's declared that every follower of the Lord Jesus Christ must have this particular opinion about this particular thing. And I think, again, there's a false hegemony that is sometimes desired that is particularly unhelpful for the pursuit of Christian unity. So I praise the Lord for the description that you all are able to give regarding your community group.
Dr. Smith:
Brother Francisco, I have a question and I'm asking this, let me give you a context, the Baptist Convention of Maryland and Delaware, we have all types of congregations, different ethnolinguistic makeups within the congregations, and then also just among congregations themselves. And I'm always curious, so much of the tension and, "racial conversation," in America comes down along our long historical lines of black and white. And so I'm always asking Asian brothers and sisters, and I'm always asking Hispanic brothers and sisters, can you get a word in, in this conversation? And do you feel seen in some of the things that are going on or does the Black and white of it overwhelm things that are going on? So as a brother from Ecuador who's experienced things or realize that you could potentially experience things, do you feel that you can get a word in, in the conversation or be seen in the conversation or do you feel it's dominated by Black and white type issues?
Mr. Rivera:
I don't think I felt that in the conversation using terms of the population. Of course in the majority of ethnicities in this country, Hispanics are not as big of a population as the other races. So I have throughout all this, my time, my years living here in the US, I have not felt that the conversation, the discussions on race, on racial issues have been dominated. And I have not felt that we have been left behind. I always felt a part that whenever there was discussion, whenever there was an incident towards any minority, I always felt connected. And I always felt that if there was discussion, it was in a way I was connected to it as a part of a different minority. My personal experience has been that I've never felt left behind or felt like, "Oh, they're not giving us as much attention as the other groups." It hasn't been the case to me.
Mr. Rivera:
Like the other day, I think it was yesterday, I was walking my dog and by Broadway, I saw a sign that said Black Lives Matter, Brown and Latinos together, we can… in Spanish. So I remember taking a picture because I thought it was so cool because I've always felt like we're connected. As minorities, we feel for each other and really have never felt that we have been out of the picture.
Mrs. Rivera:
You weren't there I think that Sunday, I think you were at work, but the Sunday after the El Paso shooting where Latinos were targeted in a Walmart parking lot. That Sunday, our pastor, Pastor Dan, he had changed his sermon and did a very scathing rebuke of racism and hatred towards the other I think he using the Good Samaritan. And I remember sitting in the pew and I was by myself because you were at work, even though it wasn't me, I felt connected to them because this is my family too, and feeling so seen and feeling so understood, even though Dan is not Latino.
Dr. Smith:
Amen, amen. I've been reading a book called The Making of Asian American. And if God is calling all kinds of people, we have to put energy and effort into learning and getting to know brothers and sisters and knowing their background and knowing how they came to be my brother or my sister in this particular congregation. So that type of affirmation and things, I'm so thankful that you are able to experience that. You mentioned other, and I think that word is helpful because again, when I think there's a desire for a certain kind of false hegemony, I think it really can sometimes lead to sinful othering of people. I think that word is important. So, Nicole, othering, I think othering is a very important worldly tendency that the saints of God must intentionally resist. So Ephesians two says before we were redeemed by the Lord, we walked according to the world, the systems of the world, the flesh, or the Prince of the power of the air.
Dr. Smith:
And so one of the systems of the world is othering people and to seek to enhance and even create divisions, male and female are highlighted in Galatians three and Colossians three, rich and poor, Jew and Gentile, different ethnicities. And so I think even in our society, rich and poor, even in the church sometimes, there's divisions among generations. And so I think it's a spiritual habit and a spiritual discipline that we could really work on is appreciating the other, really leaning into the other. If Jesus' command is to love our neighbor as ourselves, we're going to have to get comfortable seeking to extend Christ's honoring love to the other. And so how do you two think about, and what kind of habits do you have just about engaging people in general? So Baltimore, I think, and you certainly can correct me, I think Baltimore is a diverse city, I think in the realm of social work and certainly in the realm of medicine, you interact with all types of individuals. So how, in your mindset as a follower of Jesus Christ, how does the category of other work in your thinking?
Mrs. Rivera:
So I think it's a balance because for me, I never want to be someone who says, "I don't see color. I don't see your experience." I want to know and understand how the systems that we have in this country have impacted other people. And to even know that my presence in some places is uncomfortable or scary for other people who are not white. So I want to be aware of those things, but also not treat people like they're different, if that makes sense. I want to be aware that we have these differences and be mindful of how I interact with people, but also not in such a way that I treat them differently.
Dr. Smith:
Yeah, yeah. Experiential differences or even linguistic ethnic differences, but not quality of humanity differences.
Mrs. Rivera:
Yes, right, right.
Dr. Smith:
Yeah, yeah. Brother Francisco?
Mr. Rivera:
So what comes to mind is also understanding about the different experiences among my brothers and sisters and also friends, people I know who are not Christians. I mentioned about how my experience, I think it's been positive in terms of how I feel in light of all the events. You mentioned that I feel connected, I don't feel left behind, but I've seen that that's not the case with everyone. I've seen people I know from minority groups as well, different minority groups, that don't feel the same, that have left behind, have felt like, "I don't think my group is paying as much attention. It's kind of like we are being left behind." And I also have seen different cases like a friend of mine, I'll tell you an example. During residency, one of my senior residents who is a very close friend of mine, he was very, very sensitive and very quick to call a white person a racist.
Mr. Rivera:
And I remember how he told me when I was an intern my first year, this person, this person, this person, they're racist. And I had that misconception of those other residents that I dreaded interacting with them and then later on, two years, three years into residency, I met them. They were wonderful people. And I realize how his experience, I learned how he has had such a bad experiences that that's why he did that. And I learned how he was, because his context because where he came from and because of his suffering from the past, not just to him and from his family, he was very quick and he had wrongly labeled white people as racist. So I realized that basically, if he saw a white person being mad or being angry, he will quickly say, "Okay, this person is just racist." And so that made me think that my experience is not the same as any other one else among the different minorities. And I have to learn and see how they relate to what's going on to the environment.
Dr. Smith:
Yeah, I think stereotyping and generalizations run rampant in our particular culture right now. And I think if we would look in the gospels, we would see certainly Jesus interacting with structures and systems like the religious leaders or Herod and things like that. But also we would see Jesus interacting with individuals and taking individuals as they are. And I think it's really important for us to, in a culture that wants to other people, in a culture that wants to kind of draw hard lines, I think it's particularly important that we engage people somewhat as Jesus did the woman at the well and the…
Dr. Smith:
Engage people somewhat as Jesus did. The woman at the well and as Jesus did. There's Nicodemus as Jesus did. The man possessed by a demon as Jesus did. The woman taking a-
Dr. Smith:
We have to engage people as they are. He called Peter from the fishing boat. He called Matthew from the tax collector table. Those are totally socioeconomically vocationally, different situations. I think we have to take people as they are and try to analyze and figure out where people fit in and sometimes do extra ordinary things like he did with the apostle Paul on the road to [inaudible 00:33:34]. We just have to seek, I think, from the biblical revelation to avoid stereotypes and generalizations. Yes. Structures and systems are real. Herod set up a sinful and a wicked system, [inaudible 00:33:49] set up an idolatrous system. Pharaoh set-
Dr. Smith:
I mean, people set up systems, but nonetheless, individuals also have to be engaged with the truth of scripture and the love of God and all those other things on the personal level as well. And so I think othering and stereotyping and generalizations are generally really unhelpful in some of these settings.
Dr. Smith:
So let me ask you this, with the experiences of Ecuador and Iowa, how have you found the Charm City? Is it charming?
Mrs. Rivera:
We actually love it. We love Baltimore. We chose to stay.
Mr. Rivera:
We're actually in process of searching the house.
Dr. Smith:
How long have you been here?
Mrs. Rivera:
We've been here for two years.
Dr. Smith:
Wonderful. That's really, really exciting to hear. Let me ask you about witness. You live in a populated city. You're a member of a wonderful congregation, maybe around what you see and observe and know in Baltimore, but then even maybe just more nationally, just what have been your observations or thoughts about the witness of Christians in general?
Mrs. Rivera:
I think that the church as a whole, not our individual church, but the church body in the United States, unfortunately makes it very hard to witness right now. I think that what I have seen in talking with my friends who aren't Christian, I want to choose my words very carefully. I think that the world does not see Christians as embodiments of love and support and a place to go for help and shelter in the way that I think maybe Christianity and churches used to be seen. I think now, unfortunately it's seen as a place of maybe hate and exclusivity. And I think that's a shame because that's not what Christianity, that's not who God is, that's not who Jesus is.
Mrs. Rivera:
And so what I feel is more important now, because everybody knows about God, this is not a country where people are like, "God? We've never heard about God before." I think what's actually more important is showing what the love of God actually looks like and what God's heart actually is, because I think that Christianity in this country is not necessarily a good representation of the heart of God.
Dr. Smith:
That was wonderful, yeah. I said witness and I should have said representation. Yeah. That's exactly what I was getting at. To me, one of the scariest passages of scripture is that middle portion of Romans Chapter II, it culminates with a quotation Paul is quoting from Isaiah, and he says that, "The name of God is blasphemed among the Gentiles because of you." And he's talking about the hypocrisy of the religious people who have the law of God. "Do you tell other people don't steal and yet you steal? Do you tell other people don't commit adultery, yet you commit adultery? Do you tell other people don't have idols, yet you have idols?" And then he culminates with, "The name of God is blasphemed among the heathen because of you."
Dr. Smith:
And so that certainly is one of my burdens, that there are mysiological consequences to Christian disunity. And I think a lot of Christians overlook that. They're pneumatological. The doctrine of the Holy Spirit. They're spiritual consequences of Christian unity, where we grieve or quench the spirit and the church, again at the macro level, the church is weakened and not empowered by the spirit of the Lord, Jesus Christ. And so very, very, very, very challenging.
Dr. Smith:
Brother Francisco, what do you observe whether close in Baltimore or just even nationally broader, think about the representation of Christianity in the US?
Mr. Rivera:
So I can tell you the contrast that I see coming from Ecuador. In Ecuador, since Christians are the minority, most of the country is Catholic and the majority of Catholics are non-practicing Catholics. So in Ecuador, if you say, "I'm a Christian," most of the people would immediately say, "Okay, you're for real." They immediately will assume, "Okay, he's going against everyone." They immediately assume that you're going to church, that you're most likely for real, you're really pursuing to live life avoiding sin.
Mr. Rivera:
So basically, in Ecuador, if you would say, "I'm a Christian," most people will immediately think that there has been a significant change in your life. And the jokes from your friends will start with, people will start thinking that everything that happens in your social sphere because it's different. It's nothing related to the majority.
Mr. Rivera:
So the conscious for me here is if you say, "I'm a Christian," and it feels like, "A lot of people here at Christians. What's the difference?" There's not really that much of a difference. So that was the conscious for me. I'm in a country where the majority of people are Christian, so if you say that you're a Christian, you really don't make that much of a difference. Like if you say, "I'm a Christian," in Ecuador, people would immediately say, "Okay, at some point he's going to start preaching to me."
Mr. Rivera:
If I say I'm a Christian, I'm not sure if people will immediately expect that I will start preaching. My sense, when I got here was just mostly people. I remember when I got here feeling like, "Okay, how do you make a difference then?" It feels like you have to do some extra work compared to what I was used to, for example.
Dr. Smith:
Yes, yes. Many cultures have some type of nominal, religious commitment or civic religion, and it can be different in different countries, whether it's in a Protestant frame or Catholic frame or in some other countries, even other things. Certainly during the time of the reformation and post reformation, we would have had Lutheran countries and Presbyterian countries and all those kinds of things. And so certainly when something is at that cultural level, many times in many scenarios, it would lack what you might call the teeth of something like Luke 9:23, "If anyone would come after me, let him deny himself and take up his cross daily and follow me."
Dr. Smith:
I do want to say, "Wow." I find you all to be a delightful couple. I would love to be able to talk more once we get beyond some of the immediacy of Corona virus. It would seem like a meal with you all would be delightful. Your perceptions and your thoughts about the world are curious to me. Again, I'm a extrovert. I love people. But I also just take seriously Ephesians 4:3, and I think part of being a fruitful member of the body of Christ is getting to know the body of Christ. We are the household of God. We are brothers and sisters in Christ, and that entails relationships and getting to know one another.
Dr. Smith:
I thank your pastor so much for recommending you and making the connection and the introduction. This is just seed bed, but I really want Merlin, Delaware, Baptist and other believers who listen to this podcast to get to know brothers and sisters who are different from them, who've been changed by the Lord, Jesus Christ, but we come from different places and we are different people.
Dr. Smith:
And so I thank the Lord for a doctor from Ecuador and a social worker from Iowa. I'm a Harley Davidson rider. So I've ridden through several places in Iowa and the river and Huckleberry Finn and all that kind of stuff. And so what a delight to talk to you both. Thank you for giving us some time and we praise God for you. And thank you so much.
Mrs. Rivera:
Thank you.
Mr. Rivera:
Thank you so much for having us. This has been a wonderful time. Really have enjoyed every second of it. Thank you so much.
Dr. Smith:
Amen. May the three of us bring much glory to the Lord, Jesus Christ as peculiar people. God bless you.