#22: Pastoring and COVID-19 Restrictions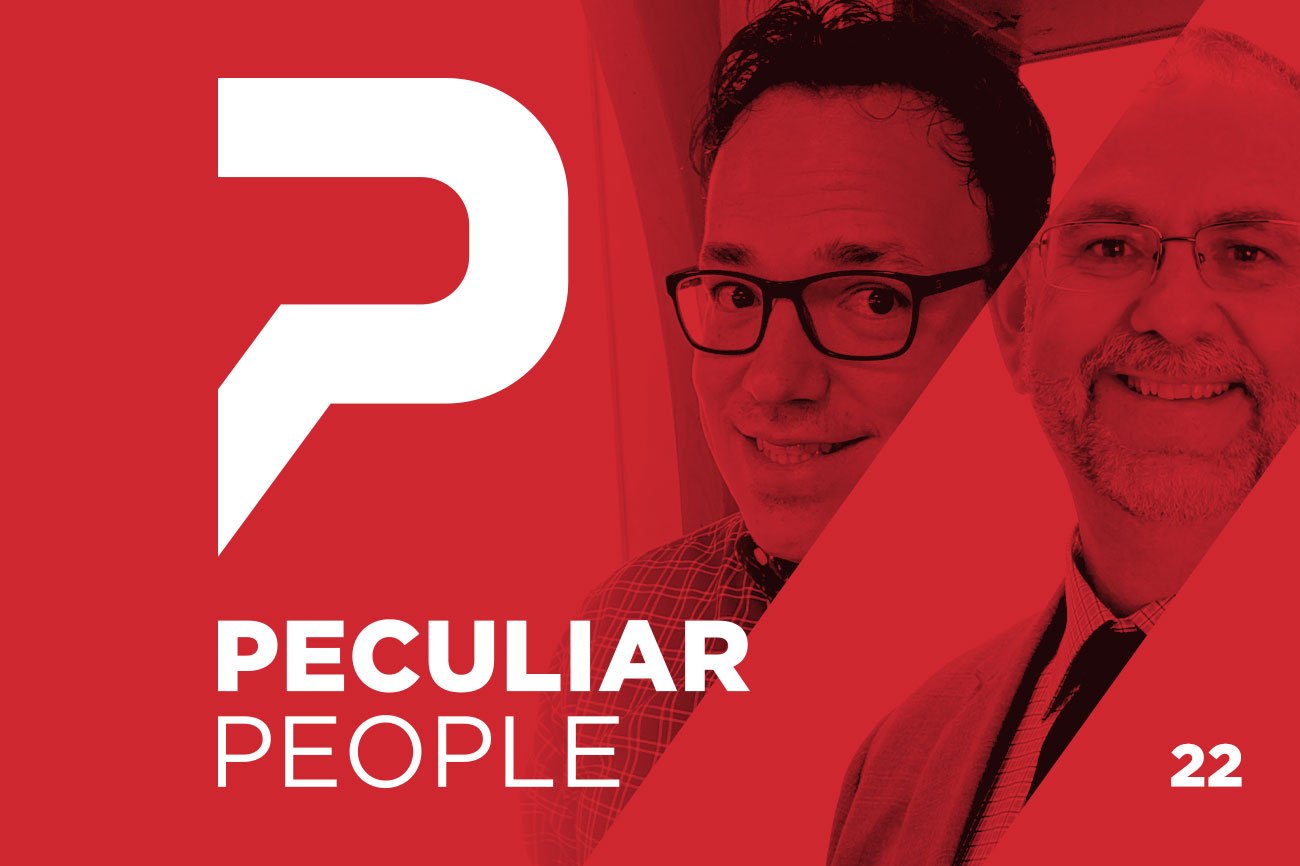 Several months ago, we spoke with two Anne Arundel County pastors, Jon Brewer of Lake Shore Baptist Church and Dennis Gray of Riva Trace Baptist Church, about pastoring and respecting governing authorities during the rapidly changing and often confusing challenges presented by COVID-19.
Transcript
Dr. Smith:
Welcome to Peculiar People, a podcast where we examine what it looks like to be a follower of Jesus Christ in the world in which we live. In I Peter, Peter said we are peculiar people. We are a chosen generation. We are a holy nation and we should show forth the praises of Him who has brought us from darkness into the marvelous light. So how do we do that everyday as brothers and sisters in Christ seeking to be Acts 1:8 witnesses in seeking to bring glory to the Lord our God? And as the Corinthian letter says, seeking to bring him glory in everything, whether you eat or drink, whatever you do, do it all to the glory of God. So how do we do that? So I'm excited to talk about the church and her situation, and how's she situated in particular local and state contexts. I have two pastors and I'm honored to talk with them today.
Dr. Smith:
Pastor Dennis Gray of the Riva Trace Baptist Church, Pastor John Brewer of the Lake Shore Baptist Church. I am excited to talk to these brothers. I think I just want to dive in and ask them to give a brief introduction of themselves, their background. And we'll start with you, Pastor Gray.
Pastor Gray:
Well, it's a pleasure to be here with you guys today, and looking forward to our conversation. I'm a long-term pastor at Riva Trace, planted about 30 or so years ago, been through multiple different locations and sites and building programs and experiences. And currently somewhere around 350 or so people, at least before everything fell apart, along with a Latino congregation that meets with us. And so enjoying what God is doing, but still trying to figure out what this COVID is going to do to us and with us. So, pleasure to be here with you and looking forward to our time together.
Dr. Smith:
Pastor Brewer…
Pastor Brewer:
Yes, sir. Thanks for having me as well. I've been at Lakeshore since 2016. Came on as the worship pastor. My background was in music ministry most of my life and became senior pastor here in 2017. So we went from having three services on Sunday morning, to online services only to, now we're meeting outdoors under a tent. So it's certainly been an interesting time of changes, but it's good. Things are good.
Dr. Smith:
I think things are good. I've talked to some of my colleagues in other states and I brag about how pastors in Maryland, Delaware have responded, number one with a love for Christ, number two, with a love for their people, but also number three, just with varying levels of creativity. And I've been so impressed as I've seen things that have happened, especially with the geographical diversity at our state convention. We have rural places out West, out East, in small town places. And then we have counties and suburbs that kind of surround Washington, DC and Baltimore and those areas are a little more dense. And so I've been really appreciative of the creativity and the different approaches that I've been able to observe in my role.
Dr. Smith:
I do want to say that the three of us, we're actually situated in the same county. I live in the state capitol, which is Annapolis, and then both of you are at two different sides of our county. And so our discussion can be framed in a particular context since we're all three of us in the same area, generally. I want to come into this with a phrase I like to use the sovereignty of geography. And I'm merely saying that I believe that God's congregations are where they are by the design of the Lord. And we ought to seek to be fruitful where we are, and there's different elements and different dynamics of a congregation being a fruitful witness for Christ where they are situated. So Edgewater and Pasadena are two different places with different dynamics and different things, and obviously Annapolis is a particular kind of place. And I think we are effective for the Lord when we seek to be fruitful where we are. If you look in the gospels, Jesus did different ministries and he engaged people in different ways, in different places, depending upon where he was, and also depending upon the spiritual state of the people that he was engaging.
Dr. Smith:
Now, one element I think of effective local presence is a congregation's interaction with the broader community around them, whether that be religious leaders, whether that be other Christians, whether it be other people in the broader religious community, whether it be political leaders, educational leaders, law enforcement leaders, all types of government leaders. And I found in the COVID pandemic, there's varying levels of congregational and pastoral awareness and knowledge and relationship with those different strategic decision-making leaders. In discussions with you two noticed that you two had a certain level of engagement that I think could be helpful for listeners of our podcast, and certainly for other BCMD pastors and congregational leaders to think about.
Dr. Smith:
Pastor Gray was involved on the governors committee or task force that developed procedures and recommendations and guidelines for reopening when Maryland began to move from a stay at home order. And then Pastor Brewer had the opportunity to engage with local leadership at the county level when his congregation was figuring out how they would regather and different regulations regarding that. And so throughout this event pastors have had different levels and congregations, so I don't mean every relationship stems from the pastor himself, but congregations have had different levels of engagement with civic leadership. And I think it's an important consideration for congregations to really engage in.
Dr. Smith:
When this thing started, I knew churches that had COVID testing going on on the parking lot of their church in some major urban or dense areas around the country and even around our area. And sometimes I talked to another pastor and they said, "Well, how is that church doing that? How is that church blessing their community like that?"And I would laugh, I would say like, "Do you know anyone at the health department? Does anyone in your congregation of however many people know anyone at the health department?" So I'll start with you, Pastor Gray. You said you've been at different locations, you've certainly planted and pastored over a long consecutive period of time. And then I mentioned that you did serve on the governor's task force. How have you thought about how a congregation should interact with broader leadership, particularly the civic leadership in the community around that congregation?
Pastor Gray:
Well, for me and for our congregation, I want to be engaged in a couple of different ways. I want to be engaged, first of all, from a very cooperative mindset. I know that many, many times, particularly as you look at what's taking place with the COVID experience and some of the laws that have come down, some of the restrictions that have come, a number of churches have kind of identified the government officials as an adversary. And I'm not sure that that's very helpful to us. My grandmother, who I refer to rarely, though not a very spiritual woman, was a very wise woman. And she used to tell me all the time, "You catch more flies with sugar than you do with vinegar."
Pastor Gray:
And so for us, what we want to do is we want to have a cooperative relationship where we are walking hand in hand. So when I knew that there was going to be a task force that was going to be established for creating the rules and the regulations for the churches that were going to be coming back together when we were ready to start meeting again publicly, I threw my hat in that ring. And because I had an existing relationship ahead of time, it gave me the opportunity to be able to have some credibility in that experience. And so that's my first thing is that I want to be in a cooperative relationship and not an adversarial relationship.
Pastor Gray:
I understand the intricacies of that, but the reality is that most of the times it's been my experience that we can negotiate and navigate that path if we're very careful about it. Second thing is I want to be in a supportive role. And what I mean by that is one of the questions that I'm constantly asking, whether it is for the state level, or the county level, or the local level for us here just in our community, is what can we as a church be doing to bless the people that are a part of those different organizations. Because if we're seen as a blessing, then we are much more likely to be able to come on board and have a voice when those timeframes to make some decisions are upon us. And so, we regularly work with Anne Arundel County as far as the food bank and the State of Maryland food bank, multiple local elementary schools that we support and engage with on a regular basis, the local Arundel Lodge, which is for those, with some learning disabilities.
Pastor Gray
We have numerous different ministries that keep us engaged with our local community, so that when someone thinks Riva Trace Baptist church in our area, they don't think of that isolated group of people over there who are doing their own thing. They think of a group of people who they can call upon when they need something. And so when we then step into these situations and have a voice, even sometimes if it's a dissenting voice, that's not the first time they've heard from us. And it's not the only way that they've heard from us. They have regularly and consistently been hearing from us in a supportive and an encouraging and in a blessing role. So then when we take a little bit different position sometimes we have some more credibility in that discussion.
Dr. Smith:
Yeah, well that is helpful. And the Bible says that the men of Issachar knew the times and they knew what Israel should do. And I'm always encouraging brothers and sisters to, again, with the sovereignty of geography, understand where your congregation is. I do think it's unhelpful to just kind of pick up some of these national narratives or national dialogues that don't have anything to do with the particular matters that we're particularly trying to address, number one, as a local pastor in a congregation, and then number two, as a group of churches in a particular county or a particular state.
Dr. Smith:
For example, they have 40 state execs in the Southern convention. So out of that 40 state execs, more than half of them have governors that either themselves are followers of Jesus Christ or governors who have high regard for the First Amendment in whatever state version that is included in their state constitution. And so I won't name any states, but if there's three hostile examples out there, then I don't think we should appropriate that narrative for the other 46, 47 states. I mean, I just think that's unhelpful. So I really appreciate you saying examine where you are. I won't name any names, but I mean, the governor of Maryland regularly goes to a Baptist church. I mean, so why would I encourage pastors to take a posture that the governor who goes to Baptist churches is probably against us in this scenario. That just doesn't make sense.
Dr. Smith:
And I think it is very appropriate for congregations, again, the sovereignty of geography, to examine where they are and each state's governor is a different individual, each counties executive is a different individual, and then you even went down further, each mayor is a different individual. And I think it behooves congregations to examine that. The greatest command, love the Lord God with everything you have, and love your neighbor as yourself, I was really encouraged when you said, "We always want to see how we can be a blessing to those around us."
Dr. Smith:
I came to this role from pastoring a church and we sat in between two pretty large high schools. And I wanted both of those principals to like me, and like our congregation, because we're a blessing to the neighborhood, to the area. Well-painted, newly stocked faculty lounge, and old, retired, ladies coming through, putting snacks in there for the teachers and things like that. When they think of the name of our church, you want your neighbors in the civic community in which you find yourself to have positive thoughts.
Dr. Smith:
Pastor Brewer, let me ask you a question. So Brother Gray was on the governor's reopening task force, and so then we had certain things in place, but again, I mentioned earlier the diversity of Maryland. So we have dense cities and dense suburbs. Then we have rural areas, and so some of the further implementation I'm going to leave with the county executives because there's just so much distinction. So when you are trying to clarify at the county level, and when maybe you're unsure about some things, or maybe even some things aren't as helpful for your congregation, how did you think about, and how have you gone about seeking to engage the county government in these matters?
Pastor Brewer:
So just to echo what Pastor Gray said, this idea of community engagement, if in the middle of a pandemic you're trying to figure out how to best engage the community, you're going to have to wait on the next pandemic. This is an investment that churches needed to have been making for months and months and years, and years and years, so that you have the community credibility to step into these situations.
Pastor Brewer:
One thing that we really had to fight on the front end, and even I kind of had a moment of epiphany myself, when we were talking about this as a staff and especially on the front end and the state opened up a little bit and our county kind of pulled back on that a little bit. And in taking these positions, and it's a political issue, it's a cultural issue, and it's an issue of public safety and responsibility. I had a moment of epiphany because I was probably more enthusiastic about opening up or getting the government out of the affairs of whether the churches open up, probably more enthusiastic about that than some would be. And my epiphany was, I said out loud in the staff meeting, I said, "I feel like the only people that agree with me are lunatics, because the people that thought the way I thought in that moment, were also the people that took such extreme positions on such unrelated, inconsequential issues."
Pastor Brewer:
And so you really have to kind of ask yourself, "Okay, what camp do I want to be in? Do I want to be in that camp?" Now, it doesn't change how I felt then or how I felt now, but extremism certainly doesn't get us anywhere. So when I began my conversations with the county level, one, it was just a matter of being a squeaky wheel. You cannot complain on social media, or leave a voicemail, or send an email. If you want to be engaged, you have to be willing to put the time in and contact, contact, contact. And I believe that's not only our right, but our responsibility as a constituent. The old adage, they do work for us. I made it very clear that I was not going to cease communication with them until we were able to have a conversation.
Pastor Brewer:
But it was always about, "I want to have a conversation with you about this so that we can work together to do this right." And I think on the front end, that there were some fringe churches that just wanted to dig their heels in and say, "This is what we're doing and you can't stop us." Now whether they had the right to do that or not is up to history to decide, but it certainly didn't accomplish anything. It didn't further the kingdom. And it did not create optics in their community where they are seen as investing responsibly in their community. So they'll have to deal with the fall out of that.
Pastor Brewer:
So my engagement with the county was, I was very upfront. I said, "I believe you're in a bit of an echo chamber. You're hearing the same kind of information from the same kind of people. Within the Christian community, there are divisions of people that value in-person worship and gathering more so than other divisions of the Christian community. And so I believe you're only hearing from people that agree." So we made that our focus, we want to work with the county, really impressing upon them that if we have directives to follow, we will do our best to follow them.
Pastor Brewer:
I think the mistake that's made at the county level, at the state level, and certainly at the national level, and I've heard this phrase a lot, and it's just pick your politician, whichever one you dislike, "So-and-so is out to destroy America." I'm positive that probably exists at some level in some hearts. I think the majority of people that run for public office, even the ones I vehemently disagree with from a policy, personality, and every other standpoint, I don't think they took the job to destroy America. And to dig into that rhetoric, and for that to be our position for people that we disagree with, is not helpful. And you're not going to get a place at the table with people that you have described as destroying America.
Pastor Brewer:
I believe there's a way, a Christian way, to engage in civil discourse, even contentious civil discourse, and a lot of people like the story of Jesus in John Chapter Two, where he goes in and disrupts the temple, turns over the tables, causes a little ruckus. And so that shows us that there is certainly a time and a place for that, but we have one record of that story. We have many, many, many other records of Jesus operating with such grace, and such diplomacy, and such love that if you always default to John Chapter Two, as this is what Jesus would do, I think you're probably skewing that story a little bit more prolific than some of his other attributes, although that is sometimes necessary.
Pastor Brewer:
So just trying not to take extreme positions, I think, was something that we had to really agree on, working with people that we both agreed with, and people that we obviously, from a policy standpoint, a political standpoint, and just about every standpoint disagree with, but we still have to find a way to engage them.
Dr. Smith:
Amen. Just following up Pastor Brewer, when you and I were talking, we discussed some ways that you are seeking to engage your congregation and how you would honor elements of the county's recommendations regarding social distancings and things like that. And then so happened that some county official was in one of your worship services and things were just as you had described. And so this is not all the time, but sometimes I meet people that kind of play games with the government. So I was just wondering from your perspective, what is the role of integrity in dealing with civic engagement, or just more so in dealing with others in the community who might not particularly be followers of Jesus Christ. What is the role of integrity in all of this?
Pastor Brewer:
Well, the argument that we made on the front end of any of our conversations with the government was, with all due respect to retail establishments and essential businesses and the people who manage those places, I assured them that pastors were more invested in the safety of their congregation. And assured them, and I had to then share this with my congregation, I assured them that if we were given reasonable directives to follow, they would be followed. And so I had to tell my congregation, we have agreed all of the directives, and so don't make us look inappropriate. And honestly, I mean, we had it on a very small scale, but we did have some county people come to our services, and they came to our services not to inspect us, but they came because they were inspired in some way, by the stance that the church was taking.
Pastor Brewer:
Civil discourse disagreements, every meeting you take, I think sometimes we forget the big picture that there's always an opportunity to expose somebody to the gospel that we didn't know about. And for them to show up in our service and realize, "Hey, they said they were going to do this, this and this. That's exactly what's happening." And we have similar to before the pandemic, 320, 330 in worship. That's certainly been cut down a little bit, but right now for our services we have right under 200 people showing up. It's difficult to police that. I know that there are people probably too close to one another that do not live together. I don't go around with a spray bottle spraying them like cats to get away.
Pastor Brewer:
But we do have our directives in place. We have had personal conversations with people that seem to be disregarding some of them, because it is so important. And I don't agree with everything that's being asked of us. And it would be impossible to get 200 people to be in complete agreement with everything that's asked of us. But if they said you can meet under these circumstances, and we say, "Okay." At that point, it's no longer about them and what they're requiring of us, because we agreed to it. It's about our integrity and our yes being yes, and our no being no, so that when the community looks in, they see something different. That's the entire purpose of the church is when the community looks at the church, they should see something different than they see when they look everywhere else.
Dr. Smith:
Amen. In the Sermon on the Mount, one of the attributes described in what many people call the Beatitudes is blessed are the merciful, for they shall receive mercy. And the one thing that I think people miss, Pastor Gray, and I'd be curious about your insights from engaging in the task force, is I would hear a pastor or a church leader say, "Wow, we're in the midst of a global pandemic. We didn't have this class in seminary." And they could clearly understand that, but it seemed like they didn't extend the same type of mercy or grace and understanding that many of these people at the state level and county level, when they ran for office, they didn't take a class in global pandemics either. And so everyone's trying to work through this. Do you find that to be the case, as you were engaging at the state level, like, "Hey, these men and women are trying to figure this out on the go, just like everyone else."
Pastor Gray:
Yeah. They were very gracious. Pastor Brewer said very open to hearing from us. It was interesting to look at the dynamic of who was on that task force because it was religious, and not specifically Christian. And so we had everyone, from every denomination, from every background. I know that, for example, there were a couple of Muslim groups that were there as well as everyone else. And most people seemed to be trying their best to get along. But then there were a couple, and you heard it from the very, very first meeting, it was a tone of voice that was aggressive and it was a clearly drawn a line in the sand. "This is what we're going to do."
Pastor Gray:
And any of us, when we start a conversation that way or when someone starts a conversation with us that way, our defenses go up, and we get to the place where, you're going to stay your ground and I'm going to stand my ground. And that's what happened with a few of the people on the task force. Actually, from my perspective, I was surprised at two things. One of them was most of the people on the task force from the spiritual side were much more agreeable to the limitations than I had thought that they would be. As a matter of fact, there were a whole group of them that didn't think that the government was going far enough, which was a little surprising, but that was their position.
Pastor Gray:
And so that one was a little bit surprising to me. And then the second thing was I helped write the procedures that churches were going to go through and present them to the governor, through the task forces leadership, and then what actually came back to us was much less stringent than what we had suggested to impose upon ourself. And so that surprised me a little bit. It was not what I was expecting. I asked for the moon and they gave me the stars as well. And so I was kind of surprised.
Dr. Smith:
Wonderful. Since you described the nature, the composition of the task force, this podcast is supported by the Baptist Convention of Maryland and Delaware. And I always like to take any opportunity to state that Baptists affirm what is laid out in our constitution as religious liberty, and historically Baptists affirm it in a genuine way. When I say in a genuine way, we don't mean religious liberty for Christians or religious liberty for Baptists. We mean religious liberty for citizens in these United States.
Pastor Gray:
Absolutely.
Dr. Smith:
So certainly that would include the revolutionary time, the constitutional time that would have been Jews, Quakers, Muslims, and others. And so certainly that was reflected in that task force. And I never miss an opportunity to tell people, yes, we mean that in a genuine, constitutional way, in the heritage of people like John Leland and Roger Williams.
Dr. Smith:
Well, let me ask one last question and I appreciate you both coming on to the podcast. We've talked about civic engagement in the midst of a pandemic. We've talked about leadership in the pandemic, how you had to do some things with your worship, those kinds of things have been altered. And so I'd asked both of you just kind of in partying, how have you kind of gotten away from being consumed by all this, and also give pastors a word on why they need find some way to escape or relax or get in a different environment that they've been going at this since March. Pastor Brewer?
Pastor Brewer:
I think it's important, first and foremost, if you keep the most important thing, the most important thing. And to celebrate your victories. We saw a lot and we continue to see a lot. There are people that engage with our church online that never engage otherwise. There are people that are engaging now that have never engaged otherwise. There's something about a tremendous global tragedy that causes people to look up. And so we need to be there for that. So just kind of celebrating the victories, no matter how small they be. Keeping your perspective in place. Sometimes we use a few words synonymously that are not synonymous. And those words comes to church and community engagement is inconvenience, discrimination, and persecution.
Pastor Brewer:
There are many, many things that the government has inconvenienced us with lately. And there are even a few things that the government, if you look at them from a litigious standpoint, there are some discriminatory practices in place at this juncture. That, again, that's not up for us to decide, that's up to the courts to decide. There are at this juncture, not a lot of persecution in place of the church in America. And when we speak in those terms, we are being, in my view, disrespectful and ignorant to the people that are actually experiencing persecution.
Pastor Brewer:
Like I said, when we had to meet online and nobody could be in the church, we're still meeting online and streaming a service and there are places where that stream wouldn't even make it out the door, wouldn't even make it onto the airway. So understanding that yes, inconvenience is part of it. Sometimes it's discrimination that we have to kind of push against, but to not sully those who are actually going through persecution by lamenting poor us, woe is the church in America. So keeping your perspective in place.
Pastor Brewer:
And then finally, as far as staying positive during all this from a pastoral standpoint, and I think we can't neglect our own personal response to the pandemic, our own personal response to how our spirituality has changed. I know as a pastor, it was very hard to get into preaching to an empty room. Sermons change because there's no energy to feed on. It's not conversational. So just acknowledging that some of that stuff has changed, acknowledging that we may need to go to the mountain differently, and retreat differently, and take care of ourselves differently, is important to shepherd the flock. So kind of taking your own time and understand that things aren't just different for the church. They're not just different for the state and the county. They're different for you too. And you need to step back from that and tend to yourself maybe in a different way than you have before.
Dr. Smith:
Pastor Gray…
Pastor Gray:
I made a note or two because I appreciated you throwing that to John first so that gave me a moment to think about it. The very first thing I wrote down was exactly what he said, which was take time for some self-care. I'm in the position of having been doing this for quite some time now, 30 some years in the same church. And if you want to last for the long haul, you have got to take care of yourself spiritually. And I don't know what that means for everyone else because we all do it in different ways. But I did notice one thing about me when I went home with this COVID environment, was that there became a blur between work and home, because I was working out of a home office. And for the first month or two, I told my wife, "I'm starting to feel like a troll. I'm going down into the basement again." And then after a month or so, I would stand up and she would look at me and she would go, "Are you going down to the basement again?" I spent so much time, I didn't have that delineation that I have to learn how to create that. It's already hard enough for pastors in the first place. Well, when it invades your home in that way it becomes a bigger issue. And so taking time for yourself for the long haul.
Pastor Gray:
Second thing I would say is, don't go it alone. I have a couple of friends that are very, very close that I've built over the years, that sometimes I call them and cry on their shoulder, and sometimes they call me and cry on mine. And if you don't have that in this kind of environment, you're just not going to make it. You have to have some go-to people that are just going to be there for you.
Pastor Gray:
The other thing I think is very, very important that we have to pay attention to is shepherding the flock during this timeframe. There are a lot of people who are limited in their engagement with the church that can't gather physically, but then they don't have those relationships through a small group or A Sunday school class. And so we have to intentionally go to shepherd them and make sure that they're being talked with, prayed with, ministered to, and so we're using our deacons for that regularly.
Pastor Gray:
But then there's another group in there that I think we've got to shepherd that I honestly just picked up on it this past week, which was my staff. Every pastoral staff that I know, pastors and admin staff, have been working their heart out during this COVID experience. Because if you're like us, one, we had to stand up live streaming or video casting from the beginning, almost overnight. So everybody's pitching in making that happen. And then we also, just about time we had that figured it out, we had to go and begin to go back to public worship in an entirely different environment, with all different kinds of volunteers doing different kinds of things. I mean, whoever thought we were going to be having people standing out front with a thermometer saying, "Here, let me take your temperature before you come to worship." But we're having to do that.
Pastor Gray:
And so our people are learning all those things, and our staff, my staff is just exhausted. They are just worn out. And so I was talking with my executive pastor the other day and one of the things that we're going to do, actually, they're going to announce it today at 11:00 at our staff meeting, is we are going to just shut down for an entire week. We're going to pre-record the service. We're going to have a guest speaker on Sunday morning, and the offices are just going to be shut unless there is an emergency, and everyone is just going to go home and take a week off, because they are exhausted. They're doing videocast, live worship, and then once a month, we're doing outdoor worship for those people who can't get into one or the other two experiences.
Pastor Gray:
And so I think shepherding the staff is very, very important as well. But there's one piece that God, and I'll finish with this, really laid on my heart a couple of weeks ago. One of the things that I noticed about myself in this pandemic is when we came out of public worship, first of all, it was a shock to everyone's system. We're trying to determine how that would affect who we are and what we do. And what I did, I realized it unintentionally, without knowing it, was for myself, I just speak for myself. I hit a pause button. I hit a pause button that said, "Okay, I'm going to determine how we can at least do ministry and maintain and survive. And once I know how I can continue to survive and do the things that I must do, then we'll kind of endure that and work through that. And then when the day comes that we can come back to normal, whatever that new normal is, then we'll relaunch all of our ministry and all the different kinds of things that we need to do."
Pastor Gray:
And it struck me the other day that whatever that timeframe is, is not going to be what I thought it was, which was to close to normal as you get. That's not going to happen. For what it's worth, Dennis' opinion, that and $5 will get you a cup of coffee, is we're going to be doing this for a year, or year and a half, or longer. And I don't see any exclusion in the scripture that says, "Stop ministry, Dennis, because there's a pandemic going on." Just kind of hit the pause button, set back, take care of what you got and wait until it's over."
Pastor Gray:
And so I called about four or five of those really good friends over the last week and I said to them, "I don't know about you, but I'm done waiting. So let's get together and talk about how we can do ministry and go forward in the midst of this environment." So we're going to be meeting together and talking about that this Friday, about five or six of us are going to get together. And I don't have any answers, but I've got some really smart people. And one of them said this to me, most of you will know Kevin Marsico, and whenever I called him and invited him into that meeting he said, "Dennis, I've been thinking and praying about this. And here's what I think is going on, at least a piece of it. You read Acts Chapter One, Verse Eight, and Jesus says, 'You're going to be my witnesses in Jerusalem, Judea, Sumeria, and the other most parts of the earth.' Well, if you read Two, Three, Four, Five, Six, and Seven, they didn't do much other than Jerusalem. And when you get to Chapter Eight, Verse One, scripture says persecution broke out and they were scattered. And as they went scattered because of persecution, then they begin to fulfill what Jesus told them in Acts Chapter One in Verse Eight."
Pastor Gray:
And what Kevin said, and I just 100% agree with him, is that perhaps part of what is happening with this COVID, God did not do it, but he has allowed it, is that he's tired of sitting there in heaven looking at us going, "I told you guys to go and you're not going yet. So I'm going to put you in a position where you can't stay where you are, but you're going to have to go." And I think that that may be a part of what we as a church have the opportunity to do, is learn how to go again.
Pastor Gray:
If you're like me, and I'm one that will own it, we spend a lot of time telling people, "You need to come to church." Maybe it's time we tell the church, "You need to go to the world."
Dr. Smith:
Amen. That Acts Eight passage is one I refer to often because the apostles stayed in Jerusalem. And one thing as Baptists, we are not a hierarchical or clerical denomination. We believe that every believer can be filled with the spirit of Christ and be a witness for Christ. That Acts 1:8 charge is to all the believers, and so, praise the Lord. This is a good time to not hit the pause button, but to press on in faithful ministry to the glory of Jesus Christ.
Dr. Smith:
I want to thank you two pastors for coming on the podcast. And in closing, I just want to mention that if you do find yourself, as a pastor or congregational leader, and you're in a need of a time of refreshment, I do want to encourage you to check out skycroft.org, which is our campground here in Maryland, Delaware. It's in the mountains and a place where people can step aside and retreat, you individually, or with your leadership team. And you can go to skycroft.org, or you can go to the BCMD website, bcmd.org, and link to Skycroft from there. Pastor Dennis Gray and Pastor John Brewer, thank you so much for your time, and equally thank you for being effective witnesses for Christ in your community and with civic leaders. God bless you.
Pastor Brewer:
Amen.
Pastor Gray:
God bless.