#19: Quarrels and the Future of the SBC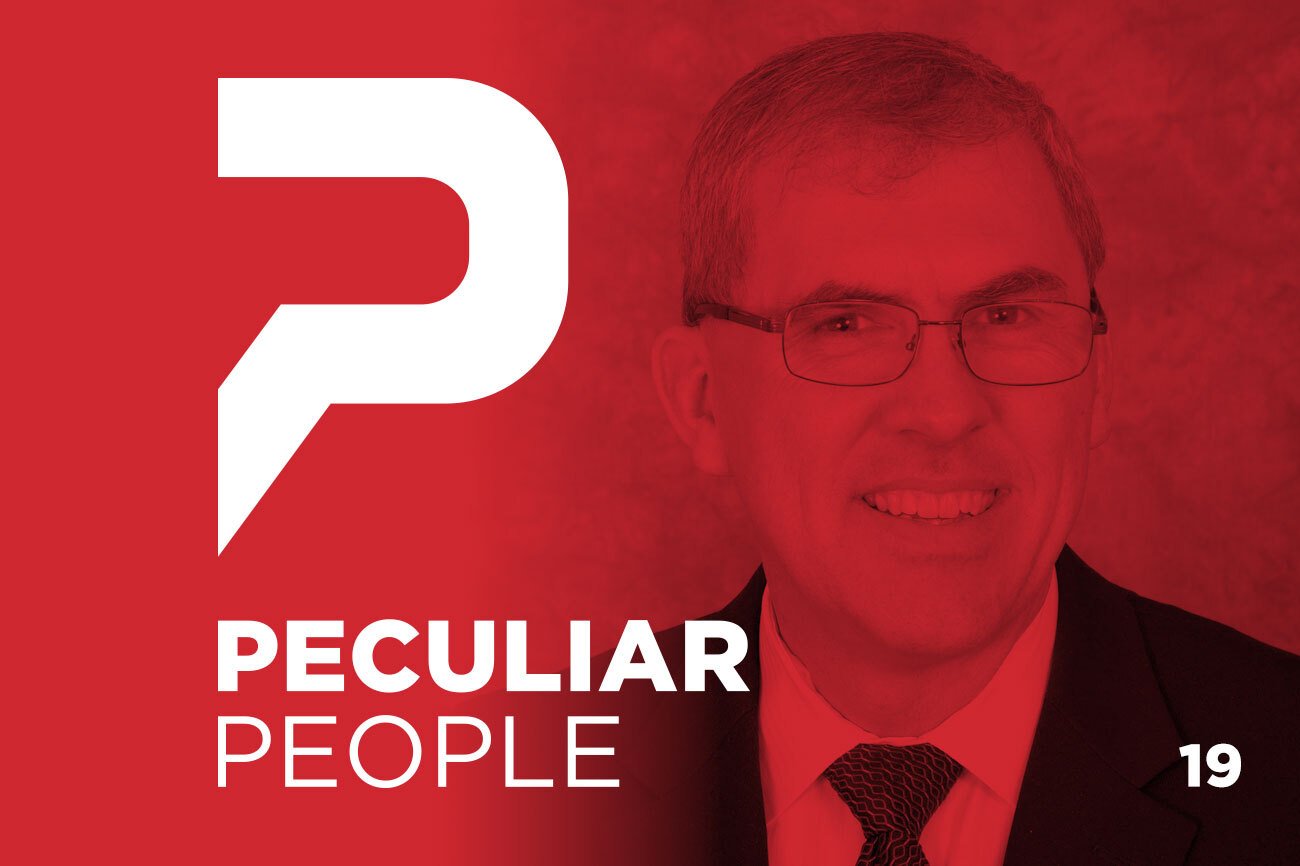 Listen in as Dr. Smith speaks with Bart Barber of FBC Farmersville in Texas. Pastor Barber has served in various capacities in the Southern Baptist Convention and provides us with an even-keeled perspective on the SBC.
Transcript
Dr. Smith:
Hello, I'm Kevin Smith, Executive Director of the Baptist Convention of Maryland, Delaware. Welcome to Peculiar People, a podcast where we examine what it means to be a follower of Jesus Christ. In our current times, we seek to be motivated by Peter's exhortation that we are a peculiar people. We are a holy nation. We are a chosen generation. And so we talk to brothers and sisters in Christ and try to analyze just what it means to bring forth glory to God or in Peter's language, to show forth the praises of Him who has brought us from darkness into the marvelous light. And so we're delighted that you have joined us. Today, we're going to have the privilege of talking to Pastor Bart Barber of the First Baptist Church of Farmersville, Texas.
Dr. Smith:
He is a brother that I love and respect. We have a lot of intermingling of some peculiar things. For example, we're both Southern Baptists, and in our denominational family, there's an annual meeting once a year in June. And he and I take our families to the Southern Baptist Convention. So we have had opportunity to collaborate on different resonance ends that are located in Southern Baptist's Meeting Cities. And most recently, I've just been tremendously blessed by his service as a trustee of the Southwestern Baptist Theological Seminary. He's rolled off on that term, but a few years ago, he was in there serving at a vital time by denomination, and we'll talk about that a little bit later.
Dr. Smith:
Then also, as of late, I've just tremendously admired this brother as a son. As a pastor, I've often had to challenge believers in their 40s and 50s by how they treat their older parents. I believe that the commandment to honor your father and your mother does not expire when one turns 18. I think your mother and your father are your parents your whole life, and in his personal life, he's had the opportunity to engage some of those matters. And so on multiple, multiple, multiple levels, I love and appreciate and I'm thankful for this brother. And I will say just recently, he's had a significant health challenge in the midst of the COVID-19 that's going on globally. And so I just thank the Lord for the privilege of talking with him today and for seeing him smiling and looking in a healthy form. And so Pastor Barber, welcome to Peculiar People.
Pastor Barber:
Thank you so much, Dr. Smith, I am pleased to be able to be here with you. And the moment I heard the name of the podcast, Peculiar People, I thought, "I belong on there." So thank you for having me on.
Dr. Smith:
Well, I want to talk about politics on two levels, one on the level of unity within a denominational family of more than 46,000 congregations, which in itself introduces elements of what we would call politics, or at least group dynamics. And then certainly, later on, talk about just 2020 and where we find ourselves as Christians in the midst of a presidential election year here in the United States. But Peculiar People is a conversation among followers of the Lord Jesus Christ. And so I always like to open up and ask a brother or sister just how you became a follower of Jesus Christ.
Pastor Barber:
Well, I'll tell you, I think God brings some of us to faith in Christ later in life after we've made a lot of big mistakes to show us that we can't ever get beyond the saving hand of God. And I think He leads some of us like me to faith in Christ very early to show us that we need salvation even if we haven't done a lot of really bad things. It underscores for us that it doesn't take much of a resume to make you a sinner in need of salvation. And my parents took me to church when I was little. My mom very much tended to my education, both academically and spiritually.
Pastor Barber:
And then later on, my dad more so as well. But early on, really, my mom was very, very faithful, pointed me to Christ. And also to help me when I went to kindergarten, I was reading the newspaper because my mother had been really working with me and encouraging me to learn my ladders and to learn how to read. And so because of that, really, the gospel being proclaimed from the pulpit, I was at a very small country church that didn't have pullout programs. And so from the time I was three, bless her heart, my mom was having to keep me and three other siblings engaged in the pew. And I don't know about your mama, but I can tell you that my mom, she had the ability to leave us sitting out there and go sing in the choir. And she could sing, "What a friend we have in Jesus," while simultaneously glaring at us in a way that ran the blood cold through our veins and told us that we better behave.
Dr. Smith:
Nonverbal communication.
Pastor Barber:
She was a master of it, is a master of it still. So because of that, I heard the gospel early and had been led to a point where I could comprehend it early, and begin wrestling early with the truth of it and came to an understanding of myself as a sinner. So when I was just barely six, I professed faith in Christ even though that's my testimony. When I have six-year-olds here, man, I'm very careful about that because I think that's rare. But God pressed on me a calling to preach in pastoral ministry when I was 11. And I think God had reasons that he wanted me to get to work early. And so he started working early to bring new faith in Him. And so praise be to Him. The idea that He can take someone at an early stage in life and bring them to comprehend the incomprehensible just makes me give glory to this night.
Dr. Smith:
Amen. What a sweet testimony. And I pray that brothers and sisters are encouraged by that. The Lord changes the lives of adults, and the Lord changes the lives of children. And I pray that we are open to what I call the John 3 mystery. It says, "The wind blows where it wants to blow, and you can't tell where it's coming from or where it's going. So is everyone who is born of the Spirit." So beautiful. Well, what I want to talk about today is unity, two levels. First, denominationally and our denominational family, which is a very large family, and then perhaps we'll have time to discuss some things in our broader society as well. So let me lay my cards on the table. In my introduction, my bio, it says, "I've tried to have a ministry that is influenced by John 17." And so I take Jesus's prayer very seriously, that God's people should be one.
Dr. Smith:
Certainly, that does not imply uniformity or hegemony. But it does apply something other than antagonistic division. I realized some people describe us as the largest Protestant denominational family in the United States. And so that means there's a lot of different personalities and all that. So let me ask you just kind of what are your thoughts about Christian unity, and I'll lay kind of two things out to maybe give you some context. One is our denominational family, we have a confession of faith, the Baptist Faith and Message that addresses many things concerning our understanding of essential biblical truths and also some biblical truths that address our society. But none of us would claim that to be an exhaustive document or an authoritative document.
Dr. Smith:
So there are things that Baptists deal with that are not within the scope of the Baptist Faith and Message. And then secondly, just how do you think about unity within the realm of individuality and personality? And I'll give you a very practical example. Now, I really appreciate your presence on social media, it is very helpful. Either discussion was going on and you chimed in, or maybe you yourself initiated a discussion. And I said, "We have so many discussions in SBC Life." Our convention president has said, "Gospel Above all," and our North American mission board has said, "Who's your one?" And we have the Caring Well Initiative from our executive committee in ERLC. Let's just sing those three songs and be quiet about everything else. And I love your reply, you say, "Hey, brother, Baptists will always have their own voice." So just in that broad context, and you can actually start if you'd like at the congregational level, but then when you stretch beyond the congregation to a broader denominational family, how do you approach and think about Christian unity?
Pastor Barber:
Well, I'd like to give a little bit of narrative about this if you don't mind, Kevin.
Dr. Smith:
Yes.
Pastor Barber:
I started engaging in Southern Baptists Life with a voice starting to around 2006. And technology had developed a way that you could say things. Man, I started blogging. And there is no divisive wrong-hearted mistake that anybody could make that I haven't made. That I haven't made it in public. That I haven't made online. That I haven't made repeatedly. I came to a point where because for those who don't know and a lot of people who are younger, in that time frame, that first decade of this century, there was a lot of contention. This was before Twitter, before Facebook. And so blogs were what people use then. For [inaudible 00:10:35] history, it's kind of like the pamphlet wars of the 1700s where people go get their coffee shop and say, "Do you see what Bunyan wrote this time? Well, let's make a reply with Kiffin." And so that sort of thing happening in Southern Baptist Life on blogs, on the internet in the 2000s. And I reached the point where I just perceived the difference between conversations to persuade versus conversation to vanquish.
Pastor Barber:
And I realized that I was writing in such a way, God had mercy on me, that I was writing in such a way that what I wanted to do was vanquish. I was persuading no one. I was getting attaboys of the people who already agreed with me. And when I looked, I realized that the online Bart Barber, the denominational Bart Barber was completely different from the local congregational pastoral because in my church and in my congregation with my people who I knew with whom I was living lives, the people that I loved, I was always in conversation to persuade. And if you're going to persuade people, then you have to be fair with them. You have to love them and show an interest in them. You have to listen carefully and thoughtfully to what they say. Because you realize that if they're going to be persuaded, you've got to have an answer to the things that they actually believe. You've got to have an answer to the things they'll actually say.
Pastor Barber:
And so that's what the New Testament would call the desire to win a brother. That desire, I think, changes the means in which we talk to one another. And so here's the answer to your actual question. I think the definition of Christian unity comes when I see someone who is a sister or a brother in Christ, I know that we're part of the same theme when saying fellowship together. And I look at them and I say, "My objective here is not to drive you out. My objective here, if we have differences of opinion about things that are of significance, my intention is that I persuade you or you persuade me in such a way that we build unity."
Pastor Barber:
The Lord speaks to us about the idea of being peacemakers. And so that involves being willing to step into occasions where you have division or a difference of opinion, and be willing to be someone who, as Nikita Khrushchev say, does not pull tightly on the knot of war, right? But instead, to be someone who is willing to hear somebody else's thoughts, take it seriously, even if you disagree, and look for a way to try to build common ground and rapport to seek to persuade. To some degree, it's that eschatological idea of unity that's brought little closer that we can work toward greater unity through persuasion in the near future that is a foretaste of a down payment on the complete unity that will happen when we get to heaven.
Dr. Smith:
Amen. Amen. I think that is a wonderful description. I really like your language of working towards because if we look at the first 15 books of Acts, which is chronologically very close to the day of Pentecost, even that close to being filled with the Spirit, there was significant work that had to take place regarding unity. And sometimes, we were highly bothered if this doesn't just happen by default. And I'm often telling brothers and sisters, it didn't happen by default in the book of Acts. They had to have some work at it and Acts 15 had to happen, which makes me think those people were Baptist congregational Christians because they had a business meeting.
Pastor Barber:
That's right.
Dr. Smith:
So let me ask you. So how do we walk together 46,000 plus congregations, millions of members with people who are more and less and maybe sometimes even anti-Calvinistic people who are in their 60s and 70s? And there seems to be… I don't think there has to be but there seems to be some kind of artificial divide between people in their 60s and 70s and people in their 30s and 40s. We have church planning efforts in cities like Houston and Baltimore and Miami. And then we're also trying to give focus to revitalizing congregations in rural small town America. And so there's a lot of, I think, Godly, biblical, scriptural things. And it seems like sometimes people want the center of their radar to be the center of everyone's radar. And I think to me, one of the gifts and the blessings of an extremely large denominational family is that you can attack more things. But if we're attacking more things as far as a breath, then obviously, we won't all be focused in on the same priority issue.
Dr. Smith:
How do you think about unity or what encouragement can you give towards unity with a very large denominational family?
Pastor Barber:
I may go walk on this just a little bit, kind of policy won't kind of thing. I believe that process matters. And I think that that's important not only in large organizations, it's important even down in the smallest unit of society in a family And a lot of the people who are listening, watching your podcast, and you and I both have experience with families in distress that we try to minister to as a pastor. That's something that I have to do with some regularity. And a lot of times, what you find out is families have conflict. Every family has conflict. The difference between healthy families and unhealthy families is not the families that have conflict and families that don't. It's the families that their processes work to resolve conflict as it arises versus families that don't have that joy and that blessing of resolving conflict.
Pastor Barber:
And I actually think that there are some positive and encouraging signs for us as Southern Baptists. You mentioned a lot of different points of tension in the denomination. There's tension about soteriology. There's tension about how to divide the pie monetarily, about allocation of resources for the things we're trying to do together. There's tension about racial issues in the convention. Tension back a decade ago about the Pentecostal-Charismatic Movement and the relationship of that to the convention and blue pray and private prayer language. And is it not encouraging a little bit at least that the things we're fighting about today are not the things that we were fighting about 10 years ago, but the things we're fighting about 20 years ago?
Pastor Barber:
We have some of these tensions come up, but the process is not totally broken. It helps us to resolve some of these and we've been able to resolve some of these conflicts and move on. Some of them are exactly the way I wanted. Some of them maybe not in exactly the way that I wanted, but I rejoice that we resolved, and that we're able to continue on together with agreement around the Baptist Faith and Message and with a commitment to fairness in this process and a belief that the Holy Spirit leads through our good faith efforts to come to a mutual agreement and be able to move forward.
Pastor Barber:
So I think the annual meeting matters. I think the way that we conduct the annual meeting matters. That we make sure that there's an opportunity for people to express their concerns and that there's an honest good faith effort to respond to those and there's an opportunity for the churches of this body to give guidance. Prayerful guidance, spirit-led guidance to the things that we'll do and then for us to be able to wrap things up and move forward. That can be messy. As Baptists, brother, we do all that right out in the open in front of everybody. No other church is having these kind of things. It's just some polities have a better opportunity to hide some of it behind closed doors. I believe that we actually right now are living in a golden age of bad disunity.
Dr. Smith:
Amen.
Pastor Barber:
You look at the 1800s, we split with the perimeter madness. We split with the landmark madness. We split with the the spirit madness. And with the gospel missions' madness. We had breakaways and splits all through the 1800s over issues smaller than some of the ones that we face today. And man, we have things that come and rock us around, and give us some trouble and we have heated words exchange, or whatever else. But here we still are, brother. Here, we still are. We're still together. We're still moving forward. So be encouraged.
Dr. Smith:
Amen, I want it noted on this podcast that on the Southern Baptist Convention meets in Nashville, Lord willing, in the year 2021, you will be my nominee for president of the Southern Baptist Convention. Let me get that out there publicly.
Pastor Barber:
You're going to have to make me put a Sherman statement out here.
Dr. Smith:
Well, let me ask you a question about process. I guess one of the defining element of our mission's methodology and cooperation is a cooperative program. Our entities are governed by boards of trustees. And if I got the quote wrong, please feel free to correct me. But a few years ago, we had a wonderful discussion. And when you were a Southwestern trustee on the floor, we were trying to deal with some matters. And you all in particular were trying to deal with some matters. And you said something like, "Don't handcuff the trustees or don't do something to the trustees."
Dr. Smith:
And I feel comfortable and confident about the pastors and the lay leaders and lay members of churches who serve as trustees of our 12 Southern Baptist Convention entities, I think we elect a broad representation of brothers and sisters from across the spectrum of our state conventions geographically, all those types of things. But remind me of the phrase that you used, but speak to our trusty process, maybe its strengths. I think maybe you wrote something recently like maybe we should at least provide certain types of training or something. So just speak to our trusty process?
Pastor Barber:
Yeah, I'll be happy to do that. I can barely remember what I preached two weeks ago. So as far as clarifying the wording that I used, I don't remember. But I do very much remember what I had in my heart and what I was trying to say. And that was just that trustees act as the voice for the churches and the voice for the convention. And anything that weakens them disadvantages the convention messengers and disadvantages the churches. As far as trustees doing their work, I served 10 years on the board of Southwestern. And I've served on other boards as well, not at the national level, but in other aspects of Southern Baptist Life, and also outside Southern Baptist Life.
Pastor Barber:
I was on the board of our local American Red Cross once a long, long time ago. I was on the board of the Alumni Association for Baylor University a long, long time ago. And with all of that board service, then as I was leaving the board at Southwestern and coming to a point in my life where I'm now not on anything, as I came to that point, I went to a meeting actually in DC. And as kind of a side benefit of this meeting I went to, it was with the Alliance Defending Freedom. And they had speaker coming on not to talk about any of the things that ADF does, about constitutional or whatever else. They had a guy just present a very brief presentation. This guy's an expert in board governance, and expert in finances. And he laid out in front of us some principles about financial reporting, that first of all, by the way, completely changed our churches financial report. The things that he taught us in such a way that I feel like my church members are now much more informed, much better able to look intuitively at front sheet of our financial statement and know immediately, whether they're math people or not, know immediately where we are financially.
Pastor Barber:
And he presented something that said, for example, if you're on a board and you're looking at finances at your institution, here are 10 questions that you should ask every time. And I was astounded by the simplicity and wisdom of that. And my first thought, my first thought was, "Why didn't anybody send me to learn this before I started doing all this board service?" We received training for all the places that I have served on a board. We received training, but most of that training had to do with let us introduce you to the organizational chart of our institution so that you know who's doing what. And let us talk to you about rules you should follow to keep you from sharing things online that you shouldn't share online or from making a mess. Not to make a mess and here's the institution. And really, I think that it would pay so much back to Southern Baptists if we had two things. Presentations like the one I went to, given the trained trustees by the convention. Not by the entity that they're overseeing.
Pastor Barber:
If you have wonderful, reputable, God-fearing, self-policing people in charge of the entity, you really only trustees at all, but the time that you need trustees the most are the times when you have people who if they are training with trustees, they don't train them to ask the questions that they really need to ask. And so I think it's in the convention's best interest to undertake the task of training trustees to be able to serve well in the ways that they serve.
Pastor Barber:
And then the other thing that I would say is some of this could be accomplished in a way that also allowed some collaborative communication among trustees. For nine of the 10 years I was on Southwestern's board, for nine of those 10 years, I was the chairman of the Academic Administration Committee. So I was responsible for knowing about changes to the curriculum and the great plans. I was responsible for interviewing and recommending the hire everybody who came on the faculty during that whole time that I was a trustee. Over those nine years, I never knew who the Academic Administration Chairman was at any of the other five seminaries in Southern Baptists Life.
Pastor Barber:
Never had any conversation with anyone at Southern, at Southeastern, at any of the other seminarians. Never had any conversation with any of those trustees to say, "So how do you interview faculty members at Gateway? Oh, that's interesting. I like that. We could learn something from that. We could implement that in Southwestern the way we did. Here's what we did." Might need to learn something from that. And so there's no opportunity given for that. And so I think if our convention if our national convention would convene trustees, maybe even annually, maybe in conjunction with the annual meeting, would convened trustees and would give them a forum both for recurring training and also for interaction and collaboration, that could build some unity in our convention, and it can also strengthen our system of accountability for dealing with issues there.
Dr. Smith:
Wow, that is, I think, wonderfully helpful. So Texas is a large state. And historically-
Pastor Barber:
It sure is and we want you to know about it too.
Dr. Smith:
Yes. Historically, Texas Baptists, whether in their historically one state convention form or now in their two-state convention form, have represented some of the largest groupings of Baptists. There is Houston, and Dallas, and Austin, and San Antonio, places people outside of Texas know about. But there are also a whole lot of places that people don't know about. There are black, white, Hispanic, Asian brothers and sisters. There are small congregations and some of the largest congregations and most historic congregations in the Southern Baptist Convention. How have you thought about unity not just in the sense of theological differences, but just unity and personality and character and context differences?
Dr. Smith:
Because sometimes I think we just don't even have sympathy towards the fact that brothers and sisters can be in a variety of different settings. And so public assistance or governmental policy in a particular area might be different to someone in the suburbs and a half million dollar house, and that's mostly your members versus someone who's pastoring in a neighborhood where most of the people are rentals, and some of them are even in public housing. How have you thought about just not distinctions theologically, but just distinctions in terms of, hey, 46,000 churches, or let's just say 7000 in the state of Texas, that's a lot of variety of people who stand together on the gospel of Jesus Christ and our mission's methodology. Nonetheless, we still have to be mindful of our distinctions as we push towards unity.
Pastor Barber:
Absolutely. Let me say, first of all, I'm a product for a really small town. I'm pretty conservative just in my general way of thinking biblically and just in orientation to the world. And I'm the lightest dude you've ever met. And really, there's a profound provincialism to my upbringing and whatever else. I've had some education that has broadened that some but tremendous provincialism. And I also when I got an education, I studied history. So I like old things. Man, I use all that to say as antiquated and old fashioned Southern Baptist as this sounds, I still think there's a really important role for local associations and the Southern Baptist Convention. And I think you've hit on what one of the major reasons for that is because not all of that diversity, but a lot of it is going to be found in a lot of our local associations.
Pastor Barber:
Now, if you're out in Monahans, Texas way out in West Texas in the desert with the tumbleweeds blowing over, maybe every one of the churches in your local association is in a pretty similar situation. But for a lot of our local associations, the diversity that you've suggested: mythological, racial, socio-economic, those things are found within a local Association. Now, I spend a lot of time studying the way we organize as Baptists. And there's a difference between two mutually dependent layers. There is the institutional layer of Baptist associationilism. That we have a budget, that we have an employee, that we have a corporation, that we have a mission statement. We have a board of trustees, governance polity, the institutional level of that. But then there is the familial level of Baptist associationilism. We have had much of our history where we had Baptist associations that had no budget, no employee, no corporation, some kind of a governing model. But these churches were not together because we got to keep the building going. And they were not together because we've got to decide what we're going to do with this funding.
Pastor Barber:
They were together because they thought we belonged together. We have a sense of familial attraction because we're the same kind of church, preaching the same gospel differences among us, sometimes profound differences. I mean, you look in your neck of the woods, and you have people who barely spoke English, who were Welsh, who are in the same association with people who are British, and very fairly English speaking. And you have in those early American Baptist associations, you have African-American slaves in churches together until later on when we started getting rich people when it started sorting out differently because they were all outcasts.
Pastor Barber:
So you got black and white. You've got lots of different languages spoken. And they're all in there together with their churches all in there together because they say we belong together because we believe the same thing. We're preaching the same thing. We're facing the same situation, serving the same Lord, advancing the same grateful mission. And so that sense of belonging, I think, can be aided or hurt at the national level but has to be built at that local association level. And I think when you have a healthy and effective local gathering of churches that feels like a family rather than a competition. When you have that kind of a feeling, that I have the opportunity to develop relationship with an exemplar. Local exemplar of the same kinds of diversity that I'm going to find them when I go out into the broader SBC.
Pastor Barber:
And I said, "Well, here's Kevin, and I know that he's serving at this church. And I haven't been to that church." I mean, let's say you got somebody who's a church planter in Baltimore, been to Baltimore for the convention, have looked around Baltimore a little bit. But I don't know much about Baltimore. And I'm a Cardinals fan. I root for the Orioles to lose all the time. But I can look and say, "But even though there's some things that are different, here's a situation that reminds me of this other situation of this church over here with this pastor I love very much. And so I know something about how to relate." So I really believe I'm long-winded enough, it took me that long to say I think our local relationships really will help us with our national relationship.
Dr. Smith:
And I totally agree, brother. I totally agree. I want to thank you for some entertainment value, because our listeners here in Maryland, they will love the way you emphasize the syllables in Baltimore. And so that will be great for them. Let me ask you a question regarding… speaking of context, a Christian congregation in this particular city or county, Article 15 of the Baptist Faith and Message deals with the Christian and the social order. And it ends up saying, "In order to promote these ends, Christian should be ready to work with all men of goodwill and any good cause always being careful to act in the spirit of love without compromising their loyalty to Christ and His truth."
Dr. Smith:
I want to ask you two things. First, how do you think about unity in a broader Christian sense? I mean, beyond one's denominational or even traditional family, so interactions with Presbyterians, Pentecostals, Methodists, and then even at the broadest sense, kind of even how you think about the other two major traditions stemming from early centuries, Eastern Christianity, and then the Protestant Catholic split And then secondly, just kind of what's your approach to co-belligerents. And let me just say, I really want to learn from you because I'm just not good at co-belligerents. I probably have an Old Testament bias about God condemning the alliances that Israel would make some time relying on Egypt or relying on the Syrians. Then I'm also mindful when Solomon and others marry strange wives, they never leave their strange wives to the Lord God of Israel. It's always the opposite way.
Dr. Smith:
So I'm not a big co-belligerence guy, although I'm extremely burdened to love one's neighbor. And I do believe in common grace. I know Presbyterians talk about that more than Baptists, but I believe in common grace. And so when we think about unity, or collaboration, how do you think about other Christians in your town or county? And then secondly, other people, particularly not Christians, but who might have a common concern about religious liberty or a common concern about when I was at Kentucky Baptist, as a Kentucky Baptist Convention, we stood against payday lending and they were nonbelievers. They were Muslims and Hindus that thought exorbitant interest rates in poor communities was a bad thing. So how do you think about interaction on those two levels?
Pastor Barber:
I think that most people are really good at belligerence is the code that we have to kind of work on. There are different levels of cooperation with people on secular aims. I'm thankful that you're asking this question. When you ran out Article 15 from the Baptist Faith and Message, I thought you were building grounds for my exclusion from the convention because there's a phrase in there that I'd messed up at some point or another. And we're going to make mistakes about a lot of those things. However, I'll say this just about parameters of things. I think I'm comfortable with saying the same thing alongside other people to the degree that we can say the same thing.
Pastor Barber:
There's a level of co-belligerence that's just that. If I walk into the polling place and we have an issue to be voted on like prison sentencing reform or payday lending. And I walk into the polling place and I walk up to my touchscreen, I miss the old pull the lever and the curtain is drawn doing the levers and all of that, but it's all touchscreens now. So I walk up to my touchscreen. And a Mormon walks up to the touch screen next to me, and I vote and she votes and we cast the same vote. There's some level of co-belligerence right there. Didn't require any kind of an organization or an institution. It's just that I had my say, she had her say, and we said the same thing. I don't think all of us are comfortable with that level of co-belligerence.
Dr. Smith:
That's kind of a parallel level of co-belligerence.
Pastor Barber:
Absolutely. So then if you step up a step from that, I'm also comfortable with some level of coordination. Here's a good example that. I put together an effort to encourage Texas to pass a law to say that if my church has a volunteer or a staff member who commits a sexual misconduct act here at our church, and that person leaves here, and we learn that another church is considering making that person to volunteer or hiring that person, that if we call that church and tell them, "Just we'll let you know what happened here," we can't be sued for tortious interference with a contract or for any kind of slander or libel. We can't be sued for doing that.
Pastor Barber:
So that started out as something that we're working within our Southern Baptist Family. I looked up some similar laws, and I just kind of cut and pasted together language from balls already on the books that kind of did this. We called the RLC. Travis there helped us to kind of finalize the language in a way that was legally acceptable. I know Southern Baptist, Scott Sanford, who is in the Texas State House of Representatives. He agreed to sponsor the bill. And so he took that and he introduced it in the House. And did a masterful job of kind of leading that forward. And in fact, it wound up being passed unanimously, in both chambers by the Texas Legislature and everybody else's state should try to have a law that does this.
Pastor Barber:
As we started doing that, the Texas Council of Catholic Bishops came alongside because Catholic legislators saw it. Legislators saw it and the Texas Council of Catholic Bishops came alongside and said, "Can we join you in this?" And we said, "Yeah, absolutely. You agree, we agree." Then the Private Parochial Schools Organization in Texas said, "Boy, this solves problems for us, too. Can we join you in this?" And so what happened is although it was something that we initiated and would have done just as Southern Baptists all by ourselves, other people came alongside and said, "We like this. Can we join you?"
Pastor Barber:
And I had not any misgivings about that at all. As we came in, as we joined in that sort of thing. What makes me uncomfortable is where you go beyond just simply saying the same thing separately or even coordinating. Because we're all saying the same thing we say, I see that we're all saying the same thing. Let's say it together. We've thought of a great way to say it. Can we share that with you so that maybe you can say it a little better than the way you've been saying it before? The difficulty for me is when we get to the point that we are unequally yoked. That there is a fealty or an allegiance that starts to come be at play. And so what bothers me about that is you can't serve two masters. And I think that's a very cogent warning from our Lord.
Pastor Barber:
And I think when I was deeply, deeply bothered when Mitt Romney ran for the presidency of the United States, not that the Mormon was running for president, I believe in religious liberty, I believe in religious tests for political office, and I could be comfortable voting for a Mormon for any office in the land. What bothered me is that some evangelical Christian organizations started saying different things about Mormonism-
Dr. Smith:
Yes. Yes. Yes.
Pastor Barber:
When the Republican candidate was a Mormon. And I think that's the tail wagging the dog. And we ought to be able to be strong enough to say, "We think that's a false gospel. We think those are false writings. We think it was led by a false prophet. But you might want to vote for this guy." I'm comfortable with that. And so all that boils down to this, I'm comfortable with co-belligerence that does not require compromise.
Dr. Smith:
Yes, yes, yes. And I think the example I gave of payday lending legislation, and then you gave an example of reporting legislation, I think those are specific matters. And I think probably the thing that triggers my thinking the most is when Christians signed on to these broad coalitions where it's not one matter, or one issue or one piece of legislation, but 25 things and you like six of the things, but there's like 19 of the things that are against biblical Christianity, and you just want to kind of ignore those things so you can get on these six things. I think that's a problematic approach to alliances or co-belligerence.
Pastor Barber:
And also, I think another problematic aspect of it, if we look at say the first step back act, prison sentencing reform, actually, while that was making its way through Congress and being promoted, I sat on the Resolutions Committee in Southern Baptist Texas convention, and we passed a resolution encouraging that, that we were in support of that. So we were happy to say Jared Kushner encouraging that to the White House. We were happy to see President Trump signing that. We were happy to see Democrats and Republicans in the House and Senate coming together to work to pass prison sentencing reform seemed to be the right thing.
Pastor Barber:
But I feel comfortable with that cooperation. If a Texas Southern Baptist comes up to me and says, "You know what? I've been in law enforcement or I've been in the judicial system for 40 years. I've made a career out of it. And here are some technical reasons why I think that's a bad bill and why I think that we shouldn't have supported that." If my co-belligerence on this matter has taken me to the point that I would say, "Well, then you are a reprobate. Man, I want nothing to do with you." It's the same thing I said while ago. It's taking the fealty, the allegiance that we swore over this matter of the secular order and elevating it as more important than the allegiance that comes from that person being a brother in Christ
Dr. Smith:
Amen.
Pastor Barber:
Am I being the brother in Christ in them? And so it's when it makes us compromise what we're saying, or it's when we let it compromise our fellowship.
Dr. Smith:
Amen. Amen. Well, I appreciate your time so much. I want to close out with a broad question. I'm asking this in a church history since, how far back must there be unity for you to recognize someone as a brother or sister in Christ? Or let me say how far forward. I'm going to start real low and just see if this is good enough for you or if you want to come further into the modern era. If someone will eagerly affirm the Apostles Creed, can you affirm them as a brother or sister in Christ? Are you like, "Well, no, I need at least the Nicene Creed. Well, no, I want to stretch up to one of the documents of the Protestant Reformation." What is necessary for you to form and I've realized like, man, you're asking a minimalist question. Yes, I'm asking a minimalist question. So what confession really makes you think more than a decade ago, Dr. Mohler wrote this thing on theological triage. There's different levels of unity. So at the broadest sense of Christian unity, how is that defined for you?
Pastor Barber:
So I would say this, I can't answer that without saying that I think during the first great awakening, one of the most important works that was written may not be the one that gets the most attention, but it was entitled On The Dangers of An Unconverted Ministry. So because I am a good Baptist and a good evangelical, I want to emphasize, first of all, that I am a conversionist. And so I believe that you could affirm not only the Apostles Creed, you could affirm the Baptist Faith and Message in every point as something that you believe. And if you've not experienced conversion, if you've not repented of your sins, placed your faith in Jesus Christ as your Savior, and publicly identified yourself as follower of Christ, then you are not within the faith. And we're not brothers and sisters in Christ if you've not experienced that.
Pastor Barber:
There's a large number of people who affirm the Apostles Creed who do not affirm the necessity of conversion. And there are a large number of people who affirm the Baptist Faith and Message who while they may affirm the necessity of conversion, may not have experienced it. But to the degree that we're talking strictly about the ascent portion of our common faith, I would say that the person who can affirm the Apostles Creed who has been converted is someone I would identify as a fellow believer in Christ. The person who cannot, the person who would be an Arian like some of our oneness Pentecostal friends who even if they would describe something that they would relate as a conversion experience, if they would deny the Apostles Creed and would affirm Arianism instead, I would not recognize them as a brother or sister in Christ. I think it takes both. I think it takes a census idea of affirmed truths or at least undenied truths of Christian faith together with having experienced Christian conversion.
Dr. Smith:
Amen. I mean, Jesus says, "You still know a tree by the fruit that it bears," and I really think that distinction is helpful. One of our Texas sisters, Beth Moore, wrote something a while back about the difference between theological assent to certain truths or doctrinal assent to certain truths versus actual just discipleship rooted from conversion and being changed. And so often, I'm in circles where we use the term confessionalism. And so I think it's very helpful to add your term, I am a conversionist. And so conversionism without confessionalism can end up in some bad places, but confessionalism without conversion ends up nowhere. So those are two helpful categories.
Dr. Smith:
Brother, you are a wonderful thinker. I appreciate your time so much. I thank the Lord that you are back in good health and looking well and we pray God's blessings and certainly fruitfulness on your ministry there as you try to minister in the global pandemic, something we certainly never studied in seminary. So blessings to you and your family, especially the ones I've had the chance to meet as we've been gypsies in various resonance ends around the United States going to Southern Baptist Convention meetings. Pastor Bart Barber of the First Baptist Church of Farmersville, thank you so much for your time today on Peculiar People. You have definitely helped our thinking and we give God glory for you.
Pastor Barber:
Love you, man. Thank you so much for having me on. And thank you to the Baptist Convention in Maryland and Delaware. God bless you all. I'm just thankful for your ministry. And we'll have a race in 2021 to see if I can get there to nominate you, brethren, before you get there for me. How about that?
Dr. Smith:
We'll see who gets to the mic. God bless you, brother.
Pastor Barber:
You too.