#14: Teaching from Genesis with Dr. Ken Keathley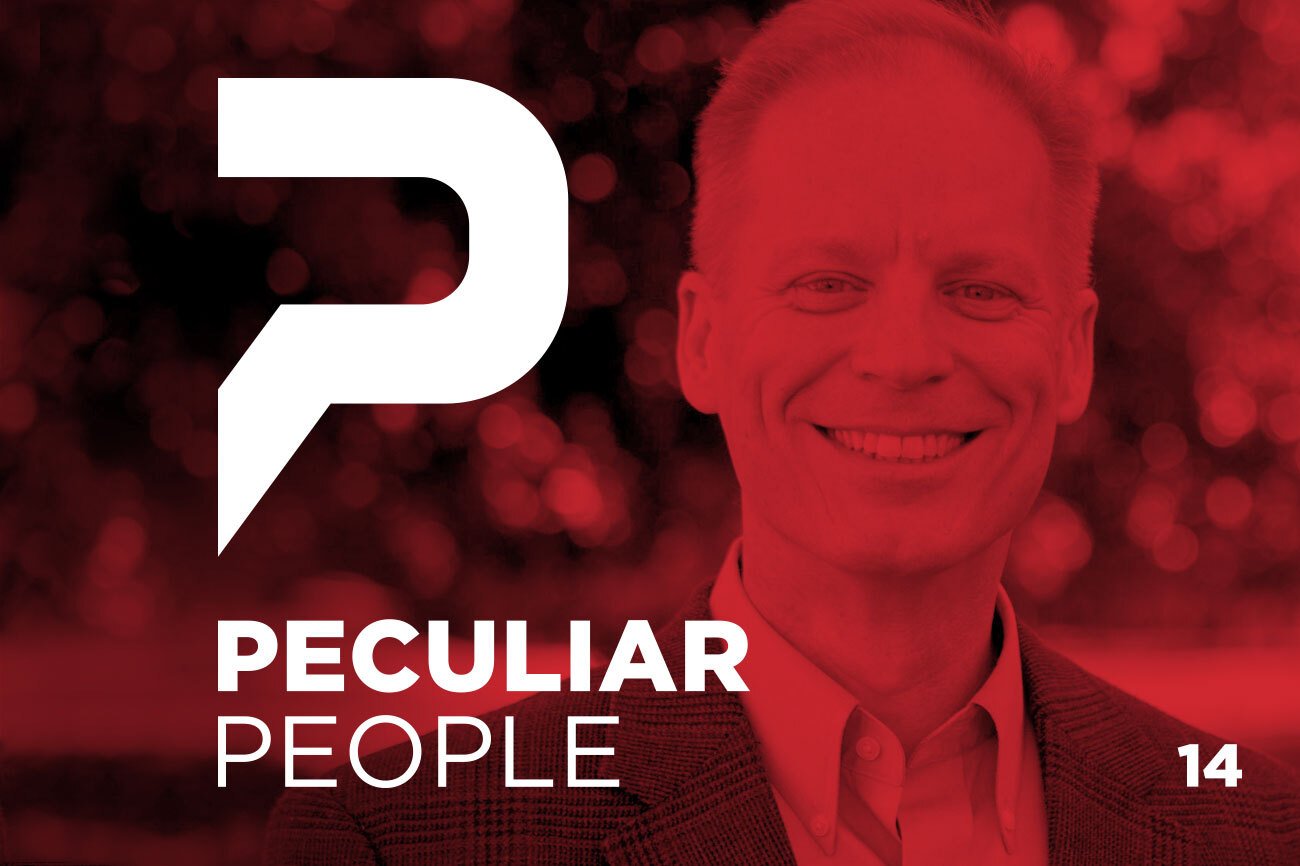 Teaching and preaching through the Old Testament can be challenging. However, Dr. Ken Keathley of Southeastern Baptist Theological Seminary recently joined us to provide some helpful insight into the biblical-theological themes of Genesis. Listen in to gain some valuable insight for teaching God's Word.
Transcript
Dr. Smith:
Welcome to Peculiar People, a podcast where we examine what it means to be a follower of Jesus Christ in our present times. We're based upon Peter's description of God's people in 1 Peter as a peculiar people, a chosen generation, a holy nation that we should show forth the praises of Him who has brought us from darkness into the marvelous light. And we engage that conversation with a variety of brothers and sisters who call themselves followers of Jesus Christ and are striving to live under the lordship of Jesus Christ and to bring him glory in their lives. And today we're honored to talk to Dr. Ken Keathley, senior professor of theology and the Jessie Henley endowed chair of biblical theology at the Southeastern Baptist Theological Seminary, and also the director of the L. Russ Bush Center for Faith and Culture. Dr. Keathley, we are honored to talk with you and thank you for joining us on Peculiar People.
Dr. Keathley:
Thank you, Dr. Smith, glad to be here.
Dr. Smith:
We are anticipating you sharing with Maryland/Delaware Baptists in the future in what we call a teaching round table, where we talk about teaching and preaching the Word of God. And we're going to focus in on the Old Testament. And so I was hoping we might spend some time thinking about the Old Testament and the light of its guidance for God's people. We are a peculiar people, and certainly, in Peter's preaching, he made reference to the journey of God's chosen people in the Old Testament and many things that occurred within the Old Testament. And let me just show my hand to you as we begin to speak. You are the third person to engage our round tables. And the first two was one of your colleagues at Southeastern, Dr. Alan Mosley, who is an Old Testament professor. The second one was Dr. Dominic Hernandez from Southern Baptist Theological Seminary, who is an Old Testament professor. And so let me lay my cards on the table. When I'm teaching preaching at the Southern Baptist Theological Seminary, I often challenged my students that I think a lot of Bible-believing American Christianity is very epistolary, meaning they spend a lot of time preaching in the epistles. Some people refer to themselves as New Testament Christians or the New Testament church in such a way that the OLd Testament seems minimized and just even our approach to pastoral ministry, discipleship, and spiritual leadership.
Dr. Smith:
So I'm excited to talk to you, and I want you to know I don't come into the conversation kind of as a neutral player. I come in telling pulpits around America, "Hey, preach all of the Bible, teach all of the Bible." And I don't think anything is more formative than the opening passages of scripture in what is the book of Genesis. And so just to kind of maybe give you a wide runway, I want to lay out a statement my late pastor used to tell us and just kind of see what you think of this statement. I'd love to have you interact with it certainly as a scholar and as is experienced preacher and teacher of the Word, my late pastor would say, "Genesis is the basis for understanding the rest of scripture, narratively and theologically." So what do you think of that statement? Overstatement, understatement, or just what is your thoughts on that kind of statement?
Dr. Keathley:
Again, thanks for letting me be on your program. And I find a statement like that to be on the mark very much. So you had Dr. Mosley previously, and you mentioned Dr. Hernandez, both Old Testament scholars. Dr. Moseley, for years, was my pastor. And so I've heard him preach many, many sermons from the Old Testament. I remember one series that he did that was just fantastic. He called it Oh, no, not Leviticus, and he preached through the book of Leviticus in a way that was engaging and captivating and really presented the great spiritual truths that New Testament believers need from the Old Testament law, the book of Moses. Genesis is indeed one of the bookends. It is the opening book of the Bible. We forget that it wasn't just the opening book of the Bible, but it was originally the opening book of the law. We forget that Genesis through Deuteronomy form a unit, there's a story there. And that Old Testament scholars like Dr. Moseley and John [inaudible 00:05:24] and others are so good to remind us of that. And so one really does have to get the beginning of the story right in order to understand what the trajectory is, what is the narrative that's going on. And so I would affirm your predecessor's statement probably in total, pretty much. I'd have very few objections about.
Dr. Smith:
I left off one name when I was talking about previous round tables and that would have been Dr. David Prince, also from Southern Seminary, professor of preaching and pastoral ministry. And part of the discussion that we engaged is wondering if homiletically, many preachers in many pulpits are hesitant and struggle to preach narrative. And I'm wondering as a professor of biblical theology, if you find that maybe homiletically, but more so… Well, just in the whole lesson or sermon prep process, do you find students struggling to engage narrative? It is the Pentateuch, the law, the laying down of God's holy ways based upon his holy character, but it is certainly given at us in those first five books in broad narrative form, other than explicit proclamations from Moses and then proclamations of the Levitical regulations in Leviticus and Exodus and things like that. And so what is the role of narrative, number one in people's hesitancy perhaps about Genesis, but maybe even just the whole Old Testament in your estimation?
Dr. Keathley:
Well, I think that the reason why some are hesitant is because it is narrative so there is a progression to the story. And so knowing how to approach, let's take Genesis, and one of the things that I'm going to teach at the round table is what is the proper way to approach Genesis theologically. And I'm going to argue like D.A. Carson, that we should understand theology to be in [inaudible 00:07:35] form seminally in Genesis. There are those who approached Genesis in what Carson called a maximal way. In other words, they expect Genesis chapters one, two, and three to be a full blown, completely developed theology and maybe even a scientific work. And so they read Genesis chapters one, two and three as if all of the major doctrines are fully developed, the doctrine of the Trinity, the doctrine of the atonement, if all of their scientific truth imbedded in Genesis one, because it is the inerrant inspired Word of God. So some read it, especially those in the field of apologetics, as if it is a fully developed scientific document. And so that's what Carson warns about, the maximalist approach.
Dr. Keathley:
Then on the other end of the spectrum is the minimalist approach in which they don't think that it has any special scientific information and they think that it is completely acclimated and accommodated to the theological viewpoint of that day. So therefore it is as much a work of the Babylonian worldview and the Egyptian worldview as it is anything distinctly of Israel. So they consider it just to be a badly put together, patchwork borrowed from other ancient near Eastern sources. So the two errors that we're trying to avoid is the minimalist approach of the higher critics and classic liberals and the maximalist approach where they try to see it as something completely developed and finished.
Dr. Keathley:
I like what Carson says, and this goes to your point about narrative. It's in seed form. The major doctrines, whether it is the doctrine of the sovereignty of God, the doctrine of the kingdom, the doctrine of covenant, the doctrine of mission, all of these doctrines are imbedded there. They are not fully developed. They are fleshed out. They flourish, they blossom as we go through the story of the Bible. And being able to understand the development of those themes throughout the history of the Old Testament, and then finding its capstone and Jesus Christ in the New Testament is very exciting. It's wonderful. But it does require that a person pay close attention to the story, that there is a development.
Dr. Keathley:
Now, the idea that there is a development and a progression is something the Bible itself tells us that we must pay attention to. The New Testament apostles, whether it's Paul, you mentioned about everyone, there is a certain safety in preaching the epistles. Because it's very didactic, it's very developed. Whereas you think, "Okay, if I'm trying to apply this narrative, this story correctly to a New Testament audience, how do I make sure I'm not just Judaizing the text?" I think there's some people that worry about doing something like that. But what you find is is that the New Testament authors, Paul in particular, said there are certain things that was revealed to them that was only revealed in figure, only revealed in type in the Old Testament. But you never find anywhere, whether it's Peter or Paul or any of the other New Testament apostles, you never find them anywhere denigrating the Old Testament. In fact, when they talked about the scriptures, when Paul says, "For I delivered to you, which you've already received, that Christ died according to the scriptures and was buried, and on the third day Rose again as according to the scriptures," the scriptures he's referring to are not the four gospels. The scriptures he's referring to are what we today would call the Old Testament canon.
Dr. Keathley:
So the importance of being able to handle the story well is something I think that can not be hardly overstated. We really do need to be able to preach narrative and preach it correctly.
Dr. Smith:
Amen. I think in your role as director of the Center for Faith and Culture, certainly compared to the ancient world, even compared to the medieval world where people will have emerged before the Protestant reformation with a conscious understanding of mortality and death, I think after the Renaissance and secular humanism, I think the general populace, and sadly without Genesis and other elements of biblical anthropology, I think culturally and even sometimes within the church, we are very far from biblical anthropology. And if we're always trying to figure out what's wrong with us, if we don't start with a true biblical picture of who we, the us, are, it seems like we're far from the mark.
Dr. Smith:
And so I don't have an exact percentage, but at least 51% of the truth of anthropology is rooted in an understanding of the fall in Genesis 3 and so without an understanding of the fall, it just seems like all of humanity and sadly even many places within the church are struggling to even understand who we are. And so to understand how the gospel is an answer for who we are and how the gospel applies to the things we see when we look around us, when we look in the world, when we look at the news, and also quite honestly, when we look in the mirror. And I think a lot of that biblical anthropology is so rooted in the fall in the book of Genesis and then everything that comes out from the fall. Abraham is special and chosen, but Abraham and Sarah are also very human. Isaac is special and chosen, but Isaac is very human. Jacob is more human than Isaac. In Genesis, we have the assault of Dinah, Jacob's daughter. We have certainly Judah and Tamar in chapter 38. There's just a lot of humanity in Genesis.
Dr. Smith:
And it seems like when I'm talking to people, sometimes and the way they think about people, even Christians, I'm like, an, before I even say, "Have you all read the Old Testament? I'm like, "Have you all read Genesis?" There's just so much humanity there. And so you mentioned sovereignty, obviously creation in the opening chapters. But I think one of the strongest things we miss if we don't ground ourselves in Genesis is the reality of anthropology, who we are as humans after the fall.
Dr. Keathley:
This is something even most enlightenment philosophers recognize, even Immanuel Kant recognized this, that it is very difficult to develop anything that resembles an ethical system without first recognizing that we are creatures created by God in his image. Without that recognition and starting point, that we possess the imago dei, it is difficult to say, "Okay, here is our place in the world." If one does not recognize God as the creator of all things and us as his contingent created being, the non-Christian has only one of two places to go. One is to denigrate the human to the point where there's no value to the human person, to where what does it matter if we exterminate babies in the womb or we do not see humans as people to be valued in whatever context and to be treated with respect and dignity. Because what respect and dignity is there for a pile of mud? What kind of respect and dignity is there for insects and other creatures? If we're just a cosmic accident, then it's very easy to look upon us with no value at all.
Dr. Keathley:
Then the other extreme then is if you don't understand our role and place is to see us as our own gods. If there is no God above us, then we on this earth are our own gods and we can set the rules. We can do what we want. And that's what you see in so many of the current transhumanist movements. So there are a robust theology of creation, created in the image of God and yet fallen grounds us, it anchors us in the solid story that we have. We are neither to despair that we're worthless, nor are we to worship ourselves. We are somewhere in between. Yes, we're made out of the dust, but we have been formed in his image. And as his image bearers, and because God has entered into a relationship with us, we have intrinsic value. And this intrinsic value, it is not bequeathed to us by a government, it is something that we, like I said, it's intrinsic. So that is the imago dei and the role that it plays.
Dr. Keathley:
But as you pointed out, we may be crafted in the divine image, there's still something really wrong with us. So what has happened there? And that is where it isn't just the doctrine of creation, not just imago dei, but as you said, in Genesis 3, we were tested and we failed. And now we're bent. There is something very, very wrong with us. It is fascinating that after Genesis 3, the expulsion from the Garden, we have the story of Cain and Abel. Cain had God talk to him face to face. Cain didn't have to wonder is there a God? He didn't have to understand what is right and wrong. God entreated him without a mediator, came and spoke to him. And what did Cain do? He left the counsel of God and murdered his brother. And it says something very powerful about the human condition that Cain was able to do such a thing.
Dr. Keathley:
And if you make the point that it's not just Cain, we can go then through the Noah episode, we can go to the Tower of Babel, right on up through Abraham's journeys from Genesis 12 up through 22, whenever we have the birth of Isaac, all of those things we find where even the best men, or the friend of God, Abraham, there are so many times that he fails in so many ways. So at the end, what we could say about the way the Old Testament develops the story of the human condition, it becomes very clear there's only one hero in the Bible and that's God. And all others are men who have been saved and women who have been saved by his grace.
Dr. Smith:
Amen. Amen. You mentioned Noah, and probably only second to a lacking anthropology in the world and even the church is a lacking doctrine of the holiness and the wrath of God. And I can remember in college how I felt having been changed by the Lord and having begun to seriously engage scripture to realize that that nice story of Noah from my childhood Sunday School experiences was about the wrath of God. And I think the story of Noah, Genesis 1:27 of being created in the image of God, and even Genesis 9, after the covenant, talking about the value of life to God and what you might call capital punishment or death for death and the value of life in a world of wars, in a world of murder, in a world of abortion, in the world of just all kinds of minimalizations of human life and human value and dignity, it's amazing that early on in the scripture at a foundational level, these things are revealed by God to be essential building blocks for understanding His revelation to humanity.
Dr. Keathley:
It is difficult, my brother, for us to understand how revolutionary the Book of Genesis was in its day. Whenever we read in Genesis 1:1, "In the beginning, God created the heavens and the earth," we say, "Well, of course. How else could it be? He's God. He created the world." And so we just take that for granted. Genesis chapters one, two, and three would have been the most revolutionary, radical thing for the people of Moses's day to hear about. Because all of the cultures around them taught them something very different about the gods that they worship, whether it was the Babylonian god Marduk, or whether it was Egyptians' gods, many gods, or the gods of the Canaanites, Baal and [inaudible 00:20:53] and others, there was nothing good about these deities.
Dr. Keathley:
Marduk was the leading deity of the Babylonians. And he was not all powerful. In fact, he was not the first god. He was the great-grandson. It was a big family of gods and they all got into a battle. They kill each other. They slaughtered each other. In fact, whenever Marduk creates the world, he kills his great-grandmother, which is a dragon, cuts her in half, takes the bottom half to make the earth. He takes the upper half to make the heavens. And he demands that all of the other gods worship him and follow him. And they have to, because he's the biggest, baddest dude on the playground. And so they come back to him and they say, "Well, we said we'd do whatever you say. And we said we'd follow you. But you know, we are gods. And so we shouldn't have to be your slave." And he says, "You're right. You don't need to be my slaves anymore. Let's make slaves." And so they go over to one of the captured gods that they had, they cut his throat, and as his blood gushes out, they take the blood and pack it together and they make human. And out of the human that says, "I will make man, let his name be called man. He will bear the burdens of the gods."
Dr. Keathley:
And so all of the humans were created in the Babylonian way of thinking, in the Egyptian way of thinking, we were created to be slaves. Where you have in Genesis chapter one, you have the sovereign God who's not at war, he's able to call all things into existence by his will, it's very good, and it's lovingly put together so that humans can live in a garden. And he enters into a covenant of love with us. And instead of us being his slaves, we're his vice regents. We are to co-rule with him. We are to manage that which he has given us. And so this is a radically different story and way of understanding.
Dr. Keathley:
And then the tragedy of us betraying that loving arrangement in the fall, there is the pathos of that. It's not that we're rebelling against some mean ogre, some vicious bully like Marduk. No, we spurned the God who loved us to go and join the other side. So once you understand just how radical the relationship that God established with us, so different from what the Egyptians thought about the gods, so different from what the Canaanites. They never would have thought of themselves in a covenant relationship with any of their deity. Humanity was married in so many ways to God. So this loving, beautiful relationship, this covenantal relationship that we just were so cavalier to throw away, that's the heartbreak of the biblical story.
Dr. Keathley:
And so it is a magnificent story that tells us that we were created in a very special way. It's got the pathos of telling a heartbreaking story of the rebellion that we would turn our back and disobey such a covenant. And yet it's also a hopeful story. Rather than simply deposing of us and destroying us immediately, as he almost completely did in Noah's generation, he still enters into a covenant with Noah. He still enters into a covenant with Israel at Sinai. He still enters into a new covenant with us today. That's the great hope of the gospel that we have in Jesus Christ.
Dr. Smith:
Amen. Amen. I think having preached through Jeremiah the first half, believe it or not, I've done that several times, and to my shame, I fade in the thirties. I've never gotten past the thirties. Having preached through Jeremiah, Hosea, Isaiah, another thing I think is missed from Genesis all the way through the Old Testament is the pleading nature of God in love for the fallen world. And I mean that in the sense of we get that in Philippians 2, who counted it not robbery to be equal with God, but humbled himself. But a poor reading or a lack of reading the Old Testament, we miss that throughout the broad revelation of scripture. And people can be susceptible to a Marcion understanding of the godhead, which is 100% unhelpful. And we have pastors of all kinds of backgrounds who listen to the podcast and members of congregations, and I realized I just threw a term in there that I probably shouldn't have. So just in your thinking about the love of God, the pleading nature of God, would you also just say a word about Marcionism, since I threw that term in there, and help flesh out maybe how the Old Testament helps us to have a broad biblical perspective on the character and the nature of God, God the Father, God the Son?
Dr. Keathley:
Well, I think you bringing up Marcion is a very appropriate example of some of the problems we have today. There's a lot of people who will say, "Well, the God of the Old Testament was a God of wrath. And the way people were saved in the Old Testament was that they had to obey. But the New Testament, Jesus shows us a God of love so that we can be saved by grace." I think if we were to do a survey, and I don't know what the survey would be, but I suspect we would be alarmed to find out how many people think that the Old Testament taught we're saved by works, the New Testament taught we're saved by grace. And so therefore we turn away from the law of the Old Testament to the gospel of the New Testament.
Dr. Keathley:
Which of course was exactly what Marcion, one of the original Gnostics, he just deposed of the Old Testament entirely and got rid of anything in the New Testament he didn't like. And because he was convinced the God of the Old Testament was not the father of Jesus Christ, the God of love in the New Testament. And like I said, I don't think most Christians would go anywhere as near as far as Marcion to be so explicit, but implicitly, they don't realize that's the point that Paul makes in the Book of Romans, is that everyone who's ever been saved has been saved by grace. And this goes from the original couple up an to whoever the last person it is that is ever redeemed. Anyone who's ever been saved, that was Paul's point in Romans 4 when he talked about Abraham. How was Abraham saved? Abraham believed God and it was counted unto him for righteousness. And why did Paul bring up that example? Because in the minds of the Jews, if there was ever a good man that would have earned his salvation, it would have been Abraham.
Dr. Keathley:
And then if there was ever a bad man that was going to lose his salvation, it would have been David. And so that second person he cites in Romans 4 when he says, "Blessed is the man whom the Lord will not impute iniquity". And of course, Psalm 32 is what he's quoting there. And it's the situation in which he is guilty of the whole Bathsheba episode. And if you look at the Old Testament, what is the atonement? How do we deal with someone who is guilty of murder and guilty of adultery? And the answer is in the Old Testament, there is nothing in terms of just a straightforward sacrifice. The man is guilty. And yet when you think about David of the 10 commandments, thou shall not steal, well he stole a man's wife, thou shall not commit adultery, he did that, thou shall not covet, well, he did that, thou shall not kill, he did that. And yet he found grace. Blessed is the man whom the Lord will not impute iniquity.
Dr. Keathley:
And so Paul is bringing up the example of both Abraham and David to let us know everybody who's ever been saved, if they're saved at all, Old Testament, New Testament, they've all been saved by grace. It's just that now in this New Testament era, we understand how God's grace is appropriated to us. It's through his son and the sacrifice that he gave for us on the cross.
Dr. Smith:
Amen. Amen. Well, as we turn toward the exit, I want to have one fun question and then one more serious question. I so, so appreciate your time that you've shared with us today. The fun question is this. I used to like some of the engagement we would have in our faculty meeting at Southern, and I used to like to poke at people, and sometimes I like to throw something in the room and watch other people deal with and get irritated with one another because I'm just silly like that. Professor of biblical theology. So tell us why biblical theology is more important and better than systematic theology.
Dr. Keathley:
Yeah. The chair is a biblical theology. I teach actually systematic in theology one and two. So the way I explain it is, and this is nothing original with me, biblical theology addresses the great theological themes of the Bible as it progresses. There is a progression to it. It develops. It's the narrative. Systematic theology deals with the finished project. What is the finished product? And systematic says, "Okay, when we take the whole Bible and finish it, what does it end up looking like?" One of the differences between biblical theology and systematic theology, since we're talking about Genesis, what would a biblical theologian do with Genesis 1? He would very carefully try to develop the theological themes that are taught in Genesis 1. And that's the proper and good thing that a biblical theologian would do. What then would a systematic theologian would do? He would take the next step and say, "Here's how Genesis 1 applies to what we know of the natural sciences today. How do we integrate what the Bible teaches with what we understand in the other sciences, such as geology, biology, astronomy, and things of that nature?"
Dr. Keathley:
So I would argue that one has to do both if he's going to be a faithful preacher of the word. A pastor must know his Bible backwards and forwards, that's biblical theology. But then he must make a proper application to the world in which his listeners live. That's systematic theology. So what I would do if somebody would try to say which one is more important than the other=, I'm trying to say, "Well, you're talking about two sides of the same coin. Can't have one without the other."
Dr. Smith:
Yes, sir. So here's the serious question, and it ties in to your role in the Center for Faith and Culture, apologetically, and you used two words in your answer just now, progressive and narrative, sometimes apologetically people, and actually not always with sinister motives, sometimes people just reading, reading with open mind and maybe not thinking about revelational progression, will say something like, "Hey, soon as I got into the Bible, there's two different creation narratives. There's conflict between Genesis 1 and Genesis 2." What would you say to a believer who's on a college campus and he or she is trying to be winsome about their faith and that challenge comes up to them with someone they're seeking to introduce the Bible to?
Dr. Keathley:
First off, there are not two creation narratives in Genesis 1 and 2. What you have is Genesis 1 is a prologue. For example, that's sort of like saying the gospel of John had two introductions. You'll notice the first 18 verses of the gospel John, in the beginning was the Word, the Word was with God and the Word was God, you'll notice that sounds kind of familiar. Well, it's intended to. It's hearkening back to Genesis 1. And so you have the first 18 verses of the gospel of John which is a prologue. It's an introduction. And Genesis 1 with the seven days of creation are a prologue. It sets up cosmically so that now chapter two zeroes in on what's going on there at the garden.
Dr. Keathley:
And so what you have is a prologue. And if you let Moses divide the chapters, instead of us, you'll notice that chapter two begins at two in verse four, where you have a [inaudible 00:33:53] formula, these are the generations of the heaven and the earth. And that expression comes up about 10, 11 times throughout the book of Genesis. And each time it addresses a new theme, a new development. And so I don't see two creation narratives in Genesis. What I find is a cosmic prologue that then moves down and zooms down and says, "Here's what's going on here on earth." So I think most would recognize that, and I'm not saying anything that's really all that controversial or radical. I think that's pretty much the consensus understanding of how Genesis wanted to operate.
Dr. Smith:
Wonderful. Well Dr. Ken Keathley, we are so grateful for your time. We pray God's blessings on you during this unusual semester at the Southeastern Baptist Theological Seminary. We pray you and your students will be blessed and you will still be able to sew many seeds for fruitful ministry in your students, even as you all negotiate the challenges of our particular setting. We look forward, we are looking so forward to you being with Maryland Delaware pastors and Bible teachers and Sunday School teachers as we have our teaching round tables coming up very soon in the future. And we count it a joy to have been able to be with you today. God bless you.
Dr. Keathley:
Dr. Smith, thank you for having me. I'm looking forward to being virtually with all the folks up in Maryland Delaware also.
Dr. Smith:
All right, Well, God bless you. Have a good afternoon.
Dr. Keathley:
All right.